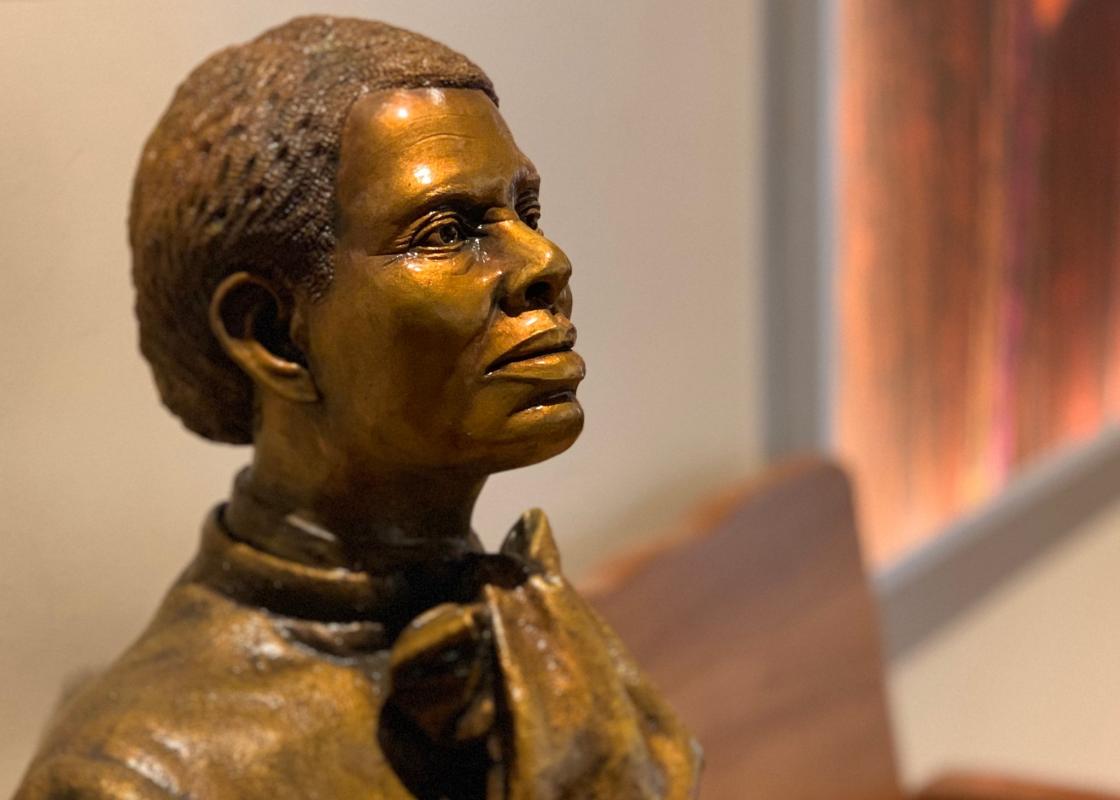 Statue at the Harriet Tubman Underground Railroad Visitor Center. —Craig James via Flickr Creative Commons
Though the exact date is unknown, two hundred years ago this month, Maryland's most famous daughter was born in Dorchester County on the Eastern Shore in 1822.
It was here that Harriet Tubman learned the fields and forests, and suffered a traumatic brain injury, which has been said to have given her visions. It was also here that the 26-year-old escaped from the bonds of slavery in 1849, fleeing the Old Line State only to return more than a dozen times to lead some 70 friends and family members to freedom. The abolitionist would become a scout, spy, and nurse in the Civil War, as well as a suffragist and lifelong humanitarian.
Starting this month, celebrations will be in order throughout Tubman's bicentennial birthday year, from film screenings and historical lectures to art exhibits and monument installations across multiple locations, including Baltimore City, Annapolis, and the National Park Service's Harriet Tubman Underground Railroad National Historic Park and Visitor Center—just a stone's throw from where Tubman grew up.
3/5, 19, 26: Find Your Harriet!
The Harriet Tubman Museum and Education Center in Cambridge will host a series of free, in-person events to celebrate their namesake's 200th birthday. On March 5 at 1 p.m., hear from pastor Cesar Gonzalez on the intersection of faith, family, and freedom. On March 19 at 10:30 a.m., jazz artist Alison Crockett will speak to the role of music in African-American tradition and culture. On March 26 at 10:30 a.m., author and historian Ken Johnston will discuss the role of walking in freedom and resilience. While you're there, also be sure to view the museum's viral mural of Harriet Tubman, painted by local artist Michael Rosato. 
3/7: Reclaiming Harriet Tubman: A Life Behind the Myths
The Reginald F. Lewis Museum will host a virtual event on Monday night, featuring historian and bestselling author Dr. Kate Clifford Larson, who will discuss the facts and fictions surrounding Tubman's historical narrative. 7 p.m. Free with RSVP.
3/10: The Life of Harriet Tubman
During this family-friendly morning performance, reenactor and Arena Players actor Gina Lee will share the story of Harriet Tubman's life at the Enoch Pratt Free Library's Light Street branch. 10:30 a.m. Free.

3/11: Rooted Wisdom: Nature's Role in the Underground Railroad
Produced in partnership with the Eastern Shore's Adkins Arboretum, Schoolhouse Farmhouse Studio, and historian Anthony Cohen, this new documentary film chronicles the experiences of freedom seekers' journeys through the wilderness on their way to freedom. Enjoy an online screening as part of the in partnership with the Harriet Tubman Underground Railroad State Park and Visitor Center's bicentennial celebration, followed by a panel discussion with historians and filmmakers including former Baltimore assistant art director Lauren Giordano of Schoolhouse Farmhouse. Throughout the rest of the weekend, experience the film in-person in the visitor center's multi-purpose room every hour from 10:30 a.m. to 2:30 p.m. 7 p.m. Free with registration.
3/12-13: Harriet Tubman Bicentennial
At the National Park Service's Harriet Tubman Underground Railroad State Park and Visitor Center on the Eastern Shore, two full days of festivities will celebrate of the 200th anniversary of the birth of Harriet Tubman and the fifth anniversary of the park and center's opening. Events include historical lectures, walking tours, live music performances, community conversations, family-friendly storytelling, and much more. Located near Harriet Tubman's birthplace in Dorchester County, the park is open Tuesday through Sunday and houses an exhibit hall, immersive displays, and a museum store, with hundreds of thousands of visitors from all 50 states and more than 70 countries visiting so far. Fri.-Sat. 10 a.m.-4 p.m. Free.
3/16: High Tide in Dorchester Film Screening
The Maryland Center for History and Culture presents an in-person film screening of High Tide in Dorchester, a documentary by Chesapeake writer Tom Horton on the rising waters and worsening erosion of this Eastern Shore county where Harriet Tubman was born and raised. Afterwards, a Q&A will include guest speakers such as Alex Green of Harriet Tubman Tours, who will be able to speak to the impact of climate change on heritage sites and heritage tourism. 6 p.m. Free with registration.
3/26: Harriet Tubman Women of Courage Video Contest
In this virtual program, the Banneker-Douglass Museum in Annapolis will highlight the winners of its video contest, created to commemorate Tubman's bicentennial birthday and Women's History Month. One participant will take home the MCAAHC Harriet Tubman Lifetime Achievement Award, while the life and work of another astounding Marylander, Lou Fields, will be honored. Fields is a Baltimore native, president of the African-American Tourism Council of Maryland, and founder of Harriet Ross Tubman Day of Remembrance in the State of Maryland. Free with registration.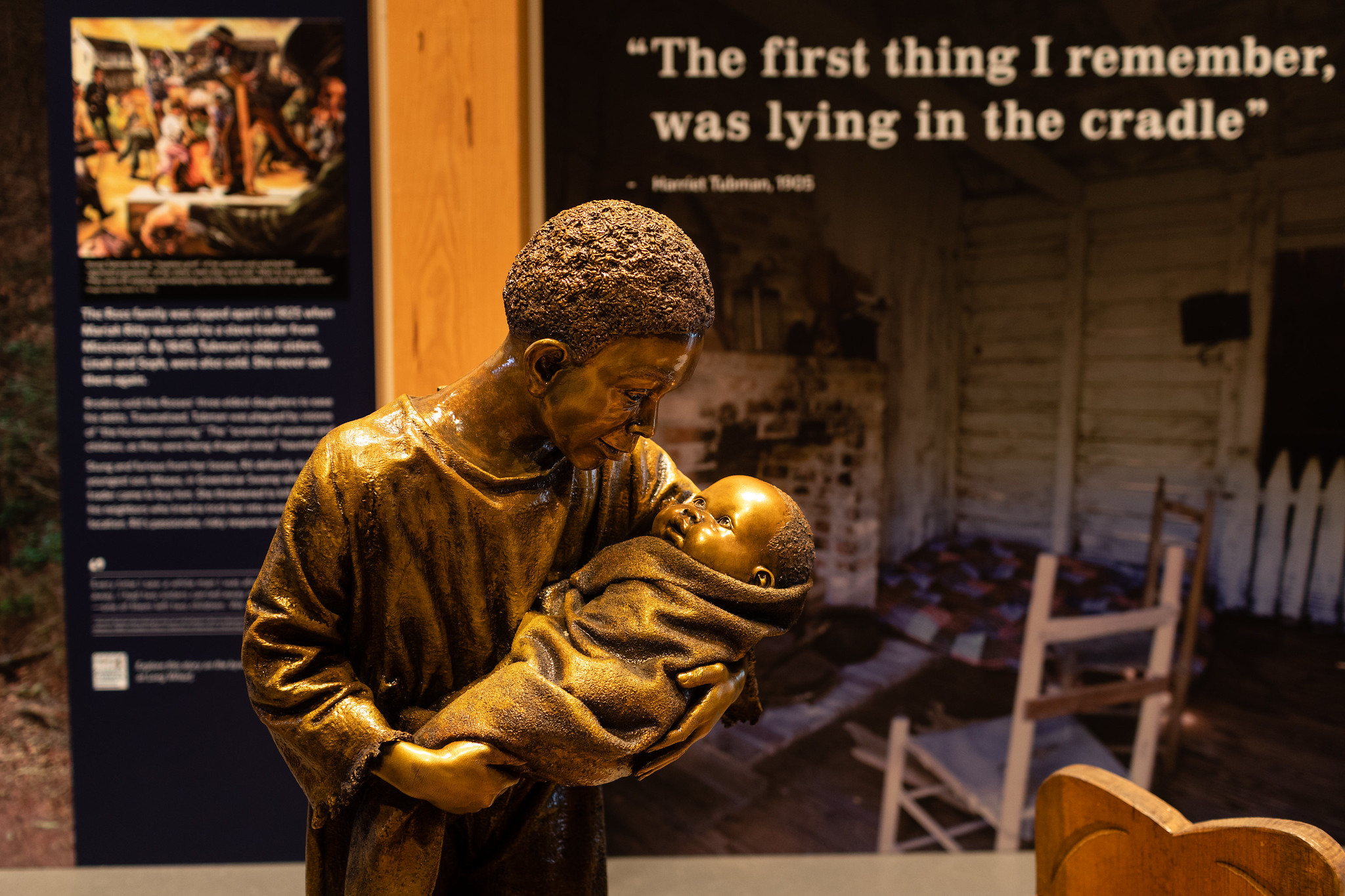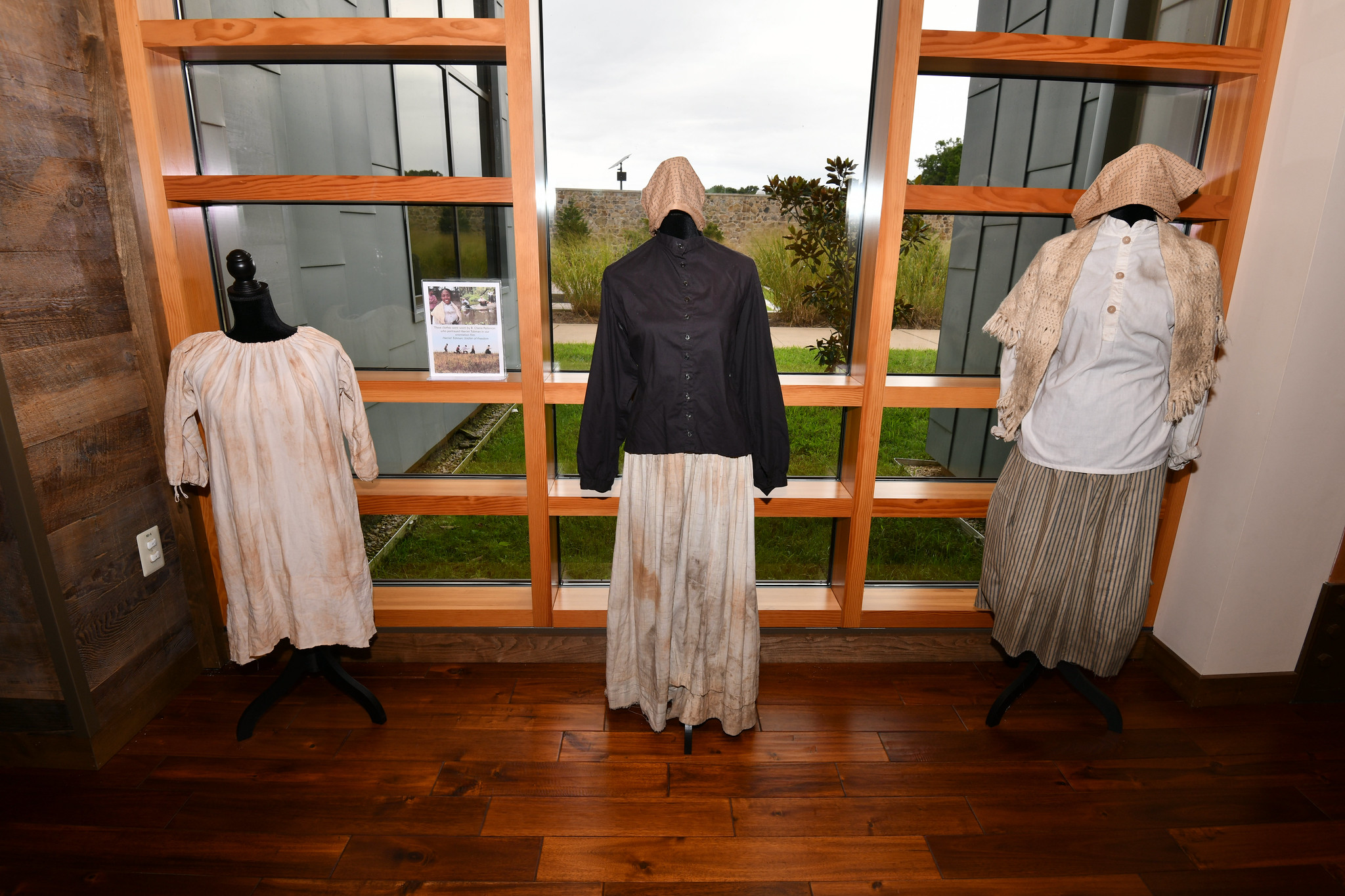 9/10: Harriet Tubman Sculpture Dedication
Approximately one year after the Eastern Shore voted to remove the last Confederate monument in the state of Maryland, a new 12-foot bronze sculpture of Harriet Tubman will be permanently installed at the Dorchester County Courthouse in Cambridge—a former site of slave auctions, where Tubman herself helped free her niece and two children from sale in 1850. An annual Day of Resilience festival will take place between 10 a.m. and 5 p.m.
9/10: Joyce J. Scott's Araminta with Rifle and Veve
Starting in September, this monumental outdoor sculpture of Harriet Tubman by Baltimore artist and MacArthur Genuis Fellow Joyce J. Scott will be exhibited at the front entrance of the Banneker-Douglass Museum in Annapolis. The 15-foot artwork, featuring a bronze patina over high-density foam, is one of two sister sculptures, both titled for Tubman's original birth name, Araminta "Minty" Ross. The other was created in 2017 out of soil, clay, straw, and cement, meant to return to the earth at the iconic Grounds For Sculpture park where it was installed in Hamilton, New Jersey, "just as our memory of Tubman has dissipated over time," as Scott once told The New York Times.
October 2022: PBS presents Harriet Tubman: Visions of Freedom
PBS and Maryland Public Television have announced two new original documentaries on two of the most famous Marylanders. Produced by MPT in association with Firelight Films, Becoming Frederick Douglass and Harriet Tubman: Visions of Freedom will tell the stories of two former slaves turned abolitionists who hailed from the Eastern Shore. Both films are set to premiere on PBS and pbs.org this fall. A teaser trailer will be available on March 10.
Ongoing: Harriet Tubman Underground Railroad Byway
The Harriet Tubman Byway is a self-guided driving tour across more than 125 miles between the Eastern Shore of Maryland, through Delaware, into Pennsylvania, with final stops in Philadelphia. It includes 45 significant historical sites related to Harriet Tubman, from her birth place to stops on the Underground Railroad. Keep an eye out for the organization's birding weekend driving tours. Free.
Ongoing: Great Blacks in Wax Museum
Among the 100-plus life-size replicas of prominent African Americans featured in this veteran museum on North Avenue, one exhibition on the Underground Railroad includes a realistic wax figure of Harriet Tubman. For nearly 40 years, this epicenter of history and culture features compelling portrayals of racism and slavery, with the likeness of fellow Maryland abolitionist Frederick Douglass also on display.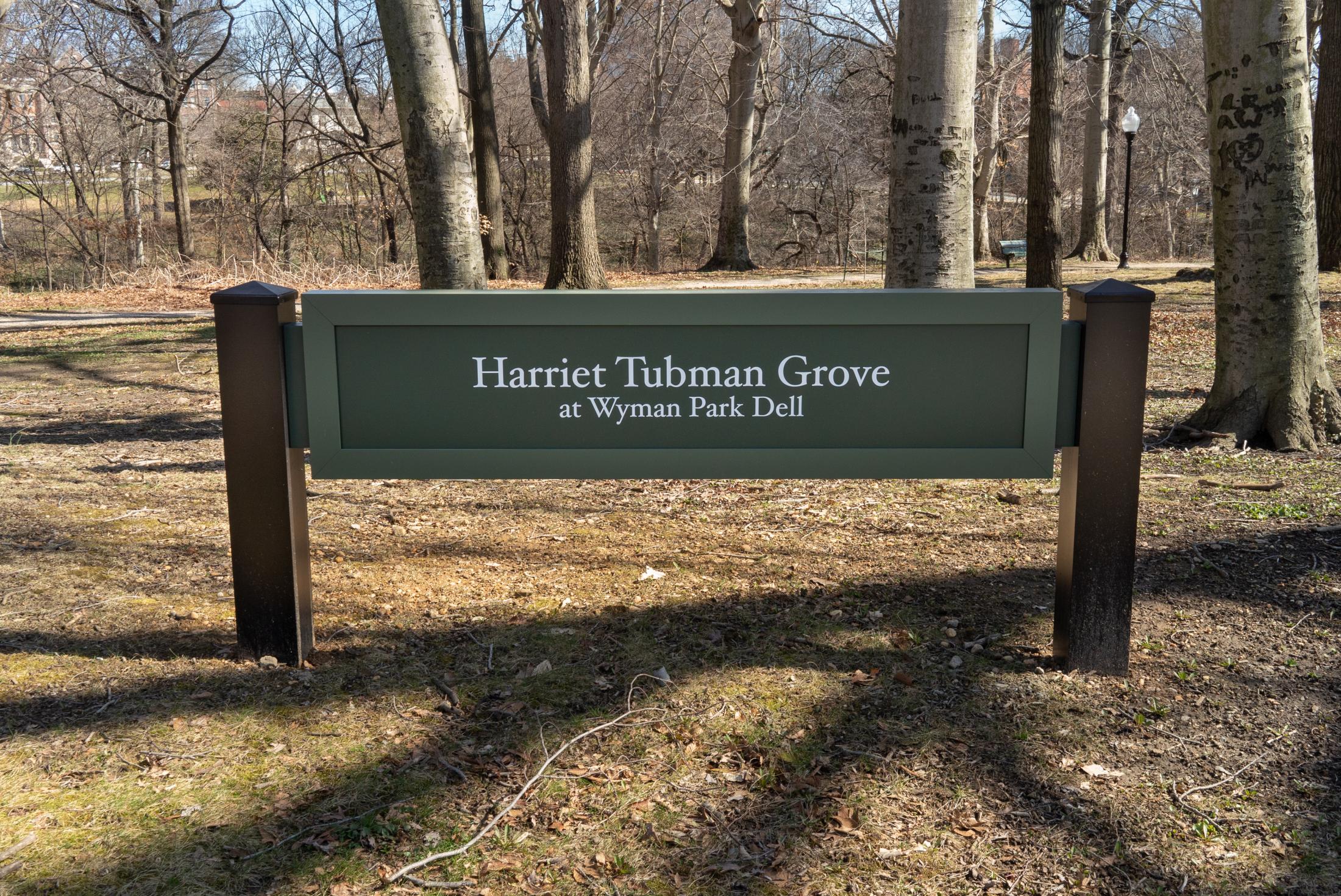 Ongoing: Harriet Tubman Grove
Four years ago, in March 2018, Baltimore City's Wyman Park Dell between Hampden, Remington, and Johns Hopkins University, was renamed in honor of Harriet Tubman as part of the commemoration of what would have been her 105th birthday. The rededication followed the removal of four Confederate statues from the park that previous August in the wake of the violent white nationalist rally in Charlottesville, Virginia. In the fall of 2020, local organizers installed new signs honoring Tubman's legacy.