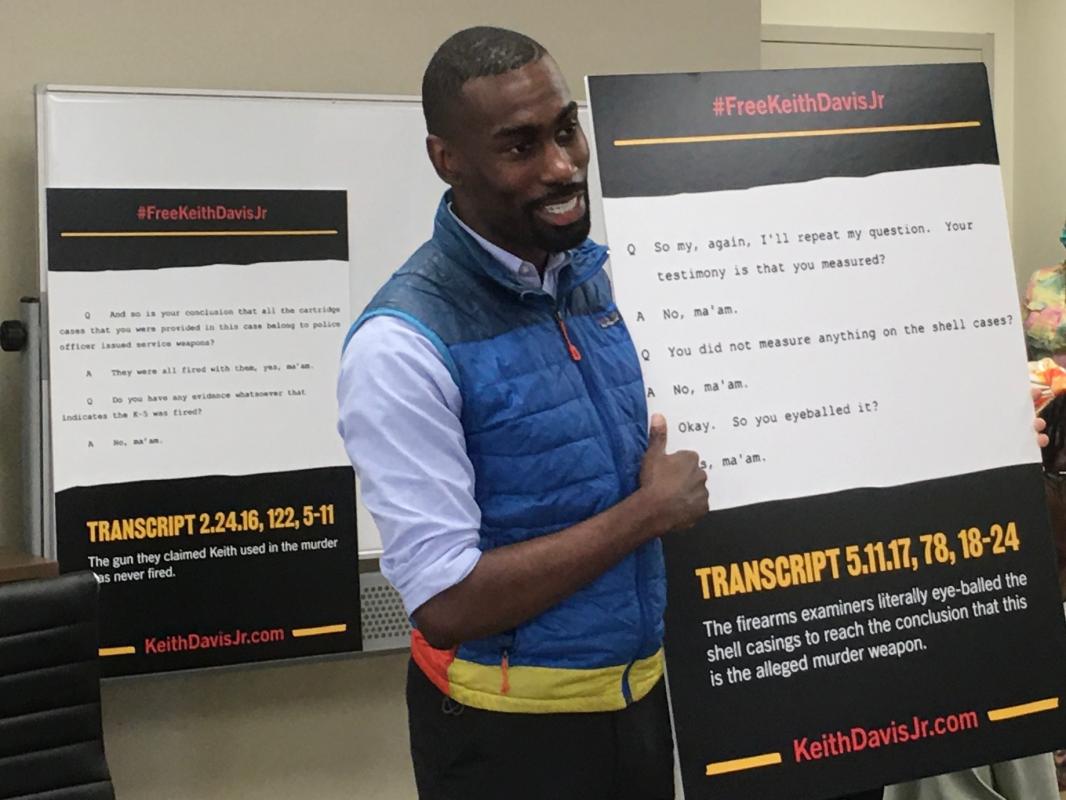 Campaign Zero's executive director DeRay Mckesson.—Ron Cassie
Campaign Zero, the national nonprofit focused on ending police violence, released a video Monday that includes audio clips from several of the controversial trials of Keith Davis Jr.
After being shot and nearly killed by Baltimore police in 2015, Davis Jr. was acquitted of the armed robbery of an unlicensed cab driver when the driver testified police had the wrong man. After his acquittal, Davis Jr. was then indicted with the seemingly unrelated homicide of a Pimlico security guard the same day as the armed robbery—a murder charge the Baltimore City State's Attorney Office has taken to trial an additional four times without success.
A fifth murder trial for Davis Jr., who has remained incarcerated since 2015, and sixth overall, is scheduled for May. Davis Jr. and his defense team have put forth the theory that the gun police say they recovered was planted to cover up the 30-plus rounds Baltimore officers fired at him as he hid in a small auto repair shop.
The video and audio clips presented by Campaign Zero highlight several prosecution issues in the case. For example, during Davis Jr.'s first trial for armed robbery, Baltimore Police Department firearm examiner James Wagster testified there was no evidence that the gun police say they found near Davis Jr. had been fired that day. In another courtroom audio clip, Virginia Sladko, a DNA analyst with the Baltimore Police Department, acknowledged no DNA evidence linking Davis to the Pimlico security guard was found.
Also highlighted is the fact that Baltimore police and city prosecutors have never established a motive in the killing, nor presented evidence that Davis Jr. and Kevin Jones, the 22-year-old slain guard, shot 11 times on the Pimlico lot in the predawn morning, even knew each other.
In the video, Towson University associate professor of psychology and law Jeff Kukucka notes that subsequent conclusions linking the gun police say they found near Davis Jr. to cartridges recovered near the body of the Pimlico guard's body are not based in science. "Firearms identification isn't an exact science," Kukucka says. "The truth is, it relies heavily on human judgment. And frankly, we don't even know how often firearms examiners make mistakes."
"The testimonies heard in these audio clips prove that the state's case is weak and inconsistent," DeRay Mckesson, the executive director of Campaign Zero and a Baltimore native, said in a statement. "It is gravely irresponsible and highly unethical that State's Attorney [Marilyn] Mosby continues to ignore the evidence and repeatedly prosecute Keith Davis Jr. simply to win a conviction. Keith Davis Jr.'s life is at stake. State's Attorney Mosby must stop playing courtroom whack-a-mole and actually abide by the facts. It's time she sets Keith Davis Jr. free."
If the May trial goes forth, it will make Davis Jr. only the second person in U.S. history to be tried six times around the same incident—according to Colin Miller, a University of South Carolina law professor, who has researched multiple prosecutions and co-hosts the podcast Undisclosed, which covered the case in 2019.
Near the beginning of the video, Mosby challenges a Mercy High School student at an event in 2018 after she asks about Davis Jr. case to "evaluate the evidence for yourself" when "at some point that case" is closed. The purpose of sharing the video and courtroom audio clips, the first of several in the works, according to Campaign Zero, is to enable the public to evaluate the evidence as Mosby indicated, Mckesson says. Last summer, Campaign Zero made full court transcripts available online, with the same purpose, Mckesson has said, to enable the public to look at the evidence for themselves. On the website, Mckesson and Campaign Zero highlight what they described as nearly 200 inconsistencies in the case and trials.
Baltimore wrote about the ongoing prosecution of Davis Jr. and the problematic issues surrounding his case in the magazine's December issue. Later that month, Davis Jr. rejected a plea deal from City State's Attorney Mosby that would've cut his potential jail time from 50 years to 15 in exchange for Alford pleas in the Jones' murder and another charge involving a prison fight.
Although it's legal to obtain recordings from Maryland courts, there is ban in the state from broadcasting them publicly. Mckesson says the American Civil Liberties Union will take up his legal cause if the broadcast of the videos and audio clips are challenged. The Undisclosed series on the Davis Jr. made similar use of courtroom audio clips and those efforts were not challenged.
An email to the City State's Attorney's Office requesting comment about the video went unanswered.
Meanwhile, City State's Attorney Marilyn Mosby is facing her own federal trial on two allegations of falsifying mortgage applications and two allegations of perjury related to COVID-hardship claims and early withdrawals from the City of Baltimore's Deferred Compensation Plans. A motions hearing is set for mid-April. A jury trial in the Mosby case is scheduled to begin May 2 and expected to last four days.
Mosby is also up for reelection this year. Two candidates, both former prosecutors and now defense lawyers, Ivan Bates and Roya Hanna, have filed for the June 28 primary. Mosby has not yet filed with the March 22 deadline two weeks away. Recently, she pulled down her personal social media accounts and campaign website. Her and her husband's legal defense fund remains up, however. City Council President Nick Mosby has also been involved in the DOJ's investigation. He has not been charged with any crimes.
If elected, Bates has already said he will not prosecute Davis Jr. any further.