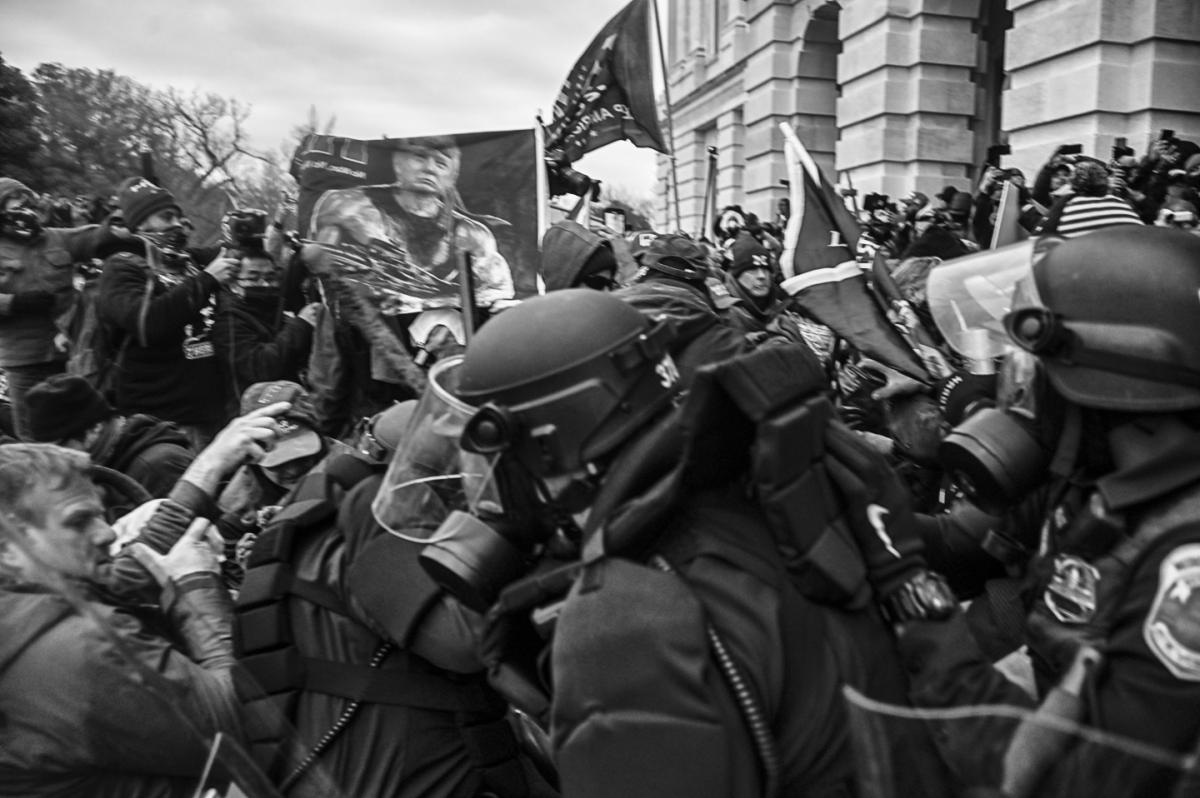 Scenes from the Capitol siege on Jan. 6, 2021. —Photography by J.M. Giordano
A year after the January 6 coup attempt, my biggest takeaway remains the same as it was that surreal and violent afternoon, as I stood and witnessed the action on the steps of U.S. Capitol. It was clear, even in the haze of tear gas, that the insurrection by pro-Trump rioters was not some spontaneous action, but planned in advance. And it was clear, based on all I saw on the ground that day, that there were people at the FBI and the White House who had to know about those plans and withheld that information from Capitol police, the D.C. police, and the District of Columbia National Guard—to prevent them from preparing for the deadly mob riot that ensued.
This is not is conjecture or conspiracy theory. It wasn't at the time, and it has only received further confirmation in the year since. Records obtained by The New York Times show F.B.I. officials in Washington, D.C. had been alerted prior to the attack by informants. A day before the rioters stormed the Capitol, an FBI office in Virginia had issued an explicit warning that extremists were preparing to travel to D.C., intending to commit violence and "war," The Washington Post reported shortly afterward. Recently, confirmation of planning by those close to former President Trump has begun to trickle out from the U.S. House Select Committee to investigate the January 6 attack.
But plans for disrupting the certification of Joe Biden's election victory and the likelihood of violence should've been obvious to anyone paying serious attention a year ago. They were to photojournalist and Baltimore magazine contributor Joe Giordano, and it's the reason we drove to Washington that day.
Giordano and I covered the morning pro-Trump rally near the White House and the "Stop the Steal" fervor and flag waving. We watched and documented the pro-Trump crowd marching to Black Lives Matter Plaza on their way to the U.S. Capitol after Trump's rally ended. And finally—after being alerted to events beginning to unfold at the Capitol—we drove down there and documented the insurrection as doors and windows were being bashed literally all around us. We were on the Capitol steps when word leaked out someone had been shot inside, and we were still there when Trump finally tweeted that people should leave. I interviewed Richard "Bigo" Barnett, the infamous rioter who had broken into Nancy Pelosi's office, shortly after he re-emerged from the Capitol. That's Giordano's photo of him in this story.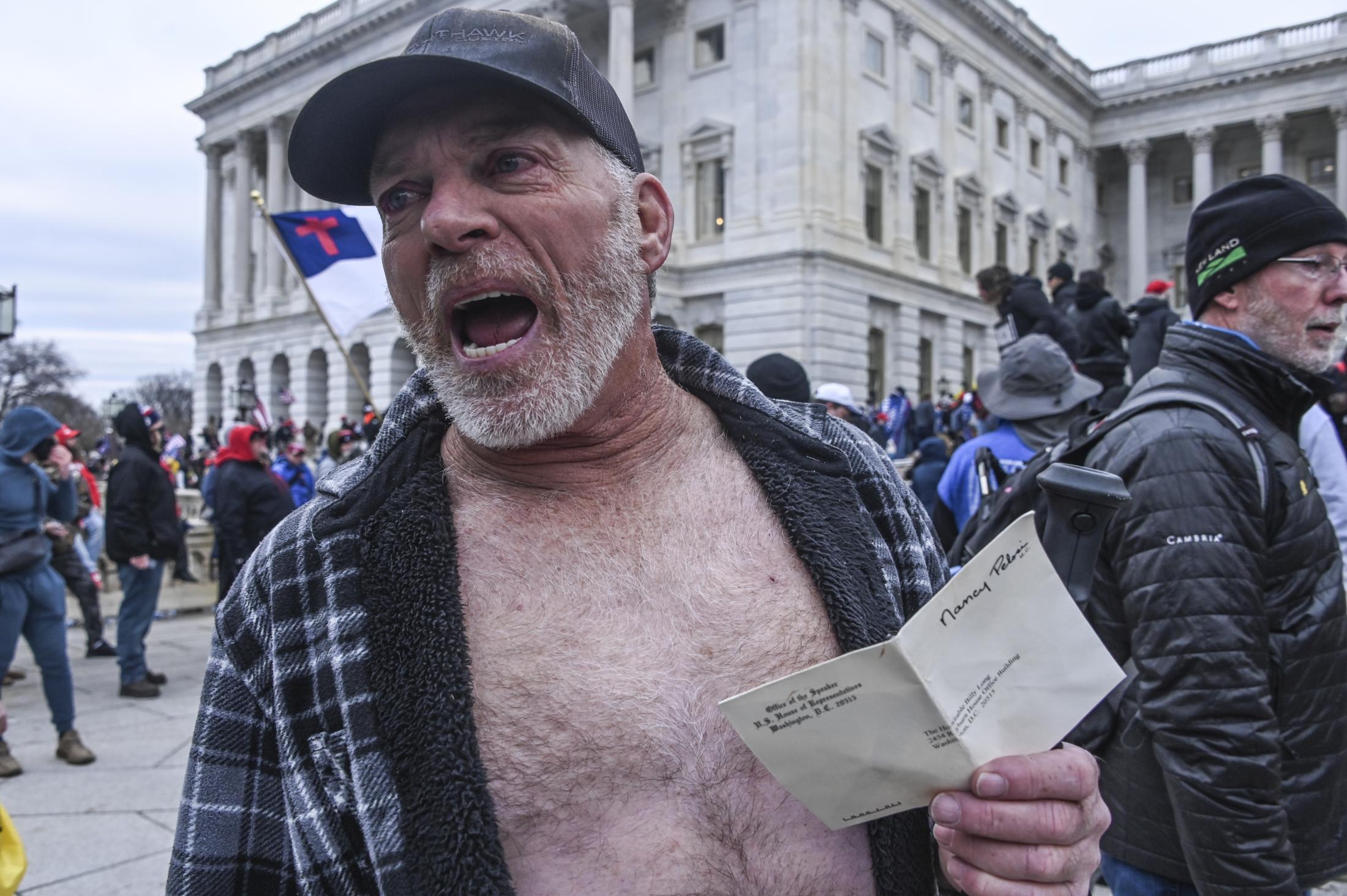 This is what I wrote that evening:
Why the U.S. Capitol building was left largely undefended remains an urgent question.

A year later, it remains the key question. With this follow-up:

Why is it taking so long for those responsible to held accountable?
Giordano had covered previous Trump rallies on the Eastern Shore, in South Carolina, and he'd covered the Republican national convention in 2016. He'd also been in D.C. weeks before during the Proud Boys' attacks on Black Lives Matter activists, and he followed right-wing groups on social media. Giordano texted me and we talked that week. I'd covered Trump's campaign appearance at the Baltimore Convention Center in 2016, and it seemed like a good idea, at the very least, to come full circle and see the end of his presidency first hand.
Following events on television or via social media is not nearly the same, as any journalist will acknowledge, as being there and talking to participants in person. I wanted to ask and hear directly from those attending the pro-Trump "Stop the Steal"—who were coming from all over the country—what they believed and why.
Giordano, however, had more than a hunch something significant, likely violent, was in the works based on what he was reading—not on encrypted apps or private message boards—but on social media posts and reposts by extreme right-wingers, the Proud Boys and Oath Keepers supporters, and the neo-Nazi forum, Stormfront. We didn't have any special inside information, in other words. Anyone, like Giordano, whose instincts I knew to trust, could have drawn the same conclusion he did. Certainly if he had a strong feeling that we should be in D.C. that afternoon to document the expected chaos, the FBI and people at the White House had a much better idea what the pro-Trump extremists had in mind.
It's also worth noting that progressive activists knew not to be there. They had realized during the week leading up to January 6, that the right-wing extremists were looking for a fight. So Trump counter protestors stayed home rather than facilitate the usual "both sides" default narrative put forth by the national media.
Specifically, Baltimore activists had told Giordano in the days leading up to January 6—and me that day by phone—that they had called off plans to go to D.C. And, as Giordano and I can attest, there were virtually no anti-Trump activists anywhere near the White House rally or the Capitol. Or even Black Lives Matter Plaza, where maybe a half-dozen activists were on hand, for the most part, just blasting music. Afterward, the idea that somehow Antifa was behind the violence at the U.S. Capitol was just another big lie.
The Big Lie, of course, was that the November election had been stolen from Trump.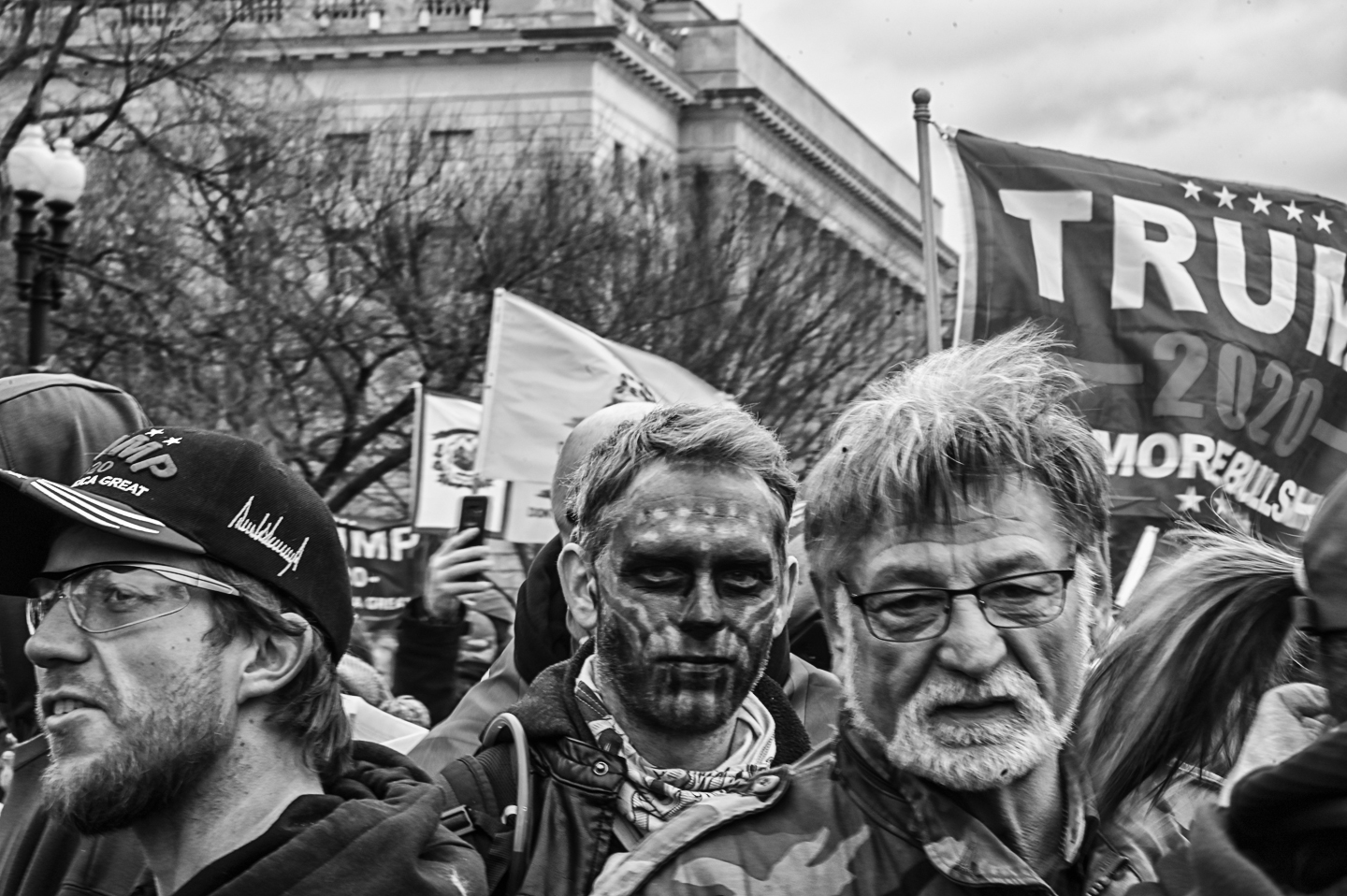 What can I say that it isn't obvious at this point? Propaganda works among those inclined to believe the messenger and the message. In more than two dozen face-to-face interviews with Trump supporters at the morning rally on the Ellipse outside the White House—and immediately after the attack on Congress—it was clear former President Trump's lies regarding a rigged election, their amplification on FOX News, on social media, and on other right-wing media channels, had convinced them that election was being "stolen." While shocking, witnessing the scene at the U.S. Capitol, it was obvious the president's disinformation worked as intended.
His speech on the morning of January 6, when he vowed "never to concede" and implored supporters to "stop the steal," was simply the signal to his masses to march to the Capitol and disrupt Congress and Vice President Mike Pence from certifying the results. People at the rally believed and told me they were counting on Pence and Republican members of Congress not to certify the results later that day. Of course, we now have confirmation from multiple sources that the former president was watching the attack on the Capitol on television and ignoring pleas from family and advisors to call off his supporters.
To date, however, the only people charged with wrongdoing are the alleged street-level rioters. The majority of those charged are still awaiting trial at home. Judges have handed down sentences in 74 cases, according to reporting this week from NPR. Those sentences have varied, however. At this point, more than half—55 percent of the people sentenced—have received no time behind bars.
Let's remember that greatest crime is that a bipartisan Senate report found that at least seven people died in connection with the Jan. 6 attack. But I also want to re-emphasize, how incredible it was, and felt in the moment, that at both at the rally—and later at the U.S. Capitol—there was only light D.C. and Capitol police presence. It's been said that at the pro-Trump rally, police were checking bags and people had to go through metal detectors. That's patently false. Meanwhile, there were a lot of pro-Trump supporters at the rally milling about with the bulletproof vests and protective gear. Why that didn't set off any alarms, I don't know.
For what it's worth, I'm also familiar with the U.S. Capitol security. Twenty years ago, in other life, I was a bike messenger in D.C., regularly making deliveries to the Capitol. From my vantage point that afternoon, literally from the Capitol vestibule that I used to enter, I could see only regular Capitol police were on hand. The mob that I saw involved in the attack—which wasn't carrying automatic weapons—easily could've been thwarted by a strong National Guard and military presence. These guys were stupid, and some capable of violence, yes, with tear gas, poles, and tasers. Overall, however, it was hardly a fearsome armed revolutionary force. They simply outnumbered the Capitol officers, who were left unequipped and unprepared to fend for themselves.
Those organizers, which may include former President Donald Trump, should be held at least partially, if not directly, responsible for deaths of the activist shot that day, as well as the police who were injured and seven who died as a result of the coup attempt.
The other lasting takeaway from January 6 is that without the real fomenters and organizers of the insurrection—Trump, possibly several GOP congressional members, and their extreme rightwing allies—being held to account, the events of January 6 inevitably become fuel for more authoritarianism and more political violence. The extreme right, and their GOP enablers in state houses across the country and in Congress, have become politically emboldened. This is what we are seeing every day now in efforts to roll back voting rights and manipulate election boards responsible for counting and certifying results.
One person I spoke to after returning home on January 6 was Jeremy Collins, a then 25-year-old Baltimore photographer. He had taken an early afternoon train to Washington to document the pro-Trump rally and march as well, later describing the scene of a white mob descending on the U.S. Capitol as "bizarre" and "surreal." That night on the phone, he cautioned that the storming of the Capitol would likely serve as an inspiration to future rightwing political violence. If Donald Trump runs for president again, which seems likely now that he's ahead of President Biden in some polls, it's hard to imagine that won't be the case.
"We should expect people [on the right] to be further radicalized by this," Collins said. "The conditions are ripe. People are taught not to trust the government and media. Today sets a precedent and it should set off an alarm."
If there's any doubt that the disinformation and groundwork is already laid for similar crises and violence—perhaps not at the Capitol, but maybe a state house next time—consider that two-thirds of Republicans say they won't trust the 2024 elections. And recall the response just last month from five GOP candidates for governor in Minnesota, when asked at a panel whether they thought President Joe Biden had won a "constitutional majority in the Electoral College." Not one responded with a straightforward "yes."
In Maryland, let's not forget what one current state delegate and candidate for governor tweeted exactly one year ago today during the insurrection: