Photography by Ron Cassie
Several hundred high school students marched from the Baltimore School for the Arts to the Baltimore City Public Schools headquarters Wednesday afternoon, demanding curriculum changes and full support for the Black Lives Matter movement from local and state school leaders.
Organized by the students—mainly from the city's acclaimed school for the arts, but also those from other schools—speakers called on the head of city schools, Dr. Sonja Santelises—who was in attendance—and state school superintendent Dr. Karen Salmon to, "outline the ways in which their organizations will work to be anti-racist and pro-black from now on."
"Our country is in crisis, and it has been for 400 years," said 16-year-old Mahsati "Sunny" Moorhead, who is finishing her junior year at the Baltimore School for the Arts this spring, reading from a prepared statement. "We implore the leaders of Maryland State Department of Education and Baltimore City Public Schools to be on the right side of history and make the necessary changes to begin to dismantle the long held white supremacist ideology running so rampant within their own organizations."
Among the specific demands from students was a more inclusive English reading curriculum, including works by Zora Neale Thurston, Toni Morrison, and Malcolm X. They also demanded social studies lessons that cover the history of white supremacy in the United States, as well units on successful black political revolutions and the role of black women in the American civil rights movement.
"The problem is we don't see African Americans represented in our history classes or in our English classes—people who look like us," Moorhead, who is black, later told us. "We read The Great Gatsby and The Awakening, but nothing that we can relate to or relates to ur experience."
Students also seek an increase in mental health awareness and services for students and staff. They also called on the overwhelming black Baltimore school district to employ a higher percentage of black social workers and counselors.
The noon march from the Baltimore School for the Arts took demonstrators through closed city streets in Mount Vernon and Station North before reaching the school headquarters. Protestors gathered at the steps, kneeling for an eight-minute, 46-second period of silence to honor George Floyd, who died while having his neck pinned to the ground for that exact amount of time by Minneapolis police officers last month.
The two-hour march and rally included several musical, singing, and dance performances. But the focus was on the message delivered by several student speakers, notably Moorhead, who presented the students' list of demands.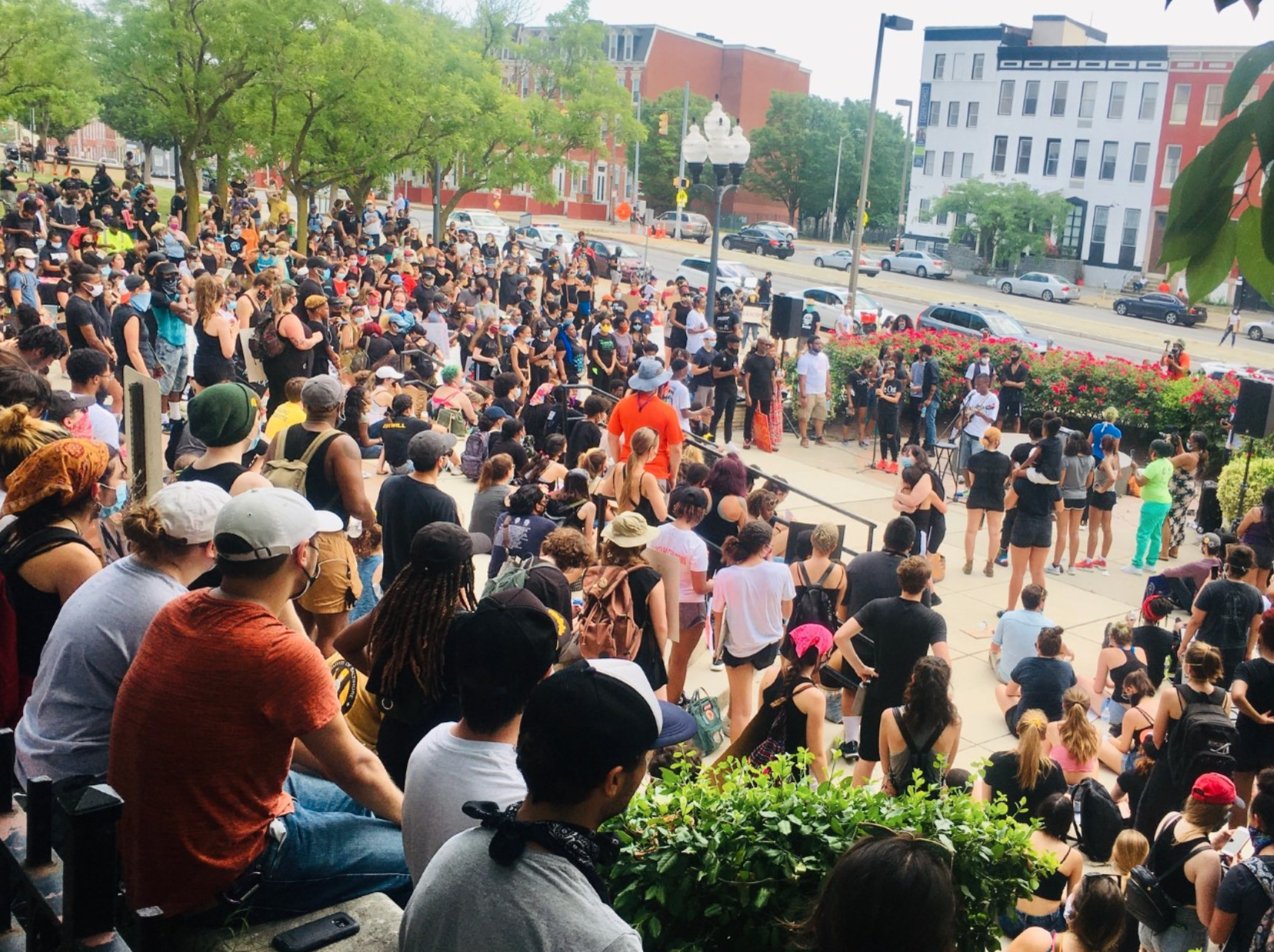 Baltimore activist Kwame Rose, 26—who has been present during the recent city protests, as he was in 2015 following the death of Freddie Gray from injuries suffered while in police custody—praised students for pushing for social and educational change.
"I think it's important for every adult here to listen to their demands," Rose told the crowd. "I know protesting is important to secure space to highlight the issues."
It's also important to work for tangible goals, Rose added, encouraging those in attendance to pay attention to budgets and email the mayor, City Council members, and school officials to advocate for increased funding for schools. Rose noted that, when he went to school, classrooms were often crowded, short of textbooks, and sometimes without air conditioning.
"There is no reason why Baltimore City police officers should make more than Baltimore City schoolteachers," Rose said.
Santelises said she supported the students and young people advocating for, "the kind of education they want and deserve."
She also highlighted the city school systems "BMore Me" curriculum designed to increase student engagement by focusing on Baltimore's current events and history.
"The students are impatient to see change. We're all impatient to see change," Santelises said. "But I'm here listening today."