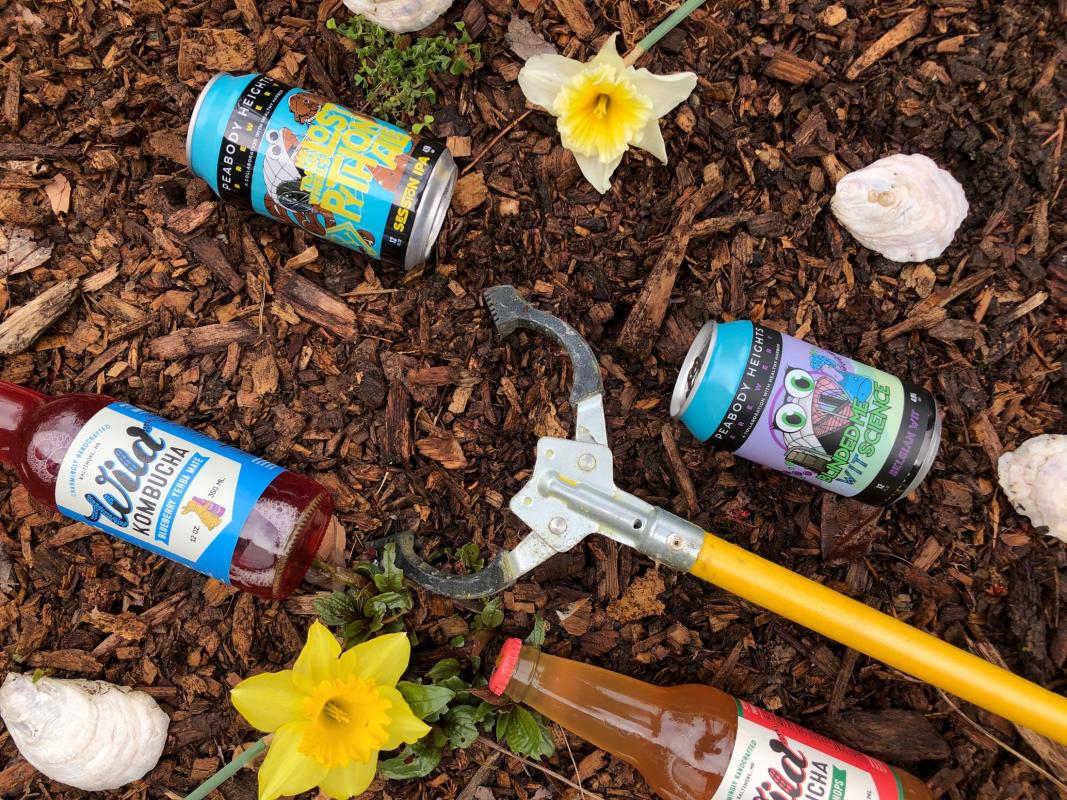 Snap a photo of your neighborhood cleanup to get a free drink from local eateries participating in The Takeout Getdown. —Photography by Kathleen Overman
Earth Day came quietly last year as locals were busy adjusting to the new normal. Safety protocols put a stop to tree plantings and neighborhood cleanups in honor of the national holiday, which originated 51 years ago this week.
But now, one year into pandemic life, as vaccines start to make their rounds, the community is gearing up for Earth Day with lots of sun-filled fun and spaced-out happenings. Across Baltimore, resourceful locals, green organizations, and eco-savvy entrepreneurs are preparing to safely celebrate Mother Earth (in-person and virtually) all week long.
Among the events to look out for is The Takeout Getdown's third and final installment of the season. Co-created last year by artist Aaron Brown (more fondly known as Sovthpaw) and local business advocate Kathleen Overman, the series—in which ordering takeout from participating eateries grants diners access to a virtual bash—returns this Saturday, April 24 in partnership with Blue Water Baltimore.
"The stakeholders of The Takeout Getdown have been, of course, the restaurants, the creatives and performers, and the viewers at home," says Overman, a marketing specialist and the social media coordinator for Verde in Canton. "This time, we wanted to make sure we were considering our fourth stakeholder, which is the environmental impact that takeout has on our waterways, our streets, our trash cans, and our city itself."
The event, dubbed "An Earth Day Affair"—which follows The Takeout Getdown's New Years Eve and Valentine's Day iterations—will feature a remote trash cleanup, free goodies, and eats from eight participating Baltimore restaurants. With their takeout orders from select spots, diners will receive a QR code that serves as a ticket to an online, kid-friendly performance by local musicians DJ Fleg, Ms. Blue, and DJ Landis Expandis.
As Charm City's restaurants and patrons embark on another summer season in the wake of the coronavirus, Overman hopes that Saturday's event will offer them the chance to reconnect with a purpose. 
"Let's get up and go outside," she says, "and find a way to do service and feel good about ourselves and our neighborhood."
Below, learn more about the Takeout Getdown and see our list of more ways to get involved this Earth Day week:
4/22: Earth Day at Hotel Revival
In honor of Earth Day, this boutique hotel in the heart of Mt. Vernon will host a handful of eco-friendly makers this Thursday from 3 to 7 p.m. Stop by to score clothing from Keeper's Vintage, toilet paper courtesy of Lor Tush, and memberships to Hungry Harvest's farm-fresh grocery delivery service. Be sure to stick around as the entrepreneurs discuss their locally made, sustainable goods.
4/22: Earth Day with Rachel Carson
Join the Natural History Society of Maryland in welcoming an Earth Day icon to the stage. Marine biologist Rachel Carson (portrayed by performance artist Colleen Webster) will make an appearance on Zoom this Thursday to share the story of her life and legacy. Register online, then tune in at 7 p.m. as Carson, who famously wrote about pesticide use in The Silent Spring (1962), takes viewers on a journey through her lifelong career spent caring for the ocean and its many creatures.
4/22: Talewise Presents Earth Day: Revenge of the Toxic Robot
Tune in for a special Earth Day story hour courtesy of the Enoch Pratt Free Library. Register online to receive Zoom login details. Then follow the story of a group of friends—and a robot powered by toxic sludge—who set out on a mission to save their local park from the dangers of waste and pollution.
4/24: Earth Day Celebration at Dejon Vineyard
Ride out to Hydes to ring in Earth Day weekend with the crew at this family-run winery, which will offer a lineup of eco-friendly fun this Saturday from 12 to 5 p.m. Visit local vendors for tips on creating upcycled goods using items found in nature, enjoy live tunes from the Smooth Groove jazz ensemble from 1-4 p.m., and score wood-fired pizzas from Brookside Market to enjoy with your Dejon sips.
4/24: Earth Day Clean Up of Gwynns Falls Trail and Carroll Park
Grab a mask, throw on some gloves, and take part in this COVID-safe, family-friendly cleanup—which kicks off this Saturday at 3 p.m. in the Northeast corner of Carroll Park. Select a time slot to volunteer to pass out materials or pick up trash along the Gwynns Falls bike trail. Afterwards, embark on a socially distanced community bike ride with your crew.
4/24: Restore our Earth Fun Run/Walk
Celebrate nature as you run or walk (your choice) through Wheaton Regional Park. This Saturday morning stroll kicks off at 9 a.m sharp, so be sure to set your alarm. Then road trip it out to the Silver Spring park, and soak up the sights along your three-mile course. You can also learn how to reduce climate change as you fill out a bingo card along the way.
4/24: SNBA Earth Day 2021
Join the South Baltimore Neighborhood Association (SNBA) for its first-ever clean up in honor of Earth Day. Here's how it works: Sign up to become a "Block Captain" via Facebook or by sending an email. (You'll receive trash bags, gloves, mulch, and all the tools you need to make your street corner sparkle.) Then, from 9 a.m.- 1 p.m., enjoy the fresh air as you work to beautify every block in Sobo. And be sure to bring the little ones along for a scavenger hunt with a chance to win a special prize.
4/24: The Takeout Getdown: An Earth Day Affair
Takeout is your ticket to this day-long lineup of delicious eats and kid-friendly fun, which will start with a community-wide cleanup to help beautify Charm City. Ahead of Saturday's event, visit ACE Hardware for sweet discounts on trash picking tools. Then roll up your sleeves, throw on a mask, and prepare to spruce up your neck of the woods. (Don't forget to snap a picture of your trash collection—you'll need it when you head to pick up your takeout.) Refuel with tasty, to-go eats from eight participating spots throughout the city, including Fishnet, Dooby's, Kitsch Cafe, Peabody Heights Brewery, Golden West Cafe, Verde, Blue Pit BBQ, and Maggie's Farm. Present your pic to score a free sip from Wild Bay Kombucha or Peabody Heights. As promised, you'll also receive a QR code that counts as your ticket to a virtual concert. Back home, groove along with your kiddos to the sounds of DJ Fleg, Ms. Blue, and DJ Landis Expandis. And download an Earth Day coloring book page, made by local artist Sara Tomko, here. 
4/24: Green Towson Alliance Stream Cleanup at Fellowship Forest
Join the crew at Green Towson Alliance for a socially distant stream cleanup. Grab your pod to register online in advance, and make sure that everyone brings a mask. Then throw on your sturdiest pair of boots and book it to Goucher Boulevard. From 1-3 p.m., work with your crew to collect trash cluttering the land and waterways. 
5/16-17: Everyday Should Be Earth Day Cleanup
As this event's name suggests, it doesn't have to be Earth Day for you to do your part in protecting our city's beloved greenspaces. Mark your calendar and head to the disc golf course at Druid Hill Park for this community cleanup next month. Organizers Dan Brover and Paul Sellers have teamed up with Legacy Settlement Services and the Parks & People Foundation, which will provide trash pickers, bags, and gloves for anyone who wants to participate. Plus, enjoy free eats and drinks to reward yourself for lending a hand.