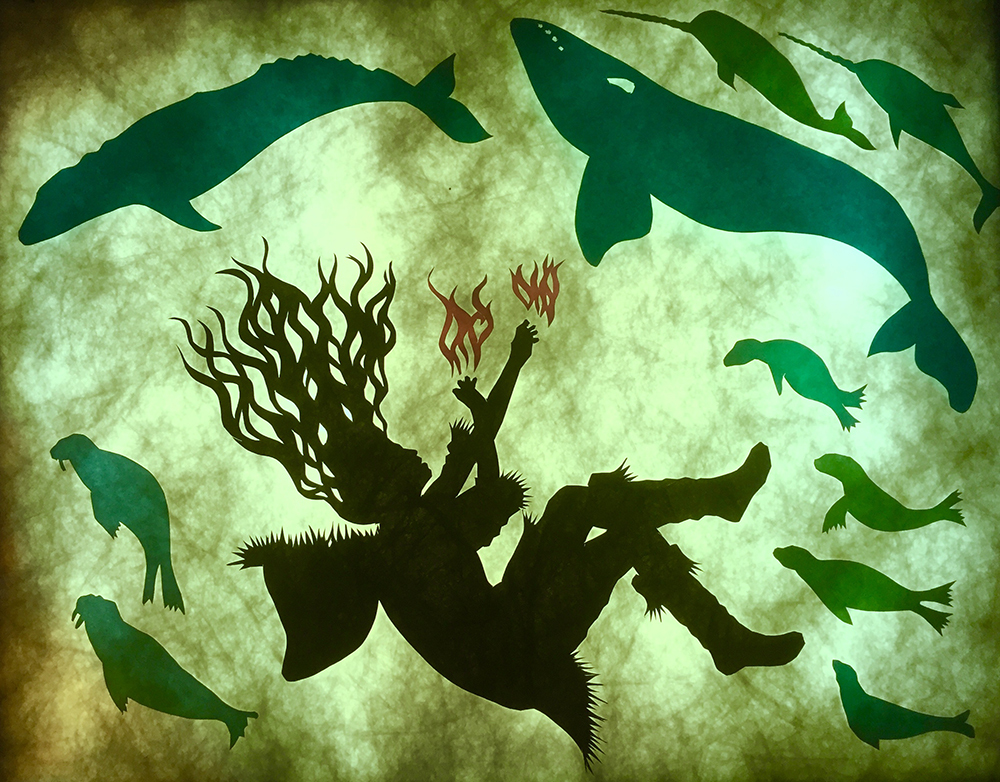 Katherine Fahey
When an artist is given a blank canvas, the possibilities are endless, and the same can be said for artists invited to create a crankie.
The Creative Alliance hosts its Baltimore Crankie Fest each January (Janunary 4-6 this time) and encourages visual artists to make and present a crankie—even, and especially, if they've never done so before. This year, the festival lineup will bring newbie KAL (Kevin Kallaugher), editorial cartoonist for The Baltimore Sun, as well as a seasoned crankie artists Katherine Fahey, Emily Schubert, Liz Downing, and others.
Crankies are moving panoramas with long pictorial scrolls that are typically hand-cranked, hence the name, to tell a story inside a viewing box. The boxes are often backlit for shadow puppetry, and song and narration accompany the performance.
But at Baltimore's annual festival, there's really no such thing as typical. Some artists have shown digitized versions of their pieces, essentially creating short films of crankies. In one of Emily Schubert's pieces, artists used their bodies to transform into life-size human cranks—turning in place, one unraveling while the other collected the story scroll. A fourth show was added this year, but even with an extended run, tickets are expected to sell out.
Anna Roberts-Gevalt and Elizabeth LaPrelle—known for their quilted crankies—founded Crankie Fest in 2014, and around that same time, the Black Cherry Puppet Theater had started its puppet slam series, Slamwich, through a grant from The Jim Henson Foundation. Several festivals and puppet slams later, not to mention numerous crankie workshops, more and more artists are making their own crankies in the city, and several take them on tour for additional performances.
"When I go to the National Puppetry Festival and say I'm from Baltimore, they say, 'Ohh—there's a really strong scene there, isn't there,'" says Katherine Fahey, who some have called the Godmother of Baltimore Crankies. "People know about Baltimore, and I think that's largely because of the puppet slams and the Crankie Fest."
Crankies were a natural fit for Fahey, a singer and visual artist who often works with musicians (see her first crankie of intricate paper-cut puppetry in Wye Oak's 2011 music video "Fish"). When Fahey met Roberts-Gevalt and LaPrelle (aka folk duo Anna & Elizabeth), it was a revelation, she says.
"They were already musicians and thinking of themselves as performers, but I was a visual artist. I got really inspired that they were performing with visual artwork on a regular basis. It seemed like the right direction to move in, but it was also terrifying." They began working on crankies together and taking them on the road shortly before Crankie Fest was created. "Visual artists, I think, are too solitary sometimes, and this really gives you the opportunity to share your artwork in real time, in a personal way."
For this year's festival, Fahey, who also teaches crankie workshops, will bring to life the story of Sedna, Inuit goddess of the sea. Two Inuit sisters from northern Quebec will fly in for the show, performing Inuit throat singing alongside the crankie images.
"I chose that story because it's been kind of an interesting time for women," Fahey says. "Sedna is a woman who suffers a lot and then, out of that suffering, becomes very powerful. There's a harshness in the story that I think in the U.S., we kind of gloss over in our fairy tales. Most of my crankies have been all-ages [appropriate], but there is some violence and harsh reality that was a little bit of a struggle for me, but I realize the importance of including it."
Another favorite, Downing will return to the festival to present a crankie based on a dream she had during times of changes in her life. "They were instructional kinds of dreams that I deciphered in many different ways," she says. "I feel like it's an important part of our daytime to understand our dreams," she says.
A musician and visual artist, Downing is known for her tall vertical crankies that use a scroll of solid paper. She incorporates paper and wooden hand puppets, rather than shadow puppetry, to add another element of interaction to her stories. Because her songwriting and visual art is primarily psychological in nature, incorporating dreamscapes and abstract ideas, it took her a moment to reorient herself to crankies, when she was asked to participate in Crankie Fest years ago.
"I had to find a way to make a different sort of crankie," she says. Long, horizontal landscapes were so different from her usual work, so instead, she tapes each illustration to one another, panel by panel, to tell a story vertically through surrealistic portraiture. "When first thinking about it, I didn't want to start a whole new art form. I thought, what do I love to do and what do I do best—drawing, singing, and storytelling. It's actually just the absolute perfect fit for me, to create scrolls of drawings and sing their story. . . . It's kind of part of the revival of going back to handmade and away from technology."
Her first crankie, Piggly Wiggly, illustrated the story of her getting lost in a cemetery while she wandered off as her mother visited the gravesite of Downing's grandfather. The angel statues were of no help, as all their hands pointed to the sky, she explains (and not in the direction of her mother), and when they were finally reunited, her mother had eaten all the cream horns they'd gotten from a Piggly Wiggly on the drive to the graveyard (a portrait of half a dozen cream horns was included).
The Creative Alliance is known for featuring genre-defying are just like this, but even this festival stands out on their calendar. Performance director Josh Kohn, who helps curate Crankie Fest, says it's his favorite event of the year.
"There's a fireside magic to it," he says. "It's like an old-school variety show."