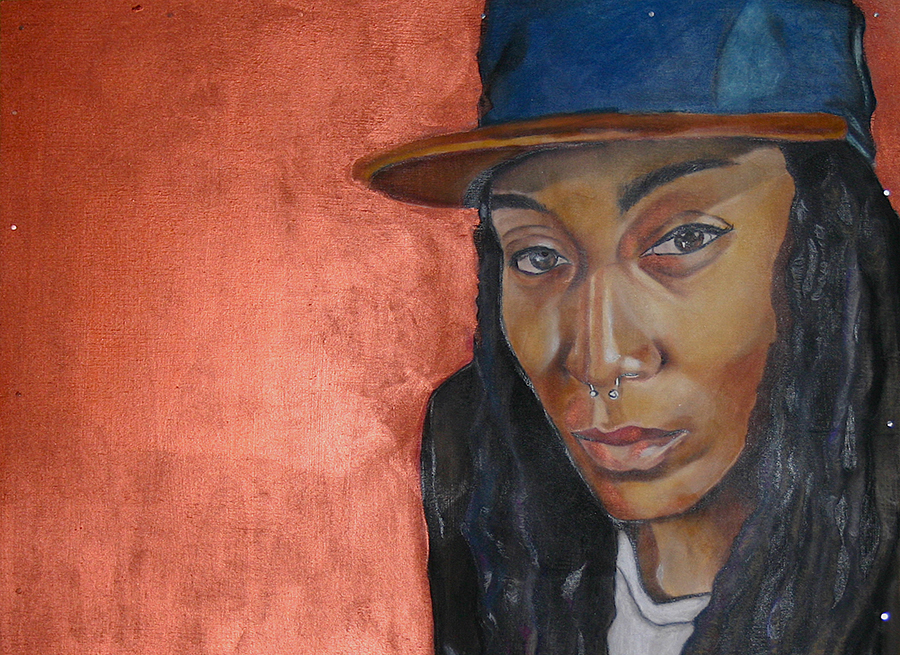 S. Rasheem
Beauty goes beyond gender. S/he Handsome, a new collection of pastel and acrylic figurative portraits by S. Rasheem continues a series of womanist works that decolonize standards of beauty. Each portrait realizes black masculine-of-center women in affirming ways. The term "masculine of center" was originally coined by social activist and entrepreneur B. Cole to encapsulate the intersectional facets and broad spectrum of lesbian/queer/womyn whose gender identities are more closely aligned with masculinity.
S/he Handsome, opening February 8 at Jubilee Arts, makes a resounding declaration about the complexities of identity—mainly that black, queer representation matters. We got a chance to talk to Rasheem about why the definition of certain words matter, what inspired her series, and what impact she hopes her portraits will have.
What inspired the series?
A few things, first, the absence of seeing masculine-of-center women. My desire is to make their experiences more visible. Often times when I see black women in visual artworks, they are usually hyper-feminine, hyper-sexualized and I wanted to portray them as beautifully, strongly, handsomely as they really are. All of the women in the portraits use she/they pronouns and identify as bois. I like that traditionally marginalized and objectified persons become the subject and bring viewers in to become the object, because they are like "I see you seeing me." So, it's like we are all in the picture together.
Handsome is such a specific term in relation to gender and masculinity.
The use of handsome was very intentional, because the goal is to interrogate the conversation about who gets to be called masculine. Handsome seems to be used as a very gender-specific term, and women are not particularly seen as "handsome" and thought not to be able to be handsome. I think sometimes earlier from being around friends or partners and people wanting to articulate that they found them attractive, and feeling like handsome was misplaced. I wanted to purposefully say, no, they are handsome, we don't have to search for another word.
If I had to say one thing about the body of work, each of them are saying, "I am not trying to be noticed, but I refuse to be ignored, I am here. [I'm] not going anywhere; in all of my strength, all of my beauty, all of my handsomeness."
Who are the people in these portraits?
None of the women are people who came to model for me in a particular studio. These are people who be in everyday life, this is how they show up and present themselves to me and to the world. It was very important to me that I honored that and showed that. These aren't costumes. To the degree that masculinity is performative; this is something that comes out of their being.
Why is it important to exhibit portraits of black masculine-of-center women?
Representation absolutely matters. I feel like there is a politic that is occurring around this battle between self-identity politics and acknowledgement politics. It's important that they are seen, hear, and represented. I find it troubling, the lack of representation. It does not in any way gel with all of the places that these women show up every day—whether it's your barber, or the officiant who married you, or the truck driver who brought you goods.
At minimum, I want the women to be seen and I want you to identify them in the way that they choose to be identified. I also want to provide a counter narrative around what it means to be masculine or female bodied. I want them to be seen through a particular lens that isn't tragic, scarred, or hurt. I want to show them in ways that I see them: strong, bad ass, here, visible, present.