Baltimore-Based Cinematographer Bradford Young Creates Movies and Art on His Own Terms
If Young's relationship with Hollywood were a Facebook status, it would read: "It's complicated."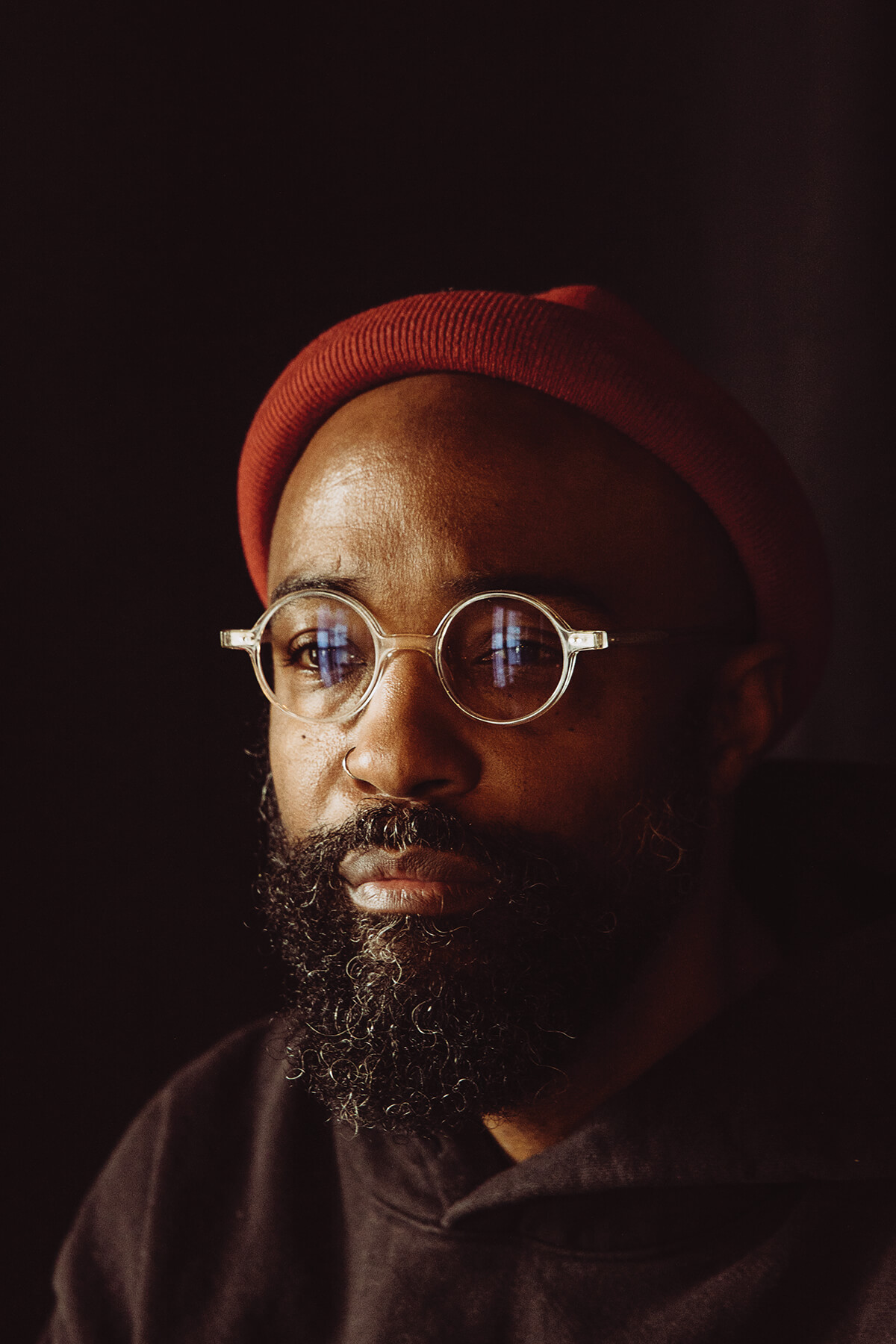 It's almost impossible to imagine now, but world-renowned, Baltimore-based cinematographer Bradford Young came this close to being a mortician.
"I come from a long tradition of morticians," he explains. "My uncle was a mortician. My great-grandfather was a mortician. My grandfather. My cousins. My aunts were in the game, as well. It was expected—in my mind that's what I was always going to do."
Growing up in Louisville, he'd always been exposed to the arts, especially Black-focused arts. His grandparents took him to see Porgy and Bess at The Kentucky Center for the Performing Arts. There was work by mainly Black artists on the walls. He had an uncle, Leon Bibb, a musician, activist, and actor, who was close friends with Paul Robeson and had marched at Selma. (In a full circle moment, of sorts, Young was the cinematographer on Ava DuVernay's Selma). His cousin Eric Bibb is an internationally famous blues guitarist and songwriter.
Still, the 43-year-old Young admits, "I was too scared to be in that narrative." At that point in his life, he had yet to see himself as an artist.
As a "crusty little weird kid" growing up in the South in the '90s, he found a small pocket of friends like him—kids who were into art, and especially hip-hop music, which shaped his worldview.
"Hip-hop was teaching us how to be African-centered," he says. "How to be Black."
Then, in 1993, something happened that rocked his world—and changed the trajectory of his life. His mother, who was divorced from his dad, got sick, and, after a long illness, she died. Young was 15. He moved to Chicago to live with his dad. And living in the Windy City changed everything.
"Leaving Kentucky was difficult, but in a way, it was also the best thing that ever happened to me," he says.
If he had stayed in Louisville, followed that family business, he says, "I would've been living a lie."
"I BEGAN TO SEE HOW IMAGE CONNECTS TO STORY …THAT'S HOW IT ALL STARTED."
In Louisville, it had been easy to find the kids like him—because there were so few of them. But Chicago was different—lots of kids were into hip-hop. But not all were into art and culture like he was. He admits things could've gone badly for him—especially since he was new in town and grieving. But he was supported by his father, his two sisters, the rest of his family, his friends.
"They held me up. I could've gone in a totally different direction," he says. "I could've gone down a self-destructive route. Dropped out of school. But that never happened."
One day, he went to a Common show (another full-circle moment: Young would go on to direct the film short companion to Common's Black America Again album). He saw a girl there—her name was Candace. He liked her vibe. They exchanged numbers and became friends (they're still good friends to this day). One night, she invited him to her apartment in Hyde Park, where she lived with her mother. When he got there, he fell in love with the space—the books, the music, the art on the walls.
Her mother was watching a movie, Like Water for Chocolate, which he'd never seen before. His knowledge of film was fairly limited, especially when it came to "indie" film, where the only director he was really familiar with was Spike Lee.
On the coffee table, there was a book about the groundbreaking Julie Dash film Daughters of the Dust. He started flipping through the book, fascinated by the beautiful images of mostly Black women in pastoral settings, dressed in flowing white garb. In the back of book, there was an essay by the film's cinematographer, Arthur Jafa.
"I learned he was from Mississippi, which made me feel a connection," Young says. "The language he was using to describe the images of the film was so smart. I never thought about movies that way. It really stuck with me."
The next year, Lee's Crooklyn came out. "And I realized that [Jafa] shot it, and it was just like, 'Wow, this film thing is amazing.'"
Another time, he was driving with his father when, out of the blue, his dad began talking about Spike Lee's other famous cinematographer, Ernest R. Dickerson.
"The cinematography thing kept coming up," Young says. "But I was like, "That's not me. I don't even know what film school is. How do you do that?"
From Chicago, he went on to Howard University with plans of becoming a writer, though the notion of pursuing film was definitely rattling around in his head. It just so happened that he was at Howard the same time as the late actor Chadwick Boseman, the producer and curator Kamilah Forbes, and the public intellectual Ta-Nehisi Coates. They were his age, but he looked up to them.
"I always felt like I was the little brother. These were 18-year-old kids who were already fully realized, fully robust artists," he says. "I was just like a little skinny kid walking around observing all these giants."
Young joined the Howard University Film Organization, not necessarily to be a filmmaker, but to hang out with the students in the department.
A professor at Howard, the filmmaker Haile Gerima, expanded his film vocabulary. Gerima showed him his own film, Sankofa, as well as other Black-helmed films such as Killer of Sheep and Black Girl.
Suddenly Young realized there was this whole world of Black film out there that he had not been privy to—a thriving universe outside the mainstream. He began to think about how the exclusionary world of white film was a "weapon against my humanity."
"I WAS JUST THIS LITTLE SKINNY KID WALKING AROUND AND OBSERVING ALL THESE GIANTS."
He took a year abroad in England and expanded his filmic horizons even further, feasting on the works of Godard, Tarkovsky, and others.
"I started watching films for images. I began to see how image connects to story and how story connects to image," he says. "That's how it all started. And I decided, I'm going to finally claim this. I'm a cinematographer."
Back at Howard, he made three student films with Boseman.
"He was such a force of nature," Young says. "He was no less positive and bright and brilliant then. I loved him."
Boseman, Forbes, and Coates taught Young a lot about how to be an artist, and how to value and nurture Black art and culture, he says. He left Howard with the understanding that, "If there's no art, there's no culture, and if there's no culture, there's no people."
After graduating in 1999, he moved to Brooklyn and started getting his first gigs as a professional cinematographer. There was his debut feature, Mississippi Damned, about growing up poor and Black in the south.
There was also a short film, Pariah, directed by a friend of a friend, Dee Rees. Thanks to a Sundance grant, Rees was able to turn her short into a feature. That was a turning point. Pariah became a buzzy Sundance hit.
Young won Best Cinematographer there in 2011 (he would win again the following year). And around that time, he caught the attention of a rising young director named Ava DuVernay. With her, he ended up making some of the most critically acclaimed work of his career: Middle of Nowhere, Selma, and the gut-wrenching miniseries about the Central Park Five (now the "Exonerated Five"), When They See Us.
Young credits DuVernay with a lot—he talks about her "wisdom and wonderfulness"—but he especially appreciates that she, "left her foot in the door"—that is, allowed more young Black artists to follow her into the Hollywood mainstream. Which is something Young is more than slightly ambivalent about.
If Young's relationship with Hollywood were a Facebook status, it would read: "It's complicated."
That moment in college when he realized there was rich, dynamic Black film world outside the scope of so-called cinematic canon was revelatory for him. He realized that he needed to carve out his own space in the film world, with his friends, with the people he wanted to collaborate with, the ones who inspired him.
"We want real freedom for ourselves to tell stories the way we wanted to, structurally and artistically," he says. In other words, he wasn't chasing Hollywood success. He was building success on his own terms.
"What makes Bradford great is his commitment to his ancestors backward and forward in time and his faith in cinema," says the filmmaker Terence Nance (Random Acts of Flyness), who, along with Young and director Jenn Nkiru, cofounded the Ummah Chroma ("community of color") artists' collective.
But as that success grew, Hollywood came calling. Young was the cinematographer on Arrival. He was asked to join the Lucasfilm project Solo: A Star Wars Story. (Despite some of the well-documented tensions on the set, he says he had a great and fulfilling time and would happily work with Lucasfilm again.) In fact, he was in London, on pre-production for Solo, when a co-worker turned to him and said, "Congratulations."
"For what?" Young said.
He had been nominated for an Oscar for his work in Arrival. He was the first African American to receive a Best Cinematography nomination.
His 2017 Oscar nomination, Young says, was "bittersweet."
"I'll be honest. I have a very contentious relationship [with the Oscars]. Maybe there's something to appreciate about them, but I haven't found that space for myself yet," he says. He admits that he didn't even want to attend the ceremony.
"I just wanted to stay in London and focus on my work," he says. But a conversation with his friend, the filmmaker Malik Sayeed, changed that.
"He said, 'You're being put in this place for a reason. I'm going to send you something.' And when I hung up, he sent me a picture of four kids in alleyway somewhere in Africa, and there's a kid with a broom pole and a camera made from a box and here's two kids facing off like an action film. And I was like, 'Yeah, okay, for those kids, or the kid in Baltimore who has faith in the country that they can be part of the culture, for them, maybe it's important for me to be there.' And I decided to go."
"SHE SAID, 'COME TO BALTIMORE. IT'S A COOL SCENE…IT'S EVERYTHING WE'VE ALWAYS IMAGINED.'"
Young moved to Baltimore with his wife, Stephanie Etienne, a midwife and maternal activist, in 2016, right before he went to film Solo. They already had two young sons and a daughter on the way. As a cinematographer, Young had gone where the work had taken him—and the family had always packed up their stuff and gone with him.
There were stints in London and Hollywood. He had lived in Brooklyn for a while but hated how gentrified the neighborhood had become. The family also lived in Takoma Park, an area Young was familiar with from Howard University. It was his friend, the producer, artist, and filmmaker Elissa Blount Moorhead, who had suggested Baltimore.
"She basically said, 'Come to Baltimore. It's a cool scene…[There are] all these Black families here. All these Black children running around. It's everything we've always imagined.'"
So he came. Bought a house in Reservoir Hill, specifically choosing that neighborhood not just for its beautiful architecture but because it wasn't fully gentrified yet. "I want my kids to see their people," he says. "I want them to walk outside their house and see low-earning Black people and high-earning Black people. A lot of American cities don't have that. And that's their loss." He fell in love with the city.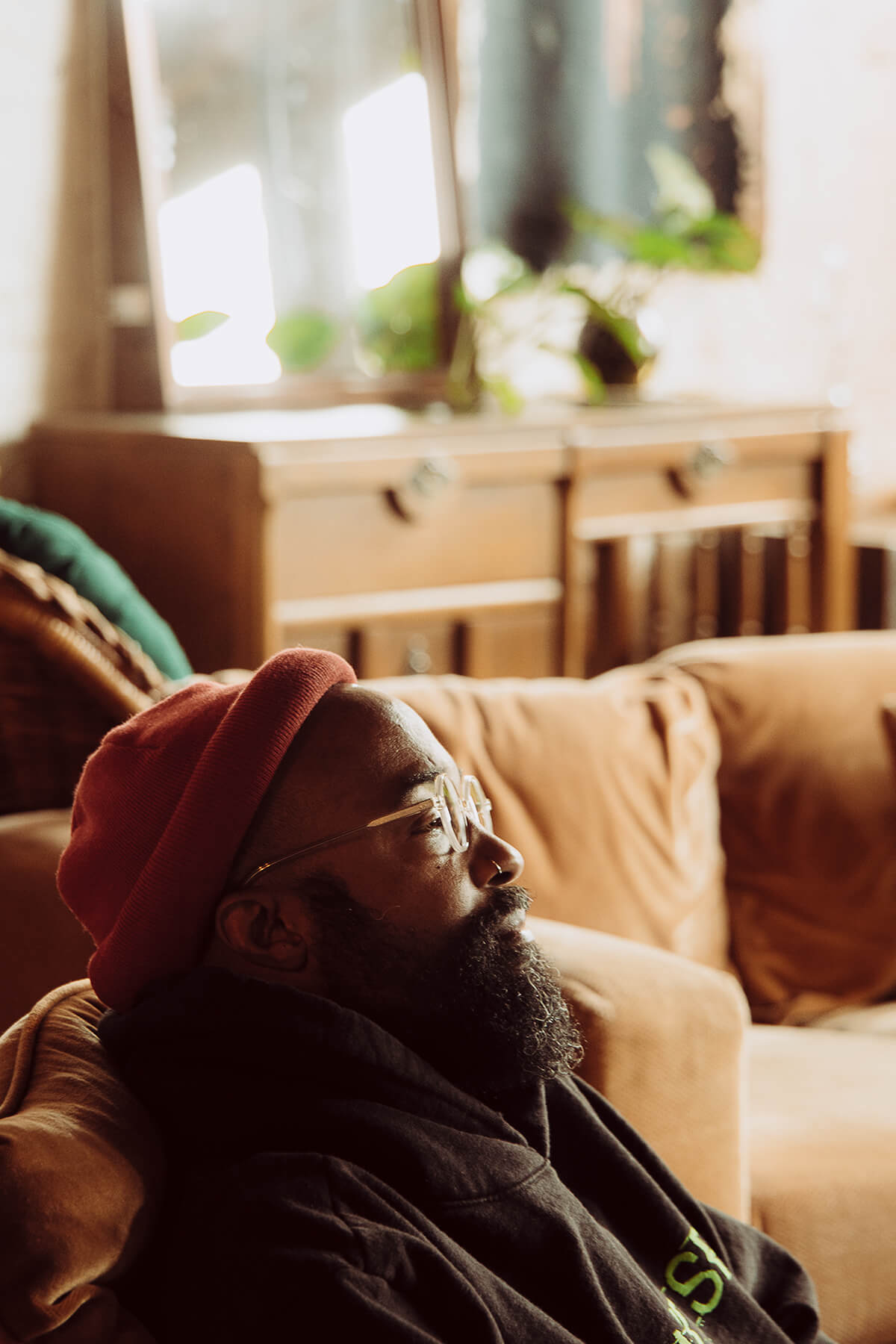 "Baltimore has such a beautiful vibe," Young says. "What's great about Baltimore is that all the people that are from here, they really welcomed us here. We're still in this process of asking permission to be in a town that has such a beautiful, sacred culture."
He immediately found a community of Black parents and artists and makers—"framily," Moorhead calls them. He and Moorhead collaborated on an experimental art film, Back in Song, that was installed at the BMA. They're working on another, top secret project, right now. She explains what's so great about Young's work.
"He doesn't possess a disingenuous bone in his body," she says. "His lens is a reflection of his heart. He has a deep understanding of who he is and where he fits on the continuum of Black history and Blackness. The biggest thing is that he doesn't lie in his work. Also, he works really hard, and he's a master craftsman."
And what Young is doing in Baltimore represents what he hopes is the next chapter of his career. When asked if he wants to direct, he hesitates and says, "Yeah, I have stories I want to tell." But not necessarily in the traditional sense. "I don't want to create in the space of the push and pull of filmmaking culture. I just want to make it private with a few friends and let it be what it's going to be. What I'm really looking for now is uninterrupted freedom to tell stories however I want to."
He says he'll keep making commercials to make money between projects. (He rattles off some of the brands he's lensed for, some you may have heard of: Apple, Audi, Nike, IBM, and Facebook.)  He'll continue to make "Hollywood" films that call out to him and work with artists and directors he admires and trusts. But he's not courting mainstream success.
"I'm happy to make films that may not ever open in a theater," he says. "That may only open in Sankofa Video and Book store in D.C. or the Underground Museum in L.A. Or maybe we project it on a wall somewhere in Sandtown. That's all it needs to be for me."