How the Baltimore Painted Ladies Contest Became a Celebrated Tradition in Charles Village
For two decades, the house-painting contest helped reinvent the—now ubiquitous—residential aesthetic of the area.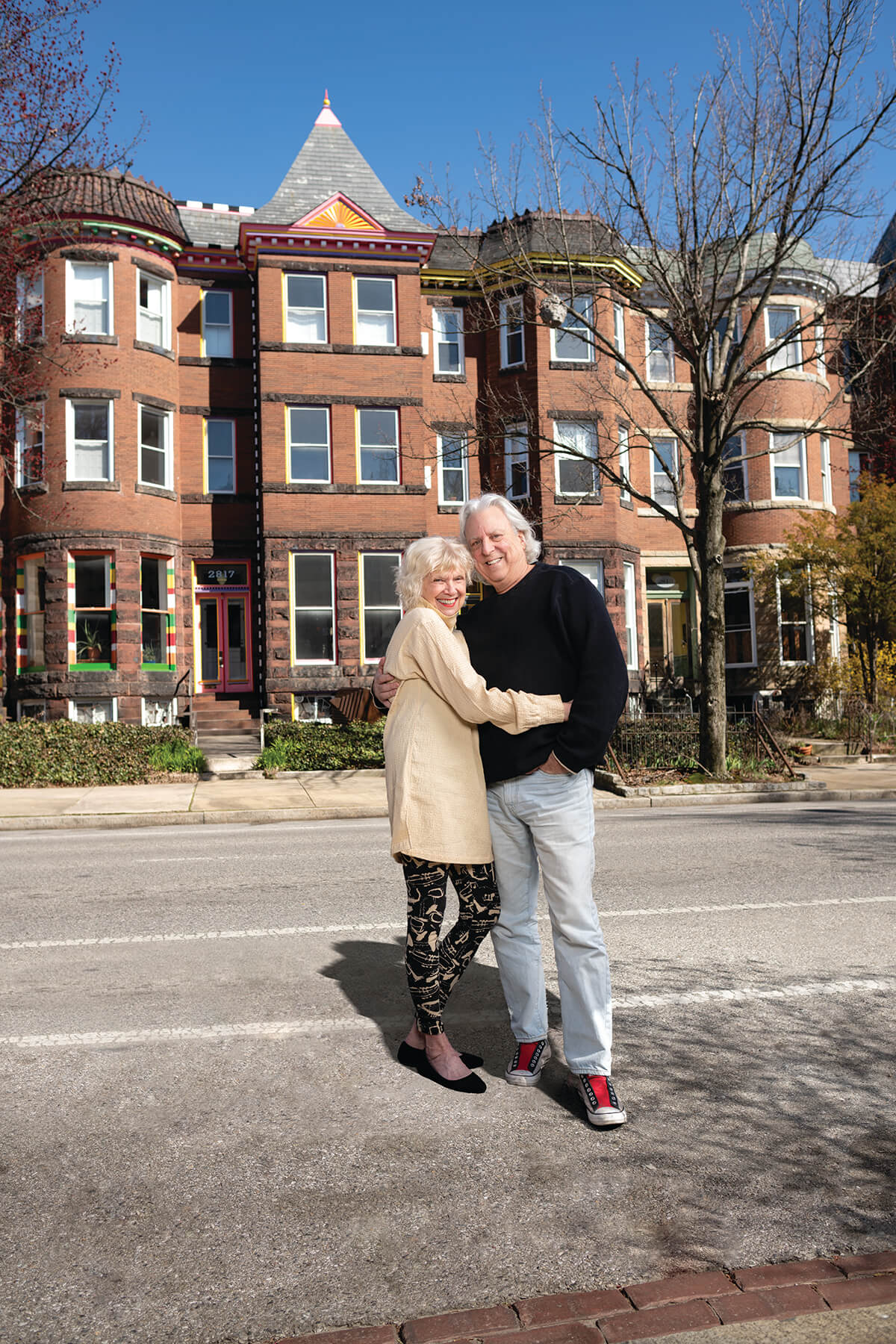 The forest green, light blue, and dark red exterior of Sandy Sparks' rowhome isn't the flashiest on her block, but the calming palette undeniably catches the eye. In fact, nine years ago, a panel of judges agreed, awarding the Charles Village resident a $1,500 prize for "best showpiece" in the neighborhood's now-25-year-old Painted Ladies contest.
"You really have to keep after the painting," says Sparks of her Guilford Avenue home. "It's important to feel good about where you live. It makes life more satisfying."
For two decades, this house-painting contest helped reinvent the residential aesthetic of Greater Charles Village and the surrounding Abell, Old Goucher, and Harwood communities. Today, the Painted Ladies—a moniker lifted from famous blocks in San Francisco—have become iconic for North Baltimore. They're also ubiquitous, with their image posted everywhere from local airport and subway station ads to tourism brochures, real estate mailers, and government reports.
In their St. Paul Street rowhouse, painted in primary colors since 1995, Steven and Linda Brown Rivelis, pictured above, recount how the original contest came to be. One night in 1997, the Rivelises and neighbors Dawna Cobb and Lisa Simeone were mulling how to get other residents to add new hues to their homes. (Simeone was the group's trailblazer, having painted her 31st Street home in muted pink, blue, and white in 1988.)
"It was a time when crime was on the rise, people said they were having trouble selling their houses, and we wanted a way to excite people about living in Charles Village," recalls Cobb, who lived on 30th Street until 2016.
During the 1990s, these rowhome blocks were a contiguous shade of muddy brown—rumor has it Bethlehem Steel employees took home the plant's brown primer as free housepaint.
"It led to a conversation of, 'These are old Victorian homes, so why don't we paint them in bright Victorian colors?'" says Linda. "That's one [way to interest people], but if you incentivize it, that does more."
That incentive would be cash. The group cold-pitched the Annie E. Casey Foundation, a Baltimore-based national youth charity, and convinced them to contribute a whopping $20,000. Cobb and Simeone also canvased the neighborhood, leaving photo books about San Francisco's Painted Ladies on doorsteps to drum up interest.
It was an immediate hit. Launched in 1998, inaugural awards included the most vibrant porchfront, the most colorful flush-front facade, and the best front door, with winners receiving posters and plaques to put in their windows. By the end of 1999, some 40 houses had been painted, and by 2001, there were nearly 60, with other categories added over time, like best house trim, railings, and facelift.
A variety of donors have helped carry on the tradition, with funding hailing from the Charles Village Community Foundation and the local Goldseker Foundation. The last competition was a decade ago, and there are no current plans for another resurrection—after a quarter-century, Charles Villagers don't need a financial incentive to adorn their houses in bright colors; it's simply part of the neighborhood culture.
Still, the contest will get a revival of sorts this summer, with the Painted Ladies serving as the theme for the annual Charles Village Festival. The June 3-4 event will include a history booth to showcase the houses, as well as a guided walking tour.
Simeone, who's since repainted her home a spirited medley of lavender, coral, and buttery cream with a reddish pink door, says the tradition has shown what beautification can accomplish at the neighborhood level.
"Beauty is incredibly important in people's lives," she says. "It's not going to replace a decent wage or a roof over your head; it's not going to get rid of crime. But I cannot stress enough that beauty is an essential element for humans, for communities to thrive."