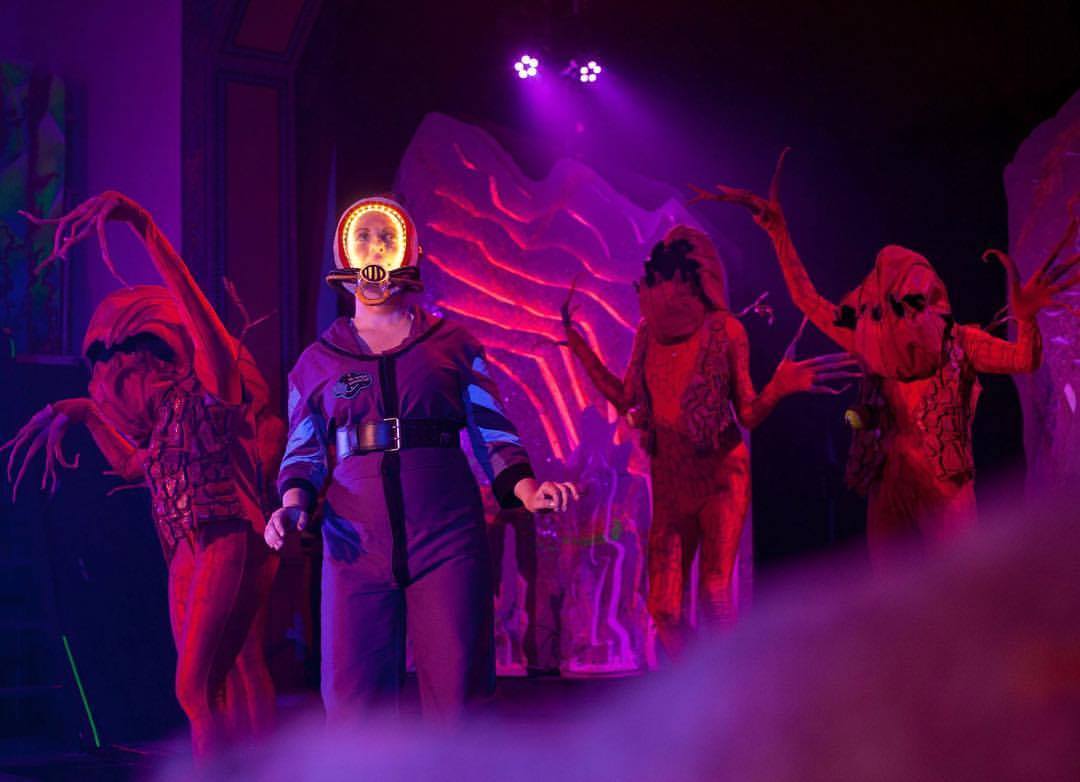 Heather Keating
Baltimore Rock Opera Society (BROS) is one of the most glorious representations of what is good and special about the Baltimore arts community. It's a group of more than 100 artists who volunteer hundreds of hours of their time to create original, weird musical productions that explode with creativity and joy.
Now playing is the only full-scale production of the BROS' 2017 season, "The Terrible Secret of Lunastus," a remount of its 2011 show. The sci-fi comedy is set in the near future, in outer space, and focuses on four astronauts' quest to find a new home for the human race in the face of the impending destruction of Earth.
There are sexy, cotton-candy-haired aliens; red, dancing trees that feed on blood; Styrofoam lasers that actually work, thanks to the props department; lots of intentional plot holes; and a giant puppet operated by three actors. Written and directed by Chuck Green (whose dad is the production's stage manager), "Lunastus" is a love letter to kitschy episodes of the original Star Trek, amplified in the epic way only BROS can.
The show runs through October 8 at the beautiful and historic Zion Lutheran Church in downtown Baltimore. Friday nights are the church's "Brats and Bier" fundraiser, which the BROS promote before each performance. "Lunastus" is actually performed in the church's beer hall, not in any of its sacred spaces.
When audience members enter Zion Lutheran Church, they are greeted by a clan of costumed BROS volunteers at various stations, including a bar offering drinks like the blue Day-Glo "Ginfinity and Beyond" and a merch table with show posters, T-shirts, and the original soundtrack of "Lunastus."
There are so many delightful creative touches to the experience of seeing the show—and the original music, sung mightily by a talented cast, is a highlight. The band Magnetaur incorporates Bowie-esque rock and '70s disco into the score to create unique songs for each scene. A standout is the funky "Nocturnal Emotions," co-written by Green and Erica Patoka, which provides the perfect bow-chicka-bow to an alien-human sex scene that culminates in suggestive shadow puppetry.  
"Lunastus" is the only production of 2017 as a result of the shutdown of the BROS' office and workshop in the Bell Foundry last December. The company is currently trying to reach a $75,000 fundraising goal to obtain their own workshop and performance space.
It takes eight pages of the show's program to list everyone involved in the production—from set designers and actors to puppeteers and front-of-house co-leaders. Green and artistic director Aran Keating welcome the audience at the top of each performance and give cheers to various things to be grateful for, in which the audience gleefully responds "Hear ye!" Some chants include: "To volunteerism!" "Hear ye!" "To true rock!" "Hear ye!" "To Baltimore!" "Hear ye," indeed.