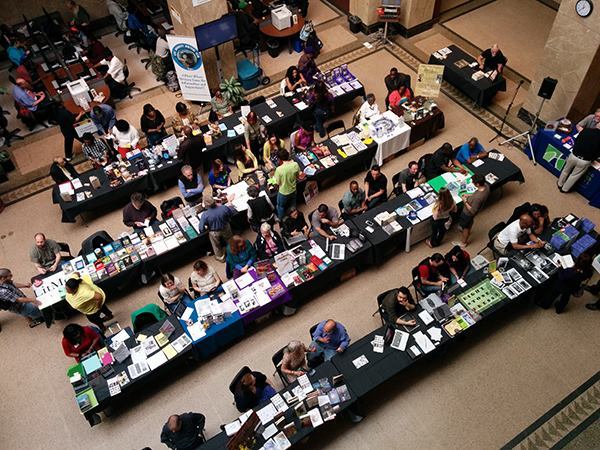 Courtesy of CityLit Festival
At the end of last April, Gregg Wilhelm faced a big decision.
A few days before, rioting had ripped through Baltimore, a result of outrage at the death of Freddie Gray. But a few days later, on May 2, the 12th annual CityLit Festival was scheduled to begin.
Wilhelm, executive director of the CityLit Project and Festival, took his cue from the Enoch Pratt Free Library, the festival's location that had stayed open during the unrest, and continued as planned.
"I was quoted as saying on that Saturday after the riots, 'This may be the least attended CityLit Festival, but maybe the most important one,'" Wilhelm said. "We were one of the few cultural events that took place that weekend."
In its 13th year, attendees will find a bigger, expanded CityLit Festival. It has a new venue, beginning Friday, April 15, at the Maryland Institute College of Art and continuing Saturday at the Pratt and the University of Baltimore. It boasts 30 authors, poets, and presenters, and has turned the focus on the social justice discussions that emerged last year.
"I wouldn't have guessed that it would be this different, robust, and meaningful a year ago," Wilhelm said. "It really is a rewarding feeling to see the festival not only come back for another year, but come back bigger, better, and stronger with much of the programming directly related to the conversations we need to have and the content we need to explore to be a better city."
Prominent in the list of appearances is poet Claudia Rankine, a National Book Critics Circle Award winner and Forward Prize winner for Citizen: An American Lyric, her collection of poems and essays that explores race and social justice. She'll appear twice during the festival—at the opening event at MICA, and also at the Pennsylvania Avenue Branch of the Pratt on Saturday morning, where she'll hear from West Baltimore students, read her work, and participate in a Q&A.
"That was important not only for us, but for her, too," Wilhelm said. "She wants to be at the epicenter of where the demonstrations started last year."
In addition to the two events featuring Rankine, here are a few others that Wilhelm recommends.
—D. Watkins and Lester Spence (you can read our reviews of their works here and here) will discuss topics ranging from last year's unrest to the mayoral race. University of Baltimore Student Center, Saturday, 5 p.m. Free.
— If you love the English classics, check out a discussion on John Keats with two poet laureates—Sir Andrew Motion, former poet laureate of the United Kingdom (and a professor at The Johns Hopkins University) and Stanley Plumley, Maryland's poet laureate. Immediately following is a talk on the 200th anniversary of Jane Austen's beloved Emma, then you can try your moves at an English country dance lesson in front of the Poe statue. University of Baltimore Learning Commons, 1415 Maryland Ave., Saturday. Begins at 1 p.m. Free.
— If you are a burgeoning writer looking for advice, you can get your work critiqued for free by numerous published authors. University of Baltimore Student Center, 21 West Mount Royal Ave., 12 p.m. Saturday.