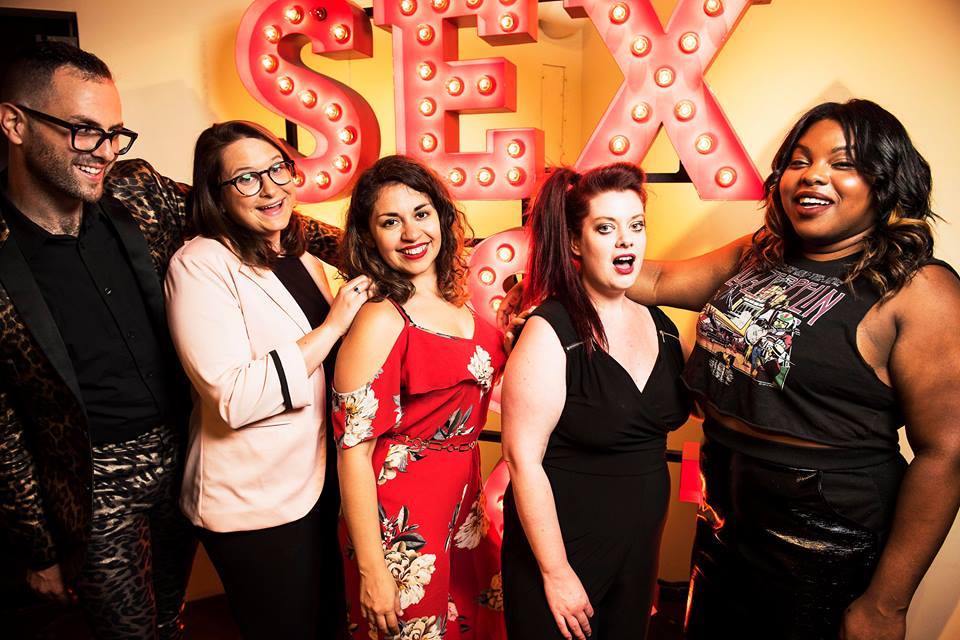 Courtesy of Awkward Sex...and the City
Natalie Wall is not shy about sharing her sex life with you. Want to hear about her weird first New York City hookup? She'll tell you. Her favorite anecdote is about the first time she had sex with her (still!) boyfriend and got explosive diarrhea. Awkward? Yes. Embarrassing? Not so much anymore.
She is one of the five comedians who mine their personal lives to tell tales of sex, dating, and all the weirdness that comes with them for Awkward Sex…and the City, an NYC-based comedy show whose tour makes its stop in Baltimore on February 8. Wall is joined by Bobby Hankinson, Anita Flores, Karolena Theresa, and Jen Keefe, who cover a range of experiences from questionable late-night decisions to fantasies involving Abercrombie shopping bags.
Whether you're looking for a memorable first date activity or just need to be reminded that you are not the only one out there with some weirdness in their hookup history, this show at Motor House should be a fun one. We talked with Wall about how it all got started, what it's like when your friends share everything, and how to see humor in our awkwardness.
Tell me a little about what inspired Awkward Sex…and the City.
Obviously I'm a huge Sex and the City fan, but it's also a lot of different things. My mom especially was very open about sex and sexuality, and she was very, very adamant that I understood how to get an orgasm and that my experience is really important too, not just my partner's. So it was really a combination of watching Sex and the City, having a really cool, sex-positive mom, and then being super awkward.
When you start having sex and sexual experiences, you just realize how awkward they are. No one ever wants to talk about them because it takes away from the sexiness of it. And I just felt like there needed to be a space for that and that there is definitely a huge audience for that. And it just kind of went from there.
And now there are five of you traveling around sharing your stories. What's it like touring with this group?
I've toured with the show for almost five years. It'll be five years in August. And it's slowly grown and evolved to include the people that I'm with now. This group has turned into a lot of my really good friends, and they all bring such a different energy and perspective to sex and sexuality. I would consider them like the dream team. They're always fun, they're always great on stage. When you travel so much, you want to like these people.
Are you excited to sort of bring them home with you?
Yeah, I am! I was born in Baltimore at Johns Hopkins, and I have family in Middle River, Baltimore, and Towson. So yeah, I'm coming home like a little baby. It's going to be really fun.
Having been on the road together for a while, is there anything that you guys don't know about each other at this point?
Honestly, no. We've heard all of it. There's what we put on stage, and there's a lot of things that don't go on, and it's because some things people aren't ready to talk about. So it's like, well wait, what are we not hearing? But in the group I would say we talk about everything: masturbation, what porn we watch, what just happened weird sex-wise with this new person or our partners.
It's kind of awesome that you have a group of friends that you can be that completely candid with.
It is! I've always been very earnest and brutally honest about my flaws and faults, so that even if I had like barely met you, you're going to hear something about me that's crazy. And then it just becomes a habit in a way. Basically we're just the modern day Sex and the City. But way more progressive and positive.
What advice do you have for people who want to see the humor in their sex lives and maybe embrace that awkwardness?
Everyone's experience is so different and so personal. My advice would be that if something happened that you can't see the humor in, that's okay, and you shouldn't feel guilty for wanting sex to always be fun and funny. In a way, me doing this show is a way of dealing with some really awkward moments in my life. Like in some of these stories I remember feeling very different about myself, being like, "Wow, I can't believe that happened," or "What does that say about me?" And a lot of it comes from societal pressures and what we've been taught, especially if you are a woman or identify as a woman.
And in a way humor is just how I've chosen to deal with it. The more I've done that, the easier it becomes to see that you aren't alone with your weird sexual experiences. If you want to really find the humor in your own personal sex life, you will, when you're ready. And we'll all be right there with you cheering you on.
It sounds like, at least sometimes, you're dealing with those situations that are funny looking back, but don't feel so great at the time.
Exactly. Like my first story I ever wrote was about my first hookup in New York City, and I just remember feeling like, "Wow, I can't believe I did that," and I wasn't happy about it. And then a year later I thought it was hilarious. But there was a good eight months where I was like, "I can't believe I did that. I can't believe I got that drunk. I can't believe I did this or that." But it's okay. It's your story. It's your journey. And it's hilarious now for me and for everyone who hears the history. But I guess sometimes I do it so people can see that these really bad stories help make us who we are. It's okay to not be afraid of that, because perfection does not exist, especially in our sex lives.
Do you have a favorite story to tell?
Well, I've been with my boyfriend for almost four years now, but the first time we had sex I got explosive diarrhea. It's a shit show, literally. And when I tell the story, you don't realize that I'm still with him. It sounds like a dating story gone bad. It was just awful in the moment. But that one got pretty funny pretty quickly. I was like, this is hilarious. That's my favorite.
Losing my virginity is also a go-to. I didn't have sex until later in college, and long story short, I had sex Easter weekend with no condom or birth control of any sort, and then I couldn't find Plan B anywhere because I went to a school that was in a very Baptist area and everything was closed. So that's a very fun journey for everyone to go on.
What do you think people absolutely need to know about this show?
We are going to talk about sex. We are going to talk about very personal stuff. I put it in the title. But also know that you're going to come away feeling way better about yourself. You're gonna feel very seen in a way that you never thought you'd be able to be seen. Like people usually come up as after show like, "Oh my God, let me tell you about this." They're ready to share.
What does Awkward Sex…and the City mean to you after all this time?
I love this show so much, and I can't believe what it's become. It'll be almost six years in August, and touring for five years, it's just great that there has been an audience for it. I'm so thankful for people coming to the show and just really allowing us to be brutally honest and truthful about some things that people don't really want to hear sometimes.