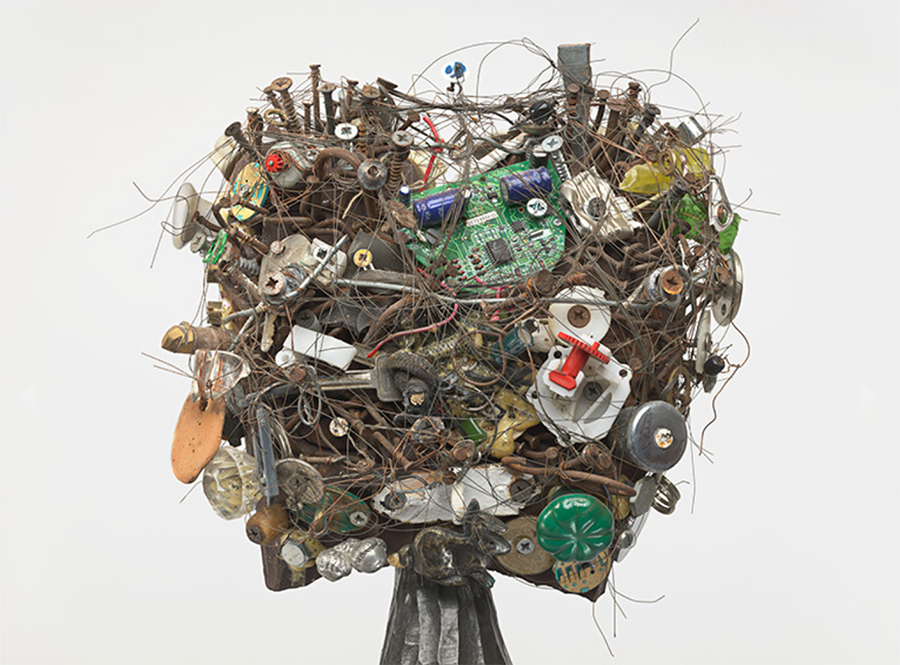 Genevieve Hanson, NYC
Visual Art
Odyssey: Jack Whitten Sculpture
The Baltimore Museum of Art will introduce to the world 40 sculptures by Jack Whitten (1963-2018), the renowned artist who influenced the next generation of painters and passed away in January. As he was known primarily for his paintings and mixed-media work, this show, co-organized with The Metropolitan Museum of Art, marks the first of its kind. Sculpture mediums include wood, marble, copper, and bone, and the collection also features personal mementos, as well as Whitten's Black Monoliths series, which reveals how sculpture influenced his paintings. April 22 through July 29 at the BMA, 10 Art Museum Drive. Free Opening Celebration, 1 to 5 p.m. April 22.
Bonnie Crawford Kotula
Baltimore-based artist Bonnie Crawford will show a series of drawings and sculptural works around the theme of sleep—and more specifically, insomnia—in an exhibit at Montpelier Arts Center. The body of work was inspired by Louise Bourgeois' Insomnia Drawings. At an artist talk, there will be blankets and tea. April 7 to May 27 at Montpelier Arts Center, 9652 Muirkirk Road, Laurel. Opening reception from 2 to 4 p.m. April 8; artist talk at 3 p.m. April 28.
Music
Negative Gemini, Amy Reid
The Metro Gallery will host a night of electronica with a packed lineup of local and national acts. Negative Gemini will headline with her indie dream-pop dance beats. Also on the bill: George Clanton and two Baltimore-based artists, Amy Reid and Giddeon Gallows (Drew Scott). It's a good excuse to dance and shake off those winter blues. 9 p.m. April 11 at Metro Gallery, 1700 N. Charles St.
Snakes album release show
Frontman George Cessna eases through each of Snakes' dark and twangy rockabilly rides, creating a lo-fi sound while crooning out lyrics that have a timeless quality about them. The five-piece, which essentially started as a backup band for Cessna, released its second full-length record, No More Songs About Wildflowers, in March (with a cassette option, per tradition), and they'll play their album release show this month at EMP Collective. Catch them before they hit the road this summer for an extended tour. 9 p.m. April 13 at EMP Collective, 307 W. Baltimore St.
Theater
Peter Pan, an original stage adaptation
Playwright Joshua Conkel (Netflix's A Series of Unfortunate Events) re-imagines the classic story of Peter Pan for a 21st-century audience in Single Carrot Theatre's world premiere of Peter Pan. As part of its community outreach, the theater partners with people in Baltimore each year to create an original production. This one borrows stories and inspiration from local LGBTQ residents to present a Peter and Wendy who grapple with questions of gender and sexuality in Neverland. 8 p.m. on Thursdays through Saturdays and 3 p.m. on Sundays from April 27 through May 20. Pay-What-You-Can Previews on April 25 and 26. Single Carrot Theatre, 2600 N. Howard St.
Literary Arts
CityLit Festival
In its 15th year, CityLit Festival returns with a lineup so packed, it's probably best to clear your whole day on April 14. The event includes workshops, readings, lectures, and panel discussions spanning multiple genres and local and international talent. The keynote author is New Yorker staff writer Philip Gourevitch, Yrsa Daley-Ward will give a master class, plus Elizabeth Acevedo and Joanne Gabbin will be speakers, among many more. Most events at the festival are free, but some require registration and/or small fees. 10 a.m. to 5 p.m. April 14 at William H. Thumel Sr. Business Center at the University of Baltimore, 11 W. Mount Royal Ave.
Fashion
MICA's experimental fashion shows
Avant-garde and experimental fashion by MICA students will be highlighted during two shows this month. First, designs by 20 students in fiber, painting, illustration, fine arts, graphic design, sculpture, and other programs at the school will make their debut at Authenticity, the annual benefit show in its 25th year. Artists explore personality, social class, and cultural heritage through their work, reflecting on their individual as well as collective identities. Several garments will be auctioned off at the event. The second event, MEZZO: An Experimental Fashion Event, is by the Fiber Department's Multi Media Event class and encompasses costumes, performance, puppetry, and sculpture by 12 designers. Authenticity is at 9 p.m. April 13 and 8 p.m. April 14 at MICA's Falvey Hall, 1301 W. Mount Royal Ave., and MEZZO is at 5 and 8 p.m. April 21 at the Baltimore War Memorial, 101 N. Gay St.
Miscellanea
Refugee and Immigrant Arts Feast
Mera Kitchen Collective's inaugural Refugee and Immigrants Arts Feast celebrates cultures from around the world through food, art, crafts, and music. The all-day event is free and family-friendly. 11:30 a.m. to  4p.m. April 28 at 2640 Space, 2640 St. Paul St.
#RiseBmore
April 19 marks the third anniversary of Freddie Gray's death while in police custody. In commemoration, several artists will present a free event, #RiseBmore2018, that evening at Union Baptist Church. The lineup: Words by Abdu Ali, Erricka Wonder Voice Bridgeford, Brittani McNeill, Tariq Touré, and Shannon Lo Wallace, and music by Judah Adashi, Akua Allrich, Japheth Clark, Mark G. Meadows, Joy Postell, Letitia VanSant (leh-tih-sha), and Voices Rise: A Baltimore Choir of Hope.
On Drugs: Stories about dependence, destruction, and salvation
As the Stoop Storytelling Series so aptly puts it, elixirs have the power to both heal and destroy us. In a night of stories around this central theme of drugs, storytellers include a poet, a family medicine doctor, an independent drug researcher, a retired state police captain, and others. 8 p.m. April 19 at the Senator Theatre, 5904 York Road.