DDm Bares His Soul on 'The Ballad of Omar'
Local rapper discusses his latest album, which shines light on the Black queer male experience.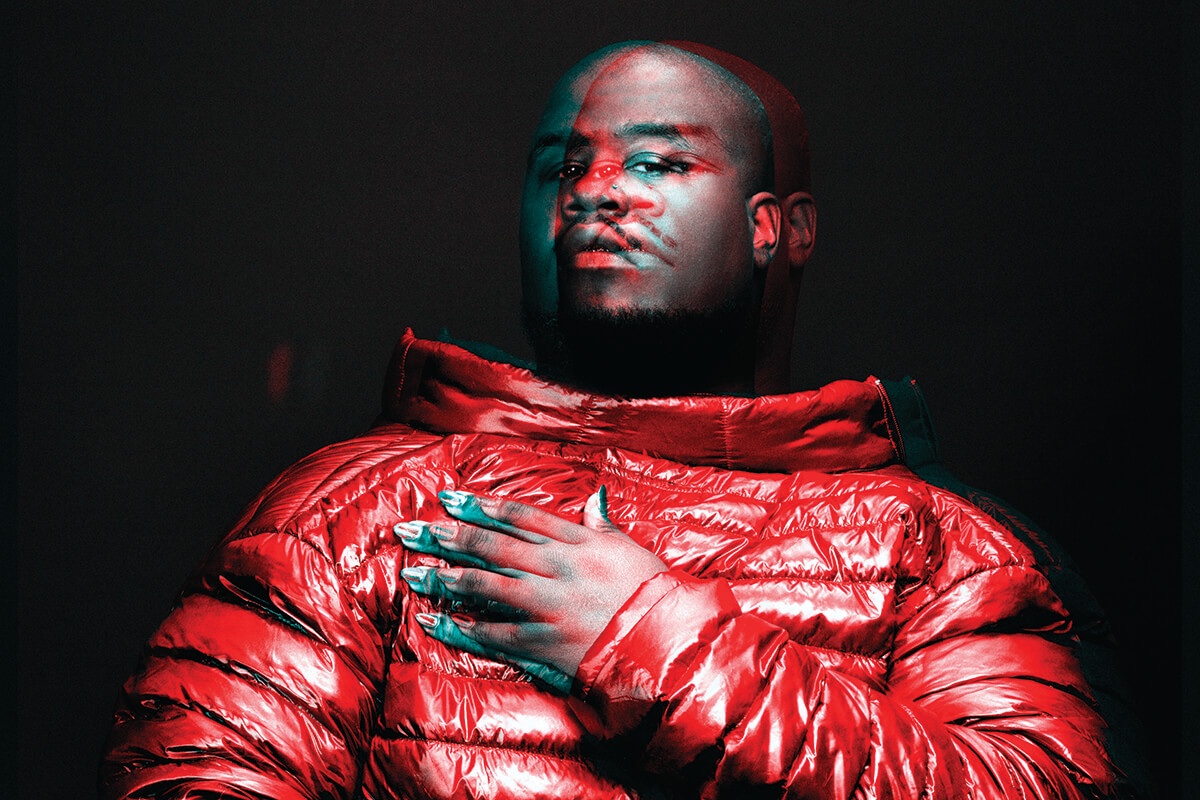 There are few artists in the history of Baltimore music who have so captured the city in their sounds as rapper DDm, aka Dapper Dan Midas. From cutting his teeth on the local rap battle circuit to his role as frontman of beloved hip-hip duo Bond St. District to his star-power solo career, the Park Heights native is a hometown cheerleader, using his captivating stage presence and charismatic verses to speak to the city in all of its struggle and joy.
Most notably on his new album, The Ballad of Omar, dropped this spring, DDm takes a deep look at his own life experience growing up Black and queer in Baltimore City, presenting the complexities through the lens of his title character, the infamous stick-up man from HBO's The Wire. Along the way, he writes his own narrative for the city and delivers his most powerful record to date, showcasing himself as a mighty, dynamic artist that the labels should sign already. Across raw rap tracks, club bangers, and poetic ballads, DDm writes a work of essential listening for everyone who calls this city home.
Where did the concept for The Ballad of Omar come from?
I came up with this concept about eight years ago. At the time, I wasn't artistically advanced enough to deliver it. It would've been so surface, such a caricature, none of the nuance it really needed. But when I revisited it in the fall of 2019, I was comfortable enough in my life, in who I was an artist and a person, that I was able to really sit down and tap into telling not only my life story, but using this character as a mascot for everything that I stand for.
What does Omar, the infamous character from HBO's The Wire, represent to you?Omar represents respect, on both sides of the fence, and living by a code, which is something that I would like to think that I have always done. We've had so many stories about The Wire, so many stereotypes because of that show. I wanted to take that and turn it on its head. I want to really change people's perceptions of who the Omar character is, and what The Wire is. I wanted to tell people the story behind it, what causes people to think the way that they think, or feel the way that they feel here.
As a lover of pop culture, what was your relationship with The Wire?
I was really just somebody who watched it. Of course, I heard all the jokes. But Baltimore doesn't have a million TV shows like New York or L.A. Season four gave me flashbacks. They were spot on, the way they showed the evolution of how children travel through the Baltimore City school system, how they graduate into real life, the different routes they take. That was the crown jewel of the series to me. Are there certain things they're going to get wrong? Absolutely. It's Hollywood. You take it more personally because you live here. I didn't necessarily take it personally.
You've said this is your most personal album yet. What was it like writing it?
It was very dark. For the most part, I like to be positive in my music, but that's not what my life has been a lot of the time. I don't really trouble the public with my personal life, because honestly they don't really care, and it's really none of their business. But it's a challenge to show other parts of who you are. That means you have to tap into those emotions. It was very dark, very reflective, but very therapeutic at the same time. It definitely changed how I view certain things.
Who is this album for?
This record is really for queer Black men like myself. I'm not turning anybody away, but this is probably the most selfish I've been in my songwriting process. This time, I didn't care if it had a single or enough club records. For me, the most important thing was making sure that the experience was covered in a real and nuanced way…I think it has helped fill a void. I have heard from a lot of men that, wow, I felt really seen, I felt really touched, like you made this for us.
What are the most important songs to you?
There are two songs that I think have touched people the most. They humanize the queer Black experience, for the guys who are in the hood, in the streets, who don't really go to things like Pride parades. That's "Boys Don't Cry," the first song I wrote, which is very personal. And "The Ballad of Dontay," which was probably the song I was the most nervous to put out. I don't write love songs. But I wanted to show people the nuance and the sensitivity. Those two songs matter the most.*
What do you hope your fellow queen Black men will take away from this record?That their story is of value. That they are seen and documented. The Ballad of Omar, in a lot of ways, is a census of the lives of so many queer Black men, from the ghetto or hood or streets, whatever you want to call it, who oftentimes are not counted or are only met in hotel rooms or cars or parks at 2 o'clock in the morning. This album is the first flag in the ground, saying, hey, these people are here, these people have a voice, and these people matter.