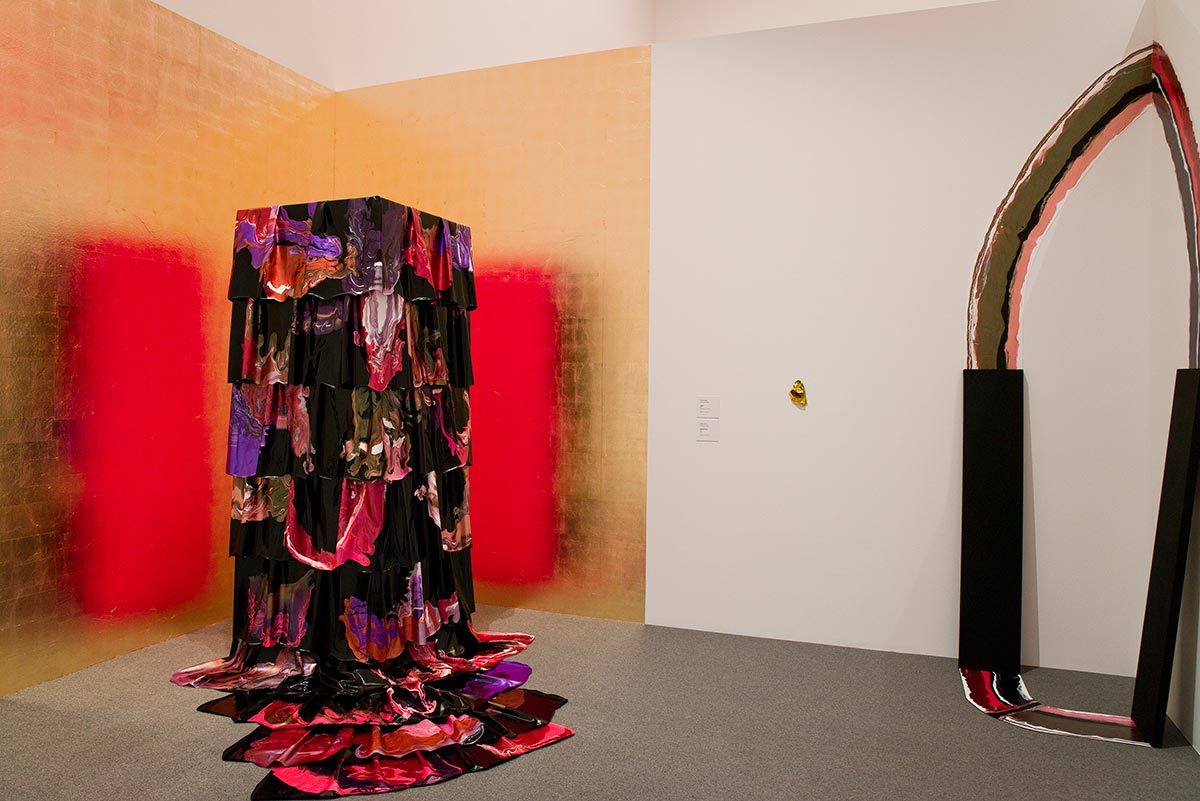 Courtesy of the Baltimore Museum of Art and the Baltimore Office of Promotion & The Arts
UPDATE, 7/9/2016
FORCE: Upsetting Rape Culture has won the 2016 Janet & Walter Sondheim Artscape Prize at a ceremony at the Baltimore Museum of Art.
The creative activist effort that aims to upset a culture of rape and sexual violence received the $25,000 prize for its display of The Monument Quilt, which tells the stories of survivors of sexual violence from around the country. (Read our story about FORCE here.)
————————
Every summer, the Janet & Walter Sondheim Artscape Prize recognizes a working artist in the Baltimore region with $25,000 to further their career. And every summer, in the weeks leading up to Artscape, the Baltimore Museum of Art hosts an exhibit to showcase the work of the talented finalists for the prize.
The exhibits can vary drastically from year to year—which exemplifies just how diverse and full of depth our art scene is. With the work of the 2016 finalists, documentary photography and film played a distinct role, and some of the art blended elements of activism and journalism as well.
You can check out the exhibit at the BMA through July 31, and stay tuned for the announcement of the winner, which will occur on Saturday, July 9.
Theo Anthony
Anthony's photographs that explore the responses of the media, public, and law enforcement to the death of Freddie Gray are striking, but his films that share wall space with his photographs send him in a different direction. Through two works he examines car shows and bodybuilding, and the masculine rites of passage associated with each.
Stephanie Barber
The first thing you notice as you enter Barber's portion of the exhibit is the tiger, running continually, and hypnotically, across a landscape of the changing rooms of a house on a large screen. Leading up to him is a plane of astroturf where Barber has inscribed a poem that comments with the ways we as humans grapple with nature. As eye-catching and engrossing as these elements are, Barber's less striking components add even more depth as we ponder this complicated relationship. By looking through three viewfinders at the back of the room, you can see variety of found photos, all containing an element of nature, with text Barber has written. And if you stick a quarter in an old-time vending machine nearby, you'll receive a sentence from an essay that will make you consider Barber's work long after you've left the exhibit.
Darcie Book
Book's pieces peek out from behind a wall in the corner of the gallery, bright, intricate, and layered. Then, you round the corner and come upon a tall, box-like sculpture with layers of luminous paint descending like draped fabric. Here, you see most clearly how her work blends painting and sculpture. Rather than as a means to create a flat-image, Book explores paint as a material itself, and the effects are stunning.
Larry Cook
It's easy to first dwell on Cook's Stockholm Syndrome, where footage from the miniseries Roots is displayed on a wall alongside footage of the diverse crowd at Barack Obama's 2008 acceptance speech (here Cook is commenting on the premature declaration of a post-racial America.) But he takes you deeper with works displayed on light boards, one of an illuminated European interpretation of Jesus, and the other with an Icon-style painting of darker-skinned religious figures, which is intentionally unlit. "He wants you to be drawn in, and really look at the figures, much as you have to search for them in history," said Aden Weisel, gallery director at Galerie Myrtis who represented Landover-based Cook at Tuesday's preview.
FORCE: Upsetting Rape Culture
It strikes you the moment you walk into the Sondheim exhibit—the wall of red reaches up into the rafters, proclaiming powerful messages like, "Break the cycle" and "You are still you." This is The Monument Quilt, the story of survivors of sexual violence from around the country that will blanket the National Mall in 2017. (Read our story about FORCE here.) Co-founders Hannah Brancato and Rebecca Nagle founded FORCE in 2010 as a creative activist effort to upset a culture of rape and sexual violence, and will present workshops and performances this Sunday as part of their installation.
Eric Kruszewski
The portion of the gallery that holds Kruszewski's exhibit resembles a chapel, with reclaimed pews in front of a large video screen, and lecterns the Washington-D.C.-based artist formed himself. They also hold screens that display films of the stories of parishioners at Saint Matthew Catholic Church in Baltimore who are part of the LEAD ministry (LEAD stands for LGBT Educating and Affirming Diversity). "When I was introduced to [LEAD's director] Father Joe and the members of LEAD and heard their powerful stories, I couldn't say no," Kruszewski said, adding he was drawn to their stories because of their unshakable faith, even though their church overall does not accept their lifestyle.
Christos Palios
The photographs on one wall are stark, with the frames of abandoned structures punctuating the Greek countryside. On the other, Palios' photographs are warm and inviting, overhead shots of tabletops during family meals in Greece. Palios explores his Greek heritage in his work, offering a different perspective on Greek society.