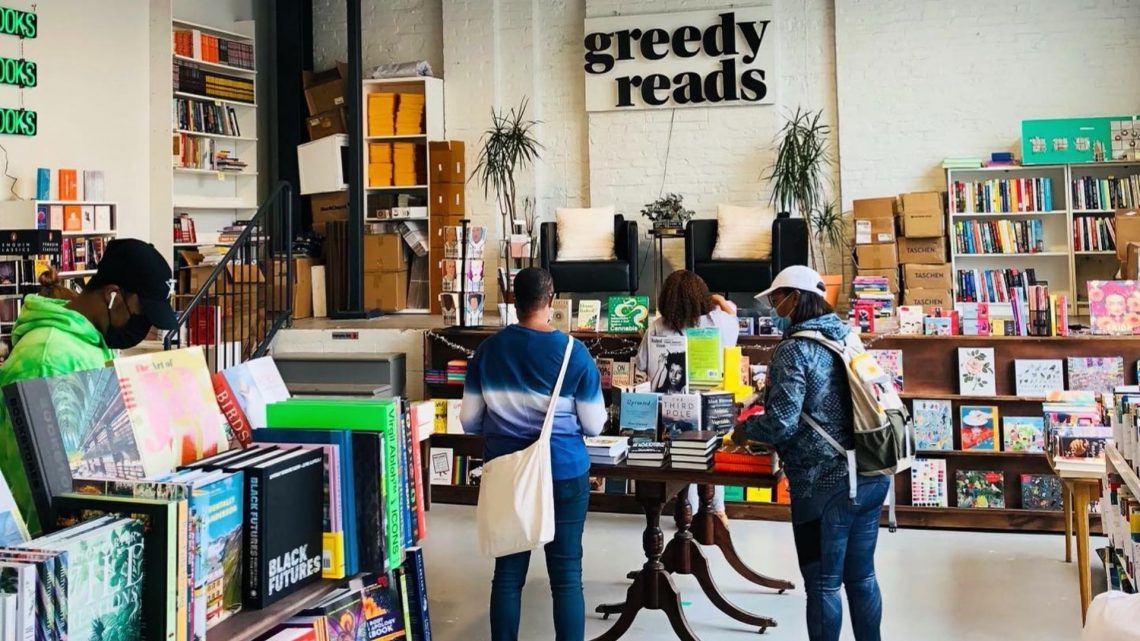 —Courtesy of Greedy Reads
When she moved to Baltimore from New York City about five years ago—leaving a long career in publishing behind her—Julia Fleischaker feared she would lose access to "the world of books" that the Big Apple made so easily accessible. But, as she soon discovered, her new address had its own.
"One of the things about Baltimore's literary community that I found really inspiring and cool is that it's not some kind of walled-off world you have to scale the fences to get into. It's just part of the rhythm of the city. If you're here, you're part of it," says Fleischaker, who opened independent bookstore Greedy Reads in Fells Point four years ago, and later debuted a more expansive second location in Remington. 
Throughout the past two years, Fleischaker says she's missed "the energy you get from people gathering together to listen to stories and engage with their neighbors." When she realized that the Baltimore Book Festival, which has been paused since 2020, would remain on a hiatus this year, she figured, "If we want this, other people probably want it too. Maybe we can throw something together in our store."
From May 13-15 at Greedy Reads in Remington, Fleischaker plans to make that happen with the first-ever Lost Weekend Festival—a two-and-a-half day ode to Charm City's literary scene featuring everything from spoken word and poetry to a photography panel and drag queen story hour.
In addition to a local makers market and small press showcase—along with bites from local outposts and a special Ministry of Brewing Hazy IPA created in honor of the festival—a range of free events will include appearances with authors such as Baynard Woods (Inheritance: an Autobiography of Whiteness), Brandon Soderberg (I Got a Monster), D. Watkins (Black Boy Smile), Lane Clark (Love Times Infinity), Dr. Lawrence T. Brown (The Black Butterfly: The Harmful Politics of Race and Space in America), Judith Krummeck (Old New Worlds), Leslie Gray Streeter (Black Widow), and Baltimore's own Ron Cassie (If You Love Baltimore, It Will Love You Back). "[This festival] fills a tremendous vacuum," Cassie says. "We need inclusive, community get-togethers like this."
Fleischaker agrees, adding that her greatest accomplishment since moving to Baltimore and opening the stores are the booksellers she's worked with. "They're such an amazing group of people, and to be able to spotlight them is awesome," she says. "They've been so phenomenal in helping to put everything together."
As for a second iteration of The Lost Weekend next year, Fleischaker says that "would depend on what happens with the Baltimore Book Festival." But, for now, "I'm glad to play a part in helping people feel connected to the literary culture—and the culture at large—here."