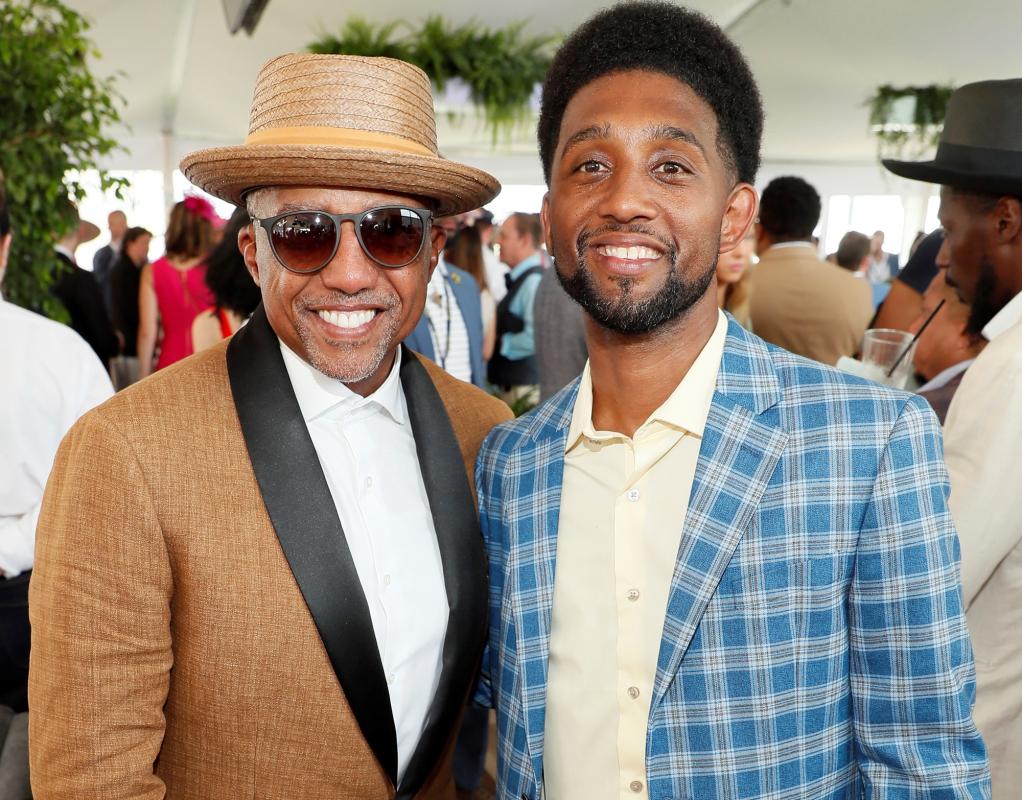 Kevin Liles poses with Mayor Brandon Scott. --Photo by Paul Morigi/Getty Images for 1/ST
On a sweltering Preakness Day, Kevin Liles was the picture of cool.
At the Pimlico Race Course infield on Saturday afternoon—leaning against a second-story deck railing overlooking the front-stretch—he held an expensive cigar in his left hand, wore a straw fedora on his head, and sported a light brown suit with silk black lapels.
And he was smiling.
Oh yes, this Baltimore kid-turned-worldwide entertainment mogul—the former president of Def Jam Recordings and current manager of rap superstar Megan Thee Stallion—was basking in the scene, not far from where he grew up and went to high school (Woodlawn) and college (Morgan State).
"I'm 2928 Presstman Street," Liles said, sharing the address of the rowhome where he was raised on the west side of the city, a few blocks south of North Avenue near Gwynns Falls Park. (Real estate site Redfin estimates the one-bathroom house is worth roughly $50,000, the type of check that Liles can write today without significantly denting his net worth.)
At age 54, as one partygoer posing for a picture with him said on Saturday, Liles is "an entertainment legend." He didn't disagree, nor should he. That's why he was center stage at Preakness—trailed by friends and music industry media that traveled from New York, where Liles has lived for the past 20 years, to chronicle the weekend.
For the first time ever, and only because no one thought to ask sooner, Liles was a central figure in organizing the weekend's entertainment lineup on the plot of land in Park Heights, a 15-minute drive from his childhood home. His work included the first-ever Preakness Live festival on Friday, headlined by his client Megan Thee Stallion and hip-hop and soul legend Lauryn Hill.
"I'm here because Preakness has given me a big opportunity," Liles said, "a global opportunity, to say, 'Let's shine a light on Baltimore.' I feel like I have a responsibility to the city because I've had success."
His major accomplishments date back to 1998, one year after Def Jam bought a 50-percent stake in Jay-Z's Roc-A-Fella Records for a cheap $1.4 million, when Liles became the label's president at age 30. It was a remarkable feat, considering he started as an unpaid intern just seven years earlier.
In a roughly three-decade career since, he's managed the likes of pop star Mariah Carey, the soulful D'Angelo, and R&B chart-topper Trey Songz. More recently, Liles sold his own record label that he started about a decade ago—New York City-based 300 Entertainment—to Warner Music Group for $400 million. One of his longtime friends, Mary J. Blige, is an artist on the label.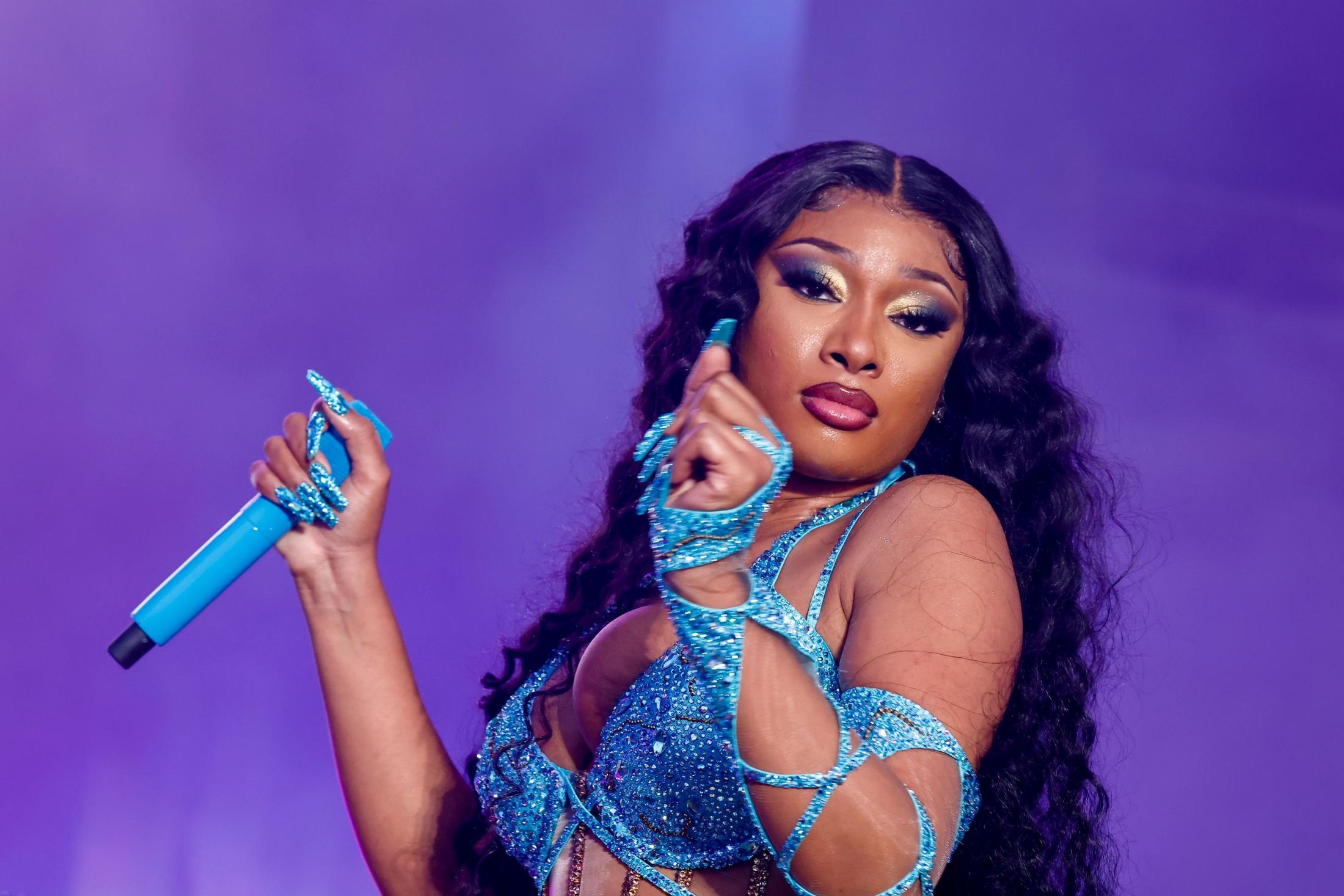 This is all to say, if you're wondering how one of music's biggest current draws, an icon like Hill, other Baltimore-bred artists, and the Morgan State University marching band ended up performing on Friday at Pimlico—perhaps you heard the music thumping into the night sky if you live within a few miles—Liles is why. 
And, as he told us on Saturday, a few hours before the 147th running of the Preakness, the arrangement is a three-year deal.
"This is just the appetizer," he said.
While celebrating his birthday in Miami this past February, at the request of a mutual friend, Liles met with executives from Preakness organizer Belinda Stronach's 1/ST Bet company. He heard a pitch from 1/ST Bet CEO Jimmy Vargas that, frankly, wasn't difficult to accept. It was one he could clearly help with.
"We're missing the soul of the Preakness," Liles recalled as the crux of the initial conversation. "They wanted to bring a diverse group out, to bring people together, and asked me to curate a lineup. I said, 'Well, I could call some of my friends.'"
While the running of the second Triple Crown jewel is undeniably the main reason tens of thousands of (predominantly white) people show up to Pimlico on the third Saturday in May each year, Preakness organizers and Mayor Brandon Scott—who grew up in neighboring Park Heights—are seeking to make the celebration more representative of the surrounding, majority-Black community. 
In other words, they're striving to make Preakness more than one day when a bunch of strangers and the world's best thoroughbreds descend on the lower-income neighborhood, have a party, and don't come back for another year.
"I­­t hasn't been the soul of the city," Liles said. "It was something that people felt came in and came out. I want Preakness to be something that people celebrate throughout the year, get excited about, and want to be part of."
A few minutes earlier, he recorded a social media video for Black Entertainment Television, hitting similar and more specific points.
"Shout out to Park Heights, shout out to Pimlico," he said. "When you have something in your hometown for 147 years, but people who look like you, talk like you, and walk like you don't know about it, something stirs up in my soul."
Don't get us wrong, the familiar atmosphere of Preaknesses past was still there Saturday. More than 60,000 spectators bet more than $130 million on the day's races. DJ duo the Chainsmokers entertained with upbeat dance jams on the hot, high blood-alcohol content infield. Corporate tents were well-attended. And in the main event, Early Voting, a horse with Baltimore ties via billionaire owner Seth Klarman—the son of a Johns Hopkins economics professor who grew up here and made a fortune running a hedge-fund—won $990,000 in the big race.
But there was a different flavor. "If you're going to have a horse race, you gotta have a stallion," Liles said, referencing Megan Thee Stallion, who just last week won the Billboard Music award for top female rap artist. After her performance, Hill took the stage around 9:30 p.m. 
Earlier, Baltimore's Brittney Spencer and Darin Atwater and the Soulful Symphony performed. And in the festivities before the featured race of the day, WanMor, the four talented sons of Boyz II Men co-founder Wanya Morris, sang a spectacular rendition of the "Star-Spangled Banner." The Morgan band played Stevie Wonder's "Master Blaster" on the turf course near the start-finish line.
Liles attended Morgan on an electrical engineering scholarship from NASA (obviously a smart guy) but quit school to pursue a music career after his city-based DJ crew, Numarx, wrote a song "Girl You Know It's True," which became a huge hit on Milli Vanilli's first album in 1986. Understandably, he got particularly emotional while watching the Bears' marching band early Friday evening. He said it was the first time a band from a historically Black college or university performed at a Triple Crown event.
"I literally teared up, because if I didn't do it, they wouldn't have had the opportunity to be here," he said.
After the Black-Eyed Susan race, Top Chef judge Tom Colicchio, celebrity chef Marcus Samuelsson, and locals Jasmine Norton (The Urban Oyster), Saon Brice (BLK Swan), and Keyia Yalcin (Fishnet) put on a cooking demonstration, hosted by Gail Simmons. 
"What you saw yesterday was, for me, as someone who grew up in this neighborhood and lived in 21215 for 25 years, something we didn't feel was for us," Scott told Baltimore on Saturday, taking a break from mingling, which he did for hours all over the grounds. "It was in our neighborhood, but we weren't welcome."
Scott attended Preakness for the first time only three years ago, after becoming City Council president–a great example of the cultural and demographic divide between Baltimore's annual rite of early summer and the community that surrounds Pimlico. 
"Now it's a partnership with everybody involved, from the Stronachs, the state, the city, Kevin Liles," Scott said. "What you saw last night was it becoming a true Baltimore event for all Baltimoreans. And what I enjoyed most was watching my residents enjoy themselves, and showing them that despite our challenges, we are much greater than a hashtag on a TV station at night, or a TV show."
A day later, as he stood outside a VIP tent attended by local celebrities like Ravens coach John Harbaugh, Governor Larry Hogan, and Cal Ripken Jr., Liles was in a similar frame of mind.
Nowadays, he spends a lot of time on the golf course (he played nine holes at Caves Valley on Saturday morning before arriving at Pimlico). And he carries a cigar so comfortably, it looks like a sixth finger in his hand. 
He's got what he needs. But standing amid the pomp and luxury in the Pimlico infield on Saturday, Liles couldn't help but think back to his humble beginnings as a kid back on Presstman Street, and offer up inspiration.
"There's another Kevin Liles here," he said. "There's another Kevin Plank here. There's another artist here that needs that ladder. We in Baltimore."