At Long Last, Plans are Underway for a New "Home of the Preakness"
What to do with the decrepit Pimlico Race Course has been a source of endless disputes for decades.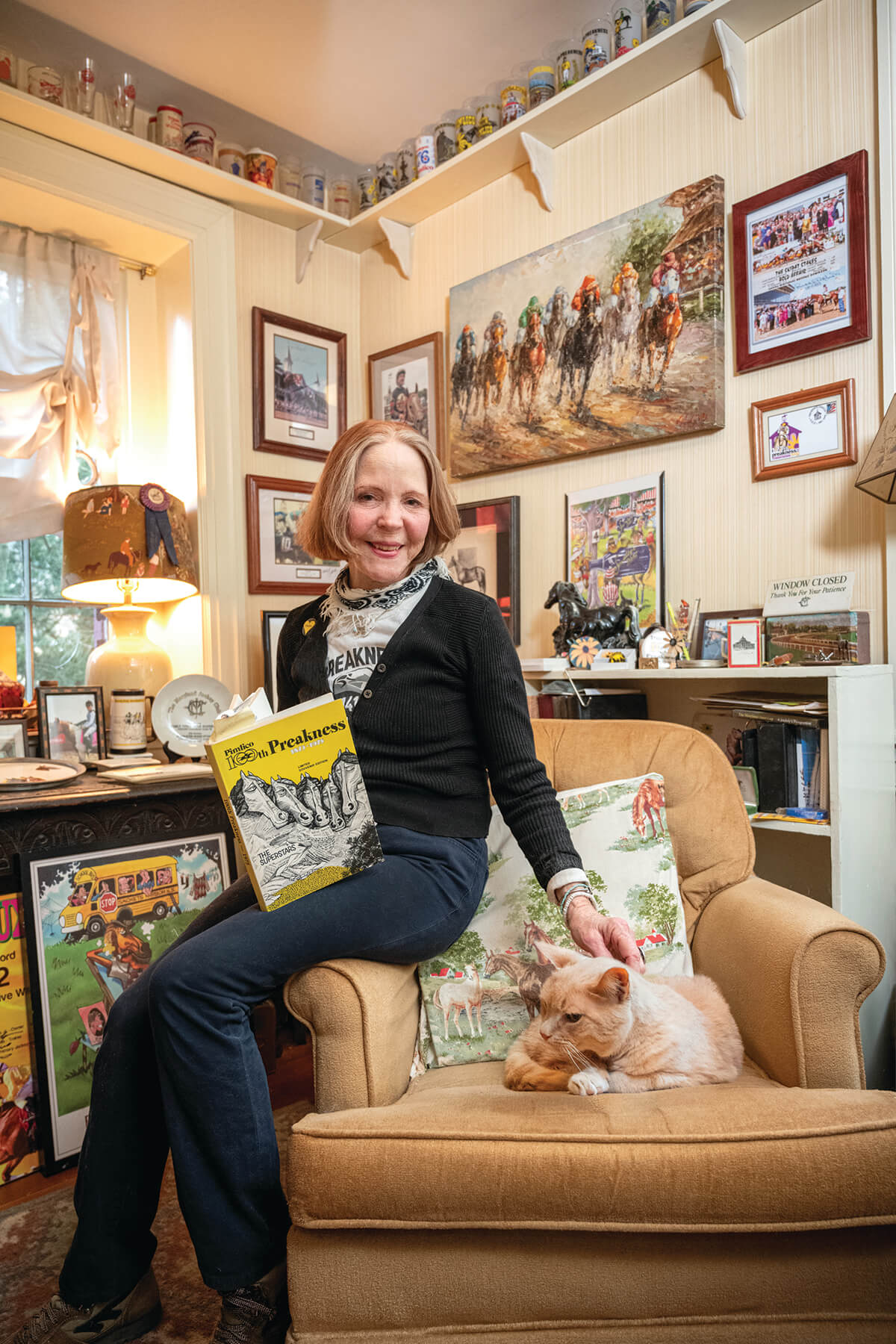 April Smith might not exactly fit the stereotypical image of a cigar-chomping, visor-wearing weekday horse race bettor. "I'm 5-foot-2, 106 pounds, and a woman of a certain age," she says. (Her twin sister won't allow her to reveal the precise number.)
But on the days the Ruxton resident leaves her house to visit Pimlico Race Course, she is as much a regular as anyone else at the track. "I go down there to bet," she says.
People always ask why. "'Oh, that's a terrible neighborhood,' they tell me," Smith says of Park Heights, where Pimlico—the Home of the Preakness, as the dilapidated signs say outside—is located.
First, she says, there's not much to worry about on the 110- acre, largely desolate plot of land. Outside of Preakness week, when traffic backs up on I-83 and neighbors look to make money selling parking spots, afternoons at the track tend to be pretty sleepy. At most, a few dozen bettors might stroll across the linoleum floor in the mid-century-modern clubhouse, put down money at a teller's window, and watch races from other parts of the country simulcast on the televisions.
But more importantly, Smith says, "There's just something about the place." And she's not talking about the 150-year- old track's well-documented warts. (Just a few of those warts: the outdated clubhouse that opened in 1960; the now condemned, century-old north-end grandstand; and the mismatched 1950s-era enclosed grandstand building between them.)
Horses race on Pimlico's one-mile dirt oval no more than 12 days each year, but when Smith goes there, visions of races past, like Seabiscuit's famous Great Depression-era battle with War Admiral, seem to rise from the dirt. The echoes of massive crowds, spanning generations, that have walked the grounds each third Saturday of May, nearly reverberate off the walls. And the stories of Preakness Stakes champions such as Secretariat, the 1973 winner who owns the race record, and celebrity trainers like silver- haired Bob Baffert, who have come seeking the eternal glory of the second jewel of the world-renowned Triple Crown, are shared frequently.
"The ghosts of Pimlico are still there," Smith says. "You have to be half-dead to not sit there and have it wash over you."
Born in Baltimore and raised in Annapolis in a sailing family, Smith, a history buff and longtime local tour guide, got turned on to horse racing in 2003 when the Triple Crown longshot Funny Cide passed through Pimlico. Smith quickly learned to appreciate the historic significance in her own backyard, figuratively and now literally.
From 2006 to 2015, she led sunrise tours of Pimlico's stables each Preakness week, sharing all that she knew about Old Hilltop, as it was nicknamed in the 1800s. She is the very active co-moderator of the Friends of Pimlico Facebook group. She owns three horses—two of which live in a barn on her home property—and shovels manure every morning. Earlier this year, she converted her adult son's former bedroom into a Pimlico shrine, complete with jars of dirt from the track.
In short, she simply loves the history of the real thing, just a 15-minute drive away. Sure, a serious upgrade may be long overdue. That became obvious back in 1998 when an electrical fire knocked out power on Preakness Day. But as the 146th running of the famed Preakness approaches this May, Smith fears a bit too much of Pimlico's priceless authenticity will eventually disappear forever. That is, if everything she's read and heard about the track's long-awaited and closer- than-ever redevelopment plans is true.
What to do with the decrepit Pimlico Race Course has been a source of endless talks, studies, and disputes for decades. Should the property be renovated or razed? Would the state take it over? How did its condition deteriorate to this point? Should the Preakness move 30 miles south to Laurel Racetrack, the preference of Pimlico owner Belinda Stronach?
Finally, in October 2019, negotiators representing three groups—the city, the Canadian-based Stronach Group, and the Maryland Thoroughbred Horsemen's Association—reached a surprising agreement: to keep the Preakness in Baltimore, at Pimlico, but in a completely reimagined venue.
The deal includes designs to tear down basically everything that is there now, rotate the dirt oval 30 degrees, and build a scaled-down clubhouse. It also calls to convert the remaining land into a mixed-use, $180-million public venue (think concerts, youth sports, and other events) that could help transform the neighboring Park Heights community.
During the negotiations about the track's future, Belinda Stronach agreed to cede ownership of Pimlico's 110 acres, valued at $50 million, to the city. In exchange, $155 million in state funds would be allocated for improvements to Laurel—the year-round working track of Maryland's billion-dollar racing industry—which Stronach had once eyed as a "supertrack" to host Preakness, too. The plans for Laurel feature a mini-city of sorts—space for roughly 1,500 stalls to house the state's thoroughbreds.
But the Stronach Group isn't completely out of the Pimlico business. The arrangement calls for most of the 80 acres outside of the reconfigured track to be held or sold by the city for redevelopment.
The remaining property, including the new clubhouse and infield, will be used as a fully public space for 10 months of the year. But for roughly two months leading up to and just after Preakness, operations will be handed back over to The Stronach Group, which will pay between $8 and $10 million a year to build out temporary tents for corporate suites, seating, and other infrastructure for the big race, then tear it all down once it's over.
In other words, if you're expecting to show up to Preakness in a few years and see an uber-glamorous structure like Kentucky's Churchill Downs, don't hold your breath. Those in charge of overseeing the rebuilding of Pimlico and Laurel—the folks at the Maryland Stadium Authority, who led the construction of Camden Yards and M&T Bank Stadium—say we have to be realistic.
"The new permanent structure needs to be iconic," says Stadium Authority executive Gary McGuigan, who is directing the project, "but iconic doesn't mean it's the biggest thing in the world."
For someone like Smith, one of Pimlico's most passionate fans, the final result will very likely be an unwanted departure from tradition, and perhaps feel like a purely made-for-TV event as opposed to the genuine attraction that it is now. Six turf sports fields may replace the dirt infield that's there today, and there are no plans for any grand structure like the one that's now visible from Northern Parkway.
When news of the redevelopment pact broke, Smith was able to see some of the early renderings. What she saw was a much smaller, glass-walled, white-roofed clubhouse, with temporary suites scattered around it on Preakness Day. The structure looked to her like a sterile Kleenex box or the much-maligned Denver airport, lacking character befitting Pimlico's rich history.
Practically speaking, Smith understands Pimlico is a "neglected historic site. The old grandstand leaks like a sieve," she says. "You've got tubs collecting water there. But I'm not a big fan of the new plan. If they want to get rid of the clubhouse, I can live with that, but there are certain features that should be saved."
Like, for example, the four-ton, 30- foot long bas-relief sculpture at the building's entrance—it depicts an 1877 match race at Pimlico that shut down Congress for a day so legislators could attend—and the solid timbers that the 127-year-old grandstand is made from. "We don't allow trees to get that old anymore," she says. "They're irreplaceable."
Other critics lament the use of nearly $400 million in state funds—even if most of the money is coming from revenue already earmarked for the state horse racing industry— for what many consider a dying sport, despite its tradition in the city and state.
Still, the deal keeps the Super Bowl- like event of Preakness in Baltimore, a tradition that started in May of 1873, two years before the first Kentucky Derby. And for the surrounding community across Park Heights, Winner, and Belvedere Avenues, the redevelopment represents a chance to seriously invest in a low-income, high-crime area that has enjoyed relatively little direct economic benefit from the estimated $30 million or so that Preakness generates for the Baltimore area each year.
"PIMLICO CAN'T JUST BE IN PARK HEIGHTS, BUT IT HAS TO BE FOR PARK HEIGHTS, TOO."
Studies have shown that the life expectancy in Park Heights—whose north end begins at Pimlico—is more than 10 years shorter than for those living in upper-middle-class Mount Washington a mere mile away on the other side of the track.
The goal for developers and neighborhood leaders, like Baltimore Mayor Brandon Scott, who grew up blocks from Pimlico, is to use the land to create more year-round jobs, perhaps through a hotel and a grocery store that will serve both residents and adjacent Sinai Hospital's employees and patients.
"Pimlico can't just be something that's in Park Heights, but it has to be for Park Heights too," says Scott, who attended his first Preakness in 2019 after becoming City Council president. "My lasting memory is the world descending on my neighborhood, then the next day we were forgotten again, and that's what I'm trying to make sure that we don't do anymore."
As for the idea that money might be better spent elsewhere, Scott says, "Why not invest in Pimlico? As we go through this process of redeveloping Park Heights through a lens of equity, why can't we invest in something big and spectacular in a neighborhood that has significantly been under-invested in? People need to see that investment, just like in other places in the city."
If you've driven past Pimlico lately, you'll notice nothing has changed, and it likely won't for a while. Most of the year, you may see a horse galloping around the track with an exercise rider or being led to or from the stables, but you're just as likely to see no activity. The starting gate rests unused near Northern Parkway.
For 50 weeks, no races are run. Trash whips around the media parking lot and a handful of off-track bettors come and go from the south grandstand entrance. In February, The Stadium Authority selected the project's lead design firm, downtown-based Ayers Saint Gross. New ground won't be broken for at least two years, according to McGuigan, as more contractors are selected and various tax agreements and land-transfer details are worked out between The Stronach Group, Baltimore City, and Anne Arundel County.
What's more, logistics may dictate work starting at the year-round Laurel facility before Pimlico, which means "there will be a Preakness, one or two, that will be at an unfinished facility," McGuigan warns.
The framework of a reinvented Pimlico is already set in law, though. Specifically, the Racing and Community Development Act of 2020, which passed in the state legislature last May. It was the result of focused negotiations that began with a break-the-ice meeting between former Baltimore City Mayor Jack Young and Belinda Stronach in her chalet tent at the 2019 Preakness and ended with an announcement five months later.
It was surprising news, given the extremely private and relatively quick nature of the negotiations. In recent years, discussions about the future of Pimlico had been marked mainly by public back-and-forth between the interested parties and contentious Annapolis hearings.
In fact, on the day Young met with Stronach, a lawsuit filed by Young's predecessor, Catherine Pugh, seeking not only the rights to Pimlico property but also the intellectual property of the Preakness, right down to the Woodlawn Vase given out to the winner, was still pending.
After the Healthy Holly children's book scandal put Young in the Mayor's office, the sides agreed to start over at the urging of intermediaries, namely Bill Cole, the former city councilman and CEO of the Baltimore Development Corporation; Joe De Francis, Pimlico and Laurel's former owner (along with his sister) who completed his sale of both tracks to Frank Stronach, Belinda's father, in 2007; and Alan Rifkin, an attorney for Preakness Stakes and the Maryland Jockey Club, which is owned by The Stronach Group.
On Preakness Day 2019, "It just so happened that the Mayor found his way into Belinda Stronach's tent," Rifkin recalls. Young, the East Baltimore native, and Stronach, the Canadian who inherited her father's horse racing empire, chatted off in a corner for about 10 minutes. They agreed to "put away the swords," Rifkin says, "and come up with a way to resolve the problem."
A little more than a week after the 2019 Preakness Stakes, Rifkin started renewed discussions with the city (with Cole as its negotiator) and brought Horseman's Association president Alan Foreman, representing state horse trainers and owners, to the talks.
Ultimately, the group settled on a potential combination of redeploying funds from the state's existing Racetrack Facility Renewal Account ($8.5 million annually), Horseman Associations' purse revenue ($5 million), and a portion of the city's annual slot-machine revenue from the state ($3.5 million) to raise an estimated $17 million per year to pay off a 30-year state-issued bond for the work at Laurel and Pimlico. From there, Stronach agreed to hand over Pimlico to the city, while retaining rights to the Preakness itself.
"That was extraordinary," says Rifkin. "It was a transformative moment. Pimlico has been for so many years a barrier between communities. As a result of this project, it will become a bridge between communities."
What the bridge looks like in the end remains to be seen. Those early public renderings might not look like the final product. Even Rifkin, a member of the group who commissioned the images, says as much, explaining that they were mostly needed to give legislators a visual of what could be possible, not what will definitely happen. McGuigan, of the Stadium Authority, says the same.
"Will it look like those initial renderings that were shown?" he says. "It might, but there's going be a lot more ideas thrown around the next year or two."
There will be public meetings and no doubt various asks and opinions from different stakeholders in what happens at Pimlico: the city, neighbors, politicians, horse owners, trainers, jockeys, and most certainly Friends of Pimlico like April Smith. At this point in the saga of Pimlico, Smith recognizes the need to remake the track, but doesn't want to feel like the place lost its identity when she shows up to bet or simply reminisce.
Forget the ghosts, she says. The ashes of several actual people—equine professionals and enthusiasts alike, including 1909 Preakness-winning jockey Willie Doyle—have been scattered across the property, further proof of how much the track has meant to people over the decades.
"This is hallowed ground," Smith says. "As rundown as Pimlico is, it breaks attendance records every year because everybody knows that this is the real thing. When I go, invariably I'll start talking to somebody, and they always tell me that they love just being there, just sitting there and taking it in. It's not just a figment of my imagination."