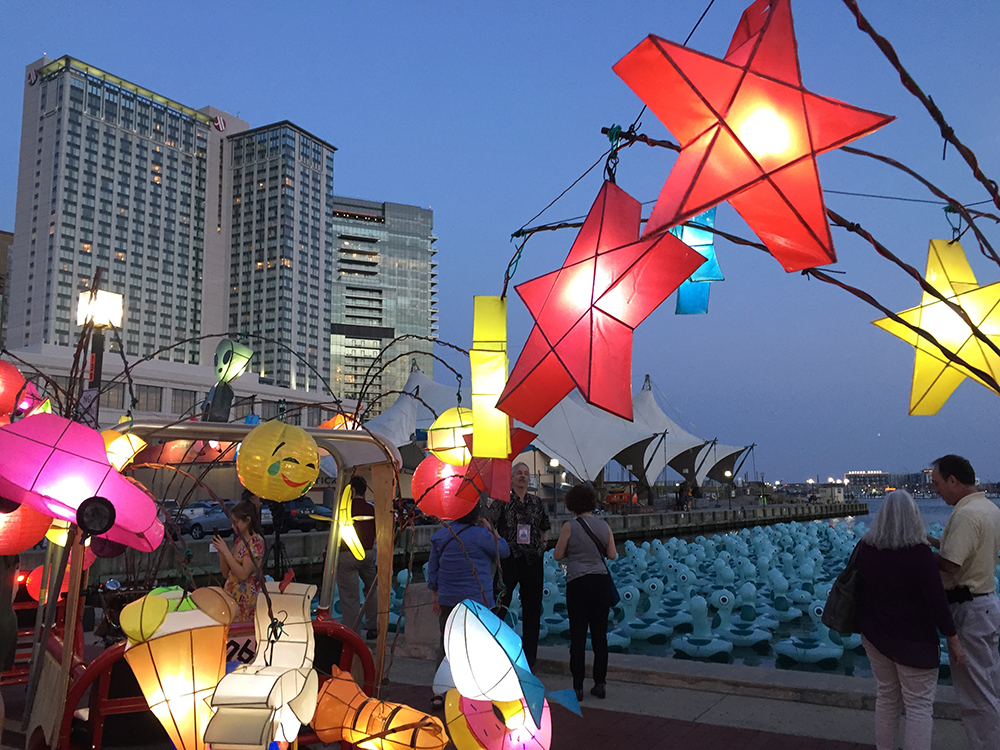 Meredith Herzing
The many free attractions created and organized for the third annual Light City didn't stop locals and tourists from spending their money in Baltimore. Baltimore Office of Promotion and The Arts (BOPA) announced today that the light, music, and innovation festival brought about $33.5 million into the city.
That economic impact came from approximinately 442,500 nighttime visitors to the Inner Harbor, including a record-breaking estimated 175,000 who headed downtown on opening night.
"The Baltimore Office of Promotion & The Arts brought the magic of Light City to more than 38 neighborhoods before we opened the festival at the Inner Harbor," said Roz Healy, BOPA's interim CEO. "We are thrilled that Light City has been embraced so wholeheartedly by visitors and residents alike."
By comparison, last year's festival contributed more than $44 million to the local economy (a $10 million increase from its inaugural year) and an estimated 470,000 visitors.
Artists looking to get their work in front of those approximately 885,000 pairs of eyes next year should start brainstorming now. The call for entry for Light City 2019, set for April 5-13, is now open, and BOPA offers grants of $10,000-75,000 to fully fund pieces for the festival's Art Walk. About 25 temporary visual light art installations from local, national, and international works will eventually be chosen from the hundreds of applicants.
Finalists will be chosen by a panel of jurors including filmmaker, curator, and author Elissa Blount-Moorhead; Marcus Civin of the University of Nevada, Las Vegas Department of Art; Burning Man Director of Art & Civic Engagement Kim Cook; Signal Prague Light Festival co-founder Jan K. Rolnik; and Jess Wilcox, Director of Exhibitions of the Socrates Sculpture Park in New York. Finalists will be notified in late October, and participating works will be chosen in December.
What can attendees expect from the new pieces? The prompt calls for works that exemplify the core values of collaboration, social innovation, technology, sustainability, audience engagement and accessibility, and transformational impact. How those ideas manage to light up the Inner Harbor is up to the artists.