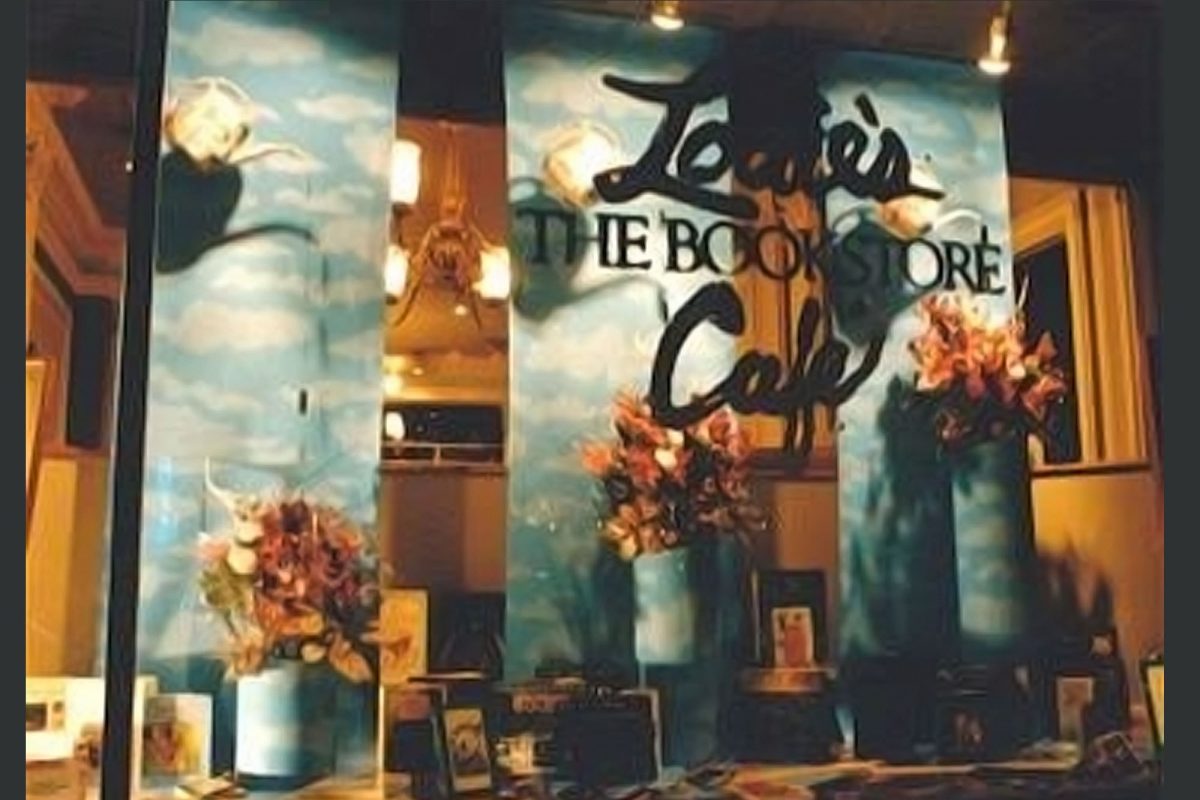 Creative Alliance
It's impossible to overstate how important Louie's Bookstore Café was to your life if you lived in Baltimore City during the '80s and '90s. This was before Donna's. Before Starbucks. Hell, before Amazon. Louie's was a place to have a drink, have a meal, look at some local art on the walls, listen to some Peabody students gigging in the corner, and, yes, buy a book. Beyond that, it seemed to be the center of everything: first dates, breakups, celebrity sightings. Restaurants come and go in Baltimore at a rapid pace, but Louie's will never be forgotten.
And now the restaurant that closed more than 20 years ago is having a reunion.
The popular dining spot, which was open on Charles Street from 1981 to 1998, is the subject of a pair of art exhibits at the Creative Alliance that will run from March 16 to April 13, providing former patrons and employees an opportunity to get together again.
The first one, in the main gallery downstairs, will be "Jimmy Rouse: The Past Ten Years." It's a collection of paintings, drawings, prints, and sculptures by Rouse, who owned and operated Louie's while also working as a visual artist. Rouse named the restaurant after his first son. The second show, upstairs in the Amalie Rothschild Gallery, is "Louie's Bookstore and Café: Back on the Wall" and will contain work by 25 artists who were featured over the years at Louie's, one of the first restaurants locally to exhibit art for sale on a rotating basis.
Put them together and it's a perfect excuse to gather patrons of the food and books and art—or all three. The opening reception on March 16 is shaping up to be an especially big night for reminiscing, with James Beard Award-winning chef Spike Gjerde providing the food and Ava Oelke singing with Swing Theory in the Marquee Lounge.
"Please come, let's have a Louie's reunion," Rouse wrote on his Facebook page to announce the opening. Now 73, he spends much of his time making art from studios in Bolton Hill and Woodberry.
The idea for the companion shows came from Creative Alliance executive director Gina Caruso and former exhibitions and programs manager Jeremy Sterns. According to Caruso, Creative Alliance was planning a show of works by Rouse, who had exhibited there before, and they wanted to use that as an opportunity to celebrate many of the artists Rouse helped promote at Louie's.
Opened one year after Harborplace did, Louie's was an alternative to the Inner Harbor pavilions, a place where locals could feel comfortable. The old building gave the space a lot of character, and the high ceilings provided plenty of wall space to hang paintings. Practically from the start, it was a gathering place for Baltimore's arts community. All kinds of people stopped by. It had such a strong following that there is even today a Facebook page devoted to it and its alums, Louie's Bookstore and Café Goes Global.
Caruso said she remembers Louie's from when she first moved to Baltimore in 1989 to work at the nearby Walters Art Gallery, now the Walters Art Museum. She said the response from the arts community was strong in large part because many of the employees were emerging artists, waiting tables or tending bar at Louie's to support themselves while building careers—and Rouse, an artist himself, encouraged that.
"When I came to Baltimore in 1989, Louie's was the place to go—and the place to get a decent cup of coffee," Caruso recalls. "And he was showing artists at the time, many of whom worked for him at the restaurant. We would come to the bookstore and then eat there. I became friends with many of [the patrons] because they were poets and writers and artists. There weren't a lot of galleries that were showing emerging artists at the time."
Caruso said there were other places to find local art during the period when Louie's was open, including Margaret's Café in Fells Point (run by Creative Alliance co-founder Margaret Footner) and Linda Richardson's Café Montage in Mt. Vernon. She also notes that there are many more restaurants that show and sell original art now. But Louie's paved the way in many respects, she said.
"It was an oasis, really," she said. "It wasn't just the art on the walls. It was the people who worked there. [Rouse] was a very kind person and he was very supportive of his artists. It was a very special place."
Artists who are confirmed for the show, curated by Thomas James, include Ruth Channing, Ruth Pettus, Christy Bergland, Greg Fletcher, Nieves Saah, Steve Parlato, Mary Opasik, Jim Opasik and Richard Soper. Others are being added. Rouse, a son of legendary developer James W. Rouse, helped Creative Alliance track down the artists. He said the exhibits at Louie's lasted six weeks, and he figures more than 100 artists showed their work there over the years.
Rouse plans to present a range of his own oil paintings, including still life images, landscapes, portraits, and figures, as well as narrative and allegorical paintings. He'll also show free-standing clay figures, portrait heads and bas-reliefs, which he paints.
With less than a week to go before the shows open at Creative Alliance, Rouse said he's looking forward to seeing everyone again—and letting everyone see what he's been working on. He's giving an artist's talk at Creative Alliance at 3:30 p.m. on April 13 and will speak about the two exhibits and "the esthetics of beauty" as part of a panel discussion with Tom Hall on WYPR Radio at noon on March 15.
"I think people will be blown away by the quality of work upstairs," Rouse said.