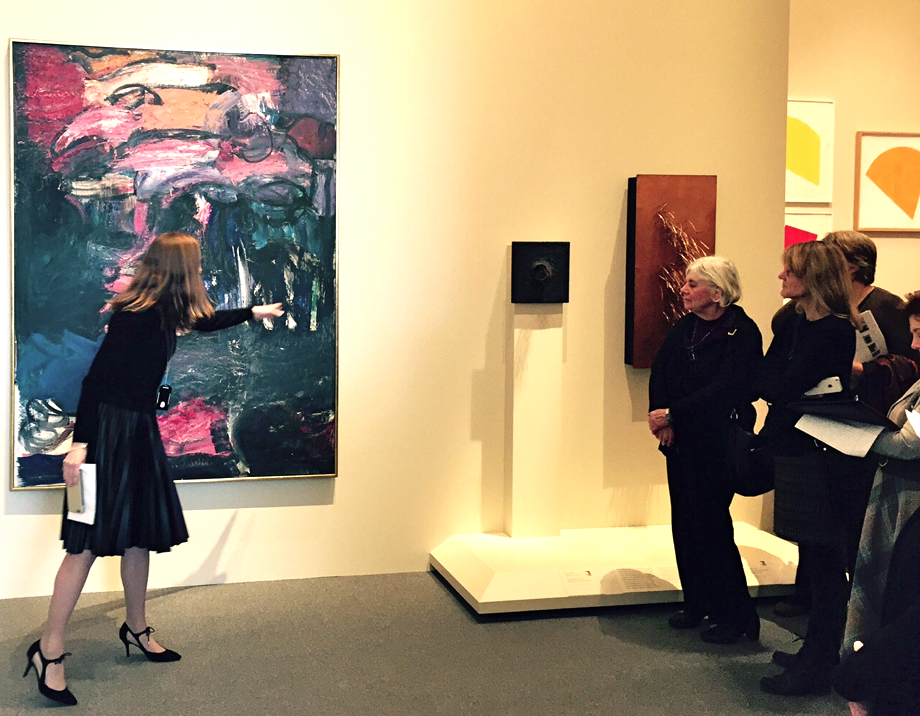 Ron Cassie
It's akin to walking through a hall of wonder.
The Baltimore Museum of Art's first major exhibition since its renovation juxtaposes stunning new gifts from a cross section of mediums, cultures, and chronology, appropriately beginning with an arresting, black and red, textured oil painting—"Pallas Athena-Fire"—by seminal abstract expressionist Grace Hartigan.
The compelling entrance piece by the Baltimore-based Hartigan, who passed away in 2008 at 86, is part self-portrait, part homage to the mythological Greek goddess from whom she found inspiration and a sense of her own strength and wisdom.
It sets the stage for a dazzling show—New Arrivals: Gifts of Art for a New Century, which opens Sunday to the public—of 200 recently acquired works that manages to integrate an unusual array of genres and masterworks.
In the same room as Hartigan's canvas, for example, sits René Magritte's massive "Delusions of Grandeur"—a surrealist bronze sculpture depicting the emergence of a strong female torso. In between: two richly colored, post-impressionistic Pierre Bonnard still life paintings, including "Woman with Basket of Fruit," and a brush and black ink drawing by Henri Matisse that echoes Toulouse-Lautrec. Then, around the corner—19th-century, Japanese ink and color panels with gold leaf chronicling the birth of the Buddha; three minimalist pieces by the renowned Ellsworth Kelly (who died at 92 in December); and two wooden, African divinity sculptures.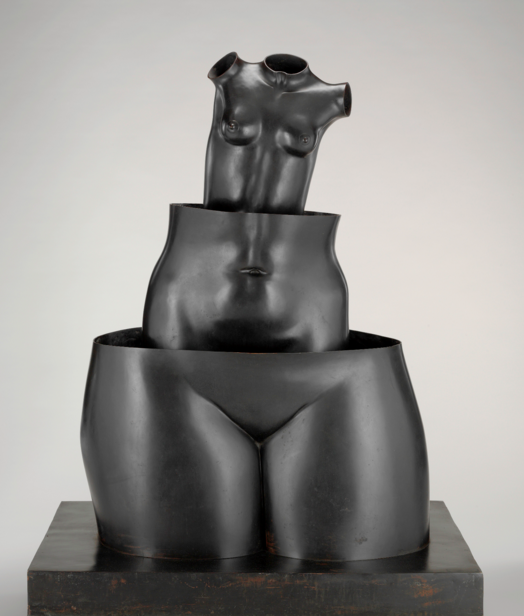 That's to start.
Culled from more than 4,000 new works that arrived over the past decade in conjunction with the BMA's Campaign for Art—all leading up to the museum's 100th anniversary in 2014—the exhibition moves through a number of bright spaces, with pieces resonating with and against one another. A series of four delicate impressions of "Nocturne," an etching and drypoint study of an evening harbor-scape by James Abbot McNeill Whistler, show the artist experimenting with light and shadow within the same context.
But whether positioned alongside similar work from the same artist, or next to a piece from a different artist—a pair of Degas and Rodin ballerina sculptures, a playful Calder mobile near an antique bicycle carousel, to name two examples—the entire presentation generates a feeling of inspired creativity. It's almost impossible, however, to describe the breadth of the show, organized by senior curator Rena Hoisington, which encompasses everything from fine art quilts and decorative furniture to abstract prints and urban photography
One of the highlights is certainly Sarah Sze's contemporary, mixed-media "Random Walk Drawing (Eye Chart)." It's a mesmerizing floor-to-ceiling installation that combines white-paper cutouts, yellow string, and everyday Western objects into a balanced composition, incorporating East Asian artistic themes—such as those in the more traditional Japanese scroll painting on a near wall.
There's a bonus, too. Also opening Sunday is a smaller, focused exhibition of roughly 20 new museum acquisitions from Maryland artists.
These include a portrait by painter Raoul Middleman, a portrait piece from John Waters (yes, that John Waters), a series of East Baltimore photos by Elinor B. Cahn, turn-of-the century views of Baltimore by Gabrielle DeVaux Clement, and a color woodcut, "Baltimore. 1992." by Bobby Donovan—see below.
"We are extremely grateful for the extraordinary generosity of many donors who chose to contribute so meaningfully to the museum," said interim BMA co-director Jay Fisher. "Their gifts have transformed the collection and made it possible for Baltimore audiences to see these striking works and discover how they resonate with each other."