The Great Escape
With his big plans waylaid by the pandemic, Spencer Horsman continues to entertain.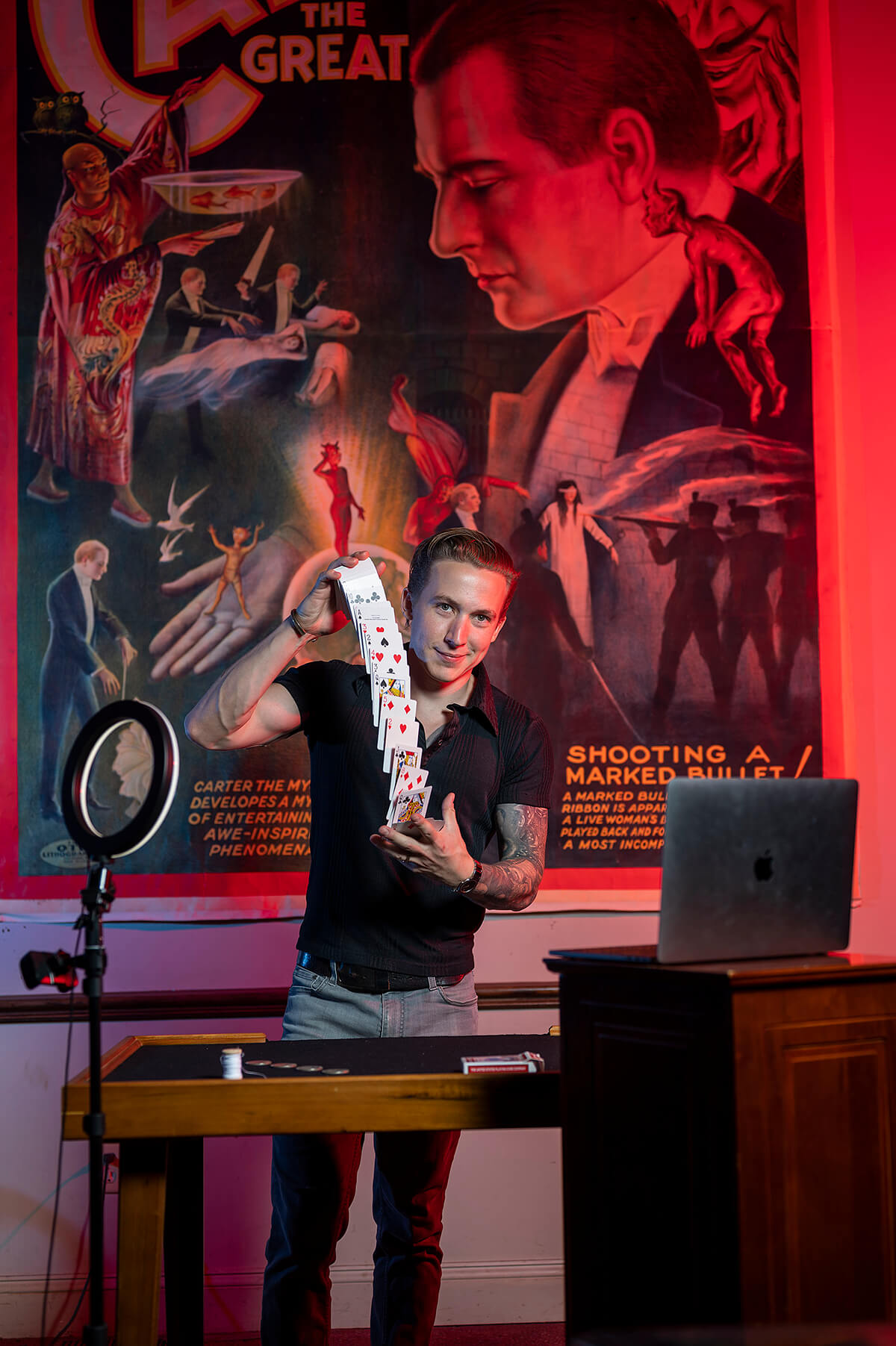 For once, Spencer Horsman cannot escape. It doesn't matter how much oxygen he stores in his lungs. It doesn't matter how many keys he tries. Even the tiny one that dangles from the black lanyard hanging around his neck—a bittersweet souvenir from the childhood home he just sold—won't free him. Not from these shackles.
It's just after 6 p.m. on an overcast Friday in August, and Horsman has been holding his breath for 3,688 hours, four minutes, and 17 seconds. That's how long it's been since COVID first shut down Illusions Magic Bar in Federal Hill back in mid-March, preventing its owner/headliner from playing to a packed house every Friday and Saturday night, and from riding the tidal wave of momentum he'd gained as a result of his spectacular January appearance on America's Got Talent: The Champions. That's how long he's been waiting for life as he knows it to resume.
In the meantime, just like the other seven billion people on the planet, he continues to fake it 'til he makes it.
"I'm flexible like Gumby," says Horsman, repeating the words of his late father. A professional clown who joined Ringling Brothers straight out of high school and then spent two decades criss-crossing the Mid-Atlantic in a Ronald McDonald costume, Ken Horsman died of cancer in 2016 at the age of 58, but not before leaving his son a lasting legacy.
Growing up in the early '90s, Spencer would hop off the Park School bus arriving from Brooklandville to the 1000 block of South Charles Street ("I was the token poor gentile kid from the city.") and disappear into Kenzo's Yogi Magic Mart, the retail shop where his pops peddled magic supplies and Halloween paraphernalia. He'd knock out his homework and then hang out until closing, watching card and coin tricks and soaking in tips from magicians who would pass through the store.
"Being an only child, I was just happy to find something to occupy myself," says the 34-year-old in an energetic, high-pitched voice that makes him seem much younger. "I didn't mind sitting in a corner and studying something for hours on end." All that studying paid off quickly.
By the time he was eight years old, Horsman had scored his first TV spot, a 30-minute morning session with WJZ icons Marty Bass and Don Scott—and a puppet—in which the pint-sized prodigy showcased his unique blend of magic and ventriloquism. Three months later, his father managed to parlay the video from his local gig into a national appearance on Late Night with David Letterman. Billed as the world's youngest ventriloquist, he found himself seated next to Emmy winner David Hyde Pierce (Frasier) and Grammy winner Peter Gabriel.
"We didn't believe in baby steps," says Horsman of the PR strategy employed by his dad that resulted in him doing two dozen national television shows before he was old enough to drive. Along the way, when he was 12 years old, he started dabbling in escapes as a means of expanding his repertoire. Surprisingly, he didn't get any parental pushback.
"When I was first learning," he says, "it wasn't anything that included a danger element, because freeing yourself from something that seems impossible is impressive as it is (even if it's not really that dangerous). The danger is a theatrical choice you add at the end—just to up the ante."
BY AGE EIGHT, HORSMAN HAD SCORED HIS FIRST TV SPOT WITH WJZ'S MARTY BASS AND DON SCOTT.
Sitting at a dusty wrought-iron table tucked inside the vestibule at Illusions, Horsman runs his fingers through his slicked-back dirty-blond coif and takes a swig from a large Topo Chico bottle that's been repurposed and is currently filled with cherry lemon Dopa Rush. Behind him, inside the bar and just before the entrance to the theater, stands a curio cabinet that's filled with framed photos of him rubbing famous elbows: Larry King, Paris Hilton and Nicole Richie, David Copperfield. Next to the showcase is the tank that he used for his dramatic wet-cement escape on season seven of America's Got Talent, the one that he had custom-built by Annapolis metalworkers specifically for the show.
Even though Horsman has only used it one other time in eight years since, it's an investment that has reaped big dividends.
"AGT is advertising to put butts in seats for the live show," says Horsman, referring to the weekend performances that he and wife Caroline stage in the cozy, 110-seat hall at Illusions. "TV is good exposure, but ultimately I love live performing."
That's why, last fall, when NBC execs approached Horsman about returning as a contestant on AGT: Champions, he balked initially. After all, the odds of winning were miniscule (he made the quarterfinals in season seven, but this time around the stacked field included high-profile contestants from AGT, plus more than a dozen international versions of the show), he already had the hit show on his resume, and the October filming would require him to spend a couple weeks in LA at a time when his Baltimore business typically kicks into high gear.
Ultimately, after haggling with producers over logistics, Horsman accepted the invite. Although he didn't win (he was eliminated in the first round), he wound up with an invaluable consolation prize: first-class footage.
"It came out looking gorgeous on TV," says Caroline Horsman of the video from her hubby's dramatic underwater escape. For those who don't have the stomach to join the half-million people who have already viewed the stunt on YouTube, or the 6.5 million who watched the original airing in January, it starts with Caroline handing bobby pins to her chrome-domed spouse. (Spencer had shaved his head the day before filming, thanks to a freak rehearsal accident that resulted in an urgent care visit and two staples.)
With handcuffs around his wrist and a padlock around his waist, Horsman then lowers himself into the tank. Two tense minutes later, he emerges just in the nick of time as the bottom of the tank—which is suspended 30 feet in the air—bursts open and sends 1,600 gallons of water crashing to the ground below. Pyrotechnics ensue. So, too, does recognition.
"AGT gave him credibility," says Caroline of the man she still refers to as "that bleach-blond boy" when telling the story of how they first met at a magic convention in Vegas.
Five years later, the former theater major—who runs Illusions' nine-seat seance parlor—is Spencer's partner in more than just marriage, helping him stock the bar before the show, locking him in the water tank at the end of it, and generally filling the colossal clown shoes left behind by her late father-in-law.
It's a gig she wouldn't trade for anything. Except maybe for the chance to do it on a grander scale, which is exactly what that heart-stopping video from AGT provided. "It gave us the ability to write our own ticket."
At first, the Horsmans thought they were ticketed for New England. Last Thanksgiving, after a year of scouting locations to open up a second venue, they visited Salem, Massachusetts, and fell in love with the historic coastal town. Before they knew it, they had a 13-year lease lined up to rent the old Essex Bank Building.
They'd spend fall and winter in Charm City, capitalizing on the busy season, then spring and summer in Salem, doing the same there. They even had a name picked out for their new baby: Horsman Hall. "It was gonna be great," says Spencer. "But when COVID hit, it all went poof."
On March 13, a week after Governor Hogan declared a state of emergency in Maryland, Illusions went dark, forcing the Horsmans to refund the unseasonably large number of presales they'd received on the heels of Spencer's buzzworthy AGT appearance. Says Caroline: "It was a gut punch."
Ever since, it's been cash as cash can: On March 21, the couple created a GoFundMe page that had raised $8,670 through the end of September.
This summer, instead of opening the doors of Horsman Hall, Spencer was closing on the sale of his childhood home, an oversized row house on the 1500 block of South Charles that he'd been using as storage space. As for performances, outside of a six-week period when Baltimore City temporarily reopened and Illusions found itself hosting shows with a maximum capacity of 18 people, Spencer has been confined to Zoom gigs.
Although his virtual routine—which lasts an hour and relies on cards, coins, and comedy—has provided an opportunity to get back to his sleight-of-hand roots, it's eliminated the physical interaction that's become a trademark of his in-person act. But that doesn't mean he's not touching people.
"Magic is storytelling," says Horsman at the outset of a recent Saturday night Zoom show. "No different than painting or songwriting."
Seated at a black rectangular table in the back office at Illusions, with a framed poster of Alexander the Man Who Knows looming behind him, he launches into a tale about his long-standing virology obsession and about the 1918 pandemic book that's the cornerstone of his mini library on the subject.
"MAGIC IS STORYTELLING," SAYS SPENCER HORSMAN. "NO DIFFERENT THAN PAINTING OR SONGWRITING."
Dressed in a black short-sleeve button down that shows off the tattoo sleeve on his left arm, Horsman works the nine playing cards in front of him—an ace of spades and eight blank ones—and discusses R, the all-important epidemiology metric. Over the next 90 seconds, he astonishingly manages to transform each of the blanks—to infect them, metaphorically—into an ace of spades. It's a trick that leaves everyone in the cyber-crowd (including a golden-brown labradoodle that he quips "looks like a pile of fried chicken") shaking their heads. Says one audience member at the end of the hour: "That was better than SNL."
Although Horsman isn't a comedian, he doesn't necessarily consider himself a magician either. "I'm an entertainer," says the man whose body ink includes images of old Hollywood icons such as Buster Keaton, Charlie Chaplin, and The Three Stooges. "I don't do this for the ego boost. I don't do it for admiration. I just like entertaining people. I like making people happy. I like providing that escapism for people."
Back at Illusions on that overcast Friday in August, the proprietor is a picture of propriety.
In accordance with the Phase Two reopening, his business remains shuttered, his curtains closed. Instead of scurrying about to complete the standard last-minute procedures—topping off the liquor supply, procuring extra ice, double-checking all the props—Spencer Horsman just sits there, soaking in South Baltimore from the wrought-iron table inside the vestibule. A mask draped over his kneecap and a collection of dried leaves swirling around on the cement under his feet, he's perched in the shadows of a marquee that's bookended by chipped red paint and that trumpets, "LIVE COMEDY MAGIC SHOWS EVERY FRI SAT 9 PM." But there will be no live show. Not on this night or any other night in the near future.
"If it can go wrong, it will go wrong," says Horsman, suggesting that the life of an entertainer has prepared him as much as anyone could possibly be prepared for a pandemic. "You're always adapting. It comes with the territory."
He pauses for a moment, takes another swig of Dopa Rush, then continues his show-must-go-on train of thought. Eventually, he circles back to Salem. To Horsman Hall. To what could've been and what—coronavirus be damned—will someday be. "We'll still try to do that," he says. "Next year."
Until then, he'll keep holding his breath.