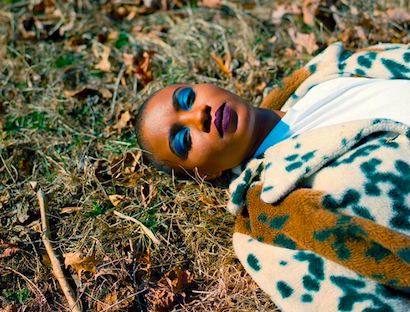 With postponed or cancelled concerts being announced across the city, we've expanded the latest edition of The Big Baltimore Playlist to include 10 songs by local musicians to listen to right now, ranging from punk-infused hip-hop and dance-worthy pop music to meditative soundscapes. Check back each month for new top songs of the moment via our Spotify playlist and continue to support hometown acts by purchasing their music or merchandise.
---
"Woke Me" by Chiffon
This beloved experimental R&B duo (now trio with the addition of bassist Will Ryerson, also of Other Colors) is back with their first new single in five years off their upcoming four-track EP. It's a dreamy, seductive slow jam featuring sparkling layers of digital beats and singer Amy Reid's ethereal vocals speaking to long-distance romance. All the more fitting a listen in an era of social distancing.
"Become A Mountain" by Dan Deacon
This might be the most inspiring song of 2020, with electronic maestro Dan Deacon guiding us toward a triumphant awakening on his new album, Mystic Familiar. Amidst swirling synth, building piano, and orchestral peaks, it's chock full of advice about opening up your imagination and finding your inner strength, making it one we'll likely turn to for a long time to come.
"Our Pathetic Age" by DJ Shadow ft. Samuel T. Herring
Somehow we missed this song when it was released last fall, but earlier this week, thanks to WTMD's Baltimore Hit Parade, we discovered what instantly became one of our new favorite tracks of spring. The Cali-based DJ Shadow enlisted Future Islands frontman Sam Herring for this nostalgic dance track, with a steady funk-infused disco beat grooving beneath his distinctive vocal croons. All we can say is, thank you.
"Raspberry Gun" by Dyyo
We told you last fall that this up-and-coming experimental rapper was one to watch, and his new exploratory album, featuring a full live band, drives that very point home. It's a powder keg of kinetic tracks that fuse hip-hop with genres like grunge, punk rock, and jazz in an improvisational way. We particularly like this sixth track for its old-school flavor, free-flowing vocal play, crashing drums, and the occasional flutter of brass.
"Sweet June Nectar" by Jeremiah Lloyd Harmon
Listening to Jeremiah Lloyd Harmon's original "Almost Heaven," which garnered him national attention via American Idol, you knew the Catonsville singer-songwriter had staying power, and this second single off his upcoming debut album, Namesake, proves exactly that. With raw piano, reverberating strings, and soaring vocals, the feel-good anthem captures the essence of youth, young love, and warm weather—all things we'll gladly repeat in our minds like a mantra for weeks to come.
"Black-Eyed Susie" by Ken and Brad Kolodner
This weekend, father-son acoustic duo Ken and Brad Kolodner released their new album, Stony Run, named for the Baltimore waterway that runs between their respective homes. It's full of energetic originals and inventive takes on Americana classics, like this seventh bluegrass-inspired track. As Brad's warm vocals move to the forefront, an unlikely combination of instruments, the hammered mbira and gourd banjo, craft a hard-driving tune that gives a glimpse into what could be the genre's future.
"Day2Day" by Micah E. Wood ft. Bobbi Rush
Baltimore's resident troubadour Micah E. Wood returns with a new single and love song we've been waiting for all along. With an infectious pop melody and airy R&B backup vocals from singer-songwriter Bobbi Rush, two of the local scene's up-and-coming artists tackle the overwhelming uncertainty of new romance, rejecting the doubt induced by former heartbreak, embracing the healing powers of love. Through groovy guitar chords and an uptempo dance beat, its final lyrics leave you with an unwavering sense of hope.
"Cry Like A Baby" by Movakween
Singer-songwriter MovaKween makes music for spiritual guidance, and this new slow jam feels especially timely for its message: giving everyone the space to handle hardship in their own way and time. Speaking to love, specifically, she humanizes the pain that comes with its loss, as her honeyed powerhouse vocals reach new peaks over a smooth, sultry R&B melody that gives homage to the genre's greatest hits. If you don't already, consider Movakween an artist to know now.
"Mother" by Outcalls
This new track by Britt Olsen-Ecker and Melissa Wimbish contemplates a dynamic topic: motherhood, with distant, dream-like vocals asking a big, ambiguous question—"Better now, but better when?"—ultimately leaving the answer, too, up to listeners. Made in collaboration with singer-songwriter/producer Jennifer Pague of L.A.'s. Vita and the Woolf, it's a spacious, surreal melody that builds with a staccato beat, lush synth, and the ladies' always-impressive operatic pipes.
"We" by The Soft Pink Truth
Looking for a song to get lost in? Consider this new track from The Soft Pink Truth, the solo project of Drew Daniel from celebrated local experimental duo Matmos, a meditative gift in these strange times. Off the upcoming album, Shall We Go On Sinning so That Grace May Increase?, it's a soft, sparse, sparkling soundscape, dancing between sublime minimalism and a trance-music rave, inspiring listeners to find moments of self-care and healing. It couldn't have arrived at a better time.