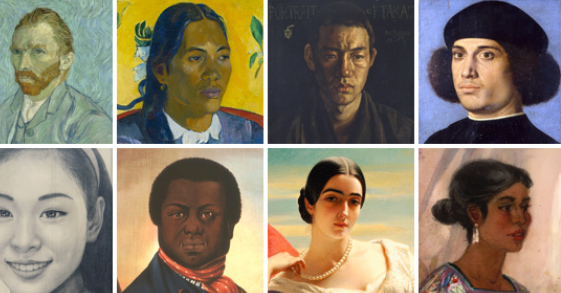 Google Arts & Culture
If your NewsFeed is suddenly filled with 19th-century portrait paintings, you likely have the Google Arts & Culture app to thank. 
While the app itself—aimed to connect users to works of art and museums around the world—has been available since 2016, its new feature to match people's selfies with famous works of art has only been available since mid-December. This past weekend, it became the most downloaded mobile app and celebrities from Kristen Bell to William Shatner have used it, successfully or not, to try and find their portrait parallels.
The new feature culls works of art from more than 1,200 museums in 70 countries around the world, including the Walters Art Museum here in Baltimore, which has a collection of 1,408 objects in the Google database. 
"These apps are great for bringing people into the museum," says Walters' director of curatorial affairs Amy Landau. "While it's been immediately very popular with user-engagement, people have come to realize that it isn't always successful."
While many users have joked that their doppelgängers do them a disservice, Landau says, it raises a greater issue of people not feeling like they are being represented in artifacts of history, particularly when it comes to Asian Americans and African Americans. 
"What's most interesting is the question the app raises about who is being represented and who is not," Landau says. "And that speaks to museums like the Walters in its presentation and also in our acquisitions."
Landau notes that the Walters is constantly in conversation about the issue of diversity and that the museum has always made an effort to represent different populations, as in the acquisition of Pietro Calvi's bust "Othello." The bronze and marble sculpture bears striking resemblance to Ira Aldridge, one of the first African-American actors in the 19th-century to play the famous Shakespeare role in Europe, and was acquired by the Walters last spring.
What the app also lacks, Landau says, is more context surrounding the works of art. When a user takes a selfie, the algorithm spits back up to five works of art with the name of the piece, artist, and museum location. 
"I think Google and museums can work more closely together so then you can get the story behind the image," she says. "This is the kind of information a museum or docent would offer if you were physically present."
However, the use of technology to bring traditional arts and culture to a new audience is something most institutions can get behind. In fact, Google estimates that more than 20 million selfies have been uploaded using the new feature, which has hopefully created new art fans along the way.
"While this app isn't perfect, it's important to keep in mind how significant experimentation is when it comes to museums and technology," Landau says, "especially when it comes to bringing younger generations through the door."