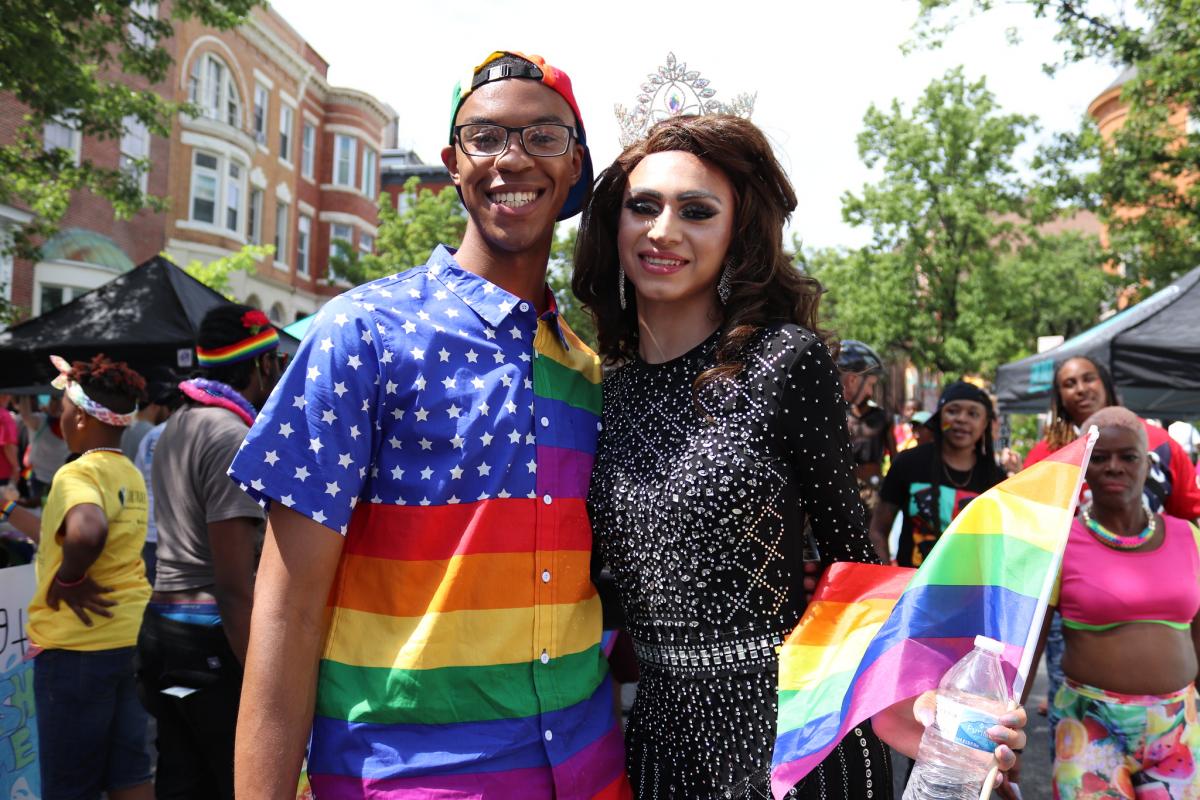 Attendees of Baltimore Pride in 2019. —Photography by Elvert Barnes via Flickr Creative Commons
As vaccination rates continue to climb and COVID-19 cases decrease, Pride festivities are back this year—with plenty of virtual and in-person events to celebrate the local LGBTQ+ community all month long.  
Though the city is not granting permits for the annual Pride parade and festival to take place this summer, spaces all over town are planning to host everything from drag shows and dance parties to movie nights and meet-and-greets to recognize and empower the community while also commemorating the legacy of Baltimore Pride, which dates back to 1975.
Adam McMath, head of marketing and communications for the Pride Center of Maryland—which usually organizes the parade and festival—says that it has been difficult to pivot, as the nonprofit typically relies on the parade to sustain itself. However, he says these times have forced the organization to be more innovative with its programming. 
"People are really ready to get out there and celebrate," McMath says. 
To that end, the Pride Center has a jam-packed lineup of festivities planned from June 13-20 with safety in mind. For the center's in-person events, which will be held at a limited capacity in order to maintain social distancing, organizers are encouraging all attendees to wear masks.
Working with the city's restrictions, the Pride Center is toying with the idea of hosting a larger celebration in the fall. McMath says the goal is to hold an event that allows everyone to gather as a community, but only once it's safe to do so.
"This has also informed the idea that we should be doing Pride stuff year-round," McMath says. "Mostly because there are a lot of things that are needed in the Baltimore LGBTQ community. We don't have a lot of gathering opportunities as is."  
While the community waits for Charm City's large-scale Pride traditions to make their official comeback, here are some of the rainbow-themed events you won't want to miss this month: 
PARTIES & PERFORMANCES
6/13: Baltimore Pride Fashion Show
Come experience this community fashion show where people of all shapes, sizes, and identities will be walking the runway. The ticketed event, hosted at Safari Club, will also feature the debut of Under Armour's Pride collection. 5625 O'Donnell St. 11 a.m.-3 p.m. $10. 410-624-5662 
6/17: Sweet Spot Pride 2021 Kickoff Party at The Manor
Kick off the weekend on the dance floor at this Pride party, which will feature pop playlists featuring icons like Britney Spears, Kim Petras, Lady Gaga, and more beneath the disco ball at The Manor in Mt. Vernon. To make it even better, there will be drink specials and drag performances by Washington Heights and Baby. 924 North Charles St. 9 p.m.-2 a.m. $5. 443-835-1526
6/18: Pride Meet and Greet
Missing the friendly faces you meet at the annual Pride Parade? Join the Pride Center of Maryland for this meet and greet, where you'll meet other LGBTQ+ community members and allies. This event has a limited capacity, so reserve your spot soon. 800 N. Wolfe St #16. 5 p.m.-10 p.m. Suggested $10 donation. 
6/18: Let's Have a Kiki: Pride Kiki Ball
Baltimore Safe Haven and Charm City Meadworks are bringing this Pride Ball to the city. Come dressed up—a "fashionable party monster inspired look" is one option—and ready to dance. 400 E Biddle St. 5 p.m.-10 p.m. 443-961-1072
6/18: A Night with Denali
From RuPaul's Drag Race to the Manor in Mt. Vernon, Denali continues to be a star you just can't miss. Hosted by Shaunda Leer and Washington Heights, the evening will highlight music spun by DJs Vodkatrina and Ryan Double to keep the party going all night long. 924 North Charles St. 8 p.m.-2 a.m. $50-60. 443-835-1526.
6/19: PRIDENESS
Sandlot in Harbor Point and SADBrunch are bringing PRIDENESS to Charm City for the first time. This day-long outdoor event overlooking the water will have live entertainment, DJs, food trucks, drag shows, giveaways, and more. 1000 Wills St. 11 a.m.-10 p.m. $25. 410-568-4916
6/19: Official Pride Party with Saucy Santana and Lil Snoop
There's certainly no shortage of dance parties happening this Pride month. Head to the Oxygen Ultra Lounge for this free Pride rager with performances from Saucy Santana and Lil Snoop. 10 S Calvert St. 8 p.m.-2 a.m. 443-362-0591
6/19: Drag Brunch with Sonja Morgan
Get ready for a Saturday-morning kiki with Charm City's own Brooklyn Heights and other local drag stars. To sweeten the deal, there will be a meet-and-greet following the show with Sonja Morgan of the Real Housewives of New York City. 924 North Charles St. 11 a.m.-2 p.m. $55-75. 443-835-1526.
6/19: Birds of Prey
This queer burlesque variety show at Hotel Revival will provide you with powerful performance art from award-winning entertainers Muva Magick, Queerly Femmetastic, Kia Sangria, Shay Au Lait, and HoneyTree EvilEye. Be sure to treat yourself to drinks, dinner, and dessert during the show. 101 West Monument St. 7 p.m.-10 p.m. $20-180. 410-727-7101 
6/19: RuPaul's Symone Takes Over the Manor
We say keep the drag performances coming. Enjoy this evening show featuring season 13 winner of RuPaul's Drag Race, Symone. Enjoy a complimentary glass of champagne when you purchase meet-and-greet tickets. 924 North Charles St. 8 p.m.-2 a.m. $75-85. 443-835-1526.
6/20: Elder Pride Celebration
The Pride Center of Maryland presents this virtual celebration for the older members of the LGBTQ+ community. 3 p.m.-4 p.m.
6/20: DEEP SUGAR Pride Tea Dance Party
Close out the weekend on a high note. This dance party hosted by Kevin Aviance will spotlight a live performance from renowned singer, songwriter, and producer Ultra Naté, as well as sets by Baltimore DJs Lisa Moody, Wayne Davis, and The Elders. 924 North Charles St. 3 p.m.-Late. $30-40. 443-835-1526.
6/25: Prom Uploaded: LGBTQ Prom
LGBTQ Prom returns this year with virtual music and drag performances. What started in 2014 to provide a safe and positive space for LGBTQ+ youth has now become one of the largest events for young community members in the Mid-Atlantic region. The event is sponsored by Baltimore Safe Haven, whose work includes providing health and housing services to those in need. 7 p.m.-11 p.m. 443-869-6867.
READINGS & SEMINARS
6/15: Free State Justice Presents: Strengths of the LGBTQ and SGL (Same Gender Loving) Community
Tune in for this free virtual learning opportunity hosted by FreeState Justice, a social justice nonprofit that provides legal services and advocates for the Maryland LGBTQ+ community. The webinar will focus on the strengths and resilience of the LGBTQ community at large. 6 p.m. 410-625-5428
6/16: SGL Sexual Health and Critical Updates to the Affordable Care Act
If you're looking to stay informed about legal policies, look no further than this workshop hosted by Baltimore Pride. The discussion will address key updates regarding sexual health and the community's overall wellbeing. 8 p.m.
6/28: Drag Queen Story Hour
In this virtual presentation in partnership with the Mayor's Office's Department of LGBTQ Affairs, Bambi Galore and special guests will tell stories about personal pride. Enoch Pratt Free Library. 6 p.m.
MOVIE SCREENINGS
6/14: Dark City Beneath the Beat Showcase Featuring TT The Artist
Dark City Beneath the Beat, a musical and documentary about Baltimore club music that recently dropped on Netflix, will be screened virtually by organizers with Baltimore Pride. Afterward, director TT the Artist will discuss the film on a post-screening panel. 7 p.m.-10 p.m. Suggested $10 donation. 443-873-0369.
6/17: Family Fun Movie Night
Bring the kids to this free family movie night at the Y Knot Lot in Station North. The feature film will be The Year We Thought About Love, a documentary about the LGBTQ+ theater group True Colors: OUT Youth Theater. 1904 N Charles St. 7 p.m.-10 p.m. 443-873-0369.
6/25: Double Feature with Hearts & Ears Inc.
Closing out the month will be a back-to-back screening of two LGBTQ+ films at Hearts & Ears in Mt. Vernon. The nonprofit organization works to empower members of the LGBTQ+ community through support services, advocacy, and education. 611 Park Avenue #Suite A. 3 p.m.-7 p.m. 410-523-1694.
EATS & DRINKS
Rainbow Bagels at THB Bagelry & Deli
Get your usual breakfast bagel order, but make it multicolored! For the entire month of June, Towson Hot Bagels will be selling its rainbow Pride bagels with a portion of sales being donated to the Pride Center of Maryland's various programs and services. The bagels will be available at all locations, including Canton, Charles Village, and the newest in Owings Mills. Multiple locations including 3301 Boston St. 410-732-9090 
Rainbow Croissant at Sacré Sucré
Your typical buttery, flaky pastry just got a Pride makeover. For the entire month of June, Sacré Sucré in Fells Point will be selling rainbow croissants, complete with cream, strawberries, and a miniature Pride flag on top. 2001 Fleet St. 443-873-0020
Bmore Pride Ice Cream
Local food fixtures The Charmery and Eddie's of Roland Park have teamed up to sell a Pride-inspired ice cream flavor with proceeds benefiting Baltimore Safe Haven. Available by the pint at Eddie's and by the pint and scoop at all Charmery locations throughout the month, the raspberry ice cream base is mixed with rainbow nonpareils and Eddie's scratch-made rainbow cookies.
Mason Dixie's Pride Party Pack: This Maryland-based comfort food company has partnered with LGBTQ-owned brands Proteau and Pipcorn to bring you the perfect snacks all month long. The Pride Party Pack includes scones, sea salt popcorn, and a sparkling botanical drink. Additionally, Mason Dixie is donating 20 percent of online sales to Rainbow Families—a nonprofit dedicated to helping LGBTQ+ families through education, support groups, empowerment, and community connections—when patrons use code RAINBOW.
Pride Punch Cocktail
Atlas Restaurant Group has teamed up with the Pride Center to bring you a celebratory Pride Punch cocktail. Starting Friday, June 11, the drink fusing Absolut vodka, pomegranate, lime, almond, and allspice can be purchased at any Atlas Restaurant Group spot. For every cocktail purchased, $1 will be donated to the Pride Center. At the end of the month, Atlas will match the total amount raised.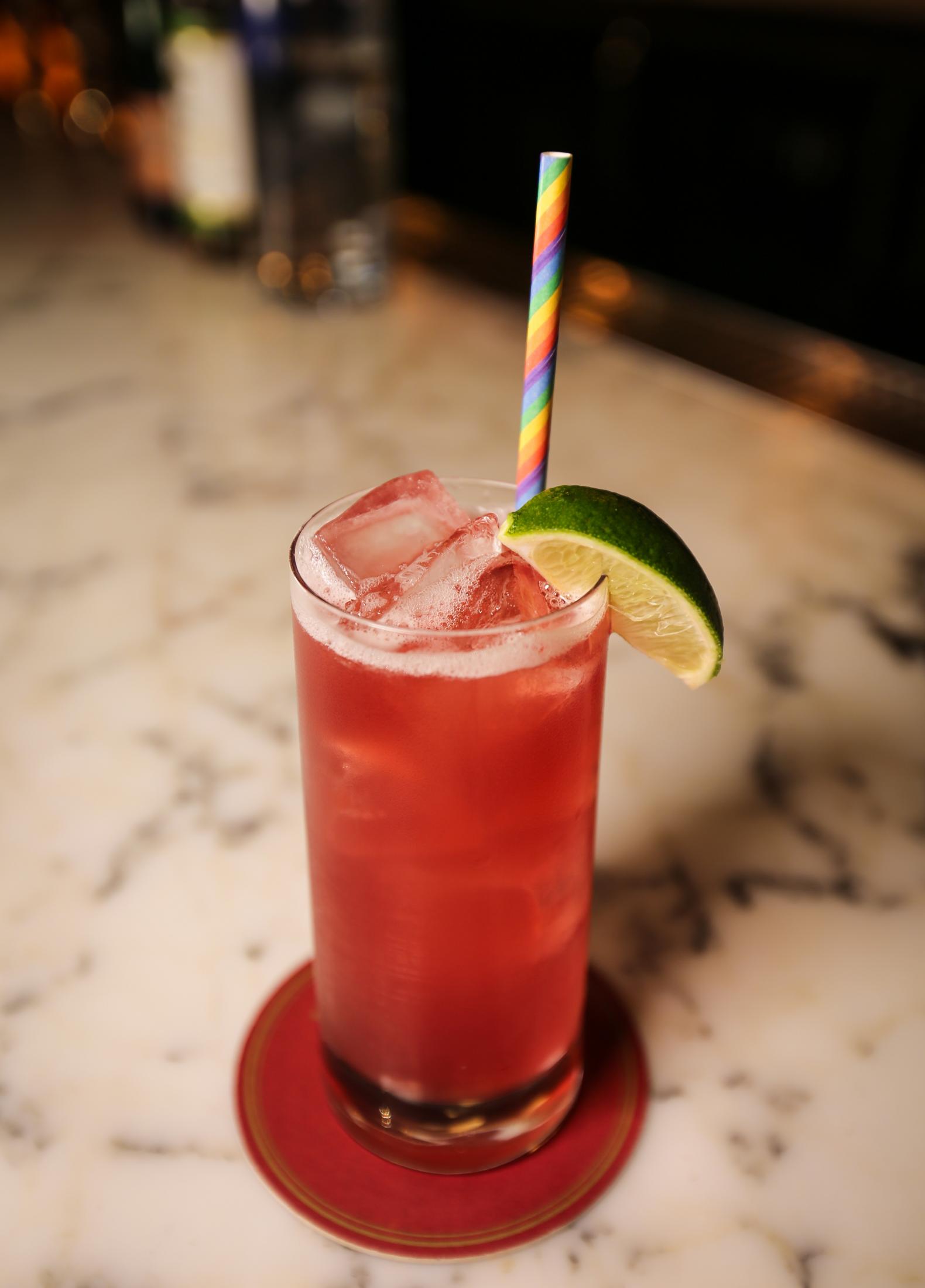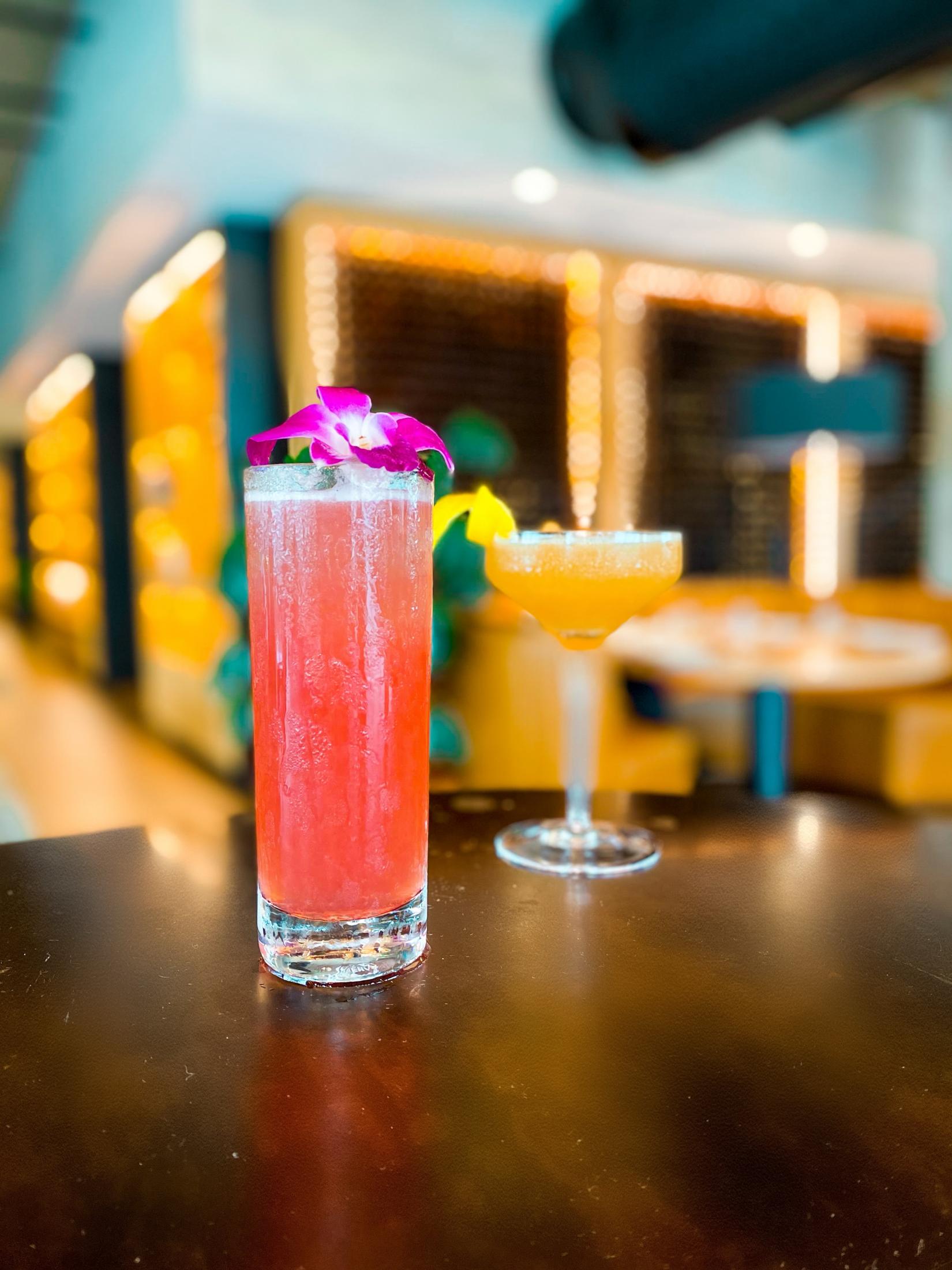 6/18: Pride Happy Hour with Kotic Couture at Hotel Revival
Local rapper, DJ, and producer Kotic Couture will host this happy hour at Hotel Revival in Mt. Vernon. Proceeds from every $5 ticket purchased will benefit Baltimore Safe Haven, a local organization that focuses on harm reduction, advocacy, and upward mobility services for the local LGBTQ+ community. 101 West Monument St. 6 p.m. $5. 410-727-7101
6/20: Just Brunchin' Drag Brunch at Cindy Lou's Fish House
Just when it seems like a classic Sunday brunch can't get better, drag performers are added into the mix. This event at Cindy Lou's Fish House will be hosted by Kayden Amore Chloe and Liyah Michelle Adams, with performances from Dee Dee Derѐon, Brooklyn Heights, Iyana Deschanel, Rio Blue, and Oohzee. Be sure to order the special Pride cocktails (including the "Come As You Are" fusing Earl grey-infused Jameson with lime juice and peach bitters) and come prepared with dollar bills for tipping. 1215 Wills St. 11 a.m.-2:30 p.m. SOLD OUT. 443-960-8670.
SPORTS & EXERCISE
6/13: Pride Fun Run in Fells Point
Looking to celebrate while also keeping active this month? Charm City Run will host this three-to-five mile fun run around Fells Point. All runners and walkers are welcome to join, and rainbow attire is encouraged. After completing the route, enjoy shopping discounts, adult beverages, and snacks at the Thames Street shop. 1500 Thames Street. 9 a.m.-11 a.m. 410-601-3761 
6/22: Orioles LGBTQ Pride Night
Commemorate Pride month while backing the birds at Camden Yards on Tuesday, June 22. Don your most colorful attire and be sure to arrive early to see Olanrele Oni—board president of Unmatched Athlete, a Maryland nonprofit that advocates for LGBTQ+ youth in sports—throw out the first pitch. In addition, a trio from the Pride Center will perform the National Anthem, and Merrick Moses, the center's board president, will be honored as the Birdland Community Hero. A portion of proceeds from ticket sales will benefit Moveable Feast, a nonprofit that provides food and other services to people with HIV/AIDS and other life-threatening conditions. Plus, the ticket package includes a free pair of rainbow sunglasses as a game-day favor. 333 W Camden St. 7:05 p.m. 410-685-9800.
6/26: Pride Ride
Love cycling? Start your weekend at Merritt Clubs in Canton with this 90-minute mashup of cycling and SPRINT, a High-Intensity Interval Training (HIIT) workout on an indoor bike. Expect entertainment and commentary by local drag performers Evon Michelle and Virya Shavasana throughout the class. All profits will go toward the Pride Center of Maryland. 3401 Boston St. 10:30 a.m.-12:45 p.m. $25. 410-563-0225