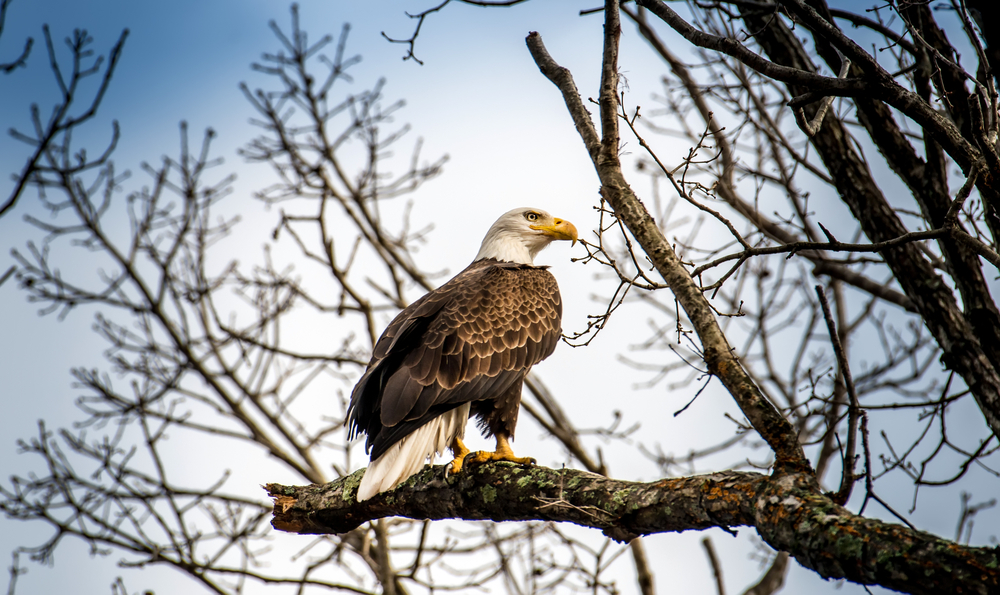 Shutterstock
FOWL PLAY
More than two years ago, 13 bald eagles were found dead on an Eastern Shore farm, leaving investigators puzzled as to the cause. According to a recent federal lab report, at least six birds had ingested carbofuran, a highly toxic pesticide that is lethal to birds and banned from the U.S. market.
Carbofuran was said to have been the primary cause of eagle death in the late 1980s, leading to their designation as an endangered species and causing the EPA to ban its granular form in the mid-1990s, followed by its liquid form in 2009. In the past, farmers have received fines for using the substance to kill nuisance animals in an effort to their livestock as they inadvertently killed eagles and other birds of prey that fed on the carcasses. Some within the illegal marijuana industry have also used the substance as a rodenticide. In the case of the Maryland deaths, the source of the carbofuran is still unknown, though most of the birds had recently ingested raccoon, which itself might have been poisoned. As federally protected wildlife, killing one bald eagle is punishable by up to two years in prison and a fine of $250,000 in the United States.
Once almost extinct, bald eagles are considered one of the greatest conservation success stories, having made a major comeback since the 1980s. The Chesapeake Bay region is home to the largest concentration of bald eagles in the lower 48 states.
BAY COMEBACK
For the first time in 33 years, the Chesapeake Bay's health has shown signs of improvement in every region. In mid-June, officials from Maryland, Virginia, and Washington, D.C., announced that the estuary is headed towards a full recovery despite its overall grade remains a C, due to particularly troubled areas like the Patuxent, Patapsco, and York rivers. Seven out of 15 regions have shown significantly improved health, while none declined. Officials and scientists have awarded credit to the 15-year, $19-billion restoration plan mandated by the Obama administration in 2010 and administered by the Environmental Protection Agency, in which watershed states—also including Delaware, West Virginia, Pennsylvania, and New York—have agreed to decrease farm runoff and improve wastewater treatment facilities, among other efforts, by 2025. The Trump administration has cut the plan's funding by 90 percent in 2019, but state support for the initiative remains strong.
CRAB CRISIS CONTINUES
This spring, U.S. immigrant worker visas were awarded by lottery for the first time, compared to a previous first-come, first-served system, leaving Maryland's seafood industry with a drought of seasonal workers who primarily hail from Mexico. In early June, following an outcry from local seafood businesses and a request from Gov. Hogan, U.S. immigration officials approved additional visas for one of Maryland's multiple crab picking houses, which are said to be missing an estimated 35 percent of their summer workforce. Industry experts say this new strategy and its subsequent visa shortage puts the fate of Maryland crab houses in a dangerous position. As previously reported, it could also lead to an increased price for picked meat, due to a decreased supply, doubled with a decreased price for steamed crabs, due to a surplus of hard shells that would have otherwise been picked.
CONTESTED CLEANUP
In May, Maryland environmental regulators required the owner of the Conowingo Dam to increase its efforts to reduce pollution that flows from the Susquehanna River into the Chesapeake Bay. In response, the company, Exelon Corporation, filed two lawsuits against the state in June, stating that it shouldn't be held responsible for abating all of the trash and excess nutrients (including nitrogen and phosphorus, which reduce clarity, cause algae blooms, and decrease oxygen levels in local waters) that build up at the end of the 464-mile river. The Susquehanna is considered the primary source of nutrient pollution in the main portion of the Chesapeake Bay, and this spring, above-average rains carried more than 85 million pounds of nitrogen from its waterway into the bay. With the dam at full capacity, local environmentalists fear that this refusal threatens the progress of the estuary's multi-state restoration strategy.
ALL THAT TRASH
Maryland residents are throwing too much trash into their recycling containers, with as much as one third of those materials now ending up in a landfill or incinerator. According to a recent Sun report, this "aspirational recycling" or "wishcycling" practice—aka throwing unrecyclable goods in with your recyclable cardboard, plastic, and glass—is causing the worth of Baltimore recycling to decrease, as a ton of local recycling was sold for $112 in 2011 compared to $33 today, while also costing the city money to process and get rid it. Recycling education resources are available for city and county residents.
AIR APPARENT
Baltimore is considered one of the 10 worst U.S. cities for air quality, according to a new study issued by the Environment Maryland Research & Policy Center. In 2016, about 2.8 million people in the Baltimore region experience 114 days in which at least half of air quality monitoring stations measured "moderate" or worse for elevated ozone and/or particulate levels, which can increase the risk of negative health impacts, from coughing, wheezing, and asthma to congestive heart failure. Despite its notoriously bad traffic, the Washington, D.C., Arlington, and Alexandria area had fewer days of elevated air pollution than Baltimore, Columbia, and Towson.
Clean Air Partners, a new public-private partnership in Baltimore and Washington, D.C., has recently launched a summer-long "Breathe Easy" campaign to increase awareness about the effect of air quality on public health. Their recommendations include using public transit or carpooling, turning off electronics when not in use, cleaning HVA filters each month, and using a gas or electric grill in place of charcoal. They also offer a Clean Air Partners app to track daily air quality levels in and around Baltimore.