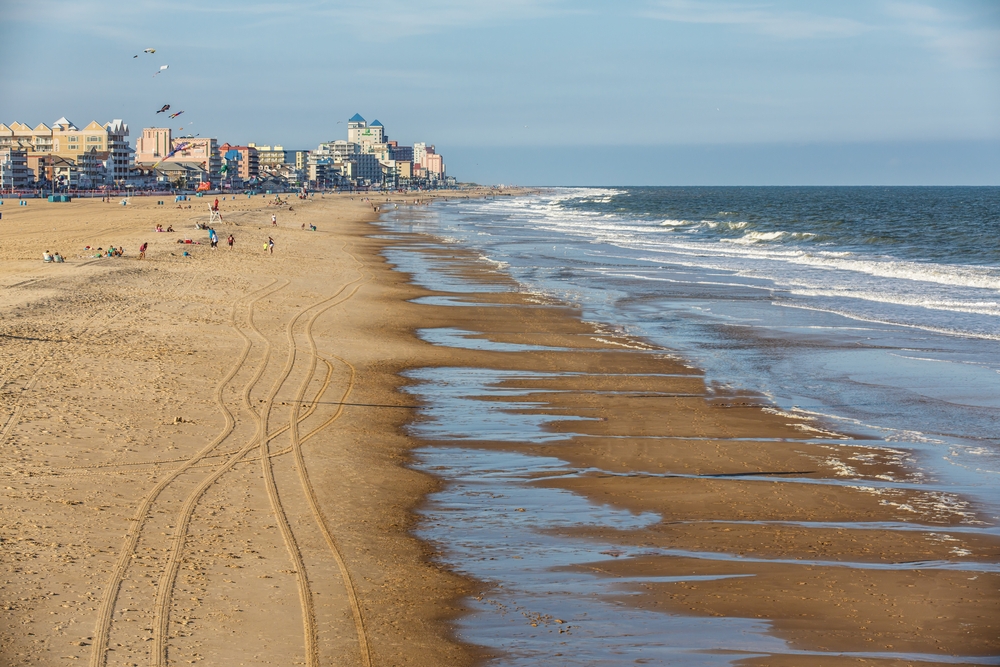 Shutterstock
Following the rest of the country, surrounding states, and the District of Columbia, Gov. Larry Hogan announced Wednesday the cancellation of in-person school instruction for the remainder of the academic calendar due to the coronavirus.
On the flip side, effective at 7 a.m. today, previous restrictions on outdoor activities will be broadened to allow golf, tennis, boating, fishing, hunting, horseback riding, camping, and outdoor fitness instruction. Maryland state parks will be reopened, including all state beaches and playgrounds for walking and exercise.
"I realize that these are only small steps, and that they may be of little comfort to those who are out of work and struggling," Hogan said of the loosening of restrictions on outdoor activities during an Annapolis press conference Wednesday. "We are indeed flattening the curve and we are preparing to launch our reopening plan in order to safely get people back to work, safely get our small businesses back open again, and to get our economy back on track so that Maryland, and our nation, can defeat this virus and come back stronger and better than ever.'"
Local governments will have the flexibility to make similar decisions regarding their own outdoor public facilities. However, Hogan cautioned that social distancing measures are still needed. The decision comes as hospitalizations and deaths from the coronavirus continue to mount in the state.
Earlier this week, Ocean City Mayor Rick Meehan announced he would reopen beaches and the boardwalk to the general public this Saturday, May 9.
Meanwhile, the state reported 1,401 confirmed deaths as of Thursday morning, including 48 deaths over the past 24 hours, and 102 additional probable deaths from the novel coronavirus. Another 1,683 COVID-19 patients remain hospitalized. More than half of the deaths in the state—793 confirmed cases—have been residents of nursing homes and long-term care facilities. There have been an additional 11 confirmed deaths among nursing homes and long-term care facility staff.
The Associated Press also reported Wednesday that the state of Maryland has opened a temporary morgue at an ice skating and hockey rink to store bodies during the pandemic:
A spokesman for the state health department wouldn't disclose the location of the "temporary mortuary affairs center," but a state lawmaker said Wednesday that it opened last month at the Gardens Ice House in Laurel, located about midway between Baltimore and Washington, D.C. About 55 bodies have been taken to the ice rink facility since it opened on April 17 and roughly 30 bodies were there on Wednesday, said Del. Mary Lehman, a Democrat whose district includes Laurel. Lehman said she was given the information by a liaison from the state health department.
Hogan also directed the Maryland Department of Health to issue guidelines that allow hospitals and licensed healthcare providers to resume elective and non-urgent medical procedures. Providers will be directed to exercise their professional judgment in determining which procedures are appropriate to perform and which patients to see in light of the contagious nature of COVID-19. Healthcare workers and patients will be required to be screened for coronavirus symptoms, and physical distancing must be strictly maintained to minimize direct contact between staff and patients.
The forced move to distance learning continues to be a challenging transition for Baltimore City Public Schools. The closure of schools has, once again, exposed the dramatic digital divide between students in low-income neighborhoods and those elsewhere. Many students lack home computers and laptops. According to census data, 22 percent of Baltimore homes do not have internet access at home.
Ocean City's decision to open on Mother's Day weekend comes as other states have reopened beaches in recent days, drawing criticism from some that elected officials easing restrictions while COVID-19 cases and deaths continue to climb. Ocean City's beaches were originally set to reopen May 15.
Most of Ocean City's boardwalk shops will remain closed, however, since the governor's standing order that nonessential businesses close is still in effect. But some food vendors that are offering carryout services are still open, the Ocean City mayor said.
Reopening the beaches and the boardwalk will enable people and families to get away from home and get outdoors, Meehan added. "It's going to be people riding bikes; it's going to be people walking the boardwalk. It's going to be people out there in small groups with their families just getting out to go out onto the beach," he said
Masks will not be required on the beaches and boardwalk, Meehan added, since there is no statewide requirement to wear masks outdoors.
"Everybody has to make their own personal decisions right now," he said.
In addition, hotel reservations and rentals continue to be available only to "essential lodgers" until May 22. However, hotels and motels may start taking reservations for Memorial Day weekend.
On CNN this past weekend, Hogan admitted the challenge of maintaining restrictions with weariness growing around the inability to move freely and ideally, get back to work, given the enormous economic problems created by the virus.
"Unfortunately, the pressure is to do it in a not-safe way," the governor said on the network's State of the Union Sunday. "That's something that we're very concerned about, and one of the reasons we're being cautious and trying to do things in a slow, safe, and effective manner."