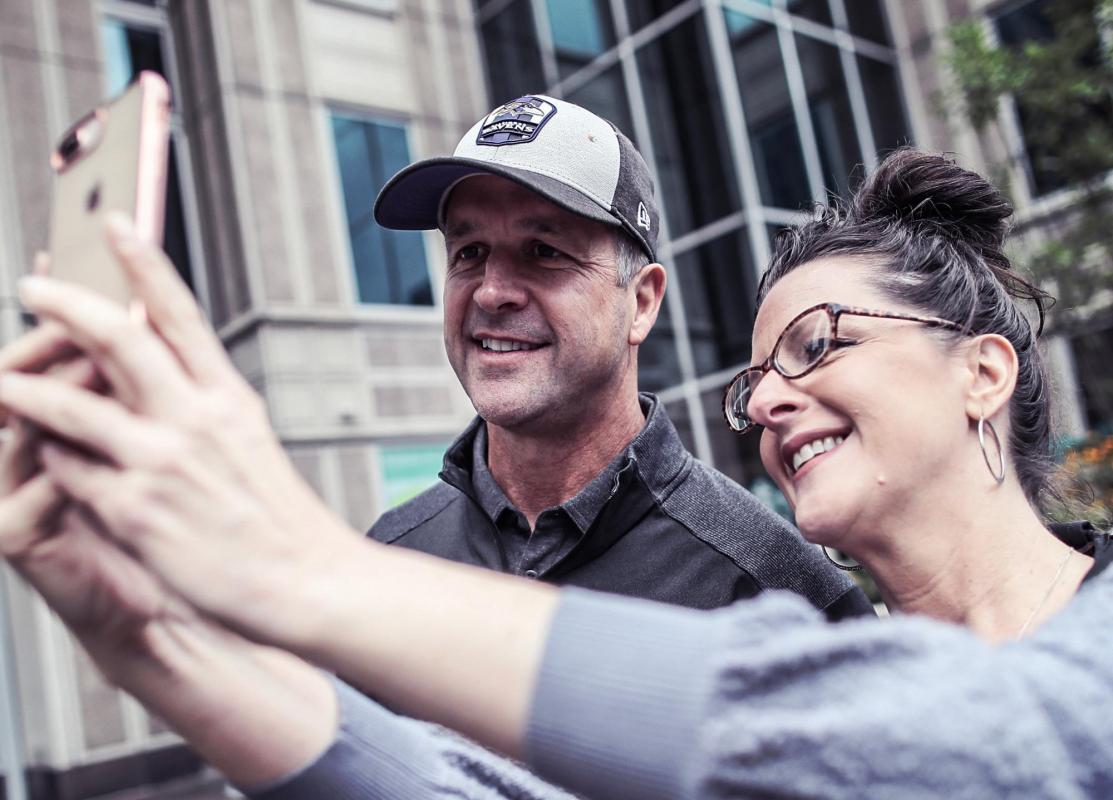 —Baltimore Ravens
Ravens coach John Harbaugh and his wife, Ingrid, quietly departed Jimmy's Famous Seafood on Tuesday night, and left a good deed behind them—without anyone but their server noticing—after a good meal was had by all.
Harbaugh, who was visiting the popular Dundalk restaurant as part of owner John Minadakis' ongoing charity efforts for local businesses and people struggling in the pandemic, privately paid the bill for everyone he saw eating dinner at seven other tables around him.
The collective tab reportedly totaled at least $2,000. Relatively speaking, that's not a ton of money for a highly-paid NFL coach, but the spirit of the gesture—and the attention it puts on a broader effort to help save local businesses and help Baltimoreans out—probably matters more.
Plus, Harbaugh also "left one hell of a tip," Minadakis says, and that came after the coach spent time taking pictures with anyone who asked and walking through the Jimmy's kitchen to greet employees.
One of them was Glen Burnie High School health and gym teacher Kreghan Rebstock, who went viral with her report of the situation. This tweet helped get the word out, otherwise it might not have been public at all.
John Harbaugh was just sitting across from my friends and I at @JimmysSeafood we didn't wanna bug him, he ended up secretly picking up our tab and we wanted to thank him, hopefully he see this! @Ravens (also fangirling hard) 🤍💜

— Kreghan Rebstock (@coachkrebstock) February 24, 2021
It all happened in the context of raising money for the Famous Fund, a fundraising push hatched by Jimmy's that has raised more than $450,000 to, in its words, save area restaurants and bars that have seen foot traffic drastically drop off due to the effects of the pandemic.
Throughout the years, Jimmy's has spearheaded many attention-grabbing public relations campaigns (like offering crab cakes for life as a bribe to then-free agent Chris Davis, an arguably curious decision in retrospect), and none might be more far reaching than this pandemic relief effort.
As the description on the Famous Fund's official website, where you can donate, puts it: "The most beautiful part of this town is its ability to rise up and come together when facing adversity. Let's do the right thing, and ensure we are able to enjoy a delicious meal and cold beer together when things return to normal."
Thousands of donations have come in, big and small. Ravens cornerback Marlon Humphrey and offensive lineman Ronnie Stanley are among those who have donated the most, each giving $10,000 to the fund.
Already, donations have been gifted in the form of $15,000 handouts to owners of local staples including Pickles Pub and Sliders outside of Camden Yards, The Urban Oyster, Mt. Washington Tavern, and La Scala and Aldo's in Little Italy, which had to lay off staff around Christmas.
"I'm speechless," Aldo's owner Sergio Vitale said upon receiving the news earlier this month, "and for anyone that knows me that's rare. This will allow us hopefully to position ourselves to bring back all the staff. It's tremendous. I don't know what to say, other than it has rekindled my faith in each other in Baltimore City."
Local celebs—like Ravens general manager Eric DeCosta and his wife, Lacie— have helped deliver the good news to the emotional business owners. Take Sliders, for instance:
And the fundraising effort is starting to spread beyond its original scope, too.
On Saturday, Minadakis also partnered up with former Ravens running back Ray Rice (yes, that Ray Rice) and Houston Texans quarterback DeShaun Watson's charitable foundations to hand out 350 boxes of food, including milk, eggs, potatoes, and vegetables, to folks in need.
"We are very cognizant of the struggles that we're going through, not only through the pandemic, but the cold and the winter," Minadakis says. "We know how important it is for families here in Baltimore to have this food."
Rice, for his part, followed up on the effort in a radio interview in New York this week, where he explained how the event came to be. (Basically, a couple phone calls earlier in the week and a drive down from New Jersey.) Rice was also repentant about his past and the widely-reported domestic abuse incident that led to the end of his playing career.
"Part of this giving back helps my mental health," Rice said. "I'm still in a position to help people, and if I don't help people I get into depressive states… I'm still seeing a psychiatrist. I'm not ashamed of those things. You come out of football and the only thing you really remember is the yelling, the screaming, the touchdowns, the highs and lows, but all those people that were there are not there anymore. It's a high to an ultimate low.
"If anybody is real and understands that, they understand you're going to need help. If you think you're going to go out there and conquer this world on your own, I tried. I tried to be the best I could be, and I failed. I failed miserably. I'm not even talking about football. I failed everything, from trying to manage my home, everything. I just couldn't do it all at once. That's when I started to realize help is real."
It sure is. Whether that means handing out food in the Jimmy's parking lot on a cold, winter day, hitting the donate button on a fundraising website, or picking up the bill for a dozen or so strangers in secret—if you're anything like Baltimore's football coach.