Room for Growth
What quarantining in my childhood home taught me about myself.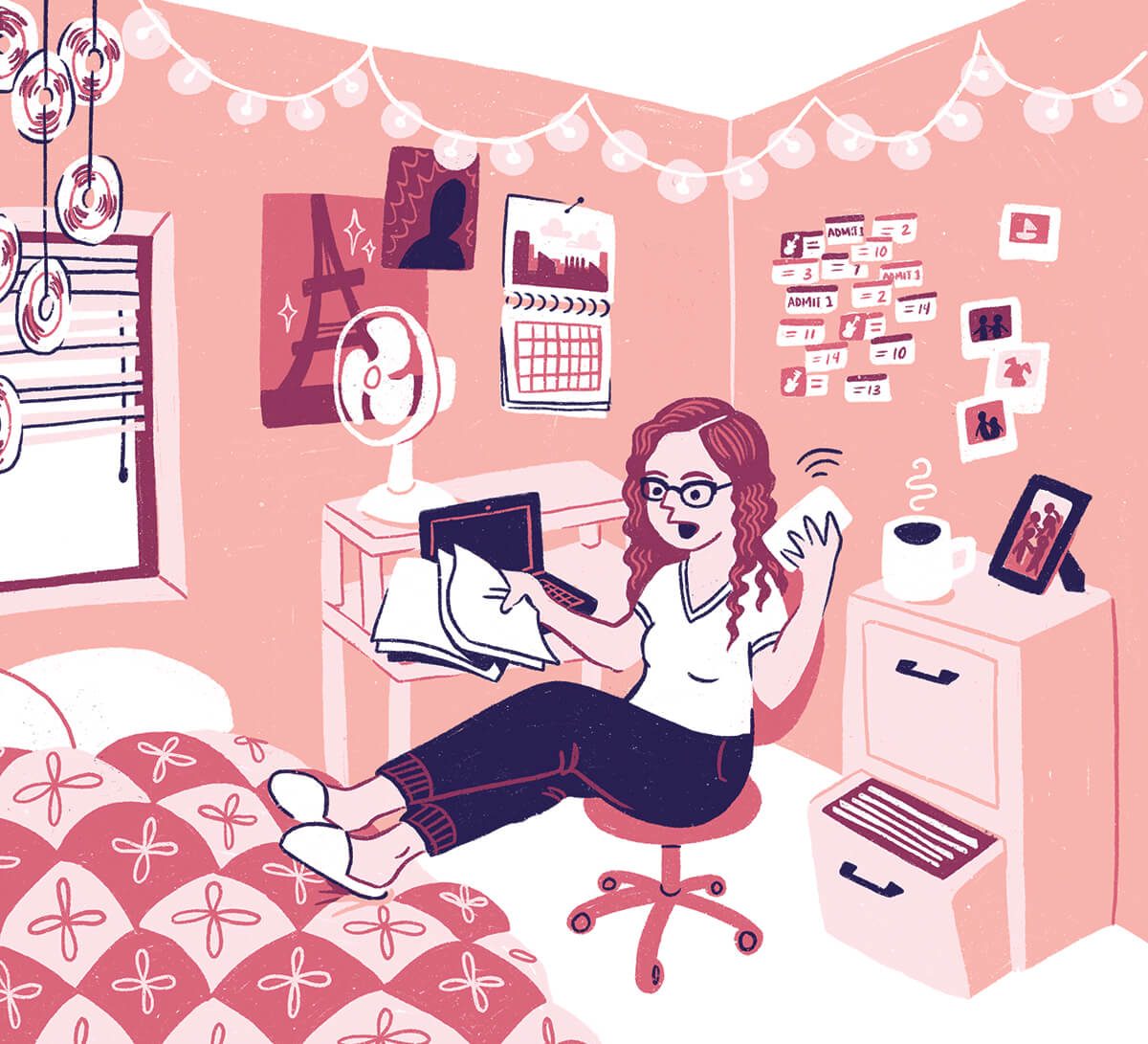 After hauling it upstairs from the treasure trove that is my family's basement, I dusted off the wobbly wooden desk that once held the old Dell computer I used to write my 10th grade paper on symbolism in The Catcher in the Rye.
Now, a decade later, it's become the desk that serves as my headquarters for working from home during the COVID-19 crisis. With my dad's help, I tightened a few screws, gathered supplies I swiped from our Harbor East office before we evacuated, and positioned the desk facing the window in the corner of my childhood bedroom—with a prime view of the old backyard playhouse my sisters and I begged my parents to let us fingerpaint when we were kids.
As surreal as it was, I had moved back home. Everyone in the world was shifting their routines in response to the coronavirus, and after six years of living independently as a single twenty-something in Baltimore City, my pivot moment was returning to the four walls in my parents' Owings Mills house that saw me through all of the angst and emotion of my adolescence. If there's one certainty in such an uncertain time, it's that a crisis like this makes you seek out the comforts of family.
My room had the same red and pink walls that I'd left behind, covered in collages made from J-14, Seventeen, and Teen Vogue magazines. The wall near my closet was still plastered with ticket stubs from every movie, play, and concert I'd likely ever been to—including Avril Lavigne at the old Bohager's in Fells Point when I was 9, middle school screenings of The Sisterhood of the Traveling Pants and John Tucker Must Die, and my 2006 command performance as Mrs. Van Daan from an eighth-grade production of The Diary of Anne Frank.
Perched on a shelf was the pink lava lamp my parents gave me on the night we moved into our two-story Colonial when I was 8, likely to soothe my fears about being in a new place. There were Polaroids, photobooth strips, graduation tassels, and seashells collected from summer vacations in Wildwood, New Jersey. And, of course, the pièce de résistance, a DIY wall mobile made out of blank CDs scribbled with song lyrics in black Sharpie (the clichéd, but classic "Don't Stop Believin'" being one of them), that still dangled over my bed.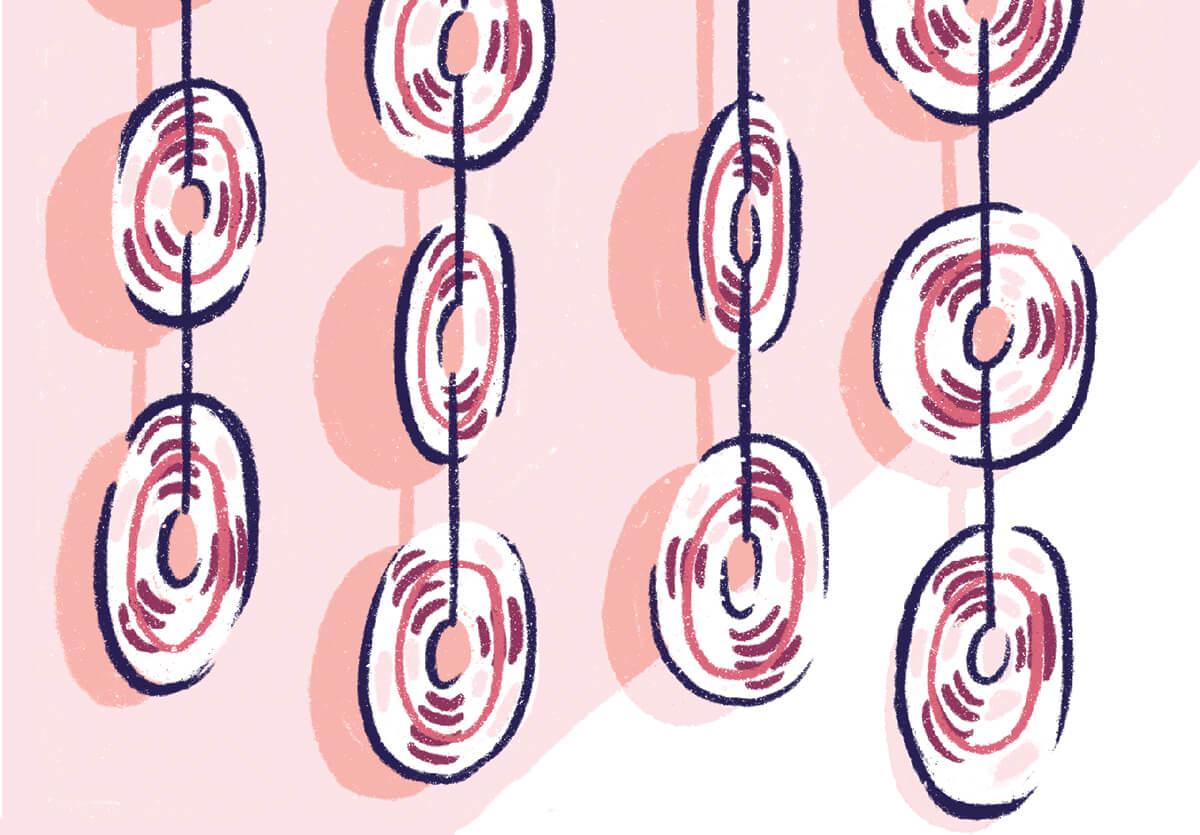 For all intents and purposes, my room is exactly the same. But coming back to it, and being isolated within it, has triggered a surprising flood of emotions as an adult.
Be forewarned: If you're lucky enough to return to your untouched childhood bedroom (fortunately my parents chose my younger sister's room to turn into an office), it can be a stark reminder of those awkward teen years. But it's also a great way to reconnect with yourself and look back at how far you've come. I wish I could tell the reserved girl who sat on the floor cutting up magazines—which were filled with glamorous photos of teen stars posing in outfits I could only dream of pulling off—to take pride in her creativity and have confidence in her own thoughts and ideas.
Growing up as a classic middle child (to this day, my parents still lovingly refer to me as their "Steady Eddie"), my unwavering mission in life was to go with the flow. When conflict arose with my friends or siblings, I assumed the role of the pacifier rather than risking someone—heaven forbid—not liking what I had to say. When my sisters would fight over who got to hold my mom's hand when crossing the street, I'd give in and hold her pinky to spare us all the drama. Even when I first landed an internship with Baltimore magazine, I was intimidated by everything—from the copy machine to the all-staff sheet cake celebrations in the conference room. It was always easier for me to hang back than to speak up.
But now, after years of being away from home, I've found my voice. I've had those sobering life experiences that throw you into the deep end, regardless of whether you're ready for them. Things like suddenly losing a loved one, navigating financial woes, or ending an unhealthy relationship.
To put it simply, I've grown up.
So, sure, quarantining at home with my mom, dad, and one of my two sisters (the other lives a few miles away near Mt. Washington) feels a bit like a regression. I suddenly lack motivation to empty the dishwasher or take out the trash. And my older sister, Melissa, and I often revert to our teenage selves in our recurring back-and-forth about whose turn it is to clean the bathroom.
But I know I'm not alone. Millennials across the country have been hunkering down with their parents as a way to combat isolation and stay healthy. Many are also moving home out of financial necessity in the wake of furloughs and layoffs. I've been lucky to have a place to take refuge.
When the coronavirus hit, I quickly realized that the Hampden rowhome I shared with three roommates (including the couple who owns it) wasn't going to be ideal for quarantine. I didn't even have a desk there, and my cramped bedroom didn't allow much space for one.
Luckily, one of my mom's favorite phrases has always been, "You know this is always your home." As cheesy as it sounds, she's right. Before moving to Hampden, I spent two years in Federal Hill living the college 2.0 lifestyle that I had longed for having commuted to Towson University. It was fun while it lasted, but that place never felt like a home. And while my roommates in Hampden were lovely, it really was their home—I just rented a room. To be honest, I've only ever felt the true comforts of home in the one where I grew up.
In such surreal times, it's been nice to cling to that familiarity. My family and I have found solace in cooking for each other, taking up new hobbies like doing puzzles and making latch hook rugs, and hanging around the fire pit together. I have also loved seeing our suburban neighborhood in full bloom, and hearing more birdsongs than car horns for a change.
Over time, I've gotten over the embarrassment of hopping on Zoom calls against the backdrop of all the pink paint. And since we've managed to work on different levels of the house, my mom, an elementary physical education teacher, can lead virtual rounds of "Red Light, Green Light" with her kindergartners while I edit stories about Governor Hogan's latest mandates. All of the hours spent plugging away in my room have allowed me to appreciate it for the time capsule that it is.
Looking around my room, it becomes more and more clear to me that the woman returning is far different from the girl who left it. As evidenced by all of the relics—kind of an archaeological autobiography—I've always known what I liked, but I never really understood who I was until I got out in the world and came back. In the six years since I've been gone, the peacemaker learned to speak freely. The reserved teenager learned to embrace opportunity. The shy intern grew into a digital senior editor.
The wobbly desk is now sturdy. Maybe I'll take it with me to my next place.