Go-To Takeout and Delivery Spots That We Have on Speed Dial
Looking for a new eatery to try out while hunkered down at home? Baltimore staffers share their favorites.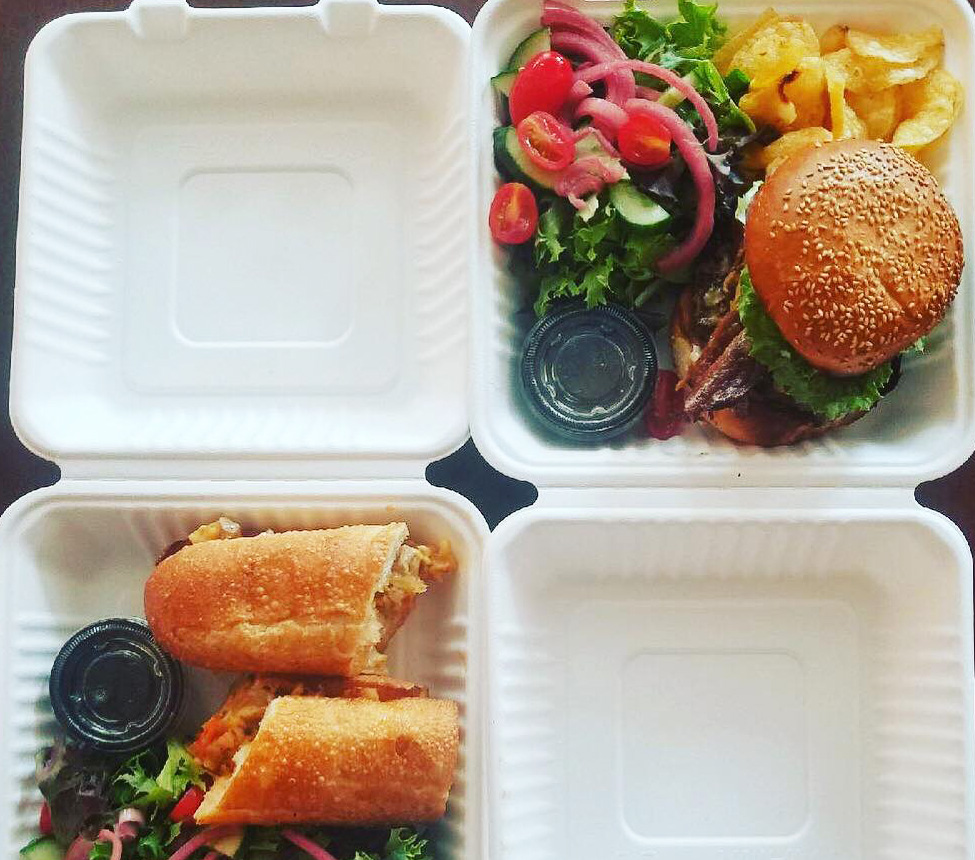 As hard as it might be to believe, mid-October will mark seven months since the coronavirus shutdown. While some diners have chosen to return to eateries offering indoor and outdoor service with proper safety measures, carryout and delivery has remained a trusty way to support our bounty of local restaurants while remaining quarantined at home. In honor of this month's cover story, "The Great Restaurant Reinvention," we asked Baltimore staffers about their go-to takeout and delivery spots to order from while hunkered down at home. Here's what they had to say:
Amanda White-Iseli, Creative Director
We love Villagio Cafe—and they have curbside pickup!
Ron Cassie, Senior Editor
The flavor of Patterson Park: Taqueria El Sabor del Parque. Authentic Mexican, terrific staff, and park benches across the street to carry-out. Perfect.
Janelle Erlichman Diamond, Home Features Editor
We have ordered takeout from a ton of places . . . but the one I crave the most is the big, fat, foil-wrapped burrito from Clavel. They are all worthy, but my go-to is carne asada with sirloin tips, black beans, salsa, red rice, and cheese. It's so filling and complex and puts all other burritos to shame.
Corey McLaughlin, Senior Contributing Writer
La Food Marketa, even during the early days of the shutdown.
Alanah Nichole Davis, Contributing Writer
My go-to quarantine takeout spot is Orto. They always have a secret off-menu chicken parmesan that comes with a beautiful chicken breast the size of my head—they really know the way to a girls heart! Can't forget the superb Prosecco on tap or well-crafted white Negroni, either. 
Christianna McCausland, Contributing Writer
Edo Mae Sushi on Owings Mills Blvd. Best sushi in the county and the nicest people.
Zach Papesh, Finance Manager
The Hideaway, in Odenton. Some of the best BBQ I've ever had.
Vicki Dodson, Art Director, Baltimore Creative Studio
My favorite restaurant in town: One World Cafe. Continuing to get my "usuals" from them has made my world feel a bit more normal during the past couple of months.
Angeline Leong, Assistant Art Director
The local faves are Matthew's Pizza and Ekiben, but I was recently recommended a boba place called Simply Sips Tea near Little Italy. Definitely a must try.
Kate Grewal, Contributing Photographer
My go-to's have been Spice & Dice in Towson and Kathmandu Kitchen. Their okra is soooo yummy!
Mitro Hood, Contributing Photographer
The Snow Cone Sisters at the BMA sculpture garden.
Isaiah Winters, Contributing Photographer
My guilty pleasure has been the Chicken & Waffles from Miss Shirley's Cafe! It has been for a while, but even more so during quarantine.
Michelle Coughlan, Senior Account Executive
SoBo Cafe has been spot on with their takeout! The salmon and Brussels sprouts are a must. Don't forget the cheddar popcorn for the kids!
Emily Kunisch, Marketing Coordinator
Nepenthe Brewing Co. has been my go-to. Their food is always delicious and they constantly add new surprises to their menu.