Kooper's Owner Patrick Russell is a Model for Supporting Others in Need
We talk to the owner of Kooper's and Slainte about his acts of kindness throughout the pandemic.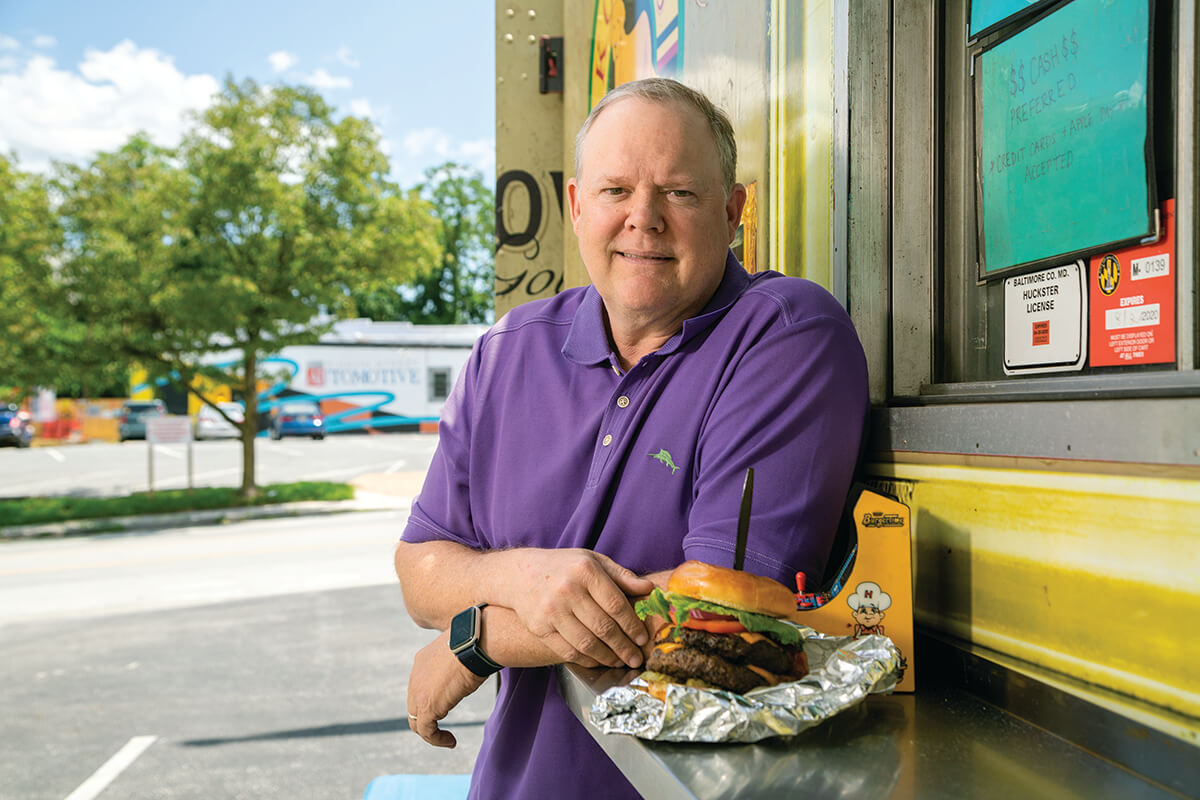 Few industries have suffered more during the pandemic than restaurants, but that didn't stop Patrick Russell from stepping in to support an array of causes and people in need, from the homeless to first responders and even his own employees. We spoke with him about his acts of kindness.
The pandemic hit restaurants very hard. How have you kept your businesses and employees afloat?
We saw the writing on the wall early and shut down on March 15 before the March 17 mandate. I was devastated. I have four restaurants and my wife owns a hair salon—we make our living off the service industry. I could see that I could lose everything. Every restaurant had refrigerators and freezers of perishable food. We gave everything away to staff and their families, hid the liquor away, and locked the doors not knowing when we'd be able to reopen. Within two weeks, we learned we could open for carryout. We're not a carry-out business and the infrastructure wasn't in place to operate without a kitchen and full staff. So we put a food truck at Kooper's in Fells Point and another at Kooper's North in Timonium and only did burgers and a limited menu with a small crew. I went from four restaurants with a full kitchen and front-of-the-house staff to three people in a truck, one day shift, and one night shift.
How did you try to support your employees, many of whom were off payroll?
Every Sunday night I invited the staff to come get meals and beer or wine. At Thanksgiving, we used our scheduling software to announce that we had Thanksgiving meals they could take home and cook. We did a ham, bread, apple pie, potatoes, broccoli. Then, as we could, we slowly brought back those who wanted to return. We had 200 staff. Right now, we have about 80.
During this difficult time, you started feeding first responders. How did that come about?
We had a regular customer at Kooper's North whose boyfriend worked at GBMC. He said the hospitals were just getting hammered. He wanted to buy his boyfriend's team 50 burgers and he asked me for a deal. Our burgers are $14 and I wasn't even open and making any money. At the same time, another friend of mine posted on Facebook that they had money to give to charity—this is something he does every year. I reached out to him and said I'd drop my cost to $10 per meal if he'd buy the 50 burgers for this team at GBMC. And that's what he did.
Then another friend offered to do it. And every time someone donated money to us, I'd connect with the hospitals. We've been in almost every hospital—Sinai, St. Joe's, Mercy, Hopkins—and across different units. I have hundreds of Facebook friends who wanted to help. Even though we were taking a cut, we were keeping people employed and helping out these first responders. Looney's, Mother's—all these restaurants donated and wanted to get involved with their families. We delivered thousands of meals over several months.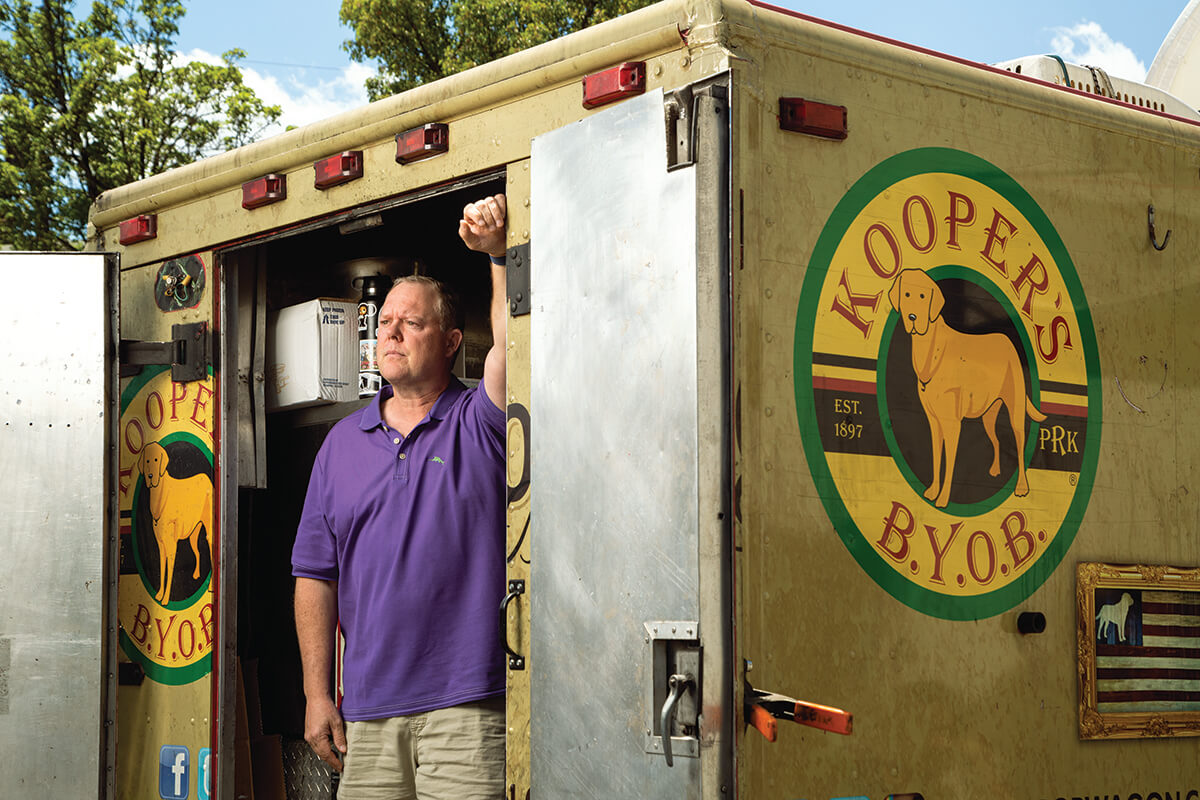 How did that evolve into feeding the homeless?
Over the summer, things subsided a little in the hospitals. During the pandemic, I'd heard about people living under the I-83 bridge. One morning, I got a bunch of those coffee Box O'Joes, hot chocolate, and donuts and just went there and fed people. I had done things sporadically in the past with my wife, son, and daughter when I had extra cash, but nothing routine. I wasn't one to engage. But after that, I thought, 'Okay, I'll bring my food truck and feed them a real meal, a nice burger.' I met up with Christina Flowers, who is very involved in the homeless encampment.
I also met a guy who went by the name "June Bug" and he'd built a shed to put in clothing donations. So then I got people to donate clothes when it got cold. Then people just started jumping in. I was happy to be the person on the frontline doing this. People were calling me all the time with bags of clothes and food. As a result, I'm not just there with my truck, I'm bringing tents, sleeping bags, clothes.
Then it got super cold and I noticed they burned res in cans, so my son and I started finding firewood. The owners of the Mt. Washington Tavern got in touch that they had some trees down at their house, so every Saturday I woke my 17-year-old son up at 7 a.m to gather firewood and take it down. We got them through the winter. I was able to do this now because I had the time—we were only working at 25 percent capacity and especially in January and February, no one was walking around in Fells Point to get carryout.
What made you so passionate about the homeless?
In normal times, there's a lot of giving. But this is such an unprecedented time. I saw this happen in the time after 9/11. Funding at a lot of organizations dried up because so much money was redirected into first responders. I figured this pandemic was going to have a worse impact on the homeless. I took those donuts on a whim, but I found this community of folks. There's just such a large number of people in Baltimore who are homeless.
I was so scared and depressed about losing everything when the pandemic hit, I thought that if I'm going to go down, I'm going to go down helping others. And I wanted my kids to see this, too. And I needed to keep myself mentally busy. I was humbled by what happened. It made me look at what I had and it made me want to be a better person.