Maryland Food Bank President Wants to Solve Food Insecurity for Good
As the state recovers from last year's economic setbacks, MFB continues to tackle the root causes of the issue.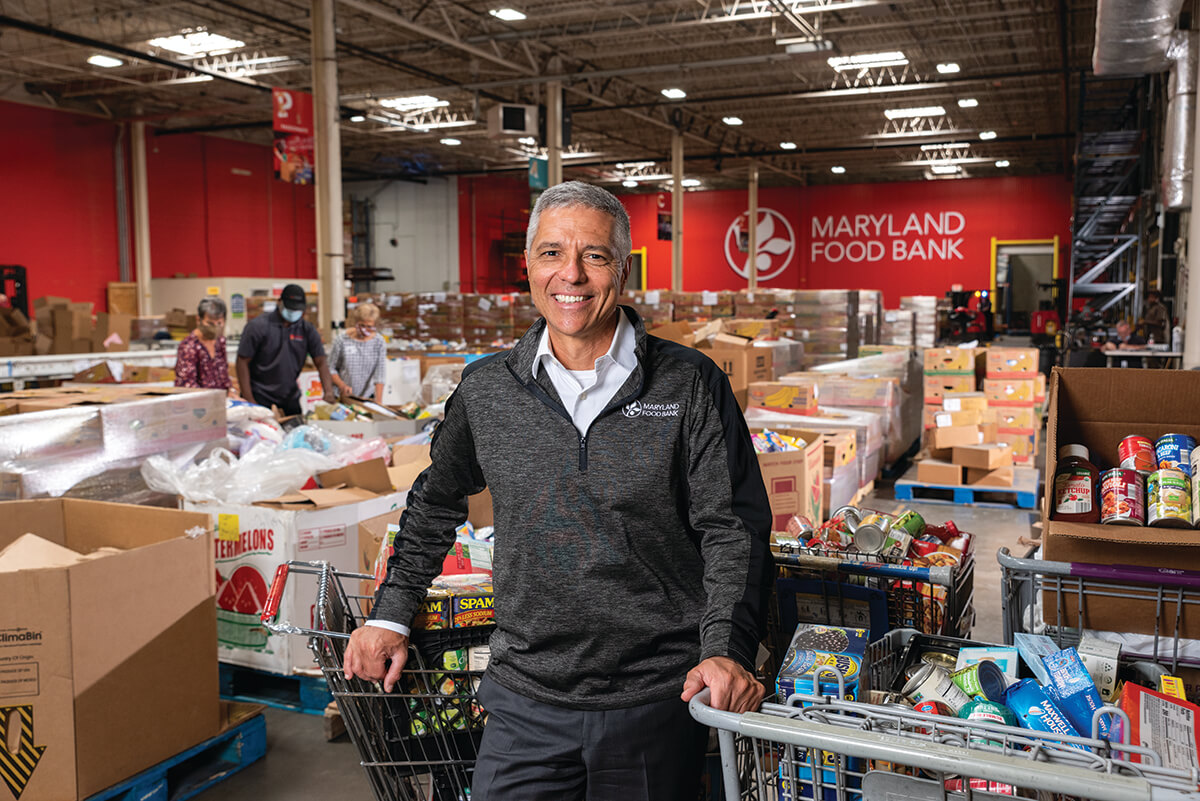 Today, president and CEO Carmen Del Guercio is at the helm of Maryland Food Bank (MFB)—the state's core hunger-relief organization. Founded 42 years ago, it was the first nonprofit of its kind on the East Coast.
But before that, he had plenty of experience that was surprisingly relevant to making a cause like MFB work—he was a banker. For nearly three decades prior to joining the nonprofit in 2016, the father of three worked in leadership at M&T Bank, serving "on a number of boards along the way."
"The bank really focused on community involvement, and what struck me in spending time on these boards was all the great work that was being done to help serve those less fortunate," says Del Guercio, a Massachusetts native (he joined M&T when he moved to the area in 1990.) "But I also felt like a lot of these organizations could benefit from someone who brought some kind of business experience to complement the missions that their leaders had."
While Del Guerico had accumulated lots of for-profit experience in budgeting and strategic planning, he was really looking for a chance to give back. MFB "checked that box in a big way," he says. "It really stood out as an opportunity, and that's what compelled me to join."
He was at least partly inspired by his own childhood. His parents emigrated to America from Italy in the 1960s, where they both worked factory jobs, and Del Guercio spent his childhood surrounded by a close-knit, Italian family. Aunts, uncles, and cousins all lived within walking distance of his Massachusetts home.
"While I wouldn't say my family was food-insecure, we were one event away from potentially being there," Del Guercio recalls. "We were fortunate during that time. We never had to deal with a factory shutting down.
"We never had to deal with a downsizing situation at either one of my parents' jobs. We never had to deal with either one of them getting sick to the point where they could no longer work or provide. For me, that was a bit of a lightbulb when I started sitting in this job, and seeing how unfortunate people are at times to have an event occur where they're unable to recover."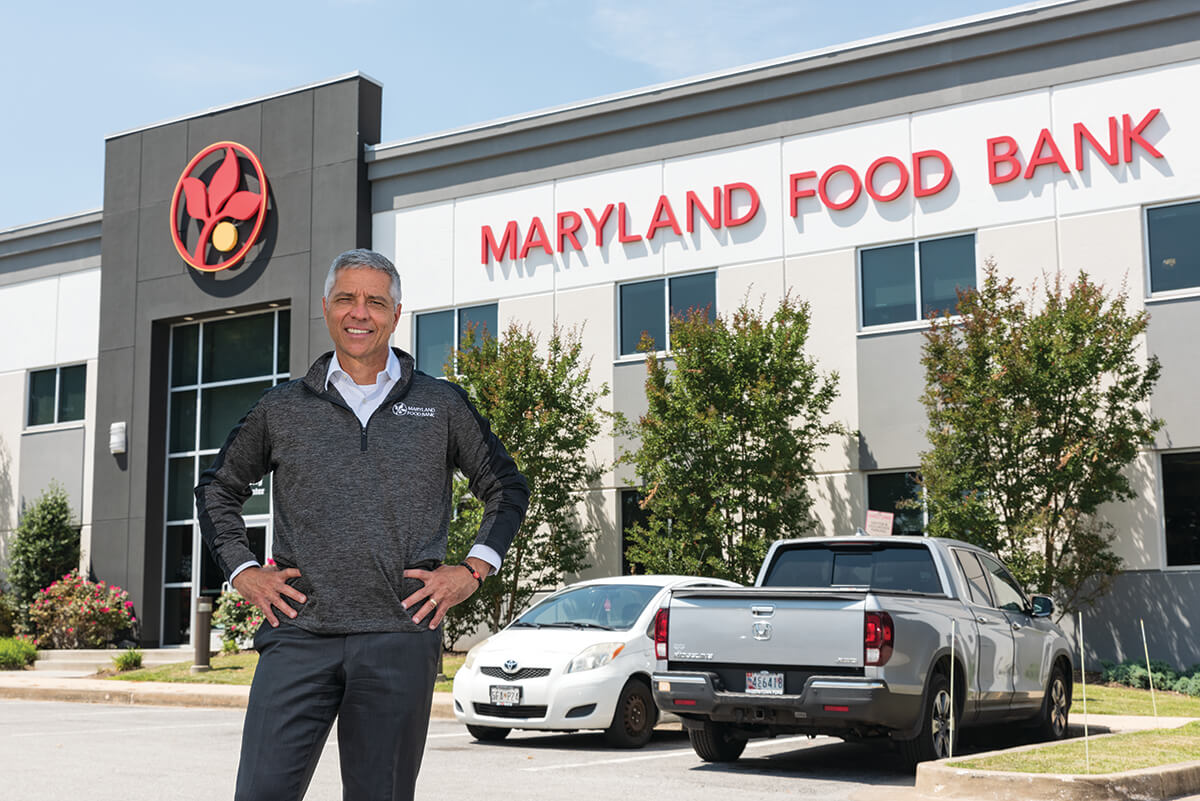 Maryland has long been listed among America's wealthiest states, with Howard County's median household income topping $121,000.
However, according to Maryland Food Bank, using resources sources including United Way's ALICE Report, around 2 million Marylanders—children included—may currently be food insecure. Defined by MFB as a "situation where individuals or households do not have the resources to provide enough food to allow for a healthy and active lifestyle," food insecurity affects about one in three residents throughout the state.
Del Guercio adds that at the start of the pandemic, MFB saw a "doubling in demand," one that would remain elevated throughout 2020 as the virus wore on.
"Addressing that spike of need in a way that was COVID-friendly was our biggest challenge. We literally had to change overnight in terms of the amount of food we were trying to purchase and provide, as well as the method in which we were distributing food. I think we've done a good job of tackling both of those over the course of a year," Del Guercio says, adding that since March, MFB has partnered with a number of area organizations—including The Johns Hopkins Hospital and the YMCA of Central Maryland—to make that happen.
Lemel Jones, MFB's program manager for partner services, who joined the organization last August, says that under Del Guercio's leadership, she's seen advances in terms of everything from inventory to diversity, equity, and inclusion. She calls Del Guercio "amazing."
"It was wonderful to see when I got here, in the midst of COVID, that Carmen was eager to move the organization forward in a really holistic way," says Jones, formerly the CEO of Target Hunger in Houston, Texas. "He and the senior team have been trying to put their hands on it, and I know it's a lot, because with hunger relief, people just assume that food comes in and food goes out. But the whole logistics component behind all of that work is so much bigger, and Carmen just has a really great strategic mindset," she adds. "I really like that for the organization and for the community."
As the state recovers from last year's economic setbacks, Del Guercio hopes that MFB can continue to tackle the root causes of food insecurity, "whether that be workforce development, transportation, housing, or childcare," he says.
"My hope is that we are viewed in the community as an organization that will not only feed people today, but put them in a better position to provide for the families in the future. Over time, playing that role is going to help us reduce the number of people who rely on food banks, and maybe, someday in the future, food banks might not even exist."