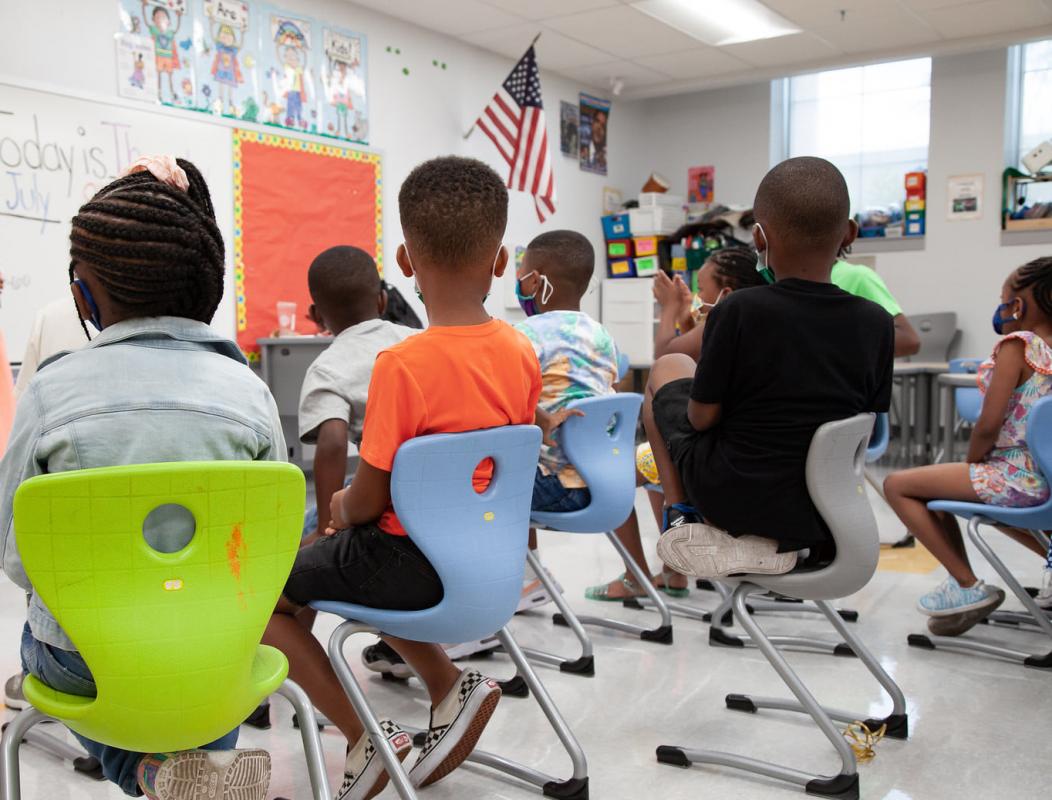 —Young Audiences via Baltimore City Public Schools on Facebook
Craig Bettenhausen and his wife Whitney Treseder added one new item to this year's back-to-school shopping list for their kids: masks.
After some diligent online research, the Harwood couple settled on a specific type of mask with removable filters, which they believed would be the most comfortable and best protect their children. They've stocked up on 20 masks, "assuming they're going to get lost," says Bettenhausen, whose twin girls are just starting kindergarten and oldest daughter is now a second-grader. 
That's just a snippet of the reality that parents have faced while preparing for their kids' in-person learning experience this fall. After many Baltimore-area institutions went remote or hybrid last year, schools are now welcoming students back in full capacity for the first time in 18 months. However, with a revolving door of coronavirus mutations and surges, for parents, this year's back-to-school prep won't be as simple as a quick Target run. While many are excited to have their kids back in the classroom, some are still understandably uncertain about their health and safety. 
"I'm a little apprehensive and excited," Bettenhausen says. "You love your kids, but it's hard to have them at home all the time," he laughs. 
That sentiment is also shared amongst educators and school officials: "It's a time of cautious excitement," says ​​André Riley, a spokesperson for Baltimore City Public Schools. "Since March 2020, we have not had the vast majority of our students in our classroom—we're excited to welcome them back." 
To help alleviate parents' anxiety, we talked to Baltimore health experts to answer burning back-to-school questions amid the Delta surge: 
Is it safe for students to return to school right now?
Officials say yes, as long as the school has adopted proper safety measures such as social distancing, masking, and sufficient ventilation. "Once schools put in place layers of mitigation measures," Dr. Katherine Connor, a pediatrician at Johns Hopkins Children's Center says, "there actually is not a lot of transmission within them." 
The U.S. Centers for Disease Control and Prevention (CDC) agrees. According to a July CDC brief, multiple studies conducted during the 2020-21 school year demonstrated that if schools take adequate prevention measures, COVID transmissions within them remain "typically lower than—or at least similar to—levels of community transmission." And that is the case even in communities with relatively high transmission rates, according to studies done in Utah and North Carolina. 
How do we keep them safe once they are back in the building?
Connor says that vaccinations and—particularly for children—masks are the most important precautions. Last month, the CDC updated its mask mandates, recommending all students, teachers, and staff mask up this fall, regardless of their vaccination status. All Maryland public schools will require universal masking for students and staff, according to a mandate passed by the State Board of Education last week. When choosing reusable masks for your kids, make sure that they are not only comfortable, but also have two or more layers of washable, breathable fabric. 
Public health experts also agree that vaccination is the way out of the pandemic. Although the U.S. Food and Drug Administration granted emergency authorization for the Pfizer vaccine to children as young as 12 in May, the vaccination rate among minors in Maryland—following the national trend—remains lagging. As of the end of August, just 64 percent of adolescents between 12 to 17 years old have received at least one dose, The Baltimore Sun reports. Therefore, public health officials and experts are still coaxing more parents to get their kids vaccinated. 
Of course, the CDC also recommends that schools utilize other prevention measures including social distancing, regular testing, enhanced ventilation, frequent handwashing, staying home when sick, contact tracing, and vigorous cleaning and disinfection.    
What if my kids are too young to be vaccinated?
Then, officials say, masking is even more crucial. Currently, Pfizer and Moderna are reported to have undergone clinical trials for kids ages 5 to 11. But it is estimated that there won't be a COVID vaccine available for this age group until late this year or early 2022. 
To protect unvaccinated children, it's important to have "a protective cocoon of vaccinated individuals," says Dr. Rebecca Carter, a pediatrician at the University of Maryland Medical Center, who suggests getting teachers, school staff, parents, and older students vaccinated to keep younger ones safe. 
What precautions should be taken at home?
Although some parents feel that, since the kids are back to school, there is no need to cut back other activities—such as indoor playdates and large birthday parties—Carter says data shows that those gatherings can be far more likely to spread the virus than schools, as kids are less likely to adhere to distancing and masking. 
Connor agrees, adding, "for the most part, people who have infections in schools got their infection somewhere else and then showed up in school." To that end, Carter urges parents to avoid high-risk activities outside of school, limiting gatherings to outdoors with smaller groups and masks. 
What does the surging Delta variant mean for children?
Scientists are still figuring that out. But one silver lining is that the virus has historically been merciful on kids. Compared to adults, infected children usually have mild symptoms, if at all. And the likelihood for children to develop life-threatening symptoms, be hospitalized, or die from COVID-19 is also considerably low. (No children have died of the disease in Baltimore City.) With that in mind, while the Delta variant certainly tends to be more infectious, there is still no data to support that it will put children at greater risk.  
However, the ultra-contagious nature means the variant, to some extent, should be "a game changer for how we view COVID risks for children," Carter says. As such, she strongly recommends all children (or adults)—regardless of vaccination status—start universal masking to help curb the spread, and those who are eligible for COVID vaccines to get the jabs. 
Are there ways to mentally prepare kids for going back to school during this uncertain time?
"Uncertainty makes everyone uncomfortable, kids included," Connor says, suggesting parents provide them with information and support. "That's why I think it's really important to have conversations with them about why we're doing what we're doing."
Meanwhile, some younger kids may be less anxious about the virus and more apprehensive about re-integrating and fitting in with their peers after long isolation. To help ease that anxiety, Connor says parents should give their kids room to express their feelings and coach them to take baby steps while resuming their back-to-school routine.