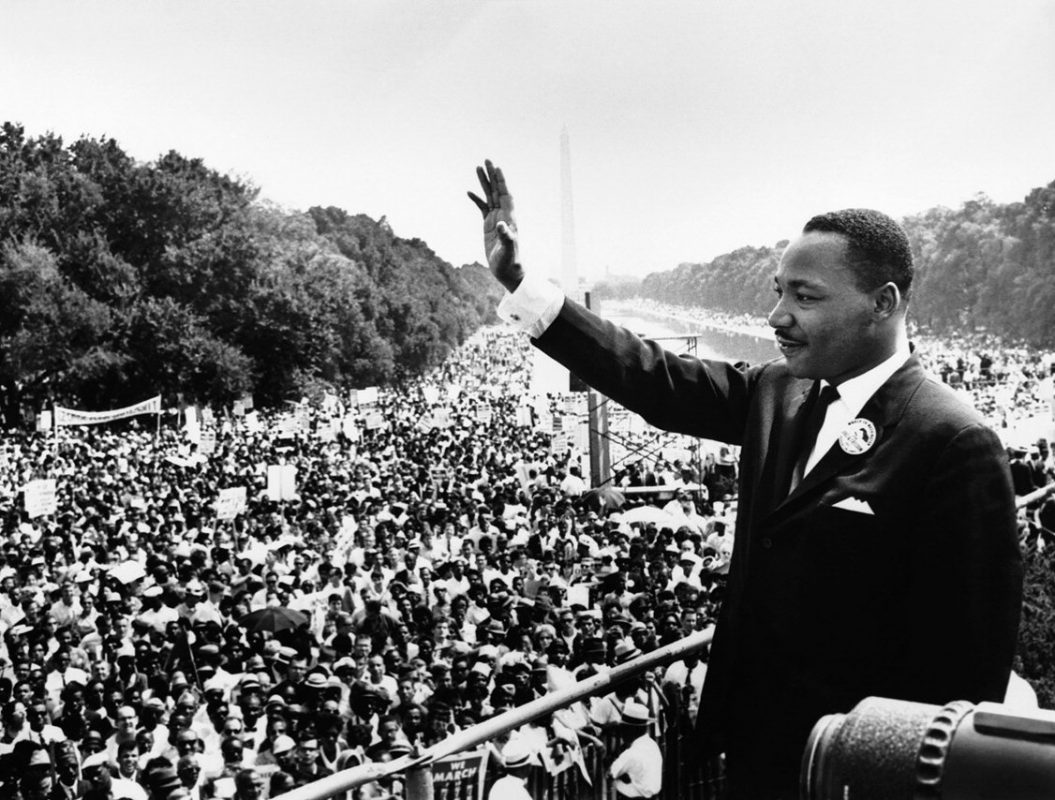 Wikimedia Commons
15th Annual Dr. Martin Luther King Jr. Parade
Martin Luther King, Jr. Blvd. & Eutaw St. 12-2 p.m. Free. 410-752-8632. promotionsandarts.org.
A 15-year tradition, this parade celebrates the life of Dr. King, as well as the organizations and individuals who continue his legacy, like the NAACP and Nelson Mandela. Drawing some 25,000 spectators, the festivities kick off at noon, with more than 50 participants including Mayor Stephanie Rawlings-Blake, local bands, color guards, horses, dance squads, civil organizations, and lively, colorful floats.
22nd Annual Martin Luther King Jr. Convocation
Loyola University Maryland, McGuire Hall, 4501 N. Charles St. 5 p.m. Free. 410-617-2261. loyola.edu.
The Atlantic's senior editor Ta-Nehisi Coates has written extensively about race, with a focus on recent ideological and generational shifts in the black community. On Monday evening, he will lead a discussion on the topic of his stimulating cover story, "The Case for Reparations."
I Have a Dream Celebration
Port Discovery, 35 Market Pl. 10 a.m.-4 p.m. Free. 410-727-8120. portdiscovery.org.
Typically closed on Mondays, the children's museum will be open and free to the public. Continuing its weekend-long "I Have A Dream Celebration," the festivities include special programs and performances that celebrate the life and legacy of Dr. King, like sing-alongs, arts and crafts, music, learning, and access to the museum's Curious George exhibit.
Martin Luther King Jr. Day
B&O Railroad Museum, 901 W. Pratt St. 12 p.m. Free-$18. 410-752-2490. borail.org.
For this January holiday, the B&O in Ellicott City will be offering a special day of family fun with mile-long train rides along the first commercial railroad that was laid in the good, ole U.S. of A.
Martin Luther King Jr. Day
Maryland Science Center, 601 Light St. 10 a.m.-5 p.m. Free-$18.95. 410-685-5225. mdsci.org.
Also typically closed on Mondays, the entire Science Center will be open in celebration of MLK Day, including all exhibits, the planetarium, and IMAX theater, where you can watch films like Penguins 3D, The Human Body, or Titans of the Ice Age.
MLK Day Celebration 2015
Reginald F. Lewis Museum, 830 E. Pratt St. 12 p.m. $5. 443-263-1800. rflewismuseum.org.
With special discounted admission, the Reginald F. Lewis Museum is throwing a full-day celebration in honor of the iconic civil rights leader, with a number of activities including drumming, poetry, a capella music, arts and crafts, and storytelling. The celebration will culminate with an afternoon roundtable conversation entitled "Healing Beyond Ferguson," featuring local speakers discussing national healing after the racial injustices in Ferguson and around the country.
MLK Day Celebration
American Visionary Art Museum, 800 Key Hwy. 10 a.m.-6 p.m. Free. 410-244-1900. avam.org.
AVAM is throwing a huge celebration "in honor of the life and dreams of one of the greatest visionaries in America's history," with birthday cake, music, workshops, guided museum tours, and performances by the Keur Khaleyi African Dance Company and Abu the Flutemaker. While you're there, meander around the museum and check out its latest exhibit, The Visionary Experience: Saint Francis to Finster. If you're a teacher, there will also be free educations materials for you to take home or to your classroom.