Winter Break
End cabin fever with 10 winter trips for the whole family.
While we aim to spread peace and goodwill during the holiday season, a home full of visiting family and bored kids on winter vacation can quickly bring out the worst in even the best hosts. When you've run out of things to do at home (we get it—you can only watch so many Hallmark Channel movies), break the cabin fever and get the whole crew out of the house. Crisp, sunny days call for a walk through nature, and area gardens and conservancies like the Eastern Shore's Adkins Arboretum or Harpers Ferry National Historic Park in West Virginia more than deliver.
While many are more popular in the spring and summer months when foliage is in full bloom, winter offers a different—and sometimes better—perspective, like at the Wolf Sanctuary of PA in Lititz, where animals are most active in colder temperatures. Don't let bad weather hold you back, either. The anticipation of sampling a hot, crisp potato chip straight off the factory line will get even the most skeptical kids into the car on a gloomy day for a tour of Southern Pennsylvania's Utz Factory. Or explore the Main Streets of historic Middleburg, Virginia, which amp up their signature small-town charm with holiday décor. The best part? All 10 of these family-approved winter adventures are within a 2-hour drive from Baltimore.
Catch a Glimpse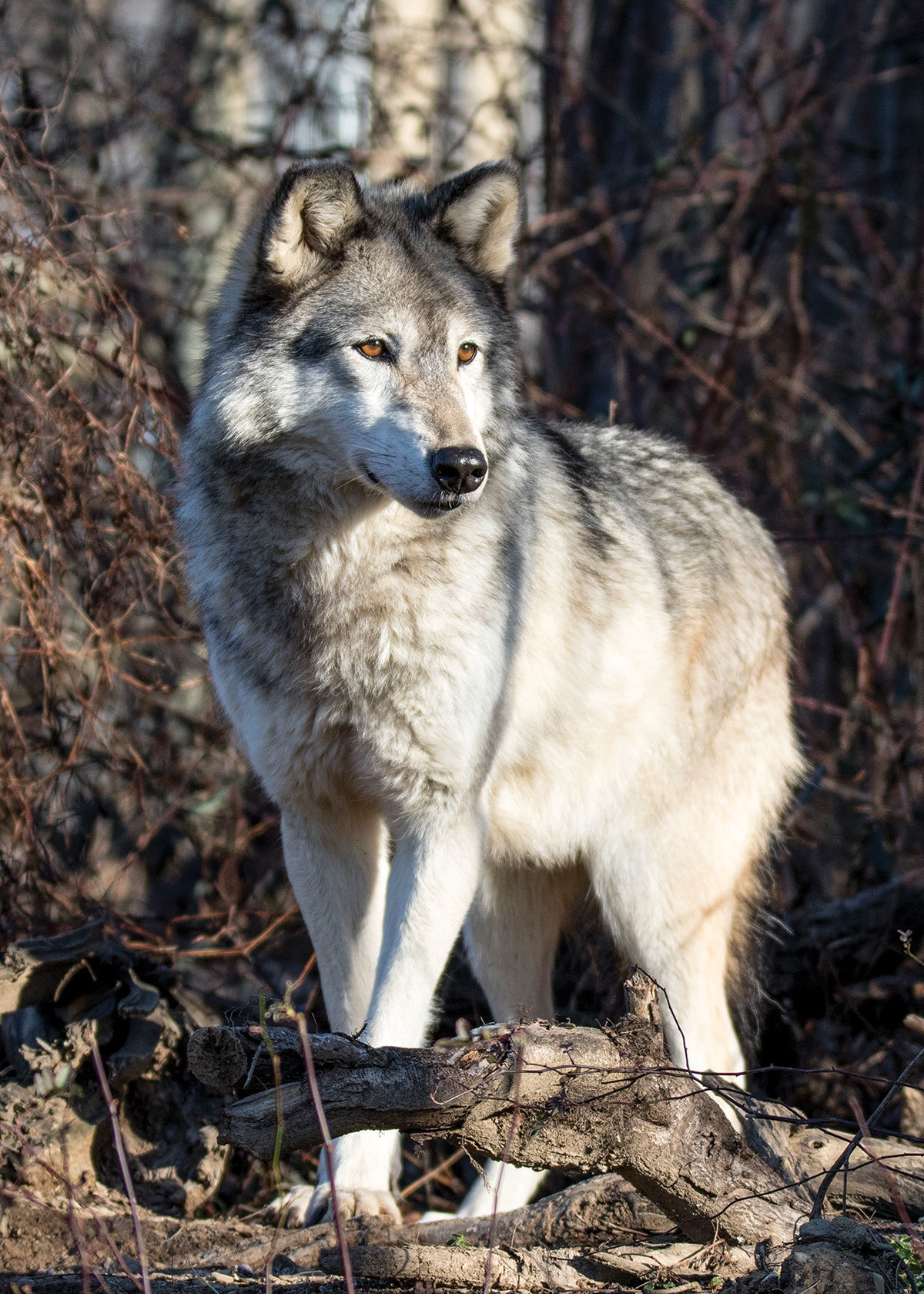 A guided tour of the Wolf Sanctuary of PA (465 Speedwell Forge Rd., Lititz, PA, 717-626-4617) gives visitors an inside look into the daily lives and unique personalities of the more than 40 wolves (and wolf-dogs) who have found a home at this 80-plus-acre wooded property in Pennsylvania Dutch country. What started as a private rescue more than 30 years ago has evolved into a nonprofit educational center that provides food, shelter, and veterinary care to wolves who couldn't survive in nature. (The creatures are exceedingly rare, as wild wolves haven't lived in the Keystone State for more than 100 years.)
Strap on your hiking boots, and in less than 2 hours, you'll be in awe of the raw power and grace of animals such as Sir Bear, a fluffy grey-and-white wolf with golden eyes who was rescued from a private zoo. For the chance to see all the packs, book a private tour in advance.
If birds of prey are more your style, pack binoculars and head to the Conowingo Dam (4948 Conowingo Rd., Conowingo, 410-457-5011), which attracts more than 100 bald eagles throughout the fall and winter. The spot on the Susquehanna River is well known among bird watchers as one of the best places east of the Mississippi to spot large groups of the eagles, which come here to fish. Serious spectators gather before sunrise to stake out a prime location along the overlook railing, as the national birds feast just 30 yards away along the opposite river bank. Those interested in learning more about local wildlife should stop by the visitor center or escape the throngs of photographers by walking part of the Lower Susquehanna Heritage Greenway Trail. An improved section of the wide, flat path follows the river's west bank for 2.2 miles, beginning at the dam parking lot and ending at the trout-filled Deer Creek.
Feed the Munchies
Got a craving for a mid-week getaway? Get those couch potatoes off the sofa and on the road for a tour of Southern Pennsylvania's snack factories. Just an hour north across the state line, start with Snyder's of Hanover (1350 York St., Hanover, PA, 800-233-7125), where a 30-minute guided tour walks visitors through the pretzel baking process, from the raw ingredient warehouse to the heavenly smell of the oven room. Less than a half-hour northeast in Thomasville, rival treat-toter Martin's (5847 W. Lincoln Hwy., Thomasville, PA, 717-792-3265) offers one of the most immersive excursions in the area (if you can convince your family to don hairnets). The 45-minute tour follows the potato from truck to fryer, with salty chip samples along the way.
Balance out the savory snacks by continuing north to Hershey's Chocolate World (101 Chocolate World Way, Hershey, PA, 717-534-4900), where you can indulge your inner Willy Wonka by creating your own chocolate bar or let the experts guide you through an equally delicious tasting. Finally, on your way home, stop at the Utz Factory (900 High St. Hanover, PA, 800-367-7629), where a small museum displays old objects such as retro tin packaging and Sallie Utz' original potato slicer, which dates back to the 1920s. Take the stairs up to the glass observation deck to look down on the busy production floor before hitting up the nearby factory outlet on Carlisle Street to shop the brand's full selection of flavors.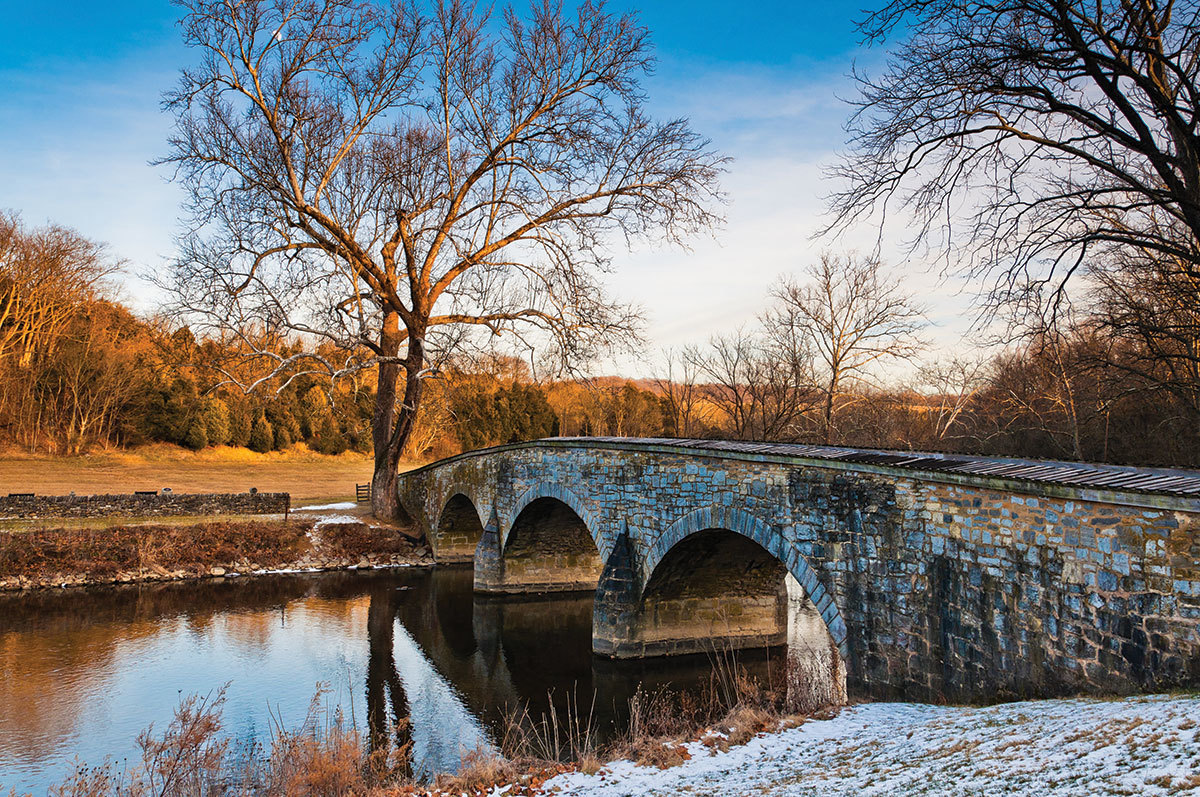 Day Trip With a View
Set on the banks of Brandywine Creek in Pennsylvania, bucolic Chadds Ford is best known for inspiring the work of a generation of early 20th-century painters and illustrators, much of which is now on display at the Brandywine River Museum of Art (1 Hoffmans Mill Rd., Chadds Ford, PA, 610-388-2700). Perched along the water's edge, the museum houses a permanent collection that includes 19th- and 20th-century landscapes that reflect the beauty of the surrounding countryside. Most notable is the work of 20th-century realist painter Andrew Wyeth, alongside that of his father, illustrator N.C. Wyeth (revered for his early illustrations of Treasure Island and Last of the Mohicans), and his son, contemporary painter Jamie Wyeth. (Nearby, guided tours of Wyeth studios provide a more personal glimpse into the local artists' lives.) Through January 7, nearly 2,000 feet of model train track will also take over the atrium for the beloved seasonal exhibition, A Brandywine Christmas.
For more natural wonders in the Brandywine Valley, drive 10 minutes west to Longwood Gardens (1001 Longwood Rd., Kennett Square, 610-388-1000). With nearly 400 acres accessible to the public, plan to spend three to four hours exploring the historic grounds and their outdoor gardens that range from formal to whimsical. If you get chilly, move inside the conservatory to see the Indoor Children's Garden, designed to engage little ones with fanciful sculptures and fountains, or the iconic Orangery greenhouse, decked with poinsettias and Christmas trees during the holiday season. Through January 7, A Longwood Christmas also transforms the gardens into a festive display inspired by the splendor of France's Versailles. Think glittering mirrors, ornate topiaries, and more than 50 decorated trees, with choreographed fountain shows, strolling carolers, and thousands of twinkling lights.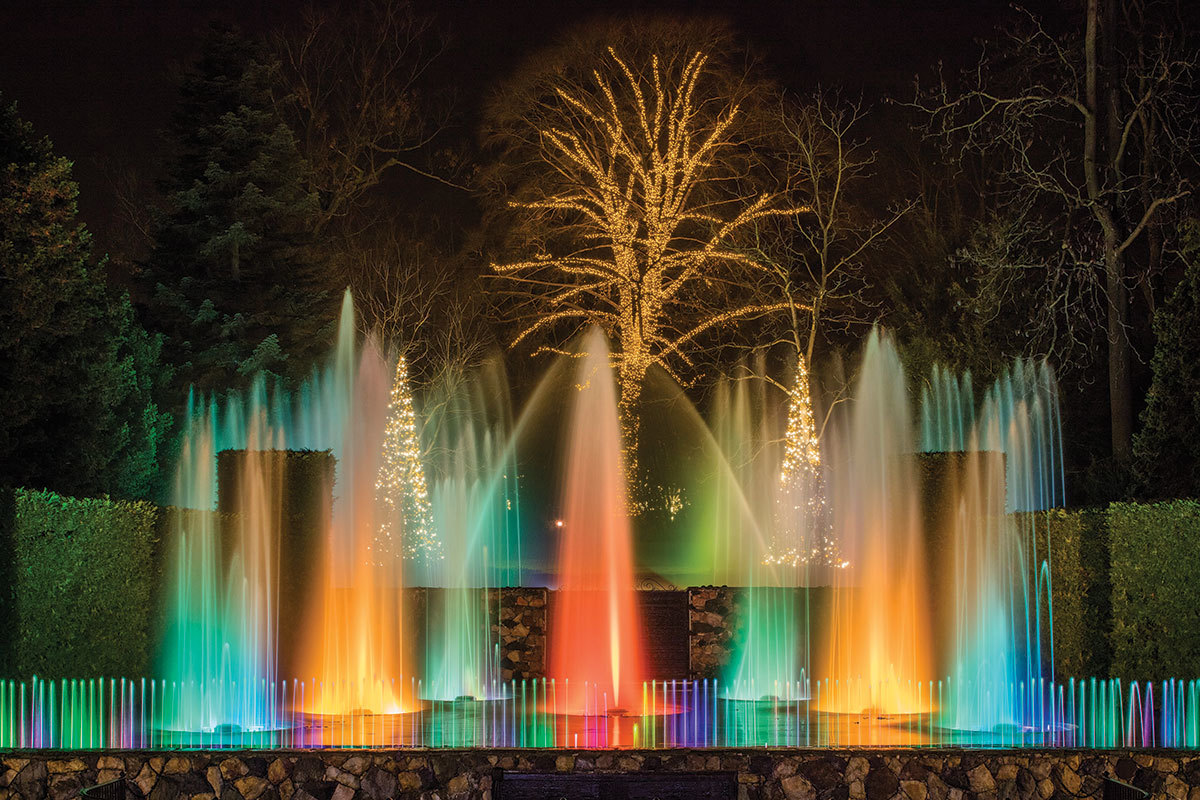 Looking for an Eastern Shore adventure? Get outside with a visit to the Adkins Arboretum (12610 Eveland Rd., Ridgely, 410-634-2847), set on 400 acres adjacent to Tuckahoe State Park. Start at the visitors center, where staff will point you to what's in bloom or where to catch a glimpse of wildlife while helping you map out your visit. Borrow an audio guide for a 35-stop tour along the 5 miles of paths or to discover the little-known connection between the local scenery and the Underground Railroad. Kids can get their hands in the dirt at the Children's Funshine Garden, designed with sensory education in mind, or let out some energy at the First Light Village Playspace. Made almost entirely of natural materials, this scout-built play area includes wigwams, tree stumps, and a balance beam that's sure to tire out your young explorers before it's time to head home.
Get Back on the Saddle
Located two hours away, the small town of Middleburg, Virginia, (population: 828) transforms into an idyllic holiday destination beginning with its all-out Christmas parade on the first Saturday of December. Walk the brick sidewalks of Washington Street, where antique shops and boutiques have made homes out of historic stone and brick buildings. On the corner of Madison Street, the Red Fox Inn & Tavern (2 E. Washington St., Middleburg, VA, 540-687-6301)—a dormered fieldstone structure trimmed with wreaths and garland—has been serving travelers since 1728. Inside at the Night Fox Pub, you can warm up with a glass of wine from one of the area's many vineyards. Known as the nation's horse and hunt capital, Middleburg became a destination for foxhunting and steeplechasing at the turn of the 20th century. Learn more at the National Sporting Library & Museum (102 The Plains Rd., Middleburg, VA, 540-687-6542), a research center for horse and field sports with a special exhibition (through January 14) that showcases the equine in ancient Greek art, including pottery and coins dating back centuries.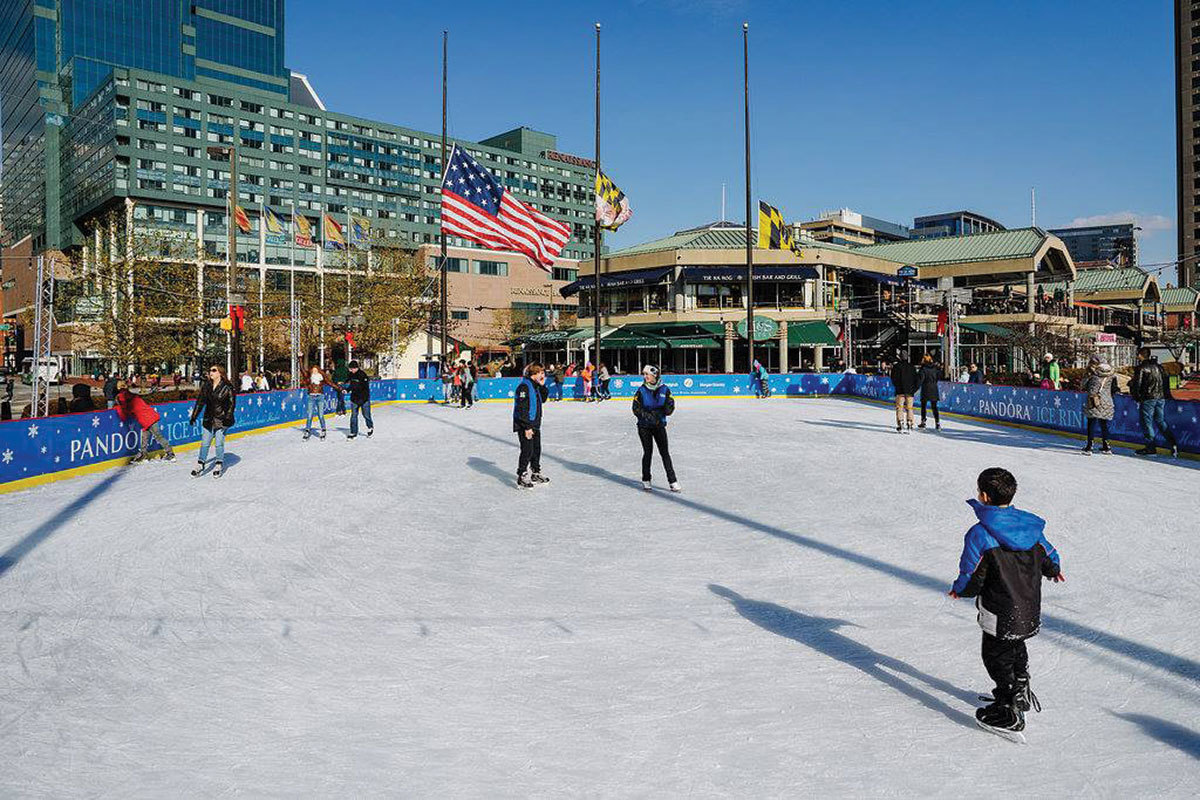 Escape to the Ice
Nothing says holiday fun quite like lacing up a pair of ice skates. Luckily, outdoor rinks pop up throughout the state starting early in the winter season. Beginning in November, families can flock to the expansive, tree-lined ice rink at Quiet Waters Park (600 Quiet Waters Park Rd., Annapolis, 410-222-1777) in Anne Arundel County, equipped with a sturdy framework for less-experienced skaters in need of training wheels. (Just be sure to bring cash or checks, as admission and skate rentals don't accept credit cards.) At Frank J. Hutchins Memorial Park (121 St. John St., Havre de Grace, 410-638-3570) in Harford County, skaters swirl around a synthetic ice rink that's run by a different nonprofit group each week during the holiday season in exchange for a portion of profits.
Only have a few hours to spare? You can still get the blood flowing at the Pandora Ice Rink (201 E. Pratt St., 443-743-3308) at Baltimore's Inner Harbor through January 15, part of the annual "It's a Waterfront Life" holiday events hosted by the Waterfront Partnership of Baltimore. The 6,000-square-foot rink is located at the top of the Harbor Amphitheater at the corner of Light and Pratt streets, beneath the shimmer of the city skyline and in view of the USS Constellation. Really looking to stretch your legs? At 7,200 square feet, the outdoor rink in the Rockville Town Square (131 Gibbs St., Rockville, 301-545-1999) plaza is the largest outdoor rink in Montgomery County, with themed nights where you can throw it back to the '90s or spin to Michael Jackson's greatest hits. While you're headed toward Western Maryland, swing by Silver Spring's outdoor rink at Veterans Plaza (8523 Fenton St., Silver Spring, 301-588-1221) with its colorfully lighted pavilion roof. (Bonus points: both rinks remain open through March.)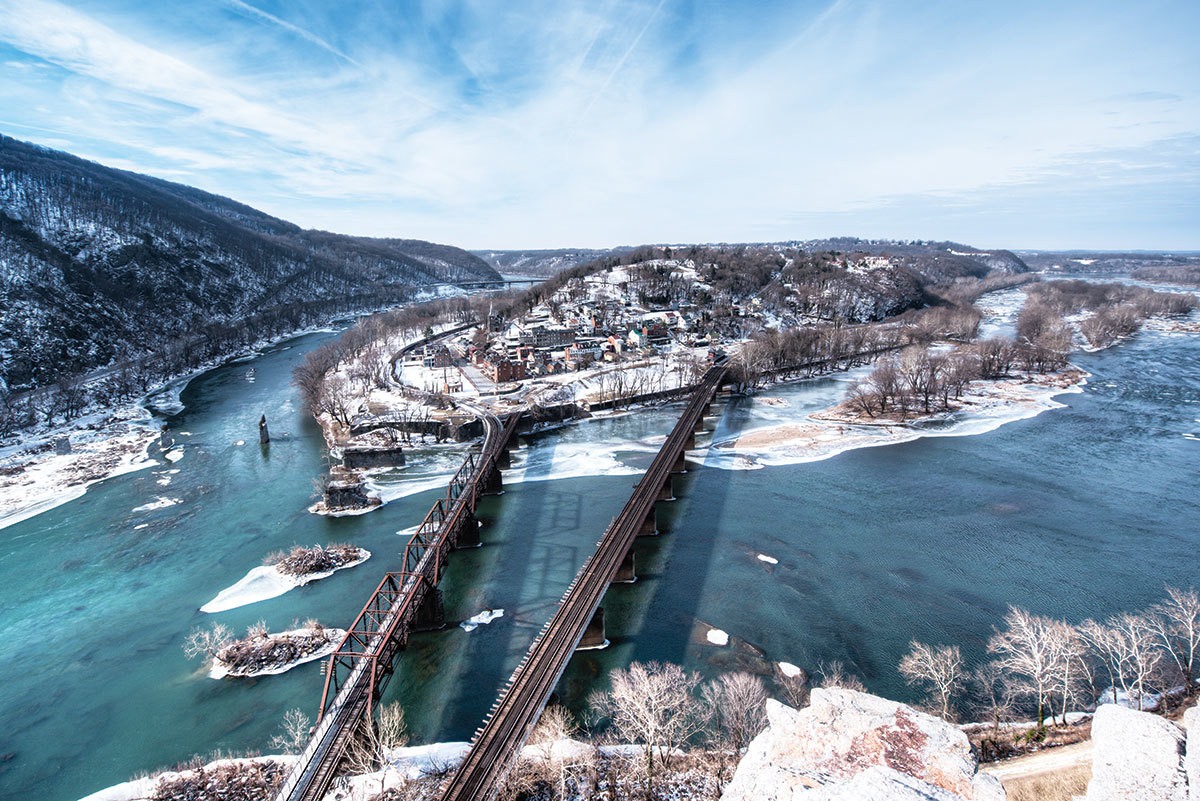 Step Back in Time
Historic Harpers Ferry—known for its role in the Civil War and as the midpoint of the Appalachian Trail—is on the easternmost edge of West Virginia, where it borders both Virginia and Maryland at the confluence of the Shenandoah and Potomac rivers. This tiny town—spread over little more than a half square mile—features a quaint Lower Town neighborhood that turns green from late November to early January with evergreen garlands and festive wreaths throughout its winding streets. Dive into history at the John Brown Wax Museum (168 High St., Harpers Ferry, WV, 304-535-6342), which follows the tale of an area abolitionist who led a raid on the town's arsenal in the 1850s, and discover many other landmarks from the Civil War era sprinkled throughout the town.
Harpers Ferry National Historic Park (767 Shenandoah St., Harpers Ferry, WV, 304-535-6029) is home to 20 miles of hiking trails, ranging from easy, riverside strolls to hardcore hikes across Civil War battlefields and up steep mountaintops to scenic vistas. At the Appalachian Trail Conservancy's AT midpoint, kids can earn a "Junior Ranger" patch by completing an activity booklet, while the C&O Canal trail passes through the heart of town. If weather permits, follow the footbridge across the Potomac River to tackle the Maryland Heights Trail for panoramic views of the valley. If you're looking to extend your trip, Shepherdstown, West Virginia, is another charming area with antique stores, craft galleries, and a historic opera house. (It is also rumored to be the most haunted town in America, inhabited by the spirits of the wounded soldiers from the Battle of Antietam.) Across the river in Sharpsburg, Maryland, that very Antietam National Battlefield (302 E. Main St., Sharpsburg, 301-432-5124) is also worth a visit.
Get Out of This World
Need an escape that transcends the DMV? Transport the family to another planet with an easy trip to the Smithsonian National Air and Space Museum (600 Independence Ave. SW, Washington, D.C., 202-633-2214) on the National Mall. Kids will love How Things Fly, a hands-on exhibit where they can push, pull, and twist their way to understanding the concept of flight. Gadget-lovers shouldn't miss a collection of Military Unmanned Aerial Vehicles (basically super-drones).
If the thought of braving D.C. tourist spots during the holidays sends your blood pressure sky-high, opt for the Steven F. Udvar-Hazy Center (14390 Air and Space Museum Pkwy., Chantilly, VA, 703-572-4118)—the museum's companion facility in Northern Virginia. Its two huge hangars are home to the Space Shuttle Discovery and a super-sonic Concorde operated by Air France. You'll also find memorabilia from the U.S. space program, such as the backpack propulsion device used to make the first untethered space walk and a collection of artifacts belonging to Charles Lindbergh, the first solo pilot to fly across the Atlantic Ocean.