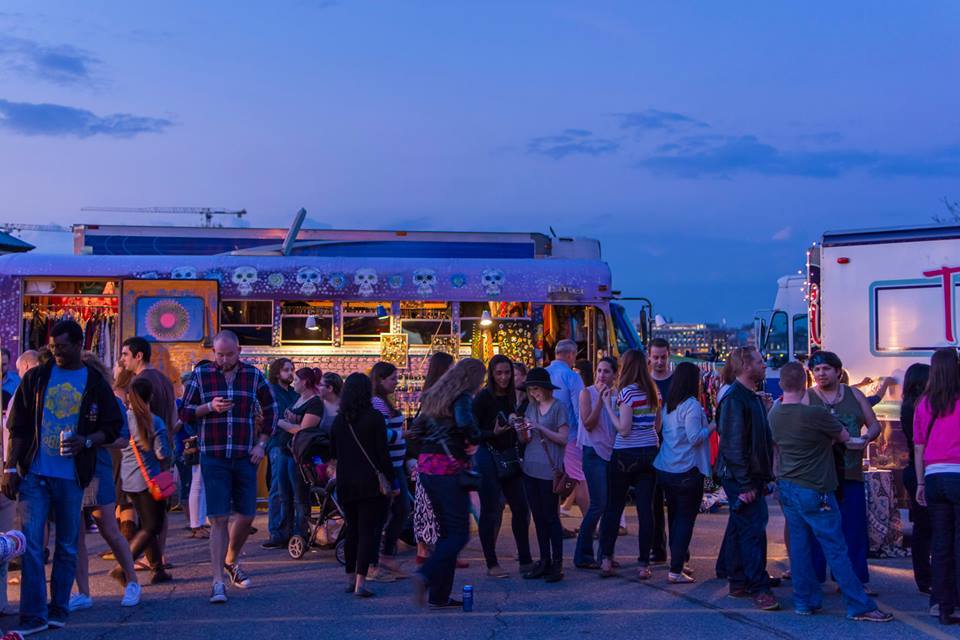 Facebook.
Five things to eat, drink, see, hear, and do with your Charm City weekend.
EAT
Baltimore Museum of Industry, 1415 Key Hwy. 5-10 p.m. $4.14-45.
If you didn't get your fill at The Emporiyum last weekend, you can continue to keep your bikini body at bay with Baltimore's seminal food truck rally The Gathering. Outside on the BMI waterfront, some 20 local food trucks will corral for the first time this season, toting culinary treats like Asian fusion bibimbap from The Green Bowl, crab-covered French fries from Gypsy Queen, gourmet grilled cheese from Grrche, and Baltimore's favorite ice cream from Miss Twist. The parking lot will also feature beer, wine, art, crafts, and live music by funk and soul band Higher Hands. A portion of the proceeds will benefit the museum.
DRINK
1 Olympic Pl., Towson. 1-5 p.m. $30.
410-704-8938.
WTMD is full of great ideas: streaming Animal Collective at the BWI Airport, setting up concerts for Baltimore bands at the baggage claim, and offering the best way to spend your lunch break with its weekly showcase of awesome acts like Hozier, San Fermin, Sinkane, and Thao & The Get Down. Now, for the second year, they also bring us this fantastic festival for local music and beer. On Saturday, sample unlimited sips from more than 15 local breweries. Whether you prefers IPAs, wheats, saisons or stouts, WTMD has you covered with the likes of The Brewer's Art's Choptank'd, Monument City's 51 Rye, Peabody Heights's Old Oriole Park, and Union Craft's Steady Eddie. All the while, soak up the sun and the sounds of local musicians like alt-rockers Among Wolves and local soul-man Brooks Long.
SEE
Peale Museum, 225 N. Holliday St. 12-2
p.m. Free.
After its foodless food truck performance from last fall, The Contemporary, a nomadic arts organization based in Baltimore, is back with a brand-new, groundbreaking exhibit. Launched last Saturday and on display through June 11, New York-based artist Abigail DeVille has transformed the historic former Peale Museum into an experimental installation that examines the unruly nature of history. During its stint downtown, it will also shine a light on local performers, poets, storytellers, and musicians through its "Sunday Salons" series. Starting this weekend, you can see specials guests like accomplished local writer and public speaker Tariq Touré, futuristic R&B artist :3ION (pronounced Elon and reviewed in our upcoming June issue), and singer-songwriter Sunny Cowell. In the coming weeks, expect the likes of spoken word artist Kondwani Fidel, multidisciplinary artist/taxidermy enthusiast Robert Marbury, and legendary artist Joyce J. Scott
HEAR
April 23:
E.M.P. Collective, 307 W. Baltimore St. 8 p.m. $5.
Last fall, local duo Nudie Suits released its first EP, Summer Fun, which seemed to capture the unspoken, ordinary, human corners of that warm-weather season: the sluggish humidity of a hot afternoon ("Gotta Be"), the ethereal skies of full-moon night ("Mom song"), the raw rebellion of cigarette-fueled teenage joyrides ("Laura Flynn"), and the fleeting rush of a July romance ("House Cat"). In reality, vocalist Ali Clendaniel (also of Annex Theater) and violinist/composer Ruby Fulton were inspired by the cult classic Twin Peaks, as well as art rock, repetition, opera, and outer space. Whatever the influence, the experimental Peabody grads produce dreamy loops that reach into the crevices of your highs and lows, ranging in rhythm and tempo through stirring synth, dramatic vocals, and captivating compositional beats. Offbeat yet beautiful, these five tracks will weave their way into your summer playlists, but catch them this Saturday at EMP Collective alongside an all-female lineup, including spellbinding soul singer Joy Postell, art-folk-rock songwriter Hystermajesty, and up-and-coming DJ Amythsx.
DO
Cross Street Market, 1065 S. Cross St. 12-7 p.m. $5.
When temperatures begin to break 70 on a regular basis, it's time to start making the weekends last as long as you possibly can. This Sunday, put off your to-do list, push away the Monday-morning-scaries, and take advantage of spring. For a full afternoon of activities, head to Federal Hill, where a neighborhood block party will be popping off, full of Maryland eats, beer in the street, and live music from Baltimore favorites like the Great American Canyon Band and Caleb Stine & The Brakemen. Grab snacks, sips, and sunshine and prepare for months of summer fun.