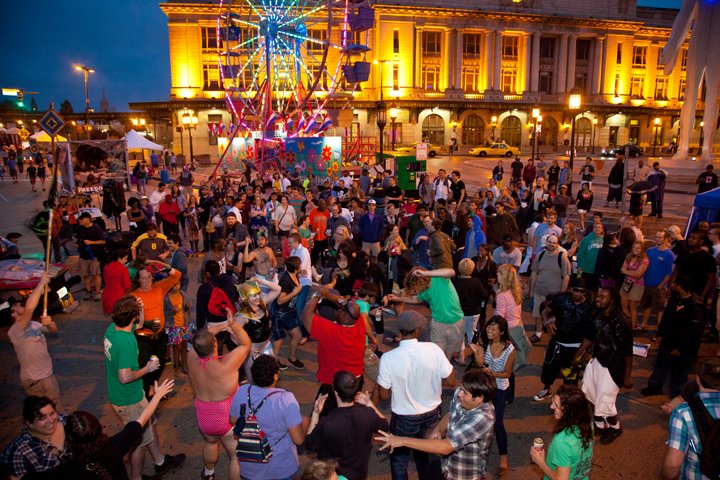 Photo by Leslie Furlong.
The best things to eat, drink, see, hear, and do with your Artscape weekend.
Station North, Mt. Royal Ave. & Cathedral St. Fri.-Sat. 11 a.m.-9 p.m., Sun. 11 a.m.-8 p.m. Free. 410-752-8632.
artscape.org.
EAT
This year, 95 percent of Artscape's food will be local, with eats from the likes of Otterbein's Bakery, Ryleigh's Oyster, Dooby's, Ekiben, Jimmy's Seafood, Clementine, and the beloved, double-cone queen, Miss Twist. You can flock to the line of food trucks along Charles Street or rest your feet at the bevy of nearby restaurants like Pen & Quill, Tapas Teatro, Lost City Diner, Bottega, and Joe Squared. Meanwhile, Mount Royal Tavern will be hosting its annual Foodscape, the local dive's exhibit of food-related artwork by more than a dozen artists, now through August, with cheap beers sold at the bar.
DRINK
Water! It's the theme of this year's Artscape. It makes up 80 percent of our bodies. It tastes good, it's good for us, and we definitely don't drink enough. Get your hydrate on at the all-new Aqualounge, a free, fill-your-own-bottle water station in the shape of a giant water molecule, presented by Morgan State University and located on Charles Street between Preston and Mount Royal Avenue. Have some H20, catch some art and music, and then scramble for local brews and Bohs at nearby watering holes like Mount Royal Tavern, Club Charles, Liam Flynn's, and The Brewer's Art. Beers will be on hand at the festival, but sadly they're not Baltimore-bred.
SEE
As you already know, the entire festival is all-art-everything, with its iconic art cars, artist street market, Sondheim Artscape Prize finalists at the BMA, artist-run art fair by Open Space, and outdoor sculptures and installations, like those inspired by the Inner Harbor and the age-old summer tradition of the inner-tube lazy river. On top of that, the Baltimore Rock Opera is making a splash with its downy ocean, spring break shebang, BROcean City, featuring bands, puppet shows, air guitar battles, and head banging, plus a myriad other performances throughout the weekend, like LabBodies interactive art, [email protected] comedy, theater, and dance. Best of all might be "Wired Up," with cast members of HBO's iconic cult classic, The Wire, reuniting to celebrate Baltimore, discuss the recent unrest, and present a half-hour performance about the events following the death of Freddie Gray. Michael K. Williams (Omar), Wendell Pierce (Bunk), Sonja Sohn (Kima), Andre Royo (Bubbles), and Felicia 'Snoop' Pearson will all be there, and, if you're lucky, you might be even able to convince Dominic West (McNulty) to meet you at Mount Royal Tavern for a couple of whiskeys. Sheeeet.
HEAR
July 10: The No Genre Show
The 8×10, 10 E. Cross St. 8 p.m. $14. 410-625-2000. the8x10.com.
There's so much good music in and around this year's Artscape, it's going to be hard to fit it all in. On Friday, be sure to catch the headliners—funk legend George Clinton & Parliament Funkadelic—but don't miss smaller acts like hypnotic soundtrack duo Wume or NOLA street party-starters Junkyard Saints. On Saturday, start with local hip-hop duo Bond St. District, blues guitarist Quinton Randall, and indie-rockers Cara Kelly & the Tell-Tale, followed by big names like the hootin' and hollerin' Reverend Peyton's Big Damn Band and the reggae-roots-rock of Michael Franti & Spearhead. On Sunday, cap off the weekend with Dunbar High School's Jazz Ensemble, local soul and blues boss Brooks Long, ubiquitous alt-rockers Cris Jacobs Band, and the Big Easy sound of Trombone Shorty & Orleans Avenue. Meanwhile, take the fam to see the Lyric's one-act opera of Beauty and the Beast, the BSO OrchKids Choir, or a number of classical concerts at the Corpus Christi Church.
If you're feeling it, keep going at the weekend's other scapes, like Ratscape at Ottobar, with three full days of local underground artists like Eze Jackson, Al Rogers Jr., Blacksage, Wing Dam, and Celebration, as well as Splace Scape at Metro Gallery, a two-night debut dance party with Baltimore Club artists like TT The Artist, Mighty Mark, Matic808, and genre forefather Scottie B. Also on Saturday, get down to Motown and Stax classics at the Save Your Soul dance party at the Windup Space or funk and soul at the Dirty Soul Dance Party with DJ Landis Expandis at The Crown. .
DO
We say: do it all. Or try to, at least. For some other awesome events, swing by the all-new Gamescape for video games, their designers, and real-time gaming screened on the LED billboard by the Charles Street Bridge. At Kidscape, there will be hands-on activities like water-themed workshops, a solar-powered BioBus science lab, Port Discovery bubble wands, and face painting. On Saturday, swagger through the streets in the inaugural BmoreFit DanceWalk to benefit city school kids, stretch it out with free yoga on the main stage, and throughout the weekend, check out pop-ups by Fluid Movement, Dance Baltimore, Baltimore Free Hoop School (yes, hula hoops), and Michael Jackson impersonator Dimitri Reeves.