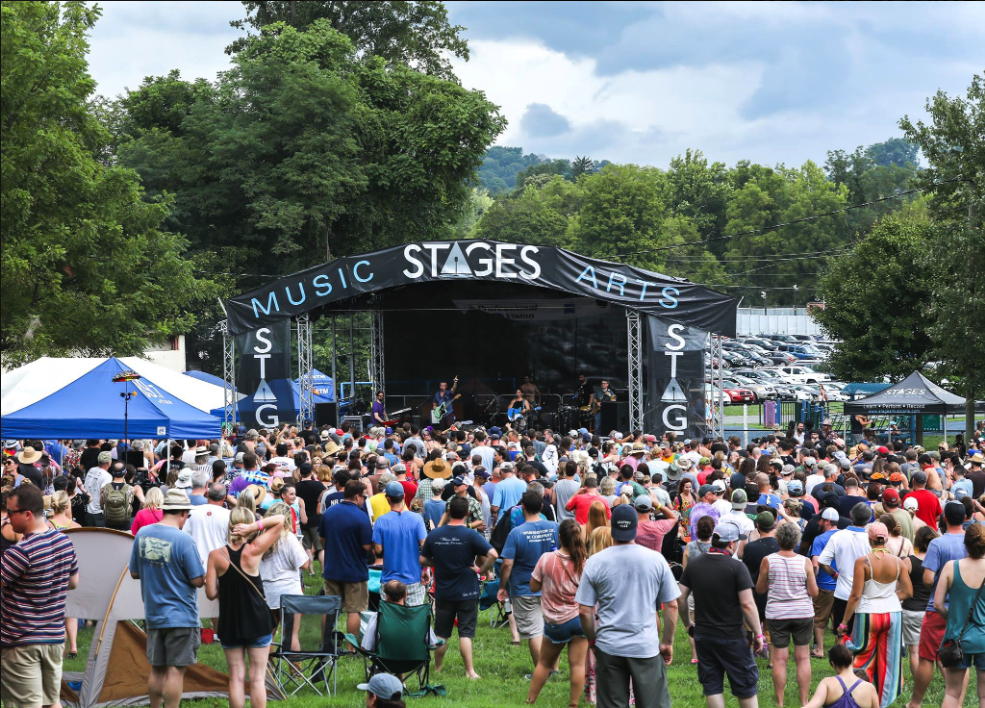 Courtesy of Hot August Music Festival
EAT
Clavel, 225 W. 23rd. St. 12-6 p.m. Prices vary.
We're a sucker for firsts, and this inaugural Mexican seafood festival hosted by hometown chef Carlos Raba of Clavel—and special guest TJ Steele of Brooklyn's Oaxacan restaurant Claro—is certainly an original. Stop by the Remington staple on Sunday afternoon for an array of ceviches, grilled whole snapper, and head-on prawns, as well as The Local Oyster's signature bivalves. It's an a la carte menu that is sure to make a seafood lover out of almost anyone.
DRINK
World of Beer, 1724 Whetstone Way. 5-9 p.m. Free.
Summer may be winding down, but that shouldn't stop you from enjoying the warm weather while you still can. This last McHenry Row bash of the season will have festivities for everyone in the family, including a moon bounce for the kids, Union Craft Brewing glassware raffles for the adults, and a dunk tank for anyone with a good arm. Spend the evening noshing on seafood from Chesapeake Food Works, bopping along to a set by local band The Unofficial, and knocking back a few Duckpins or Skipjacks to celebrate the end of summer.
SEE
Peabody Heights Brewery, 401 E. 30th St. 5-8 p.m. $10.
If your summer hasn't been nearly wet, hot, nor American enough for you, no worries, the nomadic Single Carrot Theatre company has got you covered. The avant-garde group will take over Peabody Heights Brewery for a reading of the 2001 cult-classic film as part of their Screen2Stage series, featuring the same wacky antics and secret rendezvous as the movie. Stick around after the performance to participate in group activities and field-day events to become a true member of Camp Firewood.
HEAR
Oregon Ridge Park, 13403 Beaver Dam Road, Cockeysville. 11 a.m.- 10 p.m. $73-199.
The 27th iteration of this hometown throwdown is finally here, and the forecast for this end-of-summer blues and roots festival is shaping up to be just as its name promises. Make the quick trip to Oregon Ridge Park to hear an all-star lineup of acts, including Turkuaz, Billy Strings, Vanessa Collier, and none other than Pigeons Playing Ping Pong (the band, although avian athletes would also be cool). To make a full day out of it, check out the Power Plant Live! pre-party featuring Psycho Killers or the after-party at The Greene Turtle in Hunt Valley.
DO
The Avenue on 36th St. 10 a.m.- 6 p.m. Free.
Make the most out of Tax-Free Week and shop local during Hampden's third and final sidewalk sale of the summer. Whether you're looking for vintage clothing or vinyl records, you will be sure to find a few steals from shops in the neighborhoods' business district, including Best of Baltimore-winning places like Hunting Ground, Keepers Vintage, and Six2Six Society. Since the sale overlaps with Baltimore Vegan Restaurant Week, check out nearby participating spots like Golden West Cafe or Harmony Bakery for a post-haul snack.