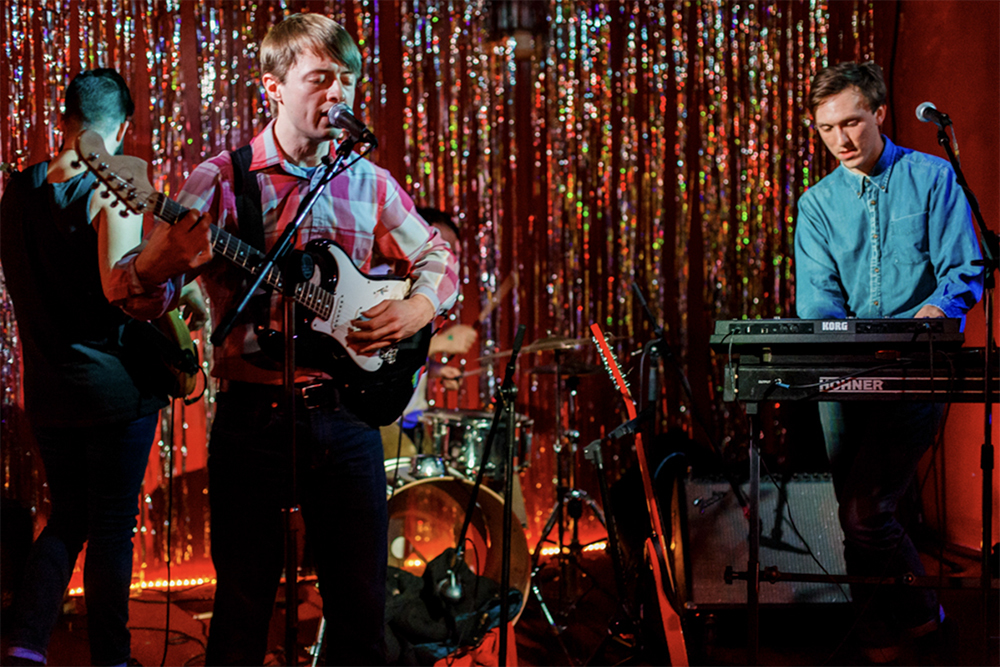 Photograph by Matt Condon.
Five things to eat, drink, see, hear, and do with your Charm City weekend.
EAT
Jailbreak Brewing Company, 9445 Washington
Blvd., Laurel. 11:30 a.m.-2:30 p.m. $25. 443-345-9699.



In the thick of
barbecue season, it's time to put down your grill tools and let someone do the
cooking for you. This Sunday, hit up Jailbreak Brewing for an afternoon of
craft beer, good music, and smoked meat goodness from Howard County's Joe Joe's
Hog Shack. Sip on some Scolville IPAs, dig into summertime staples (pulled
chicken, pulled pork, hot brisket, mac-and-cheese, coleslaw, and baked beans),
and enjoy a Sunday Funday is what is supposed to be beautiful weather. Each
ticket includes food, a free brew, and a take-home jar of finger-licking sauce.
DRINK
Alexander's Tavern, 710 S. Broadway. 7-10 p.m. $5. 410-522-0000.
When tragedy
swept
Ellicott City last weekend in what was supposed to be a typical summer storm,
Maryland
rallied together quickly to support the town and its many businesses affected by
severe flooding. In Baltimore this weekend, head to Fells Point, where 20
percent of all sales at local pub Alexander's Tavern will be donated to help
the Howard County community, and $5 wristbands get patrons $3 draft beers, $4
wines, and $2 off pizzas and tater tots. Raffles will feature gift cards to
Fells businesses like Thames Street Oyster House, Kooper's Tavern, and Poppy
and Stella. More donations can be sent directly to Ellicott City
here.
SEE
Jewish Museum of Maryland, 15 Lloyd St. 11
a.m.-12:15 p.m. Free-$10. 410-732-6400.


Since becoming
Baltimore's Commissioner of Health early last year,
Dr. Leana Wen has skyrocketed into one of the city's
most respected and admired public officials. Aptly labeled a "wunderkind" by
The Atlantic, the 33-year-old former ER
physician has led the war party on tackling opioid addiction and overdose in
Baltimore, has spent countless hours on the ground in local communities to
create programs against violence and for youth health and wellness, and has
worked doggedly to reimagine the role of public health in urban revitalization.
Outside of Baltimore, she has received national recognition, published more
than 100 articles, and given a TED talk that has subsequently been viewed
nearly 1.5 million times. This Sunday, as part of the Jewish Museum of
Maryland's "In the Service of Health" series, she speaks about the importance
of addressing the social determinants of health for the vitality of community.
HEAR
Current Space, 421 N. Howard St. 7-11 p.m.
$8-10.


With the release of their new album, Natural Motion, out now via Friends Records, Other Colors has quickly become one of our favorite Baltimore bands. The radiant record unfolds like a film score, layered and complex, evocative of some distant time or place. Each song blossoms like a beautiful spell, enchanting you as the band dances across vivid landscapes, like the sweeping desert twangs of a dusty spaghetti western or the sultry bossa nova of Copacabana on some 1960s summer night. The local duo gently melds tender vocals into their vintage-tinged tunes, finding a happy place between genres—psychedelic pop, lo-fi indie, and easy listening—fittingly drawing inspiration from "forgotten AM radio hits and the smoother side of krautrock." In the end, their sound is a lush, atmospheric dream, and you'll find yourself not wanting to wake up. Hear them live this Friday, with fellow local acts including Moss of Aura (check out Baltimore's October issue for a review of their upcoming album), Chiffon, and Shinji.
DO
Maryland State Fairgrounds, 2200 York Road, Lutherville-Timonium. 10 a.m.-9 p.m. Free-$15. 410-327-6005.
This Sunday, head to the State Fairgrounds to celebrate Maryland's vibrant Latino community. At the fifth annual Latino Festival, thousands will flock for a fiesta of culture, with traditional art, festive food, cold drinks, kids activities, lots of live music and entertainment, as well as a medley of area nonprofits. Spend the afternoon sampling everything from piña coladas to traditional Salvadoran fare before heading to the main stage to hear popular artists like bachata dance musician Zacarias Ferreira, reggaeton duo Alexis and Fido, and Duranguense group K-Paz De La Sierra.