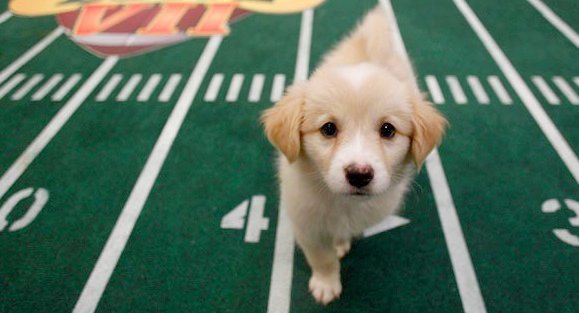 Animal Planet.
Five things to eat, drink, see, hear, and do with your Charm City, Super Bowl weekend.
EAT
Feb. 6: Chili Cook-Off at The Wharf Rat
The Wharf Rat, 801 S. Ann St. 1-4 p.m. $5-10. 410-276-8304. thewharfrat.com.
This past Tuesday, our country's psychic groundhog, Punxsutawney Phil, announced that there would be a short winter this year. And ever since, we've decided to take it as an excuse to chow down on all the warm, winter food we want before it's once again time for the strawberries, salads, and salt-rimmed margaritas of spring and summer. This weekend, the cozy corner Fells Point pub that is Wharf Rat has you covered with its third annual chili cook-off, sponsored by Philadelphia's Yards Brewing Company. Put on your judge's hat, indulge in dozens of crafts and drafts, and get your gut ready for the Super Bowl with a handful of homemade chilis. Your waistline stretch will be for a good cause, with proceeds benefiting BARCS.
DRINK
Feb. 7: Jailbreak Brewing Company's Puppy Bowl Party
Jailbreak Brewing Company, 9445 Washington Blvd. N., Laurel. 2-5 p.m. Free. 443-345-9699. jailbreakbrewing.com.
Move
over Panthers and Broncos. This Super Bowl weekend, as in all Super Bowl
weekends, it's all about the puppies. After you indulge in crocks of chili for
canine care in Fells Point, head down to Jailbreak Brewing Company in Laurel.
At the neighborhood brewery, join Operation Paws for Homes, a great local
animal advocacy group, to celebrate Puppy Bowl XII (with ambassador and former
Raven Torrey Smith), with a screening of the show, hangout sessions with actual
adoptable dogs, and ice-cold drafts of craft brews like Rymein' & Stealin' ale and Scoville
Jalapeno IPA. Best
of all, you can BYOD—aka bring your own dog—with a contest for best owner and
dog football fan.
SEE
Feb. 6: The Baltimore Jewelry Center's Ornamenta
Area 405, 405 E. Oliver St. 7-10 p.m. $45-350. 410-528-1968. area405.com.
It
feels a little dated to say that Station North is having a resurgence these
days, as it's been a long time coming with the bustling scene on Charles,
handful of art galleries, and addition of startups like the Station North Tool Library. But the surge continues,
thanks to the recent renovations of historic neighborhood buildings like Motor House and Centre Theater. Inside the latter, the
brand-new Baltimore Jewelry Center has set up shop and now cordially
invites you to its inaugural benefit party, Ornamenta. Adorn yourself in creative cocktail wear,
explore an exhibition of student work, partake in a silent auction, sample sips
from the open bar, and snack on biscuits from the beloved Blacksauce Kitchen.
Proceeds benefit the Baltimore Jewelry Center, which, in its own way, benefits
the entire neighborhood.

HEAR
Feb. 6: Dope Body, Wume, Wing Dam, & Frenemies at The Ottobar
Ottobar, 2549 N. Howard St. 8 p.m.-1 a.m. $10. 410-662-0069. theottobar.com.
We've said it before and we'll say it again: If The Clash and Rancid had a love child, it would be Dope Body. At times hard-core heavy metal, at others '90s garage grunge—but mostly pure punk rock—the band's sound is always raw, rough-and-tumble, and mosh-pit ready, full of clashing hi-hats, thunderous drums, plugging bass, shredding guitar, and Andrew Laumann's distinctive vocals. It calls out to the brooding teen inside us all, and this weekend, they perform at the Ottobar with other awesome locals acts like experimental electronic duo Wume, fuzzy alt-rockers Wing Dam (who we're itching to hear some new music from), and Oxes' drummer Chris Freeland's solo project, Frenemies. It's a solid lineup of serious homegrown talent for your Saturday night.
DO
Feb. 7: Chinese New Year Celebration at The Walters
The Walters Art Museum, 600 N. Charles St. 12-3 p.m. Free. 410-547-9000. thewalters.org.
If you already slacked off on your New Year's resolutions (don't worry—we're with you), this weekend is your chance to start anew. Skip the Super Bowl snack binge and instead immerse yourself in another culture and celebrate the Chinese New Year. 2016 is the Year of the Monkey, who is said to be playful, curious, and creative, so spend your Sunday at the local art museum in Mt. Vernon with hands-on activities (build your own headdresses), traditional Chinese performances (two showings from the Baltimore Chinese School), and colorful dance routines (the Yong Hang Lion Dance Troupe of Johns Hopkins, apparently for good luck).