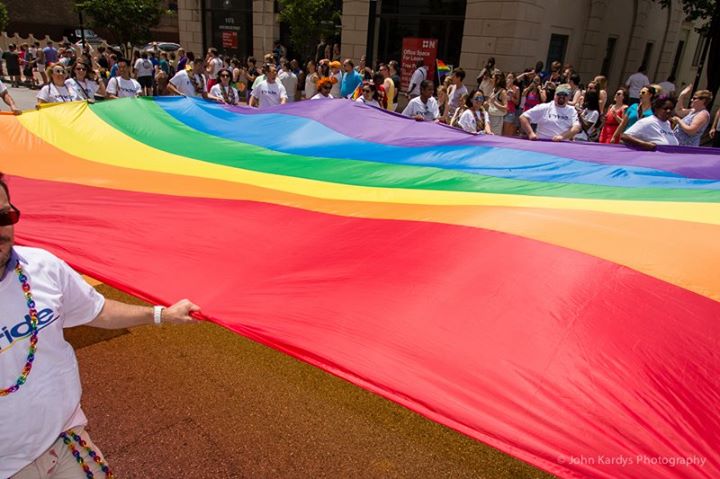 GLCCB
Five things to eat, drink, see, hear, and do with your Charm City weekend.
EAT
July 24-August 2: Summer Restaurant Week
Locations vary. Brunch, lunch, and dinner. $15-30. baltimorerestaurantweek.com.
This weekend, the dog days edition of Baltimore Restaurant Week kicks off a week and a half of dining in and around Baltimore. Taste the city, its surrounding neighborhoods, and support local business, with two-course brunches and lunches and three-course dinners at 109 of your favorite restaurants. Grab a meal at mainstays—like B Bistro, Jack's Bistro, The Helmand, Salt, and The Brewer's Art—or have a bite at relative newbies like Pen & Quill, Family Meal, Dooby's, and AVAM's Encantada. Hit up Clementine before it closes. Of course, you can always follow Tabrizi's lead, too, and devote your dollars towards feeding and helping others.
DRINK
July 25: Union Craft Brewing's Third Anniversary Celebration
Union Craft Brewing, 1700 Union Ave. 7 p..m.-12 a.m. General admission, sold out: VIP, $65. facebook.com.
If you've been reading the Weekend Lineup, then you know we love Union Craft Brewing, and if you live in Baltimore, so should you. The local brewery continues to put out killer craft brews—praise be to Double Duckpin!—and they were just named our 2015 Best of Baltimore Reader's Choice for Best Brewery. Celebrate UCB and the local community with a night of imbibing in Hampden-Woodberry. They'll have favorites, rare, vintage, seasonal, and cask beers on tap, plus food from trucks like Kommie Pig, Gypsy Queen, and Dipinoteca, and fresh True Chesapeake shucks from The Local Oyster. (VIP tickets also include sweet eats from the much-hyped La Cuchara.) All the while, boogie into the night with live music by local soul sensations Bosley and vintage blues and R&B band Brooks Long and The Mad Dog No Good. Best of all, a portion of the proceeds will benefit Believe In Music, a music education program by Living Classrooms.
SEE
July 25-26 & August 1-2: Fluid Movement's Goldblum: The Water Ballet
July: Patterson Park Pool, 148 S. Linwood
Ave. Sat. 7 & 9 p.m., Sun. 5 & 7 p.m. August: Druid Hill Park Pool, 2600 Madison Ave. 5 &
7 p.m. $5-10. fluidmovement.org.
This weekend, head to Patterson Park and beeline straight for the pool. You won't be jumping into the water, but you will be diving into the 14th annual water ballet by Baltimore-based performing-arts troupe Fluid Movement. This year's fictional tale follows the film career of beloved, bespectacled actor Jeff Goldblum, who, over the years, has created iconic roles in Jurassic Park, Independence Day, and The Grand Budapest Hotel—and left us oddly mesmerized by his croaky, creepy laugh. Swimming in synchronized choreography, with colorful lighting, boundless creativity, and lots of glitter, these evening performances make a great splash on a summer night. They're one of Baltimore's best traditions, encompassing all that is weird and wonderful about the city into one Olympic-sized swimming pool.
HEAR
July 26: My Morning Jacket with Jason Isbell
Merriweather Post Pavilion, 10475 Little Patuxent Pkwy. 7 p.m. $40-55. 410-715-5550. merriweathermusic.com.
I first heard My Morning Jacket in college, and fittingly so. Their early mix of soulful jams and dreamy, chill rock lilted nicely about the lazy days of youth, with intermittent moments of psychedelia and dance grooves. The Kentucky quintet was formed in 1998, with hippie leader Jim James fusing ethereal vocals, noodling guitars, and various genres into a ragged, rooted sound, equal parts something new and a thing of the past. Catskills and Appalachia meet Southern choir and the Delta blues. They fit just as perfectly on a playlist with The Black Keys, Mumford & Sons, and Alabama Shakes as they do with The Band or Neil Young. Over the years, their seven albums and spellbinding live performances have garnered them an avid following and critical acclaim, with The New York Times calling them "the new kings of expand-your-mind, religious-experience rock." You'll feel that way when you fall in love with old jams like "One Big Holiday" and "Anytime" or new whirls like "Circuital" and "Compound Fracture." Hear them for yourself on Sunday in the Merriweather woods, with up-and-coming Southern rocker and beautiful songwriter Jason Isbell.
DO
July 24-26: Baltimore Pride 2015

Saturday: Charles & Eager Sts. 3-10 p.m. Sunday: Druid Hill Park, 2600 Madison Ave. 11 a.m.-6 p.m. Free. 410-777-8145. baltimorepride.org.
It's been a historic year for the LGBTQ community. With the Supreme Court striking down gay marriage bans nationwide and more positive cultural spotlight on the transgender community than ever before, there's no better time or way to celebrate than with the 40th annual Baltimore Pride. The festivities start on Friday night with a Twilight on the Terrace benefit cocktail party at Gertrude's, a kick-off party at the legendary Club Hippo, and a Queer-ology dance party at The Crown, with Baltimore club artists Abdu Ali and Mighty Mark, Baltimore electronic duo Normaling, and San Francisco dance hip-hop duo Double Duchess. On Saturday, join thousands at the Mt. Vernon block party, with its High Heel Race down Cathedral St., afternoon parade with Grand Marshal Chuck Bowers of Club Hippo, and headline performance by Martha Wash of "It's Raining Men" fame. On Sunday, the festival lasts all day at Druid Hill Park, with performers, competitions, vendors, and fun for all. Area bars and restaurants will be celebrating all weekend, too, with after parties at Club 1722 and Grand Central, boozy snowballs at City Café, early hours at The Brewer's Art, and drink specials at Red Maple. Even with landmarks like Club Hippo and Jay's on Read Street soon closing their doors, the LGBTQ community is stronger than ever in Baltimore and beyond, so show your support and join the city in celebration.