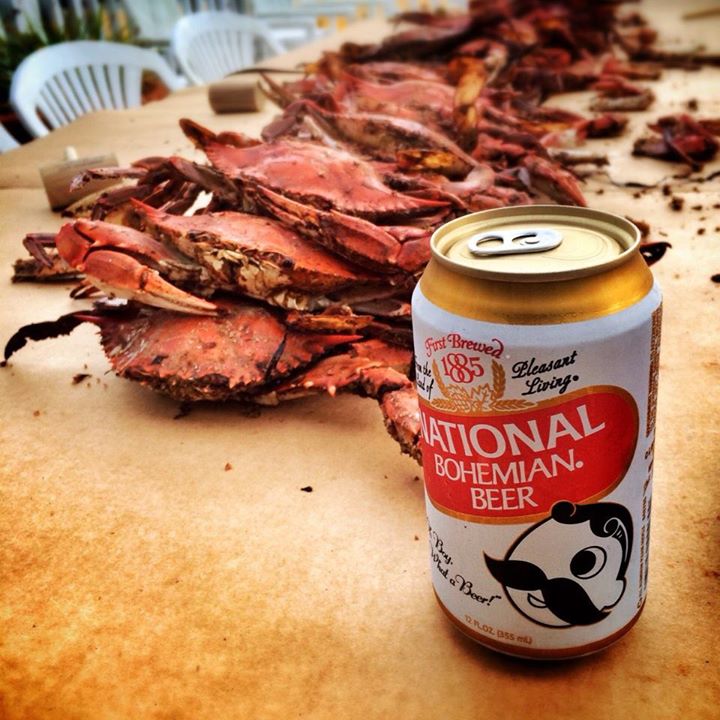 National Bohemian.
Five things to eat, drink, see, hear, and do with your Charm City weekend.
EAT
June 13: The Remington Chop
Miller's Court, 2610 N. Howard St. 12-5 p.m. $45. remingtonchop.com.
This weekend, some of the coolest culinary cats—the movers
and shakers, the brewers and makers—are coming together to spread the love and wealth.
At Miller's Court in Remington, a historic former tin-can factory turned cozy
courtyard and nonprofit hub, local chefs and
brewmasters will be leading an afternoon of workshops. Learn how to butcher with Spike
Gjerde's meat mecca, Parts & Labor; make sausage with eclectic Station
North eatery, Pen & Quill; and shuck oysters with upcoming Hampden hipster
haven, Dylan's Oyster Cellar. With W.C. Harlan and its new sister bar, Clavel,
discover tequila's strong and smoky sibling, mezcal. With Monument City
Brewing, hear about the love and labor that goes into craft beer. With Café
Cito, gather tips on how to turn a trip to the farmers' market into a hearty
summer soup. If you're just there to graze, grab a seat at the pop-up beer
garden with local food and booze from all the aforementioned mavericks, including a few more. Eat,
drink, and be merry—and expect other events like it in the future.
DRINK
June 13: Chesapeake Crab & Beer Festival
Rash Field, 201 Key Hwy. 11 a.m.-3 p.m. & 5-9 p.m. $29-89. 410-878-9900. mdcrabfest.com.
Crabs and beer—that's what Maryland does, baby. (And baseball, and football, too, of course.) This weekend, the trifecta is coming together, with the O's taking on the Stankees, crab season in full swing, and a large-scale Land of Pleasant Living tradition taking place on the Inner Harbor shore. At Rash Field in Federal Hill, nab a seat at one of the dozens of picnic tables, dive into a pile of all-you-can-eat crabs, spit out seeds from countless wedges of watermelon, and sample sips of more than 50 craft beers, all served in souvenir mugs. This is what you've been waiting for all winter long. Get out there and seize those early summer days.
SEE
June 14: The Kinetic Sculpture Race
American Visionary Art
Museum, 800 Key Hwy. 9 a.m.- 7 p.m. Free. 410-244-1900. kineticbaltimore.com.
Every year, the
Inner Harbor gets taken over by a trove of traveling amphibious creatures. By water
and land, through mud and sand, the custom-built, human-powered creations of the Baltimore Kinetic Sculpture Race compete over eight hours and 14 miles in the East Coast Kinetic Sculpture Race
Championship. Traveling from Federal Hill to Harbor East through
Fells Point and along the Canton waterfront, dozens of contestants eventually make their
way up to Patterson Park before looping through Butcher's Hill and Little Italy
and riding to the finish line at AVAM. All the while, they're competing for post-race
awards like People's Choice, Grand Mediocre Champion, Next-to-Last, and Worst
Honorable Mention. After the Baltimore unrest that took place this past May, the original race was postponed, but this weekend, the offbeat event returns, now in its 17th year,
and a must-see sight around the city.
HEAR
June 14: Bumper Jacksons
Riverside Park, 439 E. Randall St. 5-8 p.m. Free. riversideneighborhoodassociation.com.
This Sunday, scramble past Federal Hill to the quiet SoBo neighborhood
of Riverside. Once you're there, head to the tree-lined park and up to the hilltop gazebo for
the first second-Sunday concert of the summer. There, Bumper Jacksons, the beloved D.C.
roots-jazz-bluegrass group and 2014 "Best of Baltimore" party band, will be performing, on the heels of a brand-new album, to kick off the sunny season with their stomping, swinging sound. Union Craft Brewing and The Smoking Swine food truck will be in tow, too, for all your
Sunday Funday beer and barbecue needs, and don't miss Miss Twist, the neighborhood ice cream truck
whose double soft-serve cones are the perfect end to a hot night in June.
DO
June 13-14: HonFest

The Avenue in Hampden, 36th St. Sat. 11 a.m.-10 p.m., Sun. 12-6 p.m. Free. honfest.net.
This weekend, for the 21st year,
Hampden transforms into a 1960s time warp, full of beehive
hairdos, cat's-eye glasses, and mid-century style as the annual, two-day
tradition of HonFest hits the streets to celebrate all things Bawlmer "hon." In
honor of the city's working-class women, boldly don some vibrant garb and bring family and friends for block-party fun. Hear live music by the likes of Sweet Leda and
Caleb Stine. See performances by Fluid Movement and the StudioDNA Tappers. Participate
in the "Best Mustache" and "Mashed Potato" contests. Boogie on The Avenue with a dance party emceed by local DJ Landis Expandis of All Mighty
Senators fame. Celebrate Charm City in all its weird and wonderful glory, and make sure you see the beauty pageant on Saturday, crowning this year's "Best Hon."
---
We also suggest you continue to support local restaurants, bars, and businesses, to take part in community events, and to donate to or participate in the growing number of volunteer efforts around the city. Some examples include the Inner Harbor Project,Maryland Food Bank, and Big Brothers Big Sisters of the Greater Chesapeake. Others can be found via Maryland Unites, which lists several non-profits that are accepting donations like the Red Cross of the Greater Chesapeake, Central Region United Way, and Associated Black Charities, and through the Mayor's Office of Neighborhoods, which continues to update an online spreadsheet for volunteer and donation opportunities.