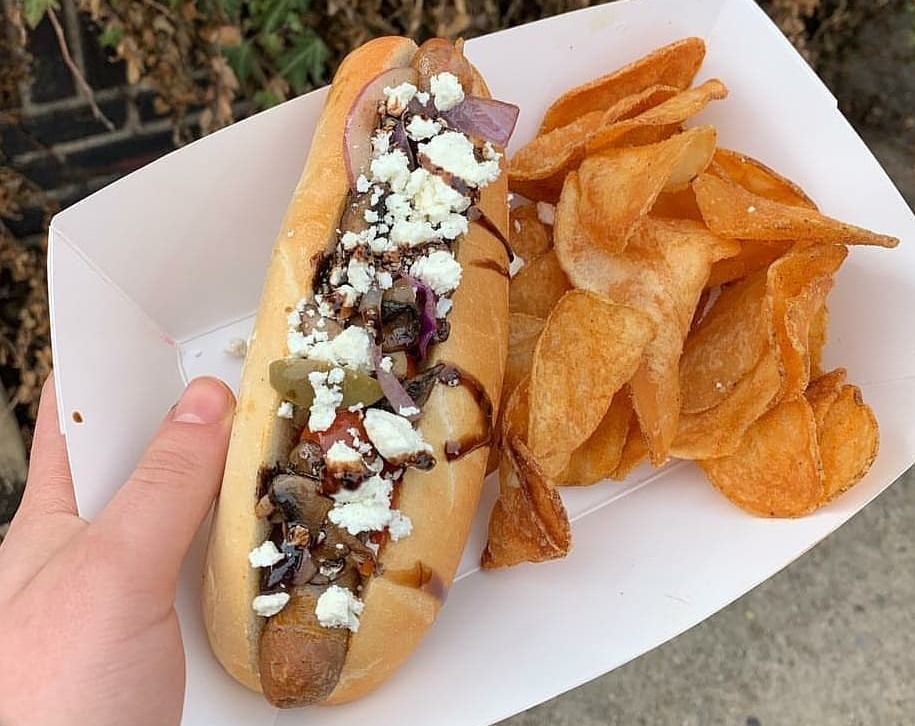 Sporty Dog Creations
EAT
101 W. Monument St. 12-9 p.m. Prices vary.
Nothing says Memorial Day Weekend like hot dogs. We know, we know. The all-American barbecue food isn't for everyone. But LaShauna Jones and Daejonne Bennett, the mother-daughter duo behind Sporty Dog Creations, craft franks to satisfy all palates. This weekend, they're setting up a grill in the valet lane at Hotel Revival in Mt. Vernon to offer curbside pickup and delivery of their signature vegan, hot honey chicken, jerk chicken, and classic beef hot dogs. There will also be crudos, grilled oysters, burgers, and to-go cocktails from the hotel's rooftop bar, Topside. Through Sunday, customers who spend $20 ordering online will receive a 20 percent-off coupon to spend on any of The Sporty Dog's pre-packaged hot dogs to grill at home.
DRINK
Zoom. 8:30 p.m.
If you're looking for a way to show some love to the city's hard-hit hospitality industry, donating to the Baltimore Bartenders' Guild is a great option. And this weekend, the guild is offering a special virtual whiskey tasting for the folks who generously donate $100 or more. Funders can pick up a tasting kit, which contains selections from Bardstown Bourbon Company's latest lineup, from either Dutch Courage in Old Goucher or Mr. Nice Guy Cocktails in Canton. Then, log on to Zoom to taste the spirits, learn about the whiskey-making process with the team from the Kentucky distillery, and raise a glass to Baltimore's beverage community.
SEE
Instagram & YouTube. 2 p.m. Free.
Gallery owner Myrtis Bedolla has been hosting recurring one-on-one salon-style conversations with artists featured in the Women Heal Through Rite and Ritual exhibit at the Mount Vernon gallery. Up next this Saturday is a virtual chat with painter Shanequa Gay. Brew your favorite tea and listen in as the two discuss Gay's work in the exhibition, which features imaginative narratives that explore women's roles.
HEAR
Facebook Live. 8 p.m. Donations encouraged.
In celebration of Union Craft Brewing's latest release, the "Somebody to Lean On" double IPA, its brewers have organized a virtual tribute to the late musical legend whose lyrics inspired the beer's name. Charm City's own Cris Jacobs will perform his renditions of Bill Withers' greatest hits on Facebook Live beginning at 8 p.m. Along with 100 percent of the profits from the new beer, a portion of Jacobs' virtual tip jar will be donated to the Baltimore Restaurant Relief Fund. Be sure to stock up on six packs before the show starts by placing orders for delivery or curbside pickup.
DO
2526 Proctor Lane, Parkville. 11 a.m.-5 p.m.
The farmers at Weber's in Parkville have come up with a way to enjoy the sweetness of their fourth-annual strawberry festival while maintaining social distancing measures. Kicking off this weekend from 11 a.m.-5 p.m., visitors will be able to drive through the property and safely order from a selection of the farm's treats that make use of the current harvest, including strawberry donuts, sundaes, slushes, quarts of fresh berries, and even strawberry pancake breakfast boxes to assemble at home.
Additional reporting by Lydia Woolever.