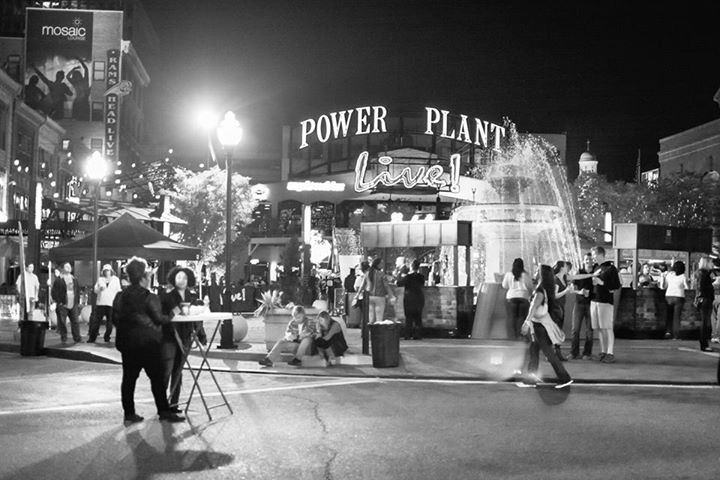 Five things to eat, drink, see, hear, and do with your Charm City weekend.
EAT
May 8: The Gathering's #BaltimoreStrong Food Truck Festival
Power Plant Live, 34 Market Pl. 5-10 p.m. Free. thegatheringbaltimore.com.
On Friday, 10 local food trucks will rally together in support of Charm City. The street-food festival is striking its small admission fee and collecting donations for The Carpenter House, which is a nonprofit that helps local, disadvantaged families and communities through education, financial literacy, and health, and who will also be on hand with more information about their programs. Like many local businesses, food trucks were affected by the recent events, but many fan favorites will be in attendance this weekend, including Gypsy Queen Café, Grr Che, Greek on the Street, Bistro Lunchbox, Laughing Crab, and Cruisin' Cafe. Support the meals-on-wheels, listen to live music, put the kids on the moon bounce, and enjoy one of three specialty cocktails—including margaritas, sangria, and crushes.
DRINK
May 9: Volunteering Untapped & Section1 Project
The Fitzgerald, 1201 W. Mt. Royal Ave. 10 a.m.-1 p.m. Free. Register at vumayevent.eventbrite.com.
Get to know Volunteering Untapped, an awesome, young nonprofit that combines volunteering efforts with social events to give back to the local community. They've done great work with organizations like the Salvation Army, Living Classrooms, Moveable Feast, and this Saturday, they're teaming up with Section1 Project, a foundation that transforms vacant and derelict properties into creative spaces through urban art. Section1 is turning 3.5 acres of unused land in Midtown—beneath the JFX near Penn Station—into a large community park, with three concert spaces, a skate park, an acre of green space, and curated street art. Join more than 300 volunteers and help prepare the site for construction by cleaning up the space and collecting materials that could be repurposed for the new park. Top street artists will be on-hand with live mural painting, and afterwards at 1 p.m., there will be an outdoor party at The Fitzgerald, with free Union Craft and Flying Dog beer, food trucks, and a DJ.
SEE
May 6-10: Maryland Film Festival
Baltimore. Locations and times vary. $12-50. mdfilmfest.com.
This weekend, the Maryland Film Festival returns to Station North. The 17th annual celebration of all-things-cinema will feature more than 100 film screenings, filmmaker presentations, and a selection by our very own auteur/cinephile, John Waters, whose Matthew McConaughey thriller, Killer Joe, will be shown on Friday at 7 p.m. at MICA. On Thursday, don't miss a screening of Spike Lee's Do The Right Thing, presented by Baltimore club artist Abdu Ali at The Walters Art Museum at 7 p.m. On Friday, there will also be a panel discussion about writing on race with Baltimore native and Atlantic editor Ta-Nehisi Coates, The Wire's David Simon, National Book Award winner James McBride, and Pulitzer Prize winner Taylor Branch. There will be a bounty of amazing work, and on top of a few select feature films, we're especially excited for these three docs: Breaking A Monster, about a middle-school metal band from Brooklyn, Drunk Stoned Brilliant Dead, about The National Lampoon, and Frame by Frame, about the resurgence of photography in post-Taliban Afghanistan. Oh, and this beautiful claymation short, The Ballad of Holland House, about the disappearance of Holland Island on the Chesapeake Bay.
HEAR
May 9: Baltimore Symphony Orchestra Peace Concert
Mount Lebanon Baptist Church, 2812 Reisterstown Rd. 12-1:30 p.m. Free. bsomusic.org.
Maybe you didn't score tickets to see Prince this Sunday (or weren't willing to pay over 100 bucks, which is what the remaining tickets cost at last count), but no worries, because the BSO is bringing the joy of music to the streets and community of Baltimore this weekend. After the success of an impromptu peace concert at the Meyerhoff last Wednesday, Conductor Marin Alsop will lead the orchestra in this midday program near Druid Hill Park, featuring members of OrchKids, the Baltimore Symphony Youth Orchestras, and Baltimore School for the Arts. Pastor Lance of Mt. Lebanon Baptist Church will open the program and Maryland Delegate Barbara A. Robinson will speak as well. All are welcome to the performance, so take advantage of this warm spring Saturday to support the Baltimore community and enjoy the local arts.
DO
May 9: The 8th Annual Boundary Block Party
Pennsylvania Triangle Park, Pennsylvania Ave. & Presstman St. 1-4 p.m. Free. noboundariescoalition.com.
West Baltimore has been rocked by unrest, protests, and heavy police presence over the past few weeks, but this Saturday, the community is coming together for a festive tradition with its 8th annual Boundary Block Party. In collaboration with Jubilee Arts and the No Boundaries Coalition, the street festival celebrates the local neighborhoods by bringing together students, artists, and residents across all racial, economic, and social boundaries. There will be music and dance performances, art activities like mosaic making and face painting, a fashion show, lots of food, fresh produce for sale from local urban farms, and a resource fair with information on voter registration, employment, health, and more than 20 community organizations.
---
We urge you to continue to support local restaurants, bars, and businesses, to take part in community events, and to donate to or participate in the growing number of volunteer efforts around the city. Some examples include the Inner Harbor Project, Maryland Food Bank, and Big Brothers Big Sisters of the Greater Chesapeake. Others can be found via Maryland Unites, which lists several non-profits that are accepting donations like the Red Cross of the Greater Chesapeake, Central Region United Way, and Associated Black Charities, and through the Mayor's Office of Neighborhoods, which continues to update an online spreadsheet for volunteer and donation opportunities.