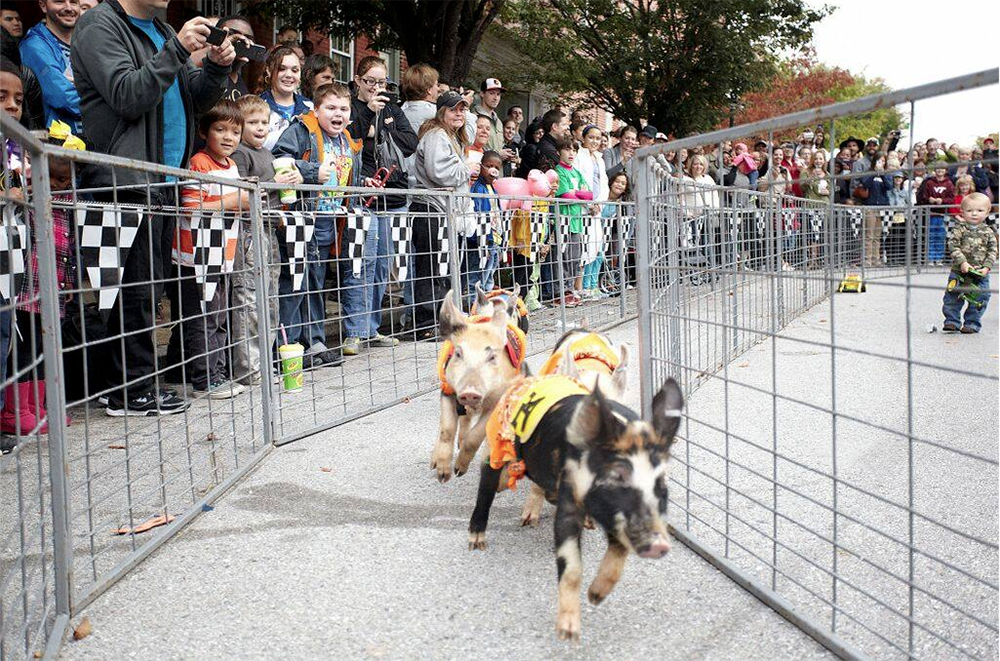 Courtesy of Pigtown Main Street
Five things to eat, drink, see, hear, and do with your Charm City weekend.
---
EAT
Oct. 10-11: Ryleigh's Oysterfest 9
Ryleigh's Oyster, 36 E. Cross St. 12-9 p.m. Free-$99. 410-539-2093. ryleighs.com.
If you were stuck inside last weekend, now it's time to get out, make the most of this last bit of warm weather, and also get excited for the cold, because with it comes the year's best oysters. For two full days, celebrate the bay's bivalves in Federal Hill with 10-plus raw bars, live music, and lots of drinks at Ryleigh's ninth annual Oysterfest. Hit Cross Street to slurp back shucks, sip some Heavy Seas, and watch the fourth annual shucking competition to benefit the Oyster Recovery Partnership and Living Classrooms, with In A Half Shell's own celebrity ostreaphile Julie Qui on hand as a judge. It all starts on Thursday with the Moet Oyster Ball cocktail party, a fancy evening full of seafood and champagne.
DRINK
Oct. 9-18: Baltimore Beer Week
Locations, times, & prices vary. baltimorebeerweek.com.
Baltimore has been bursting at the seams with homegrown hooch lately, and our stellar local beer scene is really the one to thank for putting the gears in motion. Baltimore Beer Week is a celebration of those brews, with 10 days of beer tastings, drink specials, tap takeovers, beer dinners, and happy hours at some of our favorites like Max's Taphouse, Cat's Eye, Mahaffey's, and Blue Pit BBQ. For starters, on Friday, drink al fresco during Pints in the Park at Center Plaza with Brewer's Art beer, get your duckpin bowl on with Union Craft Brewery in Baltimore County, and enjoy a late-night beer happy hour at Parts & Labor. Come Saturday, attend the official keg tapping at Das Best Oktoberfest at M&T Bank Stadium, hit up the second annual Rocktober Cup catch-and-release rockfish tournament at Little Havana, and saunter up to Union Craft's Schmoke Fest, with smoked meats and a new, smoky lager inspired by former Mayor Kurt Schmoke. Finally on Sunday, participate in the Charm City Chug Run with Heavy Seas beer at Birroteca, or better yet, indulge in the Pints & Pancakes boozy brunch with Evolution Craft Brewing at Kooper's Tavern, and much, much more all week long.
SEE
Oct. 9-11: Open Studio Tour
Locations vary. 10 a.m.-6 p.m. Free. 443-263-4350. school33.org.
Sometimes we might take it for granted, but boy are we lucky to have so much free art at our fingertips here in Baltimore. There's the BMA. There's the Walters. There's a smattering of great local galleries highly worth a peruse. This weekend, dive into that great gratis luxury with the 27th annual Open Studio Tour from School 33 Art Center. On Saturday and Sunday throughout the city, meet more than 100 artists, admire their workspaces, and get the low down on their creative processes. On Friday, start things off with the event's "community spotlight" neighborhood celebration, with a heap of happenings in various art hubs around the city. Start in Mt. Washington and celebrate 35 years of Baltimore Clayworks, then head south to browse the myriad galleries of the Bromo Tower Arts & Entertainment District. Make your way over to Highlandtown, too, to hear the energetic Orchester Prazevica brass band perform, and hang out in the city's art epicenter, with a large-scale Alloverstreet art walk in Station North.
HEAR
Oct. 10: Beach House
Ottobar, 2549 N. Howard St. 8 p.m. $22. 410-662-0069. theottobar.com.
This summer, Baltimore's indie dream-pop duo Beach House made a big comeback. The band hadn't necessarily gone anywhere, per se, except for into a bit of a hibernation after 2012's Bloom, leaving fans in eager anticipation of their next release. Then on August 28, they dropped Depression Cherry with a quiet bang, critical hossanahs, and a sigh of relief from Beach House faithfuls, who warmly embraced the potency of its nine new tracks. The next day, they played an epic set as a headliner at Windjammer at Pier Six, with a twinkling backdrop, mood lighting, Alex Scally's searing guitar, and Victoria LeGrand's aching organ (oh, and envy-inducing hair) making for an unforgettable hot summer night. It felt like the band had reached a new pinnacle, all while staying true to not only themselves but also to Baltimore. And now, on the heels of all that, in typical Beach House buck-the-trend fashion, they just announced a second surprise (or "not surprise" album, Thank Your Lucky Stars, full-length and falling next week, as well as a pop-up performance at The Ottobar this Saturday. It's a rare chance to catch the duo in a small venue, so grab your tickets fast, available Friday online at 10 a.m. or at the door at 6 p.m.
DO
Oct. 10: Pigtown Festival
700-900 blocks of Washington Blvd. 12-7 p.m. Free. 443-908-7038. pigtownmainstreet.org.
Now in its 14th year, the prized Pigtown Festival is back on Washington Boulevard with a big block party in celebration of the South Baltimore neighborhood. The free festival sticks to tradition, with the much-loved "Squeakness" pig races returning to the city streets, four times throughout the day, and lots of live music, including the funky, old-school sounds of The Kelly Bell Band. Grab some local eats while you're at it, with pit barbecue, Dooby's, Harbor Que, and Pizza di Joey all in tow. We suggest you splurge on the $20 all-day drinking pass, too, with unlimited brews by The Brewer's Art, Flying Dog, Public Works Ale, and Natty Boh.