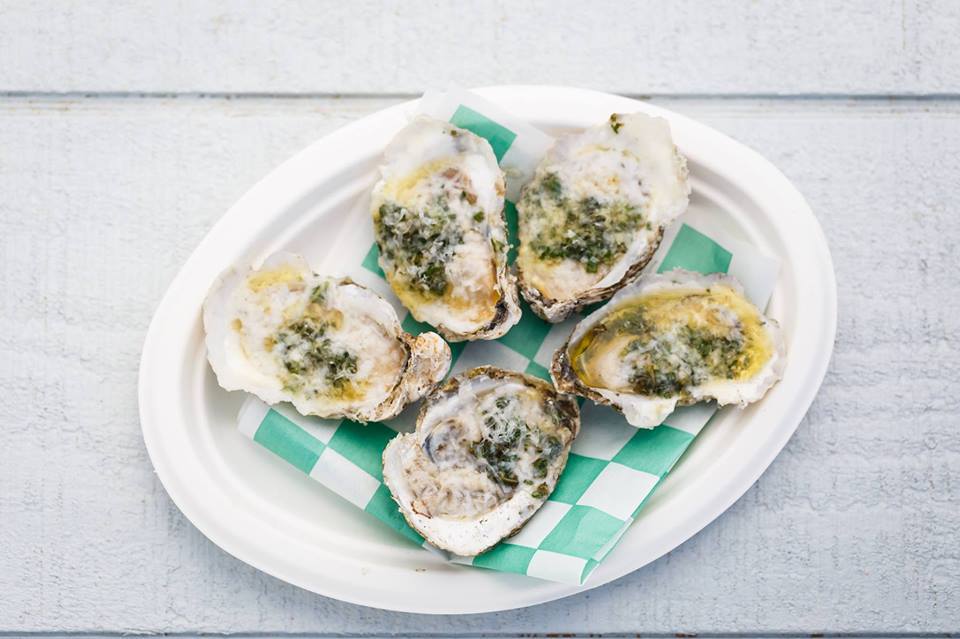 Facebook
Five things to eat, drink, see, hear, and do with your Charm City weekend.
 EAT
Sandlot, 1000 Willis St. 1 & 4 p.m. $30.
This Saturday afternoon, experience the best of both seasons with the beach vibes of the Sandlot harbor-front hangout and the R-month rewards of oyster season. Gather with fellow ostreaphiles and enjoy a step-by-step shucking demonstration by Scott Budden of Orchard Point Oyster Comany on the Eastern Shore. Master the craft of cracking open these delightful local delicacies—made extra earthy and sweet from their northern bay birthplace—and slurp a few down as Budden discusses oyster farming and reef restoration, with a take-home gift of your very own shucking knife and gloves to boot. All the while, sip Spike Gjerde's brand-new Snake Oil lager and support the Oyster Recovery Partnership, the region's leading nonprofit dedicated to restoring local oysters.
 DRINK
Key Brewing Company, 2500 Grays Rd., Dundalk. 2-6 p.m. Free. 410-477-2337.
In Baltimore, breweries and benefits often go hand in hand as a means of nurturing the local community. On Saturday, Key Brewing Company, in collaboration with Checkerspot Brewing and Stillwater Artisanal, will be launching a Landing Bolts lager to support a new section of the redesigned Rash Field Park known as Jake's Skatepark. This new skate area will pay tribute to Key Brewing co-owner's son Jake, a young South Baltimore boy who loved skating but tragically lost his life because of a phone-distracted driver six years ago. This weekend, all proceeds from the Landing Bolts release will go towards its creation, so join the local skating community for boarding tricks and grub from Blue Pit BBQ and Chuck's Trading Post.   
 SEE
Creative Alliance, 3134 Eastern Ave. Fri.-Sat. 7:30 p.m., Sun. 7:30 & 10:30 p.m. $12-17. 410-276-1651.
With Halloween nearly upon us, there's no better time to watch the 1975 cult classic that is the Rocky Horror Picture Show. For three nights at the Creative Alliance, dress up as your best Frank, Janet, or Riff Raff and enjoy a screening of the film that spawned an audience-participation phenomenon. The twisted comedy is set in a mysterious castle on a dark and stormy night, with wild characters, elaborate rock songs, and a plot that thrills, no matter how many times you've seen it. Join local burlesque dancers Betty O'Hellno, Bunny Vicious, Tapitha Kix, and Whiskey Joy, to name a few, for a punk-rock singalong to songs like "Sweet Transvestite" and "Hot Patootie, Bless My Soul," with themed cocktails served at the bar all night. 
 HEAR
Cat Eye's Pub, 1730 Thames St. 9 p.m. Free. 410-276-9866.
At first glance, Sean K. Preston, a Fells Point regular and beloved Baltimore artist, looks like a classic country singer with his cowboy hat and sometimes-acoustic guitar. But underneath that outlaw appearance is a mix of musical styles waiting to be executed by his fast-flying fingers and gritty vocals that are as classic and rebellious as Johnny Cash. At Cats Eye Pub, hear the local songwriter alongside his band, the Loaded Pistols, for a night of blues, punk, country, and old-school rock-and-roll as Preston ruminates on topics of love, loss, and wanderlust.
 DO
Locations & times vary, starting at 7 a.m. $15-280. 410-605-9381.
This Saturday, whether you're a diehard runner or recreational jogger, it's time to grab your sneakers and hit the streets during Baltimore's 17th running festival. From team relays and 5Ks to half and full marathons, there's something for everyone in this run around town, which fills the city with thousands and thousands of athletes. We even recommend standing on the sidelines as an onlooker, because this beloved annual race is truly a sight to behold.