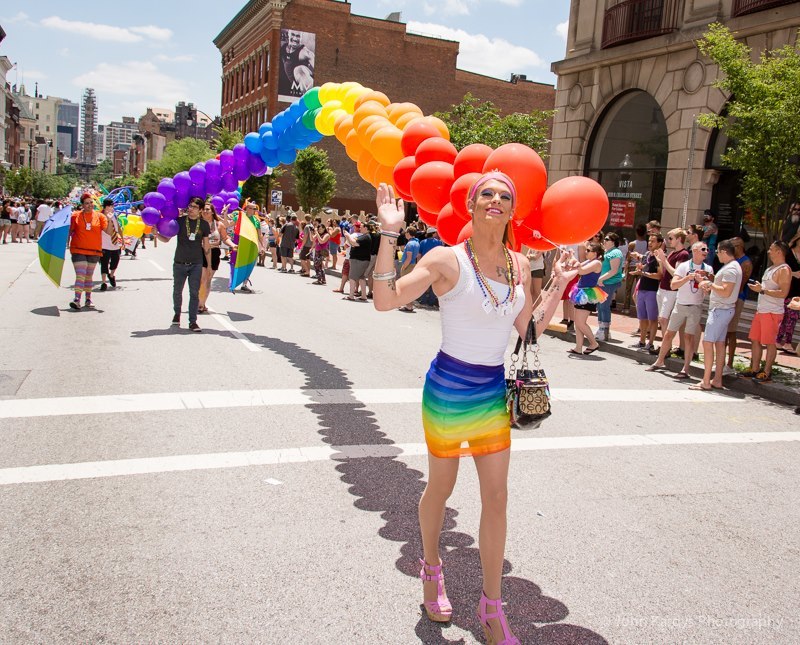 Pride Center of Maryland
Each year in June, The Pride Center of Maryland kicks off Pride Month in celebration of Baltimore's vibrant LGBTQ+ community. This year's theme, "Unity through Diversity: The ReMix," is representative of transforming fears into empowerment and embracing community to fight for justice and dignity.
The empowering theme will be present in every part of the celebration, which takes place June 14-16. Parade day celebrations will include the annual high-heel races, a pet parade, and pre-pride extravaganza featuring a variety of local artists.
The Pride Festival on Sunday will celebrate families and children with a kid-friendly environment including music and entertainment stages, a Drag Stage, exhibitors and local food trucks. The Pride Center uses all proceeds generated from the festivities to help over 800 sexual and gender minority (SGM) individuals each month.
Establishments all over town are hosting a number of rainbow-themed events to celebrate Pride month. Here are a few to keep an eye out for:
FULL-FLEDGED FESTIVALS:
6/13: Trans Pride Festival at Charm City Meadworks
Join the Baltimore Transgender Alliance as its kicks off Pride Weekend with the "Officially Unofficial Trans Pride Festival" at Charm City Meadworks. The event includes a resource fair from 5-8 p.m., drag performances, and happy hour specials from 5-7 p.m. There is no cover fee, but donations are welcome. 400 East Biddle St. 5-10 p.m. 443-961-1072
6/13: Pre-Pride Party at Bar Vasquez
Celebrate Pride Month with a free event at a breathtaking location, featuring music from DJs Ultra Naté and Lisa Moody, drag performance, drinks, and dancing. Ticket options include general admission or VIP tickets available for $25, which includes one drink and preferred group seating. Proceeds benefit the Pride Center of Maryland, but you must be 21 or older to attend. 1425 Aliceanna Street. 7-11 p.m. 410-777-8145
6/15: Pride Parade
Baltimore Pride is celebrating its 44th year with an 11-block procession and a viewing stage on North Charles and 24th streets in the Brown Rice Parking Lot. Last year, this celebration was attended by over 30,000 high-energy attendees. N. Charles and 33rd St. 1-3 p.m. 410-777-8145
6/15: Charm City Pride Fest
It's the end of an era as Palmisano Productions hosts the very last Pride Fest at the iconic Grand Central, so be on the lookout for its new location next year. This event will highlight performers from around the nation, as well as a DJ from Madrid. 1001 N Charles St. 5 p.m.-2 a.m. 443-371-1924
6/16: Pride Festival
After the epic parade on Saturday, join the Pride Center of Maryland for its flagship event in Druid Hill Park. The Pride Festival will celebrate families with a kid-friendly environment including music and entertainment stages, a drag stage, exhibitors, and local food trucks. Druid Hill Park. 12-6 p.m. 410-777-8145
PARTIES & PERFORMANCES
6/14: The Golden Gays NYC at Germanos
Direct from Off-Broadway, it's The Golden Girls musical drag parody. The hip, old grannies take you on a musical journey through the characters' favorite game shows and lucky audience members will become contestants. Guests can enjoy informal interaction with performers as they dine upstairs in the cabaret space. 300 S High St. 6 or 8:30 p.m. $25-35. 410-752-4515
6/14: Charm City Exxxtreme Glow Party
Get ready to glow at Mosaic Nightclub & Lounge inside Power Plant Live for Neon Dreams. This party hosts special guests Andrew Christian, Trophy Boys, Beuax Banks, and Nick Masc, and even Shuga Cain from Season 11 of RuPaul's Drag Race. 4 Market Pl. 9 p.m.-2 a.m. $18-43. 443-371-1924
6/22: Pride Disco Party at Monument City
In celebration of Baltimore Pride, Monument City Brewing Company is throwing an after-hours disco party, featuring DJ Vodkatrina's '70s-themed disco and funk. Be sure to dress your best in your best Saturday Night Fever or Diana Ross getup. Draft lines will include a limited Pride Punch, a fruit punch gose. Tickets benefit the Pride Foundation of Maryland. 1 North Haven Street. 7:30-11:30 p.m. $10
6/7 and 6/14: Double the Drag Movie Night at R. House
During the month of June, every Friday is PrideDay at R. House and the food hall will be hosting a Double the Drag Movie Night. Pop bottles, pop the corn, and pop into The Garage for To Wong Fu and Hedwig and the Angry Inch on the big screen. Ticket includes admission, snacks, and punch. 301 W 29th St. $8-30
ART EXHIBITIONS
6/6: Walking Tour in Mt. Vernon
Baltimore Heritage and Preservation Maryland will commemorate the 50th anniversary of the Stonewall Inn Uprising with a walking tour exploring Baltimore's own LGBTQ+ milestones. The tour will be led by volunteer historians Louis Hughes, Richard Oloizia, Shirley Parry, and Kate Drabinski and it will end at bar and restaurant Flavor. You bring the conversation and they pick up the tab for appetizers. 1000 Cathedral Street. 5:30-6:30 p.m. $10. 410-685-2886
6/6: Gallery Talk at the Walters
To celebrate LGBTQ+ Pride Month, this talk highlights the work of Baltimore-based painter René Treviño. He will join Ellen Hoobler and associate curator William B. Ziff, Jr. to look at how contemporary art continues to offer new interpretations of historic collections. 600 N. Charles St. 6:30-7:15 p.m. 410-547-9000
6/14: The Short Kuts Show at the Reginald F. Lewis Museum
The Short Kuts Show live storytelling series returns with its third show of the season. The theme of the show—"I'm Coming Out"—is inspired by the classic 1981 Diana Ross song of the same name. This edition will bring together storytellers from the LGBTQ+ communities from the African-American, Afro-Diasporic, and other communities of color. 830 E. Pratt St. 6:30 – 9:30 p.m. $10. 443-263-1800
FUNDRAISERS
Through 6/30: Sock Fundraiser at Ma Petite Shoe
Who knew a pair of socks could make such a big difference? California-based company Socksmith Design has partnered with The Trevor Project—America's leading organization in preventing youth suicide in the LGBTQ+ community—to create a cool, hip, and colorful line of Pride athletic socks. For every pair of socks sold, The Trevor Project will receive a $1 donation. Plus, Ma Petite Shoe Sock Shop in Hampden is promoting the socks with the help of Baltimore comic Michael Furr, just in time for Pride Month of June. 832 W 36th St. 410-235-3442
6/14: Twilight on the Terrace at Gertrude's
Now in its 13th year, Twilight on the Terrace is a Baltimore Pride tradition: a night of food, fun, and community. As the largest fundraiser for The Pride Center of Maryland, this alfresco event helps support nearly 50 community programs that reach more than 800 people monthly. Must be 21 or older to attend. 10 Art Museum Drive. 7-11 p.m. $125. 410-777-8145
6/27: Pride Night at Urban Axes
Throw on your rainbow apparel and head to Urban Axes in Highlandtown to aim for the bullseye while supporting a great cause. Admission to the 2.5-hour event includes your first drink, and 30 percent of all proceeds will benefit Human Rights Campaign's work for LGBTQ+ equality. For one night only, the spot will also be offering its new Pride shirts for sale at a special price. 1 N. Haven St. $40. 240-389-2937
FOOD & DRINK
6/7: Beers for Queers at Union
There's no better way to celebrate Pride than with beers and dancing, so come out and enjoy music provided by DJ Kim Brannan and even limited-edition Union Pride hats will be for sale. A portion of the proceeds will be donated to the Pride Center of Maryland. 1700 West 41st Street. 7-10 p.m. 410-777-8145
6/14: Pride at Gunther & Co.
Gunther & Co. will host a patio "Get Your Glitter On" happy hour with Roca Patron, the tequila behind the Hermosa Mariposa purple glittery cocktail. 3650 Toone Street
6/1-6/30: El Tigre
Enjoy the tiki bar atmosphere while sipping on a Pride specialty cocktail. Based on the classic Chi Chi cocktail invented by Don the Beachcomber, El Tigre will use Civic Vodka, coconut cream, pineapple and lime juices, cinnamon, and nutmeg. In the spirit of Pride, 10 percent of the cocktail sales go to the Transgender Law Center. 1640 Aliceanna St
6/14-6/15: Rainbow Spaghetti at The Elephant
In honor of the LGBTQ+ community, The Elephant is serving a Pride Weekend special of Rainbow Spaghetti—with house-made spicy sausage, sauteed broccolini, garlic, lemon, white wine, butter—along with globally inspired selections from the a la carte menu. 924 N Charles St. 443-447-7878
6/14: The Charmery/Essen Room Collaboration
The Charmery will be serving a rainbow cake Pride flavor at its Union Collective location starting June 7 and the rest of the shops will serve the flavor starting June 14. Try this sweet treat made with a raspberry jam base, rainbow sprinkles, and rainbow cake chunks from Essen Room.
PRIDE OUTSIDE
6/12: Orioles Pride Night
The Orioles invite fans to celebrate LGBTQ+ Pride Month with a ticket package that includes a admission to the game and an O's pride cap. On top of that, a portion of the proceeds benefit Moveable Feast and The Pride Center of Maryland. 333 W Camden St. 7:05 p.m. $41-75. 888-848-2473
6/28: Baltimore Bike Party Pride Ride
Enjoy biking and Pride Month? Join this mass, monthly ride for participants of all ages, backgrounds, and abilities. This month's theme is Pride Ride so wear your colors to show some love. 600 N Paca St. 6:30-11:30 p.m. 410-777-8145