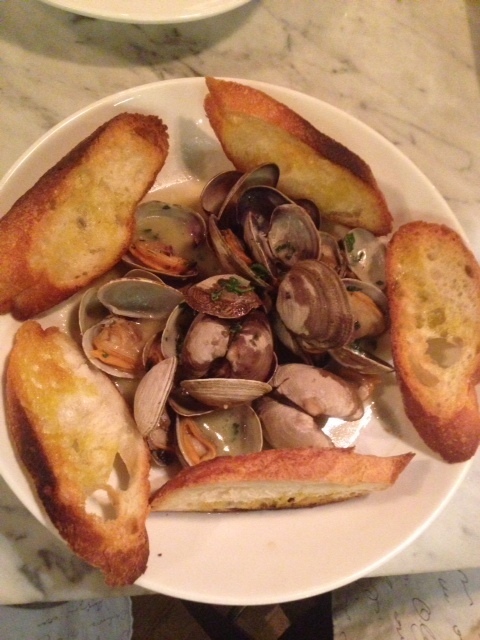 Photo by Jane Marion
If there's anything I can say for sure about 2014, it's that I was very well fed. Whether reviewing for our Local Flavor dining section, heading up cover stories on crabs or places to get a cheap eat, or eating my way through five counties for our upcoming
50 Best Restaurants cover (stay tuned), I've made endless trips to the table.
From kale pizza at
Hersh's to Maryland crab soup at The Milton Inn, much of what I ate this year was very good—but several dishes were just great. Here are a few of the highlights:
Beer-Steamed Manila clams at Pen & Quill with garlic, shallots, and butter, above. Hands down, the best thing I've ingested all year. I'll leave it at this: If I could have eaten the shells, I would. #fastestdisappearingactever
Scottish salmon at Charleston: After the first bite, this artfully arranged dish was no longer too pretty to eat, and I dove in with abandon. Salmon plus onions. Onions, egg yolk, and salmon. Each bite was perfect on its own or in harmony.
Lobster mac-and-cheese at The Highland Inn: Ordinarily, it seems a waste to bury lobster beneath a layer of cheese, but this satisfying dish—with huge chunks of sweet lobster meat, penne pasta, and a thick crust—was a true comfort food treat. On a rainy day, I sat at the bar alone and didn't share with a soul. This is my definition of contentment.
Bon Burger at Le Garage with caramelized onions and Bucheron: With so many great burgers in town, it's hard to pick just one, but this well-executed iteration was the standout.
Burrata at Parts & Labor: Burrata was the cheese of the moment this year. Caputo Bros. handcrafted version served at P & L stole the show. The I.P.A. was a great compliment, too.
Charcuterie at Cinghiale: Charcuterie is all the rage, but Cinghiale gets it just right with thin slivers of speck and mortadella. I left it to the chef to bring a selection—and it did not disappoint, especially since I washed it all down with a half-price bottle of wine on a Tuesday night.
Age tofu at Azumi: Truth be told, it's hard to coax tofu into anything memorable, but Azumi's bowl of hot, silken age tofu in tentsuyu broth has left me wanting more.
Ceviche Clasico at Puerto 511: Two words for chef Jose Victorio's ceviche bathed in "leche de tigre," with cilantro, red onion, sweet potato, and Andean corn: fish bliss.
Charred octopus at Aggio: Top Chef Bryan Voltaggio's take on this ubiquitous menu item—in this version perfumed with lemon oil, nestled on a bed of fregola, and paired with a smoked raisin compote—was the best cephalopod mollusk in the sea.