No Place Like Om
Bikram Yoga Baltimore's Eddie and Emily Garner find the perfect balance in their kitchen.
At least when it comes to eating habits, Emily and Eddie Garner have distinctly different childhood memories. Emily's parents were staunch vegetarians for a time, while Eddie's father was a butcher who made filet for the family on a weekly basis. "My parents were vegetarians before I was born," says Emily, "but the story goes that when I was three, I went to a friend's house and I ate a McDonald's cheeseburger for the first time. I came home saying, 'Mom, I want a cheeseburger,' and that was the end of their vegetarianism."
These days, the co-owners of Bikram Yoga Baltimore, who live in a charming Cape Cod-style home in the Villa Cresta neighborhood of Parkville, are very much in sync when it comes to their eating habits—and their kitchen rituals, too. While Emily does all of the cooking for their household, which includes their boisterous brood of three (Charlie, 8, Marty, 4, and Paige, 3), Eddie says, "I'm always happy to clean and get things down from high shelves."
"It's impossible to practice yoga and not feel a greater connection to the world around you."
Of course, feeding their young family—with their finicky tastes and personal preferences—can be challenging. (Charlie loves a ham and cheese sub, Marty has a serious sweet tooth, and Paige likes spicy salsa.) "We try to eat every night around five," says Emily, "but just getting them to the table can be like herding cats. The kids hate the 'd' word (dinner). If I specifically say what they're eating, they're more likely to come running to the table."
On this winter's day, as Emily prepares dinner, Paige, Charlie, and their pit bull mix, Lenny, run around the house, and Eddie checks on the cornbread baking in the oven of their cozy, sun-drenched kitchen. On the menu for dinner is a Pinterest find called Tilapia Stew and a recipe for so-called "Yummy Cornbread," passed down by Emily's mother.
"My mom doesn't know where she got this recipe," says Emily, as she adds a can of creamed corn to the bowl, "but it's likely an old church-lady situation. It's cornbread, but it's doctored up with whole kernels, creamed corn, and sour cream—it's really halfway between cornbread and corn pudding." Also on the lineup is a kale salad with pomegranate seeds and pecans. "The trick with kale," says Emily, "is to massage the chopped greens to soften them before you dress them."
When they're not feeding their family, the Garners can most often be found in their equally warm Cockeysville hot yoga studio. "Everything I know about life, I learned in the yoga studio," says Eddie, smiling. "I'm so much nicer now. It's impossible to practice yoga and not feel a greater connection to the world around you."
The students, says Eddie, keep them inspired. "What I love is that the yoga is accessible to anyone," he explains. "In class, I can have a 17-year-old standing next to an 83-year-old. Or someone who is a quadriplegic in a wheelchair next to someone who wants to lose 100 pounds. I want people to know that everyone can benefit from yoga. I can help reacquaint you with your body and how it moves so that you can find your way out of pain."
The Garners first discovered yoga when they were living in New York City in 2004. Emily, who studied dance at Butler University in Indiana, was pursuing ballet professionally and working at Starbucks to make ends meet. Eddie, an opera tenor, was working for a company that produced concerts at Carnegie Hall and singing on the side. As struggling artists, the couple happened to buy a book called The Cheap Bastard's Guide to New York City.
"There were tips, like 'This place has three free appetizers during happy hour,'" says Emily, laughing. "Or, 'If you volunteer to sell merchandise here, you can get free tickets to a Broadway show.'" Fortuitously, one of the tips included a pay-what-you-can donation class at a Bikram Yoga studio. "I loved it right away," recalls Emily. "I called Eddie from the street and said, 'You need to take class with me.'" Echoes Eddie, "I loved it immediately and knew after one class I wanted to be a teacher."
But when they're not in their yoga studio, their favorite spot is their kitchen and great room, the true heart of their home. "I grew up almost always eating at home," recalls Emily. "Family meals were the time we talked about pretty much anything and everything. So, when all of us are together eating, I feel good knowing my kids will remember Sunday morning pancake breakfasts or whatever it is—it's a time when, through a meal, we are creating their sense of home."
---
Kale and Quinoa Salad
INGREDIENTS
1⁄2 cup uncooked red quinoa, rinsed
6 cups chopped kale
1 cup pomegranate seeds
1⁄2 cup dried cranberries
1⁄2 cup pecans, chopped
FOR THE DRESSING
1⁄4 cup olive oil
4 Tbsp. apple cider vinegar
2 tsp. Dijon mustard
1 Tbsp. honey
Salt and pepper, to taste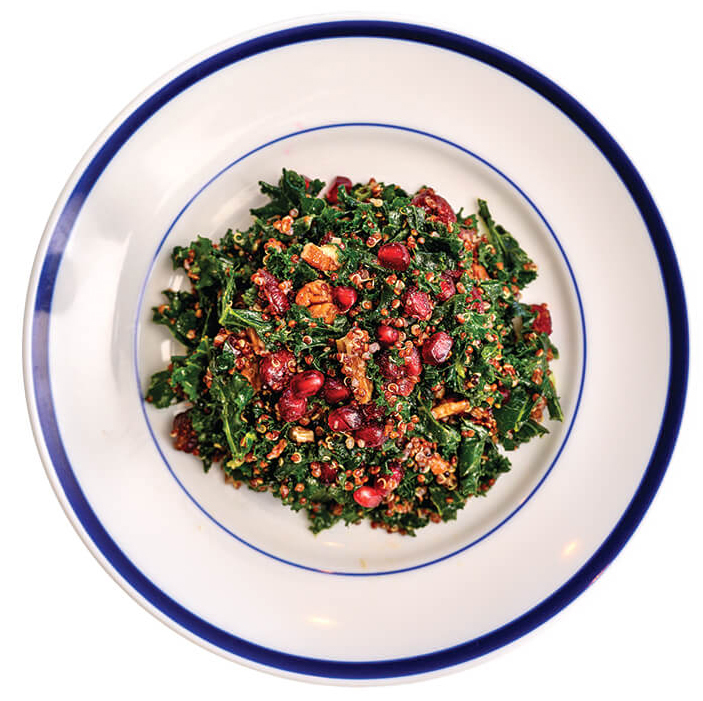 DIRECTIONS
To make the quinoa, add 1 cup of water to a small saucepan and add quinoa. Bring to a boil, cover, and reduce heat and simmer for about
13 minutes. Remove from heat, keeping quinoa covered, and allow it to sit for about five minutes, then fluff quinoa with a fork. Place kale in a large bowl and gently massage to break down fibers. Add quinoa, pomegranate seeds, dried cranberries, and pecans.
To make the dressing, whisk together olive oil, apple cider vinegar, Dijon mustard, honey, salt, and pepper in a small bowl. Pour dressing over the salad and toss together until evenly coated. Top with additional pomegranates, cranberries, and pecans as desired.
---
Fish Stew
INGREDIENTS
6 Tbsp. fresh lime juice
2 Tbsp. cumin
2 Tbsp. paprika
3 tsp. minced garlic
1 1⁄2 tsp. salt
1 1⁄2 tsp. pepper
2 lbs. tilapia (cut into bite-sized pieces, fish can be partially frozen)
1 Tbsp. olive oil
1 large onion, chopped
3 large bell peppers (sliced into 2-inch strips)
14 oz. diced tomatoes, drained
14 oz. coconut milk
Fresh cilantro to taste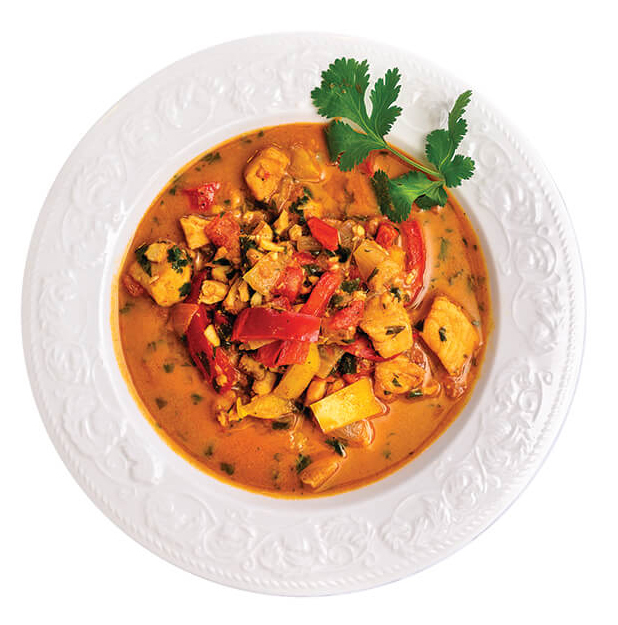 DIRECTIONS
Combine the lime juice, cumin, paprika, garlic, salt, and pepper in a large bowl. Add in the tilapia and mix until coated. Cover and place in the refrigerator to marinate for 20 minutes or longer. (You can marinate the night before). Heat olive oil in a large skillet over medium-high heat. Add onions and cook until they begin to soften, about three minutes. Add bell pepper, tomatoes, and marinated tilapia. Pour coconut milk over ingredients and mix. Cover and simmer about 20 minutes, stirring occasionally. Just before serving, garnish with cilantro.