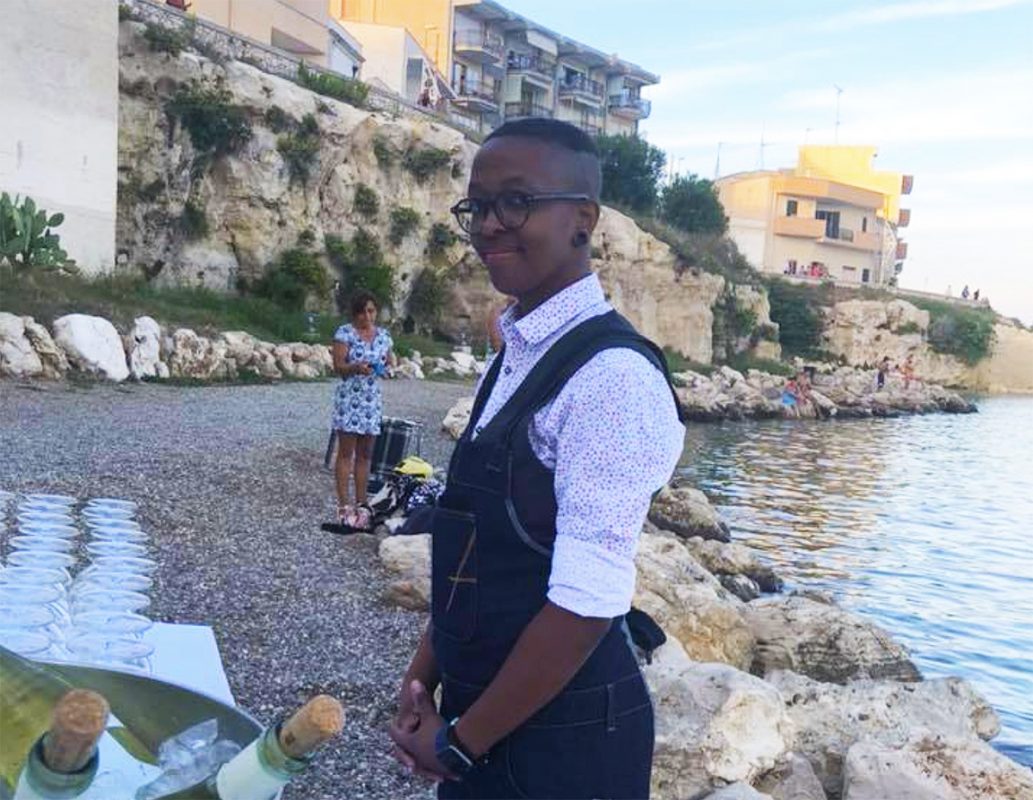 Kristen Starks
Last June was an emotional rollercoaster for Kristen Starks, the bar manager at Cosima at Mill No 1. She had been invited on the trip of a lifetime—to work and study wine for eight weeks at Menhir Salento in Puglia, Italy.
"Shortly after I bought my plane ticket, I found a lump in my breast," she says. "I actually ignored it for a few weeks. I really didn't want to interfere with this exciting thing I had coming up. But it became so painful and began changing shape, so I knew I had to get it checked out."
After undergoing several tests, Starks received a call while doing inventory at Cosima and was told she had invasive ductal carcinoma, or grade 3 breast cancer. Her doctors laid out a very organized treatment plan that included a couple rounds of chemo, surgery, radiation, and ameno therapy.
"I went through two months of Doxorubicin, which is nicknamed the Red Devil, and it's the grossest feeling," she recalls. "That's the one that makes you lose your hair and your appetite—it's really kind of a nightmare drug. I was down for the count."
Needless to say, Starks' trip to Puglia had to be canceled. She said the winery owners could not have been more courteous and they reassured her that she would be able to make that trip someday.
"Keeping in touch with them really put me at ease," she says. "I had a light at the end of that dark tunnel."
Though she is still recovering and will be taking hormone suppressors for the next five years, Starks was finally able to make the trip to the Menhir Silento winery this past summer.
As part of her work in Italy, Starks was a sommelier at the winery's osteria where she was able to pair wine for pre-fixe menus and explain the history, flavor, and terroir of the wines to English speakers from all the world. She traveled to Bologna, Silento, and tiny towns in between to learn about their food and drink culture.
"The food changes every town you go to, but there is a universal language," she says. "People are very proud of traditions they've held onto for generations. You can read about the wine and the land and it might look good on paper. But, being there, you understand it on a much more profound level."
She hopes to share that understanding in a wine dinner at Cosima on Wednesday, October 24, in which five Italian courses will be paid with wine selections from Munhir. Think curdo paired with a savory Verdeca or a cherry tart alongside a chilled, dry Aleatico.
"I have anecdotes that I want to share, but I won't be long-winded," she says. "I just want to share experiences about appreciating these wines in the middle of the countryside under the stars. I want to recreate a picture of real Silento life."
Though there has been a lot of trials and tribulations these past 18 months, Starks is grateful for the owners at Munhir and Cosima and the overall experience. She is looking forward to bringing that same joy she felt in Italy to her guests at the restaurant.
"Something like cancer really puts you in touch with your own spirituality and gives you a new level of sensitivity," she says. "I felt like I was more open to new ideas on my trip and just was able to soak it all in. I really want the restaurant to embody that part of the world."